My late August trek at DeSoto State Park enlightened and rewarded me with more than just a set of April-to-August ecological comparisons: http://stevejonesgbh.com/2019/09/15/desoto-state-park-april-and-august-2019/. I offer in this subsequent Post my observations and reflections on non-flowering plants, the native black birch's propensity to cling like hell to its rock, some great sandstone glades late summer flowering gems, and the early signs of summer stepping gently aside for autumn even in late August.
August Non-Flowering Plants
The following photographs simply capture what struck my eye and offered captivating images in August. The cluster of little brown mushrooms (sorry I can do no better with identifying them) exploding to life on an otherwise barren-looking sand flat near a stream under full forest cover. And fungal and lichen life stacked vertically on a standing dead hickory. I've said often that Nature's beauty, magic, wonder, and awe pay no attention to scale. Whether its the planet-level glory of Earth captured by a lunar orbiter, or these up-close views of life exploiting a niche in a late-summer southern hardwood forest, majesty is within reach and sight. Nature's coffee table style book comes in both macro- and micro-print.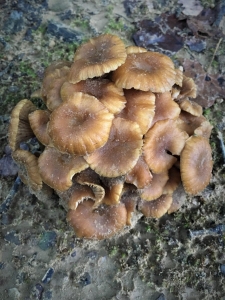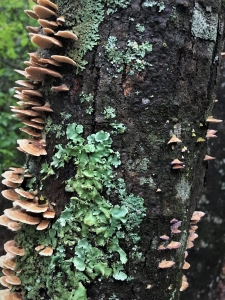 And what a rich palette she chooses. I've said before that I prefer paintings that look like photographs… and photos that can be mistaken for paintings. The brown and beige-fringed shelf fungus among lichens, hanging above balls of moss, could be either.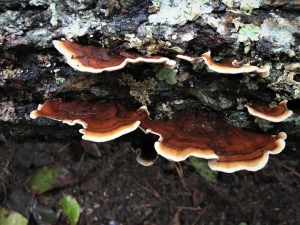 Myriad lichens fashion this aerial Eden on a standing dead birch bole. Once again, the prior night's rain enlivened this diverse community.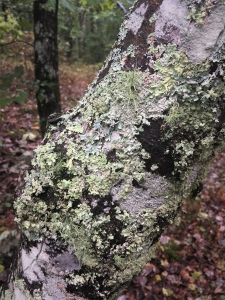 Although I could not identify the host with certainty, this long down and dead Virginia pine (I think) sported a gorgeous coat of crustose lichen. The old ashes to ashes dust to dust is always at play in Nature. Recycling is the ultimate guarantor of life.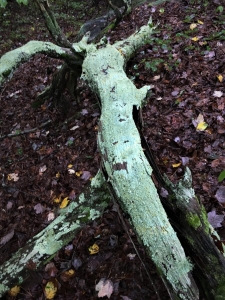 Cling Like Hell to Your Rock
I frequently quote Robert Service's Security when I'm on the stump (the figurative speaking stump) talking about leadership and lessons from Nature. His poem chronicles the travails of a limpet (a crustacean filter-feeder of the intertidal zone that holds tight to rock surfaces) who tires of her fate as a clinger. She bemoans her lot, saying "It isn't I who clings to the rock, it's the rock that clings to me." The sea tells the limpet of a beautiful sandy beach, saying to the limpet, "Set off tonight when the moon is bright, and I'll swing you there on my tide." She does as the sea offers and finds herself in deep trouble, unable to survive on the sandy beach:
"She cried till she roused a taxi-crab
Who gladly gave her a ride;
But I grieve to say in his crabby way
He insisted she sit inside. . . .
So if of the limpet breed ye be,
Beware life's brutal shock;
Don't take the chance of the changing sea,
But – cling like hell to your rock"
Security is a parable suggesting to me the imperative that each of us embrace a set of core vales, tenets, principles, and ethics that guide us through life and living. I thought of Service's Nature-bound and derived wisdom when I walked DeSoto's forests, spotting the ubiquitous black birch, a species that often finds seedling anchorage upon the sandstone boulders, germinating on the rocks' elevated surface and then sending roots to exploit true mineral soil below. The lower left birch appears as though it walked two-legged, pausing to half-lean and half-sit on the ledge, catching a well-deserved break. I knew the feeling as I trekked water-logged that August morning! Its mossy thigh and the moss-bedecked hummock beyond merited a closeup (below right).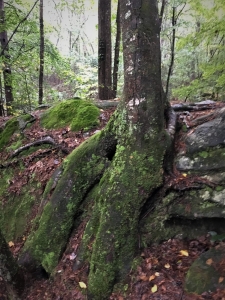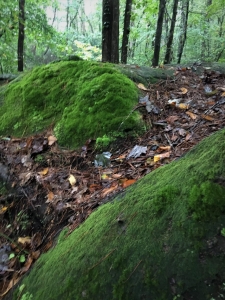 The two birch trees below did more than rest against their boulders. They are secured there for the long haul!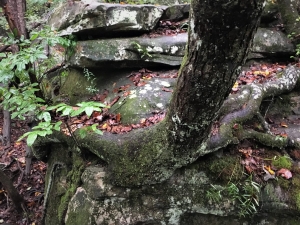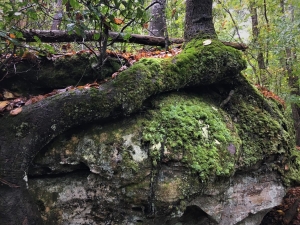 Flowering Sandstone Glade Plants
This August glade-flower beauty is a species of Liatris, know commonly as blazing star, offering a nice splash of lavender to the cloud-darkened day.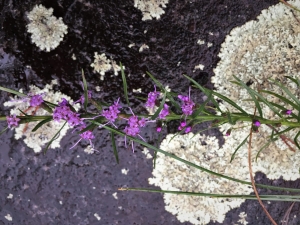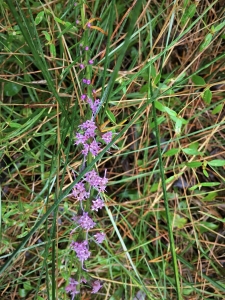 Nuttall's rayless goldenrod (Bigelowia nuttallii) graced the glades, standing tall and stunning against the backdrop of summer drawing to a close. I had not previously seen (or do not recall seeing) this species. DeSoto Naturalist Brittney Hughes provided an immediate i.d. via email. She reminded me, too, of the tremendous reference available online through a partnership of the Alabama Herbarium Consortium and The University of West Alabama: Alabama Plant Atlas at http://www.floraofalabama.org/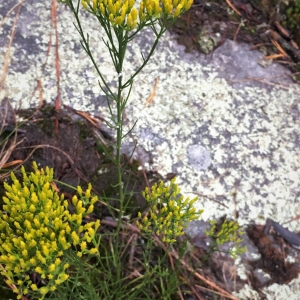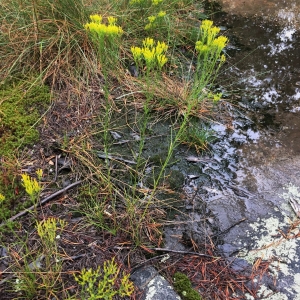 Brittney also came through with another flowering glade inhabitant identification: Sandstone tickseed (Coreopsis pulchra). Another common name, suggesting its restricted home range, is Lookout Mountain Tickseed. We in Alabama are blessed with extraordinary diversity of micro-habitats and the resultant vegetation that has specific site requirements.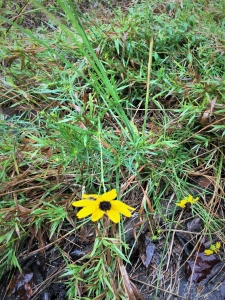 Eastern prickly pear (Opuntia humifusa) likewise seemed at home on the glade. According to the US Forest Service, This cactus grows in open, dry areas, often on calcareous rock or thin soils. It can be found in or on fencerows, roadsides, rocky glades, rock outcrops, cliffs, old quarries, dunes, and prairie. The roots need to be dry during winter to prevent rot, so well drained sites are necessary. In contrast to the tickseed's restricted range, the prickly pear grows from Montana to Florida and from New Mexico into Ontario. An interesting set of facts from the same USFS website: This species is a typical cactus with a photosynthetic stem that acts as a leaf. This stem also stores water. Because of special antifreeze chemicals in its cells, it can survive the freezing temperatures of the northern and middle states. So much to learn about diverse life within our State Parks.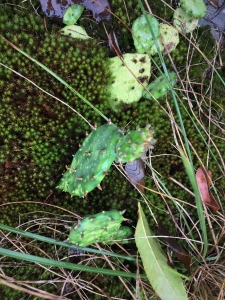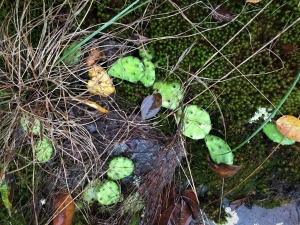 I can only imagine what I could learn from even a monthly down-on-my-knees visit to DeSoto's sandstone glades over the course of a full annual cycle! I would not be surprised to learn that somewhere in the scientific literature there is such a calendar-year chronicle of life on our sandstone glades.
Fall's Early Advance
As I commented in the prior DeSoto Park Post, I've lived elsewhere (up north!) where fall barges into summer's final parties, guns blazing, winds whipping, and northerlies portending first frosts and freezes, sleet and freezing rain, and howling blizzards. Leaves turn with glory because the trees over the sweep of time have learned what's coming… and soon. Here in the south, I contend, summer just tires of heat, late summer drought, and shortening days. Summer simply gives up and wears out, retreats, backing out the door, refusing to confront autumn with any resistance.
Near the lodge where I stayed, I found Devil's Walking Stick (Aralia spinosa) and Joe Pye Weed (Eupatorium fistulosum) in seed, finished for the season, ready to sow their seed and rest before the still weeks-away frosts.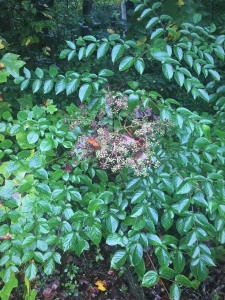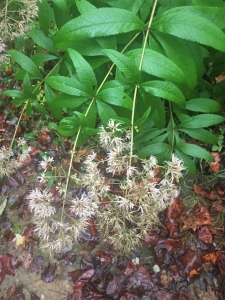 After an unusually wet spring and early summer, little rain had fallen since late June. Reduced soil moisture, and eons of adapting to frequent late season dry spells, triggered some tree species to begin shutting down, dropping leaves rather than engaging in net negative production. Evolution favors action that conserves energy and adds value. The forest had engaged productively for at least four months. Its trees had performed as designed.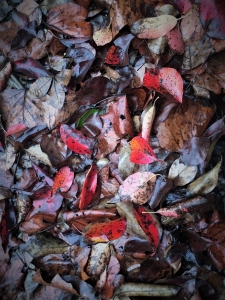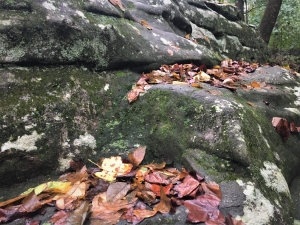 This 30+ inch yellow poplar (Liriodendron tulipifera), even with deep roots along a perennially moist drainage-way, had begun to let go, dropping a few deliciously yellow leaves along the trail.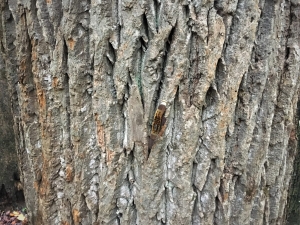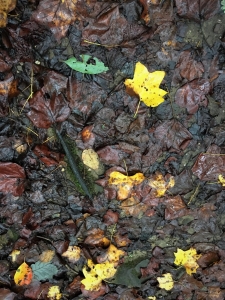 I had not seen this wonderful signage on previous DeSoto wanderings. I could not resist capturing its apt message.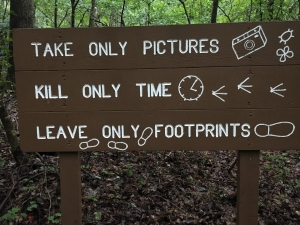 May your own treks through Nature gather only photos and memories… and may your steps be light!
Thoughts and Reflections
I wrote my books Nature Based Leadership (2016), Nature-Inspired Learning and Leading (2017), and Weaned Seals and Snowy Summits: Stories of Passion for Place and Everyday Nature (co-authored with Dr. Jennifer J. Wilhoit; 2019) to encourage all citizens to recognize and appreciate that every lesson for living, learning, serving, and leading is either written indelibly in or is powerfully inspired by Nature. All three are available on Indiebound and other online sources.
Here are the three succinct lessons I draw from this Blog Post:
Autumn in the South seldom rushes; summer slowly fades, yielding as much to heat and seasonal drought as it does to impending cold.

Each season in life and every place in Nature offers special treats and predictable, yet sometimes surprising, nuances.
Beauty, magic, wonder, and awe await every venture into Nature — be prepared to discover what always lies hidden within!
Inhale and absorb Nature's elixir. May Nature Inspire and Reward you!
Note: All blog post images created & photographed by Stephen B. Jones unless otherwise noted. Please circulate images with photo credit: "©2019 Steve Jones, Great Blue Heron LLC. All Rights Reserved."
Another Note: If you came to this post via a Facebook posting or by an another route, please sign up now (no cost… no obligation) to receive my Blog Post email alerts: http://stevejonesgbh.com/contact/
And a Third: I am available for Nature-Inspired Speaking, Writing, and Consulting — contact me at steve.jones.0524@gmail.com
Reminder of my Personal and Professional Purpose, Passion, and Cause
If only more of us viewed our precious environment through the filters I employ. If only my mission and vision could be multiplied untold orders of magnitude:
Mission: Employ writing and speaking to educate, inspire, and enable readers and listeners to understand, appreciate, and enjoy Nature… and accept and practice Earth Stewardship.
Vision:
People of all ages will pay greater attention to and engage more regularly with Nature… and will accept and practice informed and responsible Earth Stewardship.
They will see their relationship to our natural world with new eyes… and will understand more clearly their Earth home.
Tagline/Motto: Steve (Great Blue Heron) encourages and seeks a better tomorrow through Nature-Inspired Living!
Alabama State Parks Foundation
I'll remind you that I serve on the Foundation Board, in part because of my love of Nature and in recognition for my writing many prior Posts about visiting and experiencing the Parks. I urge you to take a look at the Foundation website and consider ways you might help steward these magical places: https://asparksfoundation.org/ Perhaps you might think about supporting the Parks System education and interpretation imperative: https://asparksfoundation.org/give-today#a444d6c6-371b-47a2-97da-dd15a5b9da76
Weaned Seals and Snowy Summits: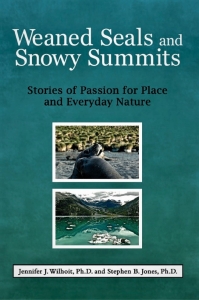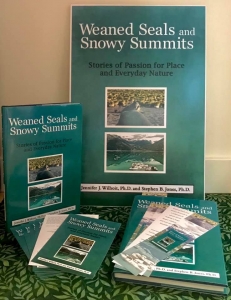 Jennifer and Steve: "We're so proud to announce the publication and release of our first co-authored book, Weaned Seals and Snowy Summits: Stories of Passion for Place and Everyday Nature. This book is a collection of nature stories seeking to inspire deeper relationship with and care for this beautiful Earth." Order your copy from your local indie bookstore, or find it on IndieBound: https://www.indiebound.org/book/9781489723529
http://stevejonesgbh.com/wp-content/uploads/2019/09/IMG_1873.jpg-08.27.19-DeSoto-State-Park-Late-Summer-Palette-.jpg
1200
900
Steve Jones
http://stevejonesgbh.com/wp-content/uploads/2017/01/gbhweblogo.png
Steve Jones
2019-10-02 13:58:28
2019-10-04 13:42:39
August Revelations at DeSoto State Park