I dedicate this Post to my new friends at Kimep University, a western-style English-speaking institution in Almaty, Kazakhstan. Dr. Timothy Barnett, Provost and General Deputy to the President, a former University of Alaska Fairbanks colleague of mine, invited me to present a half-day Academic Leadership workshop for Vice Presidents, Deans, Directors, and Chairs Wednesday August 21. Tim and his Executive Assistant, Dr. Arai Kuderbayeva, and Almaty-based tour guide Jannat Suleeva graciously introduced me the preceding weekend to three wonderful National Parks in that southeastern region of Kazakhstan in and near the Tian Shan Mountains bordering Kyrgyzstan. The two days served as a perfect orientation to Kazakhstan, its people and their culture, its geography and Nature, and the spirit of this ancient land. Monday and Tuesday I devoted more time to learning the city and the university, preparing for Wednesday afternoon's workshop.
Look for a second Kazakhstan Post dedicated to my general impressions and reflections. I focus this first Post on our venture into the National Parks. The concept of national parks is as applicable in Kazakhstan as in the US. The Mission of our National Park Service applies universally: Preserve unimpaired the natural and cultural resources and values of the National Park System for the enjoyment, education, and inspiration of this and future generations. I am thrilled to see the same spirit as the American park system operating within Kazakhstan (the plaques are from Yellowstone). I sensed the sentiment expressed so well by Roosevelt and Stegner at play right there in central Asia!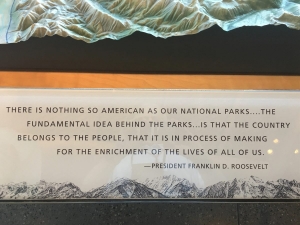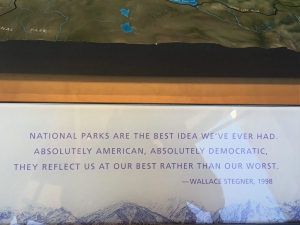 Lake Issyk National Park (August 17, 2019)
We ascended to a little over a mile high (5,700′) to Lake Issyk National Park, some 40 miles east of Almaty. We left dry weather behind in the lowland basin. Heavy cloud cover, temperatures near 50 degrees, light rain and mist, and an occasional earnest shower greeted us at the Lake elevation.  These young mountains remain seismically active, with Tian Shan high peaks reaching to some 24,000 feet. That's two-thirds of a mile higher than North America's high point atop Alaska's Denali. Not unexpectedly, landslides are common, some triggered by earthquakes. A modern-day landslide damned the glacier-fed Issyk River to create Lake Issyk.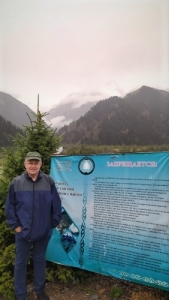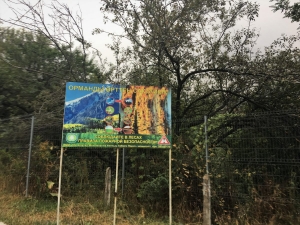 Were I able to read Russian, the signage would provide historical detail. Fortunately, my hosts read and interpreted for me. Far more detail than the fog revealed about the landscape.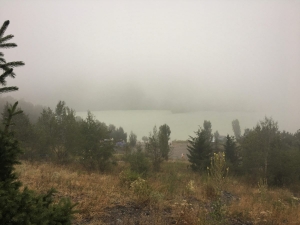 A heavier shower helped dissipate the low clouds and fog, giving us a sense of how nestled and protected we were in the rain-soaked valley.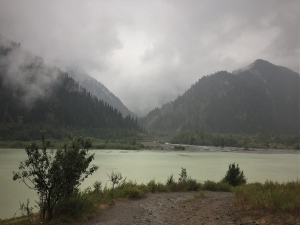 However, only later when I found this photo on the Kazakhstan Travel and Tourism Blog site did I see that we had been indeed deep in a beautiful alpine setting. Upon our return trip to Almaty, the mountain clouds cleared enough for us to see fresh snow-caps topping the range to our south. I concluded that our cold Issyk rain had fallen as snow at 10,000′ and above. There I was in Kazakhstan during the hottest (likely mid-90s) part of Alabama summer, feeling quite comfortable in my late fall jacket that I had thought to pack. Our own National Parks have nothing over the stunning beauty, magic, wonder, and awe of the three I visited in Kazakhstan's central Asian mountains.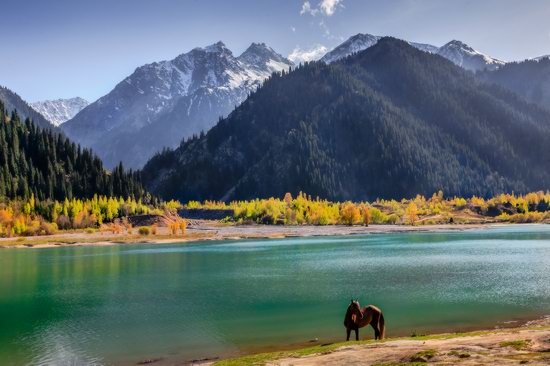 Photo credit to Kazakhstan Travel and Tourism Blog site
Left to right, here are Jannat, Arai, and Tim.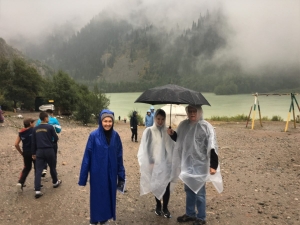 I could have been transported blindly by Star Trek beam to this land 11 time zones east of my USA CDT home, and asked to guess my location on planet Earth. The terrain is too rough and the mountains too young to be eastern US. However, I would not have ruled out the Rockies without the foreign signage. The stock photo I borrowed above would also not have eased my identifying the locale. The deep yellow of fall-hued birch or aspen resembles Rocky Mountain autumn.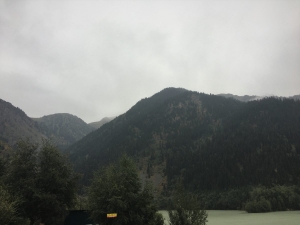 Again, even though the low fog cleared, I could only imagine the utter beauty of the Park's natural setting. I have often written of my objective as naturalist, Earth steward, educator, or enterprise leader to always search for what lies hidden within. Hidden within a viewscape, an ecosystem, students, or a team striving together. Here is my brief website video explaining the relevance of what lies hidden within: https://youtu.be/jlv1wIIC7HI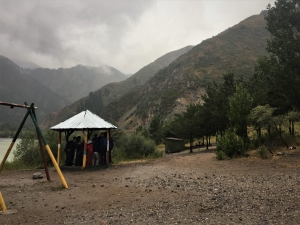 The people packed under the small shelter (above photo) constitute a wedding party, complete with bride in full white dress. They had chosen this location for pre-ceremony photographs. They slogged about in the rain, her dress wet and hoisted as she walked trying to prevent further degradation to the mud-splattered hem. I didn't detect defeat. In fact, they seemed to take it in stride. I suspect the weather and special location will become part of family lore. Nature has a way of reminding us what is, in fact, really important. I'm sure they chose this place because of memories from days like that depicted in the website photo.
Before we departed, the rain stopped, permitting Tim to stow poncho and umbrella back into our vehicle.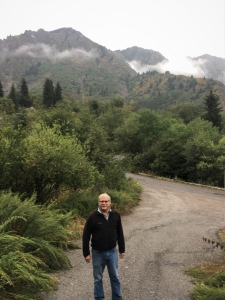 I certainly did not permit the soaking day from dampening (I know, I couldn't resist) my enthusiasm for a chance to experience Nature at work and in play half-way around the world. Ours is an incredibly dynamic planet. The forces of gravity, ice, wind, freezing and thawing, floods, and landslides are ambivalent to longitude and time zone. Beauty knows no boundaries. Wonder and geophysical magic couldn't care less about the geopolitical tides that granted independence to Kazakhstan in 1990 following 70 years under the iron thumb of Soviet rule.
Charyn Canyon National Nature Park
We drove east from Almaty Sunday morning, passing through first an industrial sector and then entering an extended agricultural basin, the east-west trending Tian Shan mountains always to our south (photo below). I wondered whether the snow cap had carried through the summer or was this exclusively yesterday's frosting. I settled on the former. Where we came closer, I saw alpine glaciers high above. Almaty's latitude is nearly identical to Syracuse, NY, where we've lived twice. Throw in elevation reaching to higher than Denali and it's not surprising to find a summer snowpack. I puzzled over the geomorphology of this Almaty region. Are its origins similar to the basin and range physiographic province of the inland western USA? Whenever and wherever I wander in Nature, I long for more time to ponder, question, explore, and learn. I think often of Bob Segar's Against the Wind  lyrics, 'Wish I didn't know now what I didn't know then. The older I get the more I realize how little I know. Thirty years ago I believe I would have been more likely to simply appreciate and enjoy the scenery. I accepted the what…now I seek the why, how, when, and what comes next. Like Lewis Carroll's Alice in Wonderland, I grow curiouser and curiouser as I accelerate with the years and pass through Nature's wonderland!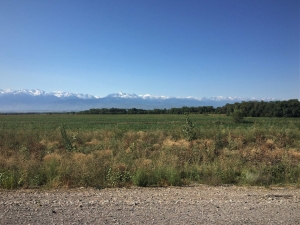 We left the basin (and the ancient Silk Road route) behind as we turned toward the range, ascending through terrain I considered dry, harsh, and tortured, reminding me of South Dakota's Badlands. Vegetation sparse, the land expressed a rain shadow climate, far less verdant than the basin nearer to Almaty. Wikipedia characterized it as, "Cold Semi-Arid Climate (Koeppen Classification BSk: warm, dry summers with cold winters). 312 mm (~10.13″) of precipitation per year (maximum in summer). Average temperature ranges from −10.7 °C (12.7 °F) in January to 19.5 °C (67.1 °F) in July." In contrast, "Almaty is situated in a mountainous area which has an influence on the climate in this city. Almaty has a warm continental climate with more rainfall than in the rest of the country. Especially in spring and early summer months there is a lot more rain." Almaty averages twice the annual rainfall as Charyn Canyon, at 22.9."  Charyn Canyon National Park awaited our arrival not far up the road. The average annual rainfall difference speaks volumes through each area's vegetation.
The rising road cut (below left) is starkly barren. Below right shows just a bit of remaining green near the road shoulder depression. All other grassy vegetation has long since desiccated.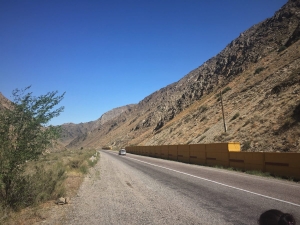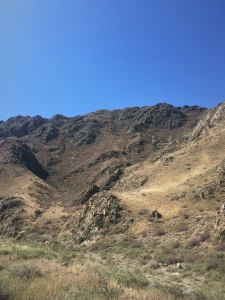 We exited the badlands onto a vast barren plateau (below left) that stretched far to the highlands beyond. A spartan billboard (below right) welcomed us to the Charyn Canyon turn-off. Interestingly, Charyn's annual rainfall is only an inch less than we received in Fairbanks, Alaska, which supported vast forests of white and black spruce, trembling aspen, and white birch. The differences:
Fairbanks' 65 degrees north latitude versus 43
Snowpack in-place without melting for six months; snowmelt coincides with the onset of spring, releasing slowly to saturated soils through mid-summer
Permafrost underlying many forested sites, not allowing percolation deep into the soil and groundwater
Summer temperatures far cooler… suppressing evapotranspiration
Average annual rainfall alone does not tell the tale.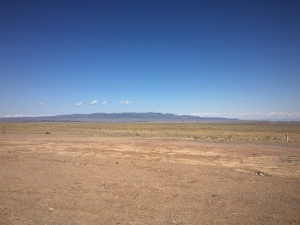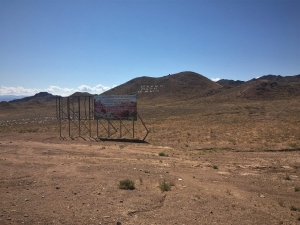 Charyn Canyon lies roughly 120 miles east of Almaty. The Charyn River runs along the canyon's 56-mile length at 3,600′ elevation. The surface sits 1,200′ above the floor. My hosts referenced Charyn as Kazakhstan's mini-Grand Canyon. I have yet to visit the USA Grand Canyon, yet I could see the resemblance (from photographs and videos), granted that Charyn is on a much smaller scale. Still the forces of chemical and physical agents continue cutting into this high plateau. I suppose that time means nothing to a youthful canyon.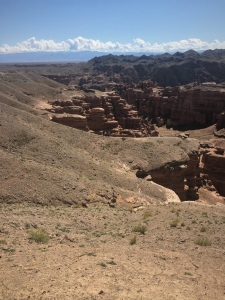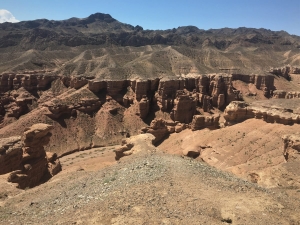 Allow me to draw another similarity to our Grand Canyon. The mighty Colorado River continues to carve its valley at approximately fifteen thousandths of an inch per year. I can only guess that the Charyn River cuts somewhere at that ballpark rate, plus or minus an order of magnitude. Here's the similarity I mentioned. While both seek sea level, neither the Charyn or Colorado's ample water reaches an ocean. Every drop of rain or snowmelt draining north from the Tian Shan mountains eventually evaporates in the vast basin occupied by Lake Balkhash, the world's 15th largest lake. The basin is closed. Agricultural and industrial demands are reducing the volume of inflow. Sediments from the rapidly eroding Tian Shan mountains are reaching and filling the basin. The basin's desert climate evaporates and continues to increase lake water salinity.
In contrast, the Colorado used to reach the Pacific Ocean at Baja. Agricultural irrigation now depletes the river before it can discharge. Whether in Kazakhstan or our western US, what are we doing to our One Earth?! This pale blue orb that sustains us. Our one and only home. Isolated by unfathomable time and distance. We are alone. We cannot expect to be saved from elsewhere. Our fate rests in our hands. Are we up to it?
I bear the burden… as do Tim, Jannat, and Arai below. My trip reminds me that 7.7 billion people exact a toll. We four appear lost in the plateau's vastness, yet we and our fellow Earth citizens place demands on this planet that in aggregate, without informed and responsible stewardship, may ensure that we will be little more than a brief hiccup in the ultimate fossil record of life on Earth. The name, Tian Shan Mountains standing far behind us, translates to Mountains of Heaven or the Heavenly Mountain. What a shame to treat any aspect of our heavenly Earth home as though it is a commodity meant to consume, disrespect, and abuse.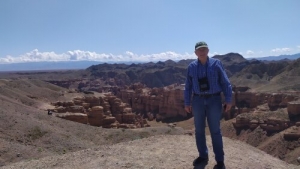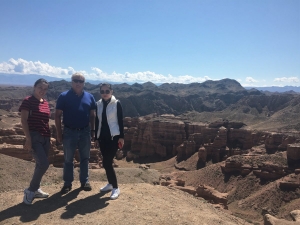 We had no time to explore the canyon floor. Oh, if only we could have dedicated an entire week! I found yet another official National Park website to borrow this spectacular photo taken from the floor. Dark sky, sunlit walls, and heavenly glow project a spiritual essence that should guide all that we do to care for our common home.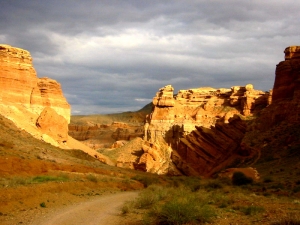 We wound our way from Charyn to Kolsai Lakes National Park, deeper into the Tian Shan Mountains. This is hard scrabble land. Residents eke out a living and good life by raising sheep, goats, and horses.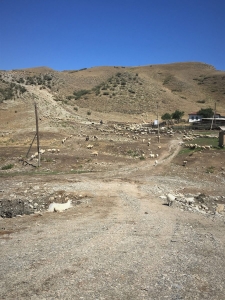 The landscape began rolling and greening as we rose into the foothills and entered a more verdant climate zone.
Kolsai Lakes National Park
Seventy-five miles SE of Almaty, Lower Lake stands at 5,963 feet above sea level. Like Issyk Lake, Lower Kolsai Lake originated with a landslide blocking the valley outlet. Its deepest waters are 262 feet. I'm standing at the canyon edge downstream of the damming debris.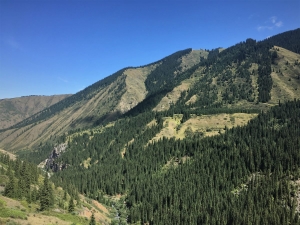 The resultant alpine lake, in my humble assessment, projects a far more pleasant expression than the harsh canyon walls downstream.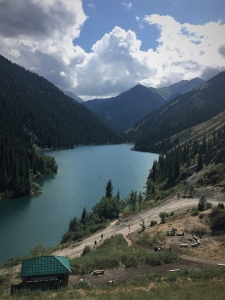 Horses play a rich role in Kazakhstan's long history: instruments of war, transportation, sport, livestock management, and even as a food-source. Exploring the trails by horseback is common.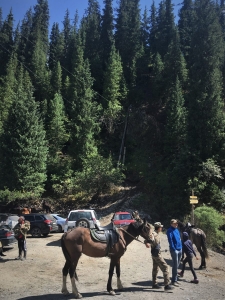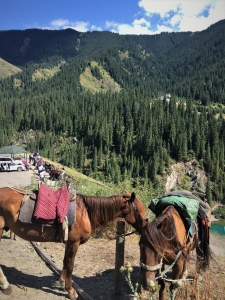 Water exits the lake on shallow riffles, belying the violence of the landslide that dumped debris nearly 300-feet deep to plug the canyon.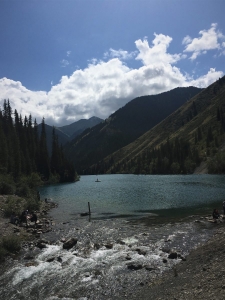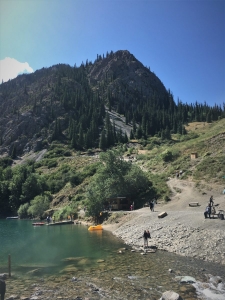 As with our short time at Charyn Canyon and Issyk Lake, I longed to hike into the Park…to reach the Middle and Upper Kolsai Lakes, referred to as the Pearls of the Tian Shan Mountains. We were less than ten miles from the border with Kyrgyzstan at this point. I would like to have set a foot in yet another country. Perhaps for another visit! The aqua-blue hints at the river's glacial source. A lovely shade framed by a native evergreen. That's Tim, Arai, and Jannat behind me on the trail.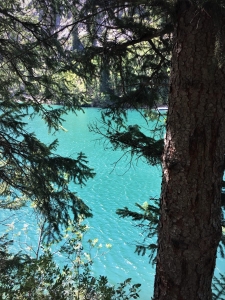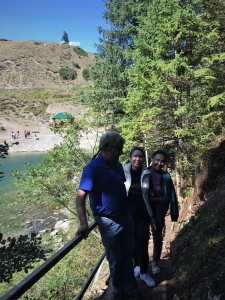 I had been to Japan and China… a week in the former and two weeks in China. Both trips courtesy of the respective university I led and represented. Our entourage and our hosts had dedicated those visits to exploring and defining relationships with other universities, businesses, and governmental entities. We covered a lot of countryside, passing through some magnificent topography and captivating landscapes, yet only incidentally. I ached then for a Nature-informed tour guide. My Kazakhstan hosts certainly reached an elevated interpretive level with their own knowledge and interest, assisted by interpretive signage and website references. I learned a great deal, yearned for more, and felt that we could not have packed any more into that wonderful weekend!
Nature's beauty, magic, wonder, and awe do not recognize geopolitical boundaries. Ours is a spectacular country, yet this pale blue orb spreads the visual and aesthetic wealth globally. I grew personally and professionally with my eight-day exposure to yet another part of the world. I hope that I earned the privilege of this remarkable and memorable experience by returning some value to the Kimep University Workshop participants.
I admit initially questioning my own sanity for accepting a task of preparing for and presenting a workshop half-way around the world… a demanding scholarly endeavor and potentially exhausting travel. In retrospect, the decision was a no-brainer! Life is short… too short to pass up any opportunity to experience this Earth's full richness and bounty. A native Alabamian, Helen Keller observed:
Life is either a daring adventure or nothing. Security does not exist in nature, nor do the children of men as a whole experience it. Avoiding danger is no safer in the long run than exposure.
Four years in Alaska amplified my own absolute passion for place and everyday Nature. Robert Service wrote in The Spell of the Yukon,
There's a land– oh, it beckons and beckons,
And I want to go Back–and I will…
It's the great, big, broad land 'way up yonder,
It's the forests where silence has lease;
It's the beauty that thrills me with wonder,
It's the stillness that fills me with peace.
I left the Almaty Region and the Tian Shan Mountains with a kindred feeling. Were my Kimep University cousins to offer another future challenge and opportunity, I would respond enthusiastically and positively.
Thoughts and Reflections
I wrote my books Nature Based Leadership (2016), Nature-Inspired Learning and Leading (2017), and Weaned Seals and Snowy Summits: Stories of Passion for Place and Everyday Nature (2019) to encourage all citizens to recognize and appreciate that every lesson for living, learning, serving, and leading is either written indelibly in or is powerfully inspired by Nature. All three are available on Amazon and other online sources.
Here are the four succinct lessons I draw from this Blog Post:
Nature's constants apply planet-wide: climate; bedrock; tectonic forces; gravity; time.

Understanding the science underlying Nature's attractions amplifies enjoyment, appreciation, and inspiration…no matter the continent.

Seeing Nature deeply sows and nurtures the seeds for informed and responsible Earth stewardship, whether in North America or Central Asia.
Nature is spatial (and special) — connect viscerally to The Land wherever you are. Such union of personal passion to place will stir your heart, body, mind, spirit, and soul.
Inhale and absorb Nature's elixir. May Nature Inspire and Reward you!
Note: All blog post images created & photographed by Stephen B. Jones unless otherwise noted. Please circulate images with photo credit: "©2019 Steve Jones, Great Blue Heron LLC. All Rights Reserved."
Another Note: If you came to this post via a Facebook posting or by an another route, please sign up now (no cost… no obligation) to receive my Blog Post email alerts: http://stevejonesgbh.com/contact/
And a Third: I am available for Nature-Inspired Speaking, Writing, and Consulting — contact me at steve.jones.0524@gmail.com
Reminder of my Personal and Professional Purpose, Passion, and Cause
If only more of us viewed our precious environment through the filters I employ. If only my mission and vision could be multiplied untold orders of magnitude:
Mission: Employ writing and speaking to educate, inspire, and enable readers and listeners to understand, appreciate, and enjoy Nature… and accept and practice Earth Stewardship.
Vision:
People of all ages will pay greater attention to and engage more regularly with Nature… and will accept and practice informed and responsible Earth Stewardship.
They will see their relationship to our natural world with new eyes… and will understand more clearly their Earth home.
Tagline/Motto: Steve (Great Blue Heron) encourages and seeks a better tomorrow through Nature-Inspired Living!
Weaned Seals and Snowy Summits: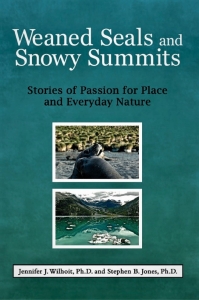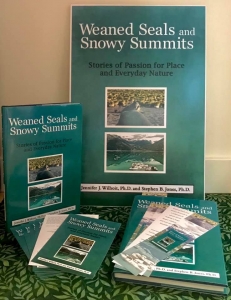 Jennifer and Steve: "We're so proud to announce the publication and release of our first co-authored book, Weaned Seals and Snowy Summits: Stories of Passion for Place and Everyday Nature. This book is a collection of nature stories seeking to inspire deeper relationship with and care for this beautiful Earth." Order your copy from your local indie bookstore, or find it on IndieBound: https://www.indiebound.org/book/9781489723529
http://stevejonesgbh.com/wp-content/uploads/2019/09/IMG_1814.jpg-08.18.19-Sunday-Kolsai-Lakes-NP.jpg
1200
900
Steve Jones
http://stevejonesgbh.com/wp-content/uploads/2017/01/gbhweblogo.png
Steve Jones
2019-09-10 13:26:41
2019-10-22 04:21:24
Three National Parks in Kazakhstan: An August Immersion