This Post continues my series of photographic essays from a 12-day five-state tour of National Parks and Monuments July 12-24, 2019. See the chronological archives for this series that began July 26: http://stevejonesgbh.com/blog/
The immediate prior Post covered the two days we based in Jackson, WY focusing on Grand Teton National Park and drawing to a close when we exited northward into Yellowstone National Park: http://stevejonesgbh.com/2019/08/13/grand-teton-national-park/
President Roosevelt recognized and embraced the absolute imperative to preserve nature's majestic beauty unmarred… forever.
There can be nothing in the world more beautiful than the Yosemite, the groves of the giant sequoias and redwoods, the Canyon of the Colorado, the Canyon of the Yellowstone, the Three Tetons; and our people should see to it that they are preserved for their children and their children's children forever, with their majestic beauty all unmarred. President Theodore Roosevelt
I snapped the two photos below from the Flagg Ranch Information Station along the John D. Rockefeller, Jr. Memorial Parkway, just four miles below Yellowstone NP's South Entrance (6,886′ elevation). Below left the Tetons stretch south toward Jackson, where the Snake River exits the greater Yellowstone ecosystem comprising both Teton and Yellowstone National Parks. Below right, the view to the north, where the ecosystem reaches into Yellowstone NP.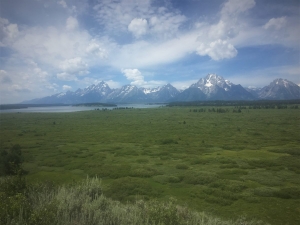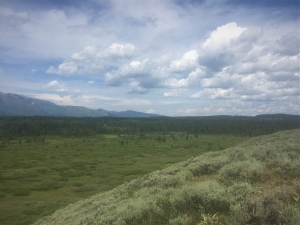 From my eastern US perspective I find it a bit sobering that the South Entrance stands 203′ higher than North Carolina's Mount Mitchell, our Appalachian Mountains' highest peak! The Park's Eagle Peak summits at 11,372, besting Mitchell by 4,689′. Grand Teton (13,770′) reaches a little more than twice Mitchell's height! Scale here in the West demands recalibration. Twenty-two miles north of the South Entrance we crossed the Western Continental Divide. The Snake flows to its ultimate union with the Columbia River in Washington. The Yellowstone River flows north through the Park, finding outlet to the Missouri River in North Dakota, and weeks later entering the Mississippi and eventually the Gulf of Mexico. Imagine a snowflake that landed on the divide, its meltwater splitting half one way and half the other. The water cares not. I suppose the same applies to life-divides that alter our own trajectories. Whichever way we choose (or chooses us), the flow carries us along, impelling that we make the most of the journey wherever we align along the divide.
Broad Impressions of the Greater Yellowstone Ecosystem
Yellowstone is a magnificent, sprawling, magical symbol of America's wildness, on my bucket list for at least five decades. A wild and wonderful place. However, on any given July day, Yellowstone's visitor population exceeds that of every Wyoming city excepting Cheyenne and Casper. Yellowstone in that way is a conundrum. I'll save addressing the crowds to a subsequent Post focusing on the press of humanity we encountered at Yellowstone, Badlands, and Devils Tower.
I'll direct this Post to my broad impressions of this exquisite place, exclusive of the Caldera, hot spots, geysers, and other hydro-thermal features. Those elements warrant a separate Post. Watch for it.
Here are two iconic Yellowstone images I captured: bison and Old Faithful — charismatic mega-fauna and a world-class geyser! Breath-taking, heart-pounding, and soul-stirring. I will never be quite the same again. A bucket list item checked — a dividend of three buckets-full of fulfillment, spirituality, and inspiration!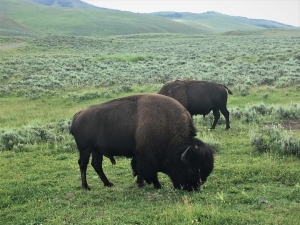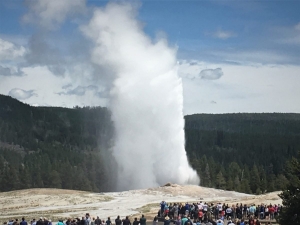 Yellowstone Falls (lower left) drops 308-feet into the Grand Canyon of the Yellowstone, some 800-1,200-feet-deep along its 20-mile length. Not on the Colorado Grand Canyon scale yet very impressive.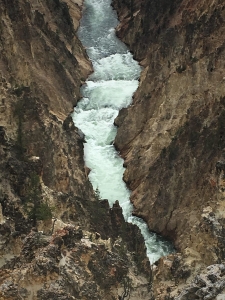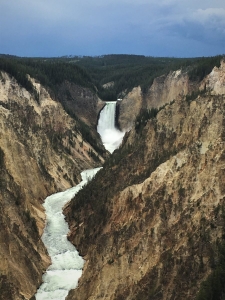 Another perspective offers glimpses of the powerful whitewater far below within the chasm. The Canyon exposes the yellow stone that gives the river and Park its name.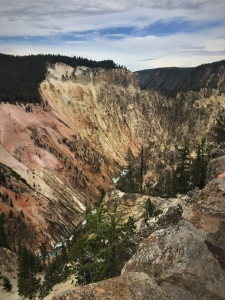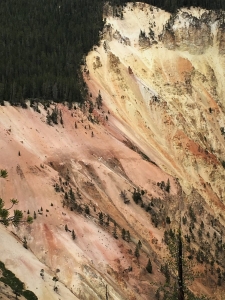 The Yellowstone River emerges from its Canyon ~20 miles downstream near the Roosevelt Lodge at Tower-Roosevelt.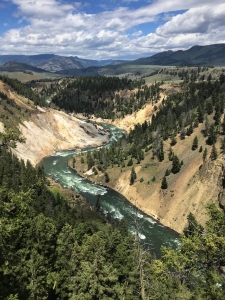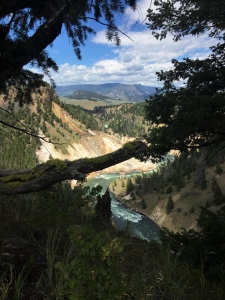 Books have been written about the geology of Yellowstone. Science-based tales of tectonics, 'hot spots,' glacial geomorphology, and countless other phenomena explain the magic that is Nature's 2.222-million acre Yellowstone NP Wonder. From an overlook at Tower-Roosevelt we spotted the columnar jointing of the uppermost layer above the canyon: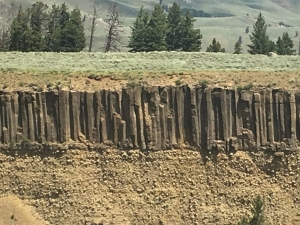 Paraphrasing from the doctoral-educated geologist who authored Georney's Geological Musings, Wanderings, and Adventures Blog Post:
Columnar jointing is a structure that forms in rocks (most commonly in basalt) that consist of columns (most commonly hexagonal in cross-section) that are separated by joints or fractures that formed when the rock contracted as the overflowing lava layer cooled at the Earth's surface. Columnar jointing is always a joy to observe in rocks in the field. Stumbling upon perfectly geometric columns of rock can only be described as magical. Even the most austere scientist might find herself (or himself) gaping in awe at the flawless shapes and wondering if men or Gods carved those immaculate columns.
Again, Yellowstone is both exquisite place and powerful symbol. Our two days on-site barely scratched the surface. Seeing the great park has sparked a faint new bucket list item. I wonder what a year at Yellowstone (or at The Teton Science Schools) would reveal, immersing me in the subtle and wild swings of the seasons in this natural paradise. I witnessed only a snapshot… a brief moment in time. A shallow passage, often bus-bound, and at most a half-mile from a paved road. I won't begin planning for such a venture. I will seek a book or two that chronicle such a 12-month venture. First step — live the experience vicariously through another bold enough to have done it.
Teddy Roosevelt expressed the symbol beautifully:
There is nothing so American as our National Parks… The fundamental idea behind the Parks… is that the country belongs to the people, and that it is in process of making for the enrichment of the lives of all of us. President Franklin D. Theodore Roosevelt
What better place to immortalize his vision and spirit than at a physical portal to the Park. The Roosevelt Arch stands at the North Entrance. Unfortunately, we made it to all but this iconic doorway. Therefore, I borrowed the photo from a Park Service website. Characteristically Rooseveltian, his words are succinct and poignant: "For the benefit and enjoyment of the people."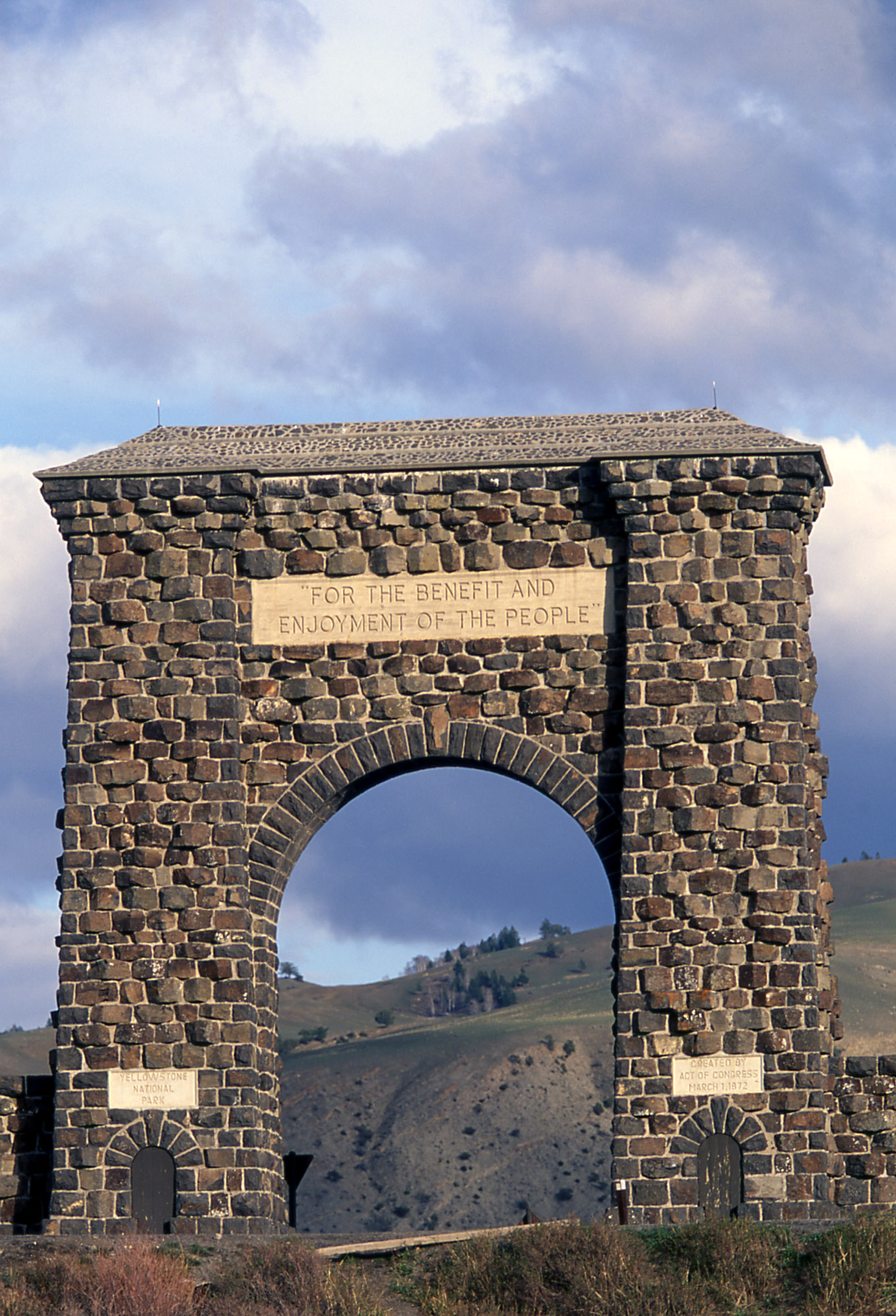 The author of Searching for Yellowstone, Paul Schullery, observed the many facets of the park on a plaque in Cody, WY after we left Yellowstone: "Numbers alone will never fully portray Yellowstone's sense of place, but scientific analyses have an understandable beauty of their own, revealing the elegance of nature's complexity. Perhaps by combining that analytical beauty with the work of poets, painters, and fiction writers, we will best advance our search for Yellowstone."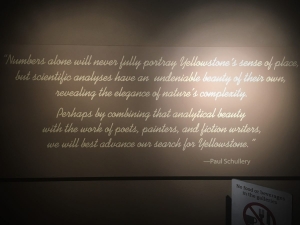 I will borrow Schullery's book from the library. I hunger to know more about so many things that I have only shallowly explored, Yellowstone among them.
Fauna
The mighty Grizzly — the apex Yellowstone predator! But not so fast, annually more visitors are injured by bison than by the Park's large carnivores. Park rules require that visitors approach any of the Park's large animals no closer than 25 yards. Bison are big beasts. Males can exceed 12-feet from head to rump and weigh in excess of a ton… and accelerate to 40 mph!
But there are other dangers of the non-faunal variety. I selflessly, boldly, and fearlessly saved our very capable tour guide from certain death when he slipped beyond a stone wall along a treacherous canyon rim! Okay, I admit that he stood on a very broad ledge feigning near-catastrophe. Forgive a bit of frivolity. Placing himself or any of us in danger was not part of Eli's absolute emphasis on safety. Yet, he did appear to experience exquisite joy in posing for the photo!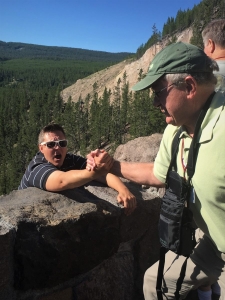 After our first of two overnights at West Yellowstone, MT, we drove back east into the Park along the Madison River. Fog-shrouded, a group of six elk (our first of the trip) crossed the river.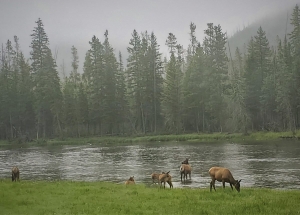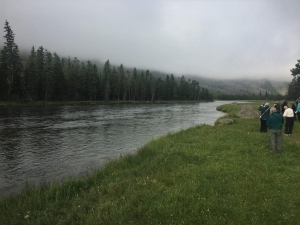 We saw more and more bison as our Yellowstone journey progressed. We exited the Park July 18 via the Lamar Valley (Left)… by then seeing herds with scores of the grazers.  After seeing the elk along the Madison River, we turned to follow the Firehole River and spotted these resting bison in a river-side meadow (below right).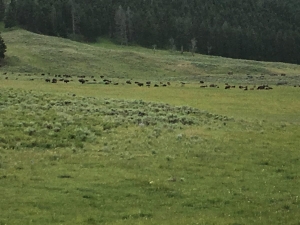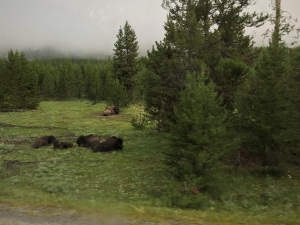 I snapped this herd from the bus as we departed the Park through Lamar Valley. Imagine tens of thousands of these magnificent beasts inhabiting Yellowstone pre-European settlement, and 30-60 million across the county in 1750!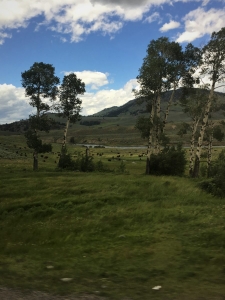 And also as we passed through Lamar Valley, we spotted this collection of pronghorn antelope and bison.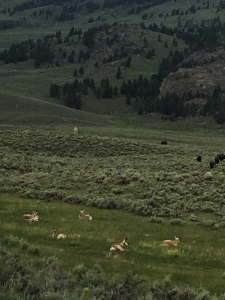 We visited the Buffalo Bill Cody Museum the next day in Cody, Wyoming. Although we had departed Yellowstone, I include photos from the Museum, a Smithsonian Affiliate, which included a world class natural history display. Grizzlies and wolves below.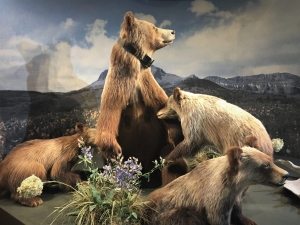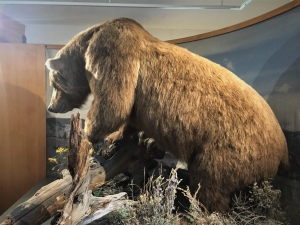 And a grizzly doing battle with a bull elk.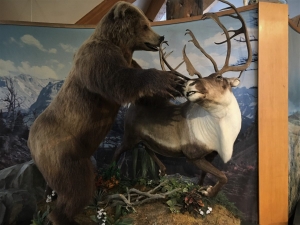 Allow me to slide back to West Yellowstone, MT, where we visited the Grizzly and Wolf Discovery Center. That's a full-grown grizzly rescued as an orphaned cub and kept at the Center.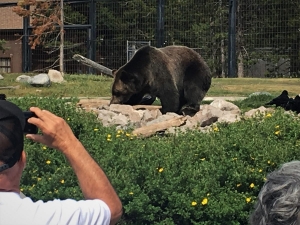 Toss in a colony of prairie dogs at the Center.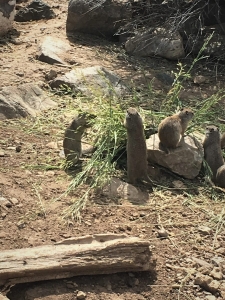 Fire
As a doctoral-level applied ecologist, I can't resist the temptation to note that fire is a natural element of the Yellowstone ecosystem, which has evolved with fire over the millennia. Contrary to news media coverage in 1988 when 63 percent of the Park's acreage burned, the fires did not destroy the burned areas. Instead, the burned-over areas I saw some 30 years later simply evidenced another successional stage, shifting in the example (below left) from closed forest canopy to open meadow and thickets of evergreen seedlings and saplings. The elk welcome the rich forage available (below right) in what had also been closed forest. More than 80 percent of the 1988 Yellowstone fires began with lightning strikes, the remainder by humans. Fire is just one of Nature's agents of renewal. Nothing in Nature is static.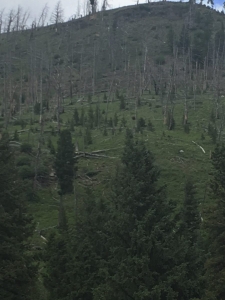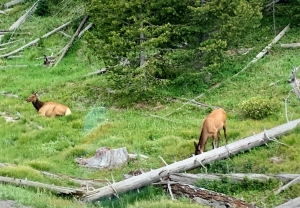 Flowers
As with other Posts in my July 2019 National Parks series, I could have inserted tens of wildflower photos from my Yellowstone wanderings. Instead, I offer just one unidentified example that grew along one of the "hot spot" boardwalks. Perhaps if I could devote a year living in this incredible ecosystem I could learn so much more than I do. Life is short. Nature could fill and enrich ten lifetimes… and still I would hunger to know more!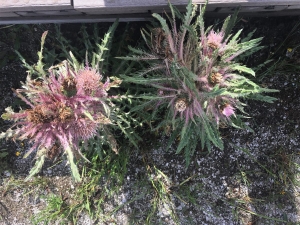 The Parks are the Nation's pleasure grounds and the Nation's restoring places… The National Parks… are an American idea; it is one thing we have that has not been imported. Horace McFarland, president, American Civic Association, 1916
National Parks are the best idea we ever had. Absolutely American, absolutely democratic, they reflect us at our best rather than our worst. Wallace Stegner, 1983
Thoughts and Reflections
I wrote my books Nature Based Leadership (2016), Nature-Inspired Learning and Leading (2017), and Weaned Seals and Snowy Summits: Stories of Passion for Place and Everyday Nature, as well as another one by me (single author) scheduled for 2020, Natural Elixir: Lifting Your Life through Nature's Inspiration, to encourage all citizens to recognize and appreciate that every lesson for living, learning, serving, and leading is either written indelibly in or is powerfully inspired by Nature. All three published books are available on Amazon and other online sources.
Here are the four succinct lessons I draw from this Blog Post:
No matter at what scale we view Nature, she presents gifts of beauty, magic, wonder, and awe.
Understanding the Science underlying Nature's attractions amplifies enjoyment, appreciation, and inspiration.
Seeing Nature deeply sows and nurtures the seeds for informed and responsible Earth stewardship.
Nature is spatial (and special) — connect viscerally to The Land wherever you are. Such union of personal passion to place will stir your heart, body, mind, spirit, and soul.
Inhale and absorb Nature's elixir. May Nature Inspire and Reward you!
Note: All blog post images created & photographed by Stephen B. Jones unless otherwise noted. Please circulate images with photo credit: "©2019 Steve Jones, Great Blue Heron LLC. All Rights Reserved."
Another Note: If you came to this post via a Facebook posting or by an another route, please sign up now (no cost… no obligation) to receive my Blog Post email alerts: http://stevejonesgbh.com/contact/
And a Third: I am available for Nature-Inspired Speaking, Writing, and Consulting — contact me at steve.jones.0524@gmail.com
Reminder of my Personal and Professional Purpose, Passion, and Cause
If only more of us viewed our precious environment through the filters I employ. If only my mission and vision could be multiplied untold orders of magnitude:
Mission: Employ writing and speaking to educate, inspire, and enable readers and listeners to understand, appreciate, and enjoy Nature… and accept and practice Earth Stewardship.
Vision:
People of all ages will pay greater attention to and engage more regularly with Nature… and will accept and practice informed and responsible Earth Stewardship.
They will see their relationship to our natural world with new eyes… and will understand more clearly their Earth home.
Tagline/Motto: Steve (Great Blue Heron) encourages and seeks a better tomorrow through Nature-Inspired Living!
Weaned Seals and Snowy Summits: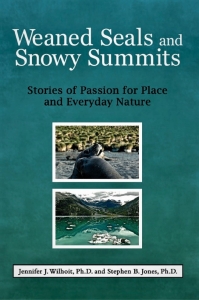 Jennifer and Steve: "We're so proud to announce the publication and release of our first co-authored book, Weaned Seals and Snowy Summits: Stories of Passion for Place and Everyday Nature. This book is a collection of nature stories seeking to inspire deeper relationship with and care for this beautiful Earth. Order your copy from your local indie bookstore, or find it on IndieBound: https://www.indiebound.org/book/9781489723529"
http://stevejonesgbh.com/wp-content/uploads/2019/08/IMG_4475.jpg-07.17.19-En-Route-to-Grand-Prismatice-Spring-Our-First-Bison.jpg
900
1200
Steve Jones
http://stevejonesgbh.com/wp-content/uploads/2017/01/gbhweblogo.png
Steve Jones
2019-08-27 18:36:03
2019-08-27 18:36:03
Yellowstone National Park: Greater Yellowstone Ecosystem!