I continue my series of Blog Posts from a 12-day five-state tour of National Parks and Monuments July 12-24. See the chronological archives for this series that began July 26: http://stevejonesgbh.com/blog/
The immediate prior Post brought us from Salt Lake City, UT to Jackson, WY: http://stevejonesgbh.com/2019/08/05/salt-lake-city-ut-to-jackson-wy/. Today's Post covers the two days we based in Jackson and ends as we head north into Yellowstone National Park. I had visited the Tetons once before on university business and a second time when Judy accompanied me. The first trip, two of my associates and I arranged an extra day, rented bikes, and completed a 55-mile loop through the valley. The second, Judy and I, among other adventures, hiked the trail circuiting Jenny Lake. Since the first visit I have considered Grand Teton National Park one of my favorite places on Earth.
In fact, were the Park closer to where we have chosen to permanently reside in the eastern US, I would designate the Park as my ultimate ashes-destination… please don't notify authorities. I believe they're a bit particular about keeping the Parks clear of such ingress. Instead, and probably just as prohibited, I wish to add my nutrient-rich ash atop Dolly Sods Wilderness in West Virginia's Monongahela National Forest. I first fell in love with Dolly Sods when I hiked and camped there as a teenager… and fueled the love affair from afar over the years, visiting occasionally, at least once every 5-10 years, each occasion generating welled eyes and pounding heart.
Jackson, WY is way out of my league during winter when the beautiful people enjoy the fresh powder (they arrive via private jets rather than a coach bus!). Each time I've visited during summer and stayed with not-so-bad group rates. Upon arriving our first evening on this trip, Judy and I grabbed burgers and watched as a blustery squall surged through town with strong wind, dark clouds, and just a little rain. The departing storm (lower left) signaled far more fury than we had felt. Something about mountain storms (Jackson sits at 6,237-feet) draws me up into them, captures my imagination, and rewards me with downdrafts far cooler and refreshing than do our summer storms in the deep south.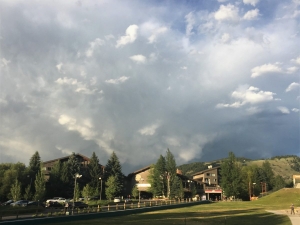 The next morning dawned sharp and clear. I sought a little elevation behind the Lodge, lifting the Tetons above the near-ridge to the north. There at 13,770 feet stood the focus of my geophysical affection.
I thrilled knowing that the day ahead would take us into the Greater Yellowstone ecosystem. Years ago (mid-90s) I was well on my way to arranging a sabbatical leave from my Penn State faculty position for a year at The Teton Science Schools (https://www.tetonscience.org/), then primarily a partnership involving Utah State University and the University of Wyoming. Instead, I accepted an administrative position at Auburn University. Another road not taken. Life is a matter of choices and decisions. As for a professional post in the Greater Yellowstone ecosystem:
Oh, I kept the first for another day!
Yet knowing how way leads on to way,
I doubted if I should ever come back.
No regrets. Life has been good. A year on-site at TSS may have (no, would have) changed my life and perhaps altered my life's trajectory. So may have many other pathway selections we've made along life's journey. July 2019 was my first return since making that choice. While there, I admit to thinking once or twice about The Teton Science Schools. After all, we passed within a few miles of the main campus. But I felt no sadness or remorse. I long ago grew beyond second-guessing myself. As a friend used to say, "It is what it is."
Floating the Snake River
We boarded the bus mid-morning heading north to raft on the Snake River, which just weeks before had been a raging torrent from continuing rains and rapid mountain snowmelt. We found the river tame and smooth, and the float quite relaxing. Scenery knew no visibility limits — clouds high and air pure and clean. The Snake runs south, east of the great Teton fault that lies at the foot of the Tetons. The Tetons are among the Earth's youngest mountains, the most recent uplifting began just 10 million years ago. The Teton block thrusts upward along the western edge of the Jackson Hole valley block. We are floating along the river with the former surface of the block buried 20,000 feet beneath us… under nearly four vertical miles of material scraped, eroded, and deposited from the rising Tetons. Geologists describe this mountain-building as rapid. With the total offset to-date at 30,000 feet, the average pace per year is three-thousandths of a foot. Characterizing that pace as rapid suggests that geologic time lies beyond our feeble ability to grasp. Same for posing 10 million years as young.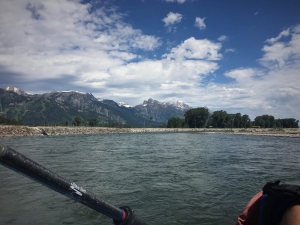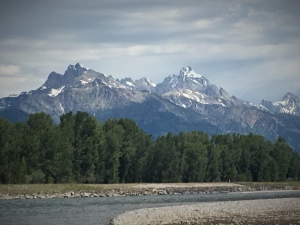 Time means nothing to a mountain. And mountains mean nothing to time… or to wind, water, gravity, and glaciers, whose role is to destroy mountains. Nothing in Nature is static. Come back next summer and I will challenge you to detect any change. Leave for a few million years and return to a drastically altered landscape. We humans usually distinguish only cataclysmic change — 1980 Mount Saint Helens; 1964 Alaska Good Friday earthquake; 1991 Mount Pinatubo eruption. Yet we do know how to read the landscape (like the Tetons) to determine the processes, patterns, and pace that have sculpted this and other geography. Such reading is the science of geomorphology, the study of the form of the earth. Geomorphology was my favorite course at Syracuse University when I returned to secure my PhD 1985-87. There are volumes to read in a place as dynamic as the Tetons and the Greater Yellowstone ecosystem!
There is a long story behind the moniker for my semi-retirement LLC (Great Blue Heron): http://stevejonesgbh.com/reflections/ Refer to this link in my website to see why a great blue heron appearing along the Snake River held such symbolic significance for me. My personal connections to many facets of Nature help guide and inspire my life.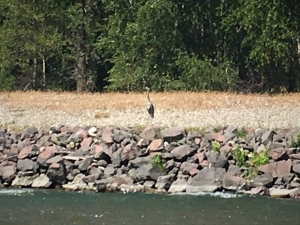 Nature's Diverse Dimensions
As a forester, trees fascinate me. I have a wide collection of tree bark images and tree form oddity photos. The deeply furrowed cottonwood bark along a Jackson park trail caught my eye (below left). And I am a cloud and sky junkie. Another shower burst through our second evening in Jackson. I captured the setting sun as it dropped beneath the dark underbelly of the eastward-bound departing shower. I liked the visual. Again, we felt lots of wind and watched threatening storm clouds but experienced only a little rain.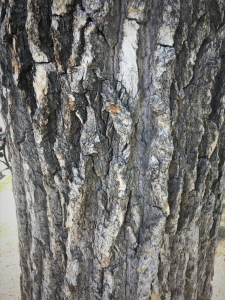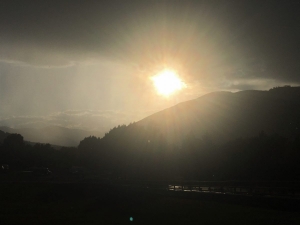 Deeper into Grand Teton National Park
We departed July 16 first thing for the Heart of The Grand Teton National Park. I will never tire of the absolute majesty of the Tetons. Once again my heart soared!
We visited the Craig Thomas Discovery and Visitor Center, where I hungered for more time.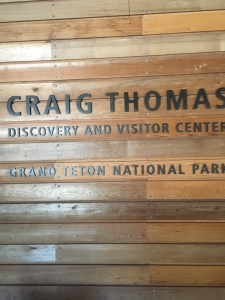 So many others have written words far more powerful than my own feeble script. What can I possibly say better than some of the greats who played a role in establishing and sustaining our National Parks?! Our Parks: "for the enrichment of the lives of all of us." The Tetons "should be kept from man's irresponsible destruction."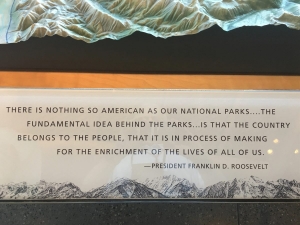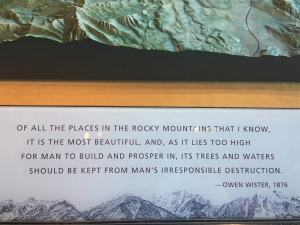 Our Parks: "the best idea we ever had." Understand, defend, and preserve our natural world.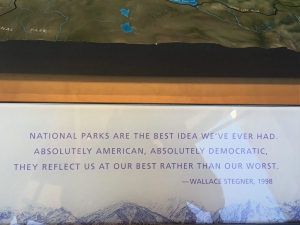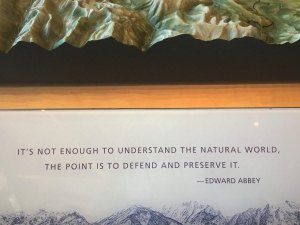 Chapel of the Transfiguration
I found spiritualism permeating so many places we visited… the Tetons, first and foremost among them, epitomized by the Chapel of the  Transfiguration. From the website, This tiny chapel built in 1925 on land donated by Maud Noble is still a functioning Episcopal church. It was constructed so that the early settlers would not have to make the long buckboard ride into Jackson for Sunday services. The structure also served guests and employees of the dude ranches that stretched north of Jackson along the base of the Teton Range. What could be more spiritually powerful (at  least from the Christian perspective) than the cross (below right) at equal rank with Grand Teton!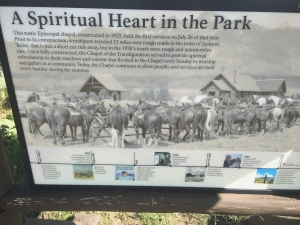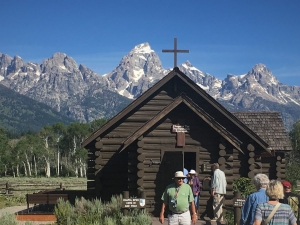 Jenny Lake and Jackson Lake
During the most recent Pleistocene Ice Age (from 50-14,000 years ago), ice covered the Yellowstone Plateau to an estimated depth of 3,500-feet. Jackson lay under 1,500′ of ice. Since the retreat of the ice sheet, alpine glaciers have further sculpted the valley. During the Little Ice Age (1400 to 1850) the Cascade Canyon Glacier (that's Cascade Canyon right of center below left) flowed into the valley, gouged a depression some 400-feet deep, and pushed up a terminal moraine that impounds today's astoundingly beautiful Jenny Lake (1,191 acres). Judy and I hiked the perimeter 20-plus years ago. Time permitting, could we have once again completed the hike? We took solace knowing that we had once done so.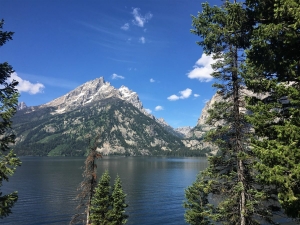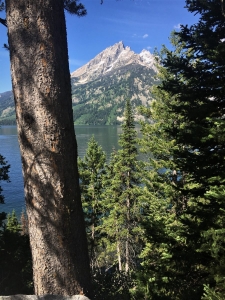 Jackson Lake lies a dozen miles further up the Snake River. A natural lake enlarged by the construction of the Jackson Lake Dam, which was originally built in 1911, elevated in 1916, and rebuilt by 1989. The surface covers 25,540 acres (nearly 40 square miles). The lake offers a stirring foreground for the Tetons that in the two views below are fading southward as our tour headed north. I snapped these images from the Flagg Ranch Information Station just a few miles south of Yellowstone National Park.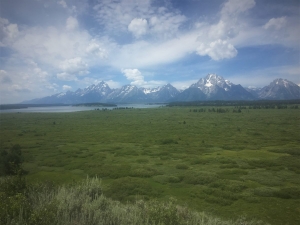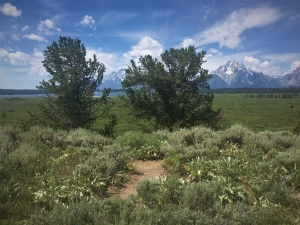 Flagg Ranch is a privately operated resort located in the John D. Rockefeller, Jr. Memorial Parkway  corridor between Yellowstone National Park and Grand Teton National Park. The location was initially occupied in the 1890s by the Snake River Military Station, part of a network of U.S. Army outposts for patrol and management of Yellowstone National Park in its early years under military administration. The outpost operated under Army control until 1906, when the lands to the south of the Yellowstone boundary were turned over to the US Forest Service, becoming Teton National Forest in 1908. The station became a stopping point for travelers between Jackson, Wyoming and Yellowstone, easily identifiable by the flags that flew over it (Wikipedia). Mr. Rockefeller acquired significant acreage of Greater Yellowstone ecosystem lands using names other than his own. He did not want his name to inflate asking prices. He then donated the acquired property to enlarge the ultimate Parks land base. The granite-mounted brass plaque acknowledges Mr. Rockefeller's "vision, generosity, and love of country" (below left). The plaque faces southwest toward the Tetons from a bluff above the northern reaches of Jackson Lake (below right).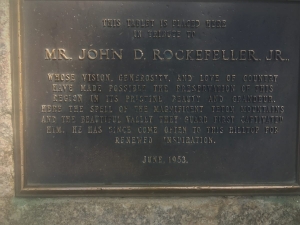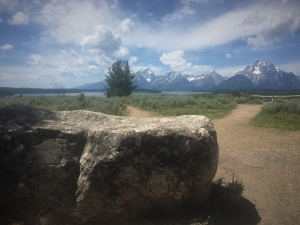 Grand Teton Wildflowers
Paraphrasing text from my earlier Post on our run from Salt Lake City to Jackson: I confess to being a hopeless wildflower addict. What a gift to see both magnificent landscape-level-vista beauty from within Grand Teton National Park, and then focus my gaze to the ground at my feet to reveal beauty at another scale and in a different dimension. Were I back in Alabama I would have known many native species on sight or had references on my bookshelf to identify them. My good intention as I photographed these beauties was to complete identification before publishing the Posts. I admit, however, to assembling a pile of good intentions. I made a time-constrained internet attempt to determine name, rank, and serial number to include with this Post and subsequent stops along the National Parks and Monuments series. Instead, I will offer you a revised Good Intention: I'll delay to a final trip Post a compilation of wildflowers from the entire 12-day journey, striving to offer flower identity. So, for the moment, I offer a taste of the floral bounty and beauty we encountered within Grand Teton National Park!
From deep red and salmon: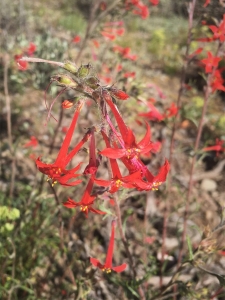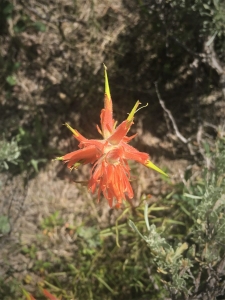 To an entire battery of yellows: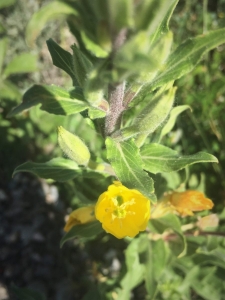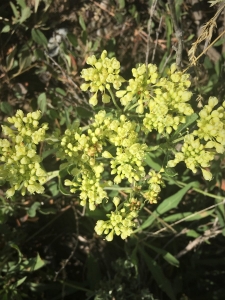 And more yellows: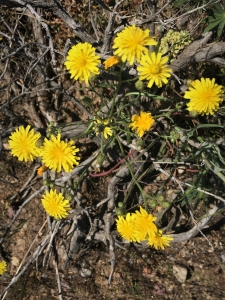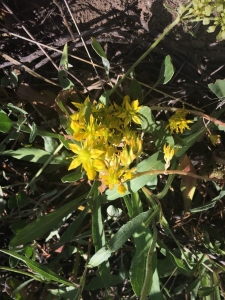 And some softer hues: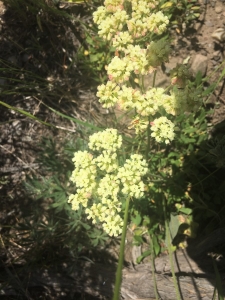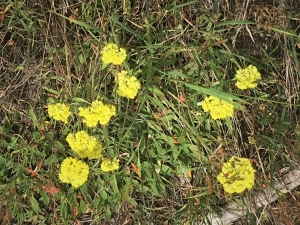 To subtle rose: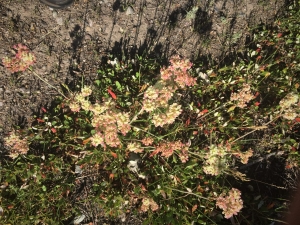 To this snow-white Rocky Mountain raspberry (Rubus deliciosus), which I was able to identify with little effort. Its species name hints at its fruit's culinary attributes.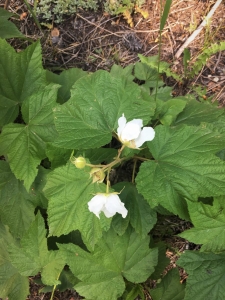 To soft purple:
I offer the portfolio of flowers without identification with no small level of guilt and embarrassment.
Leaving Grand Teton Behind
Just a few miles ahead we entered Yellowstone National Park, leaving Grand Teton's magic wonderland behind. Will I ever return? I hope so.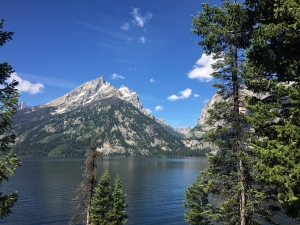 I am grateful that today's digital cameras permit instant review. I can immediately relive our two days in the Tetons. And within days I can review, edit, sort, and catalog them. And I can share these Blog Posts with readers. These photos bear witness to the presence and power of Nature's inspiration. I pray that my words, combined with the images, will stir in you some greater understanding and appreciation for our natural world. That the Post will prompt some recognition that we have this one chance to better steward our precious Earth. And that as an informed and responsible Earth citizen, you accept an essential obligation to practice Earth stewardship… to do your part to change some small corner of the world for the better… through wisdom, knowledge, and hard work.
I offer four succinct lessons below from this Post. Notably, they are unchanged from the four I offered in the prior Post chronicling our journey from Salt Lake City to Jackson.
Thoughts and Reflections
I wrote my books Nature Based Leadership (2016), Nature-Inspired Learning and Leading (2017), and Weaned Seals and Snowy Summits: Stories of Passion for Place and Everyday Nature (2019; co-authored with Dr. Jennifer Wilhoit; Submitted to publisher May 31, 2019), as well as another one by me (single author) scheduled for 2020, Natural Elixir: Lifting Your Life through Nature's Inspiration, to encourage all citizens to recognize and appreciate that every lesson for living, learning, serving, and leading is either written indelibly in or is powerfully inspired by Nature. Both published books are available on Amazon and other online sources.
Here are the four succinct lessons I draw from this Blog Post:
No matter at what scale we view Nature, she presents gifts of beauty, magic, wonder, and awe.
Understanding the Science underlying Nature's attractions amplifies enjoyment, appreciation, and inspiration.
Seeing Nature deeply sows and nurtures the seeds for informed and responsible Earth stewardship.
Nature is spatial (and special) — connect viscerally to The Land wherever you are. Such union of personal passion to place will stir your heart, body, mind, spirit, and soul.

Inhale and absorb Nature's elixir. May Nature Inspire and Reward you!
Note: All blog post images created & photographed by Stephen B. Jones unless otherwise noted. Please circulate images with photo credit: "©2019 Steve Jones, Great Blue Heron LLC. All Rights Reserved."
Another Note: If you came to this post via a Facebook posting or by an another route, please sign up now (no cost… no obligation) to receive my Blog Post email alerts: http://stevejonesgbh.com/contact/
And a Third: I am available for Nature-Inspired Speaking, Writing, and Consulting — contact me at steve.jones.0524@gmail.com
Reminder of my Personal and Professional Purpose, Passion, and Cause
If only more of us viewed our precious environment through my own filters. If only my mission and vision could be multiplied untold orders of magnitude:
Mission: Employ writing and speaking to educate, inspire, and enable readers and listeners to understand, appreciate, and enjoy Nature… and accept and practice Earth Stewardship.
Vision:
People of all ages will pay greater attention to and engage more regularly with Nature… and will accept and practice informed and responsible Earth Stewardship.
They will see their relationship to our natural world with new eyes… and will understand more clearly their Earth home.
Tagline/Motto: Steve (Great Blue Heron) encourages and seeks a better tomorrow through Nature-Inspired Living!
http://stevejonesgbh.com/wp-content/uploads/2019/07/IMG_1067.jpg-07.16.19-Grand-Teton-NP.jpg
900
1200
Steve Jones
http://stevejonesgbh.com/wp-content/uploads/2017/01/gbhweblogo.png
Steve Jones
2019-08-13 09:59:43
2019-08-13 09:59:43
Grand Teton National Park