I returned to Joe Wheeler State Park mid-day July 10 for an extended afternoon Park orientation with Superintendent Chad Davis in advance of our evening and next morning State Parks Foundation Board meeting. I had spent several hours exploring a couple of trails in June 2018. See the Post I issued last July: http://stevejonesgbh.com/2018/07/05/joe-wheeler-state-park/
The Park website says of Joe Wheeler SP: "Whether you arrive by land or water, there's no mistaking the beauty and serenity of this 2,550-acre resort park. On the shores of Wheeler Lake, the resort features a stunning waterfront lodge with restaurant and convention facilities, championship 18-hole golf course and clubhouse, full-service marina with permanent and overnight docking slips, modern and primitive camping, lakeside cottages, cozy cabins, and a rustic group lodge." Visit the website: https://www.alapark.com/parks/joe-wheeler-state-park
The main entrance hints at the sylvan environment lying within.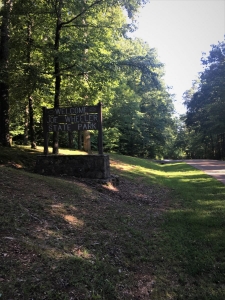 Before I report on our afternoon wanderings, allow me to leap ahead to the next morning.
Sunrise at the Lodge along Wheeler Lake
Joe Wheeler is a resort park. I spent the night at the Lodge, a full service hotel and restaurant. I can't remember when I last awakened after daybreak. Morning is my preferred (cherished) time of day. I know that I regularly awoke in full light years ago during our four years in Fairbanks, Alaska at nearly 65-degrees north latitude. Although the sun dipped below the horizon even on the summer solstice, its very shallow arc kept 24-daylight with us for some 80 consecutive summer days. So, for 10-11 weeks there was no rising before dawn!
Judy and I enjoyed our early morning walk along the Lodge waterfront as the sun broke the eastern horizon, back-lighting sailboats docked at the Park's 140-slip marina.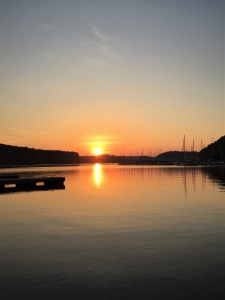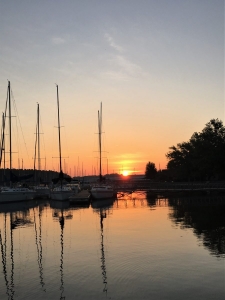 We saw no cabin cruiser (my term for some rather large boats) human passengers up and about so early. Yet avian boarders found convenient perches as they caught their insect breakfasts above the lake surface. I wondered whether the boat owners anticipated the necessary hosing and scrubbing that awaited them… courtesy of the swallows.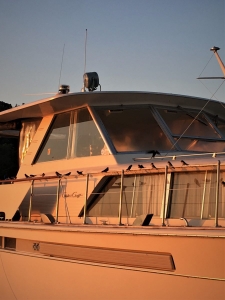 The resort pier extends far enough into the First Creek arm of the Lake to permit this view of the Lodge. What a gorgeous place to call home for an early July escape!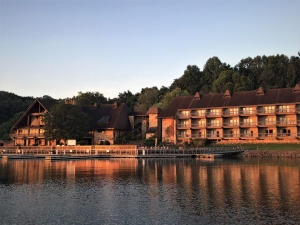 An Afternoon in the Woods
So much of the Park's forests are within a few hundred yards of the Lake. Chad and I examined several segments of Park's new eight-mile trail that should be open and ready to hike this coming fall. Here's just one place where the new trail drops to shore level.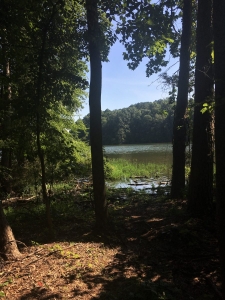 It also comes near this Lake-facing signage advising boaters of their proximity to the resort park.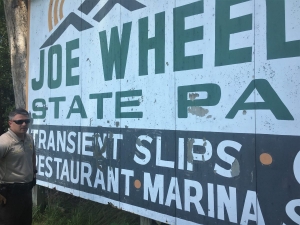 And likewise to near this wall-blind intended for dormant season visitors to observe waterfowl without tree foliage interference.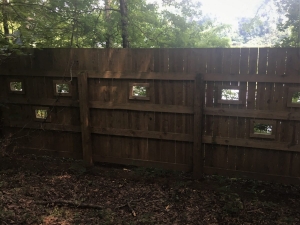 Here's Chad with the trail crew we intercepted doing the hard labor of clearing and grading. I am eager to schedule another visit to trek the full length… once fall delivers more tolerable temperatures.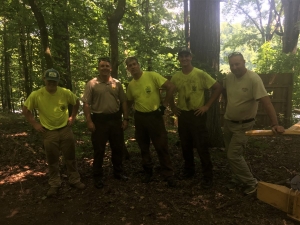 As I've often observed, I am a tree-junkie who entered forestry studies at university fifty years ago in August! I am so fortunate to have merged vocation and avocation. Growing up in the Central Appalachians, I love trees… and I am in love with oaks. The red oak below left, graced with a characteristically hairy-stemmed poison ivy vine, measures two-and-a-half feet diameter breast high (DBH). Chad stands beside another nearby that we measured at 33-inches. Most of the lowland forests at Wheeler State Park are rich former agricultural sites abandoned when TVA acquired the land in advance of dam construction and flooding.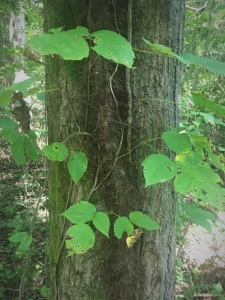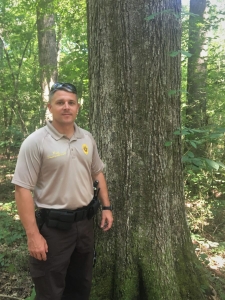 An even larger white oak stands at the base of a steep bluff. Not willing to risk falling into the Lake, I did not descend the slope with my diameter tape. Call me chicken! I estimated its DBH at north of three-feet, with a massive crown (below right). I find inspiration in these forest denizens.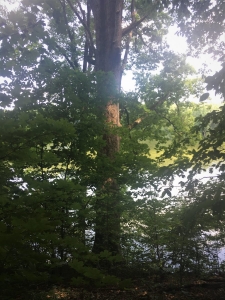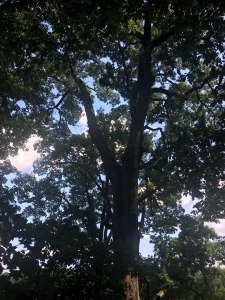 Although not nearly so large as the red and white oaks above, this bitternut hickory (Carya cordiformis) reigns as the State Champion, the largest of its species in the entire state!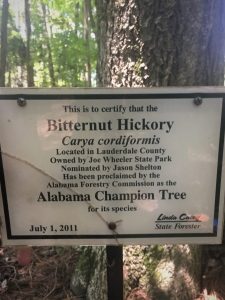 It joins two other species state champions located at the Park: chinkapin oak (Quercus muehlenbergii) and September elm (Ulmus serotina).
I've offered just a glimpse of the Park's magic, beauty, wonder, and awe. I'm blessed that this gem lies just a little more than an hour from my home. I will endeavor to further explore this fall. Occasionally visit the Park's website for announcements about the trail's opening: https://www.alapark.com/parks/joe-wheeler-state-park
Thoughts and Reflections
I wrote my books Nature Based Leadership (2016), Nature-Inspired Learning and Leading (2017), and Weaned Seals and Snowy Summits: Stories of Passion for Place and Everyday Nature (2019; co-authored with Dr. Jennifer Wilhoit; Submitted to publisher May 31, 2019), as well as another one by me (single author) scheduled for 2020, Natural Elixir: Lifting Your Life through Nature's Inspiration, to encourage all citizens to recognize and appreciate that every lesson for living, learning, serving, and leading is either written indelibly in or is powerfully inspired by Nature. Both published books are available on Amazon and other online sources.
Here are the three succinct lessons I draw from this Blog Post:
Our Alabama State Parks are jewels for the ages; whether Cheaha in the heart of our Alabama Southern Appalachians, or Joe Wheeler's lake-shore forests near Rogersville.

The Tennessee River impoundments provide rich regional recreational value, furnish electrical power, enable navigation, and serve as perfect lake-side locations for both Joe Wheeler and Lake Guntersville State Parks.

In my humble view, daybreak is one of Nature's finest gifts.

Inhale and absorb Nature's elixir. May Nature Inspire and Reward you!
Note: All blog post images created & photographed by Stephen B. Jones unless otherwise noted. Please circulate images with photo credit: "©2019 Steve Jones, Great Blue Heron LLC. All Rights Reserved."
Another Note: If you came to this post via a Facebook posting or by an another route, please sign up now (no cost… no obligation) to receive my Blog Post email alerts: http://stevejonesgbh.com/contact/
And a Third: I am available for Nature-Inspired Speaking, Writing, and Consulting — contact me at steve.jones.0524@gmail.com
Reminder of my Personal and Professional Purpose, Passion, and Cause
If only more of us viewed our precious environment through the filters I employ. If only my mission and vision could be multiplied untold orders of magnitude:
Mission: Employ writing and speaking to educate, inspire, and enable readers and listeners to understand, appreciate, and enjoy Nature… and accept and practice Earth Stewardship.
Vision:
People of all ages will pay greater attention to and engage more regularly with Nature… and will accept and practice informed and responsible Earth Stewardship.
They will see their relationship to our natural world with new eyes… and will understand more clearly their Earth home.
Tagline/Motto: Steve (Great Blue Heron) encourages and seeks a better tomorrow through Nature-Inspired Living!
Alabama State Parks Foundation
I'll remind you that I serve on the Foundation Board, in part because of my love of Nature and in recognition for my writing many prior Posts about visiting and experiencing the Parks. I urge you to take a look at the Foundation website and consider ways you might help steward these magical places: https://asparksfoundation.org/ Perhaps you might think about supporting the Parks System education and interpretation imperative: https://asparksfoundation.org/give-today#a444d6c6-371b-47a2-97da-dd15a5b9da76
http://stevejonesgbh.com/wp-content/uploads/2019/07/IMG_0965.jpg-07.10.19-Sunrise-at-JWSP.jpg
900
1200
Steve Jones
http://stevejonesgbh.com/wp-content/uploads/2017/01/gbhweblogo.png
Steve Jones
2019-08-09 15:47:19
2019-08-09 15:52:38
July Return to Joe Wheeler State Park