Such a pleasure to spend two full days at Oak Mountain State Park just south of Birmingham. April 25 engaged me through early afternoon with the Alabama State Parks Foundation Board meeting and the official public launch of the Foundation: http://stevejonesgbh.com/2019/04/29/launching-the-alabama-state-parks-foundation/
Late May I issued another Post on the value added to a State Park visit by our wonderful Park Naturalists: http://stevejonesgbh.com/2019/05/22/oh-what-a-difference-a-naturalist-can-make/ Lauren Muncher, Oak Mountain SP (OMSP) Naturalist toured me by vehicle and extensively by foot over the nearly 10,000-acre Park the afternoon of the 25th and most of the day April 26. What a privilege to see our Parks through the eyes of our committed, capable, passion-fueled on-site environmental ambassadors!
Via this 32-photo portfolio, come along with Lauren and me as we introduce you to some of OMSP's beauty, magic, wonder, and awe. Don't expect to see a full display of the many wildflowers we encountered. I'm saving those for a subsequent Post. A "spoiler alert," I offer just a single flower in this Post — a beautiful bloom from one of my favorite Alabama main canopy tree species.
First Afternoon Exploration
Okay, allow me to start my reflections on our first afternoon with an excuse (no, a suite of excuses). The Park comprises a little more than 15.5 square miles. This was my first visit. I focused on natural features and plants, some of them new to me. I wanted to cover as much ground as possible. I did not take enough notes. Details slipped from the synapses over the intervening seven weeks (I'm drafting this Post the second week of June). Why all this explanation? I simply could not remember the name of the trail that this shelter introduces. I emailed Lauren, who informed me that this is Glade Trail. However, this one comes with a caveat… the trail is closed to general public access and is open by scheduled arrangement only. Below this photo of Lauren standing at the shelter I will explain the rationale for controlled access. Regardless of this special access limitation, the Park offers countless infrastructure amenities to complement the wholesale hiking, biking, and touring opportunities available without restriction.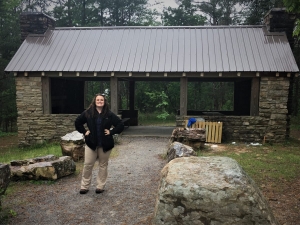 Glade Trail leads directly to an area of special ecological significance. As we headed out beyond the shelter we passed through a sandstone glade, a rare ecotype normally limited to the southern Appalachians. See a more detailed description in my Blog Post focusing on this ecotype at DeSoto State Park: http://stevejonesgbh.com/2019/06/05/sandstone-glades-at-desoto-state-park/  Glades are typified by shallow soils and a xeric growing season environment as rainfall rapidly sheds. The exposed bedrock and stunted plant life give the impression of a high Appalachian Mountain bald, usually found above 4,000-feet. Here on Oak Mountain we are no higher than perhaps a little over 1,000-feet. Still, I like the look and feel of these ecosystems.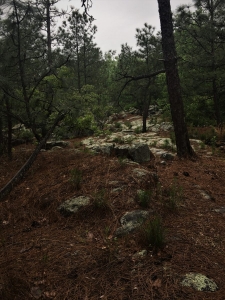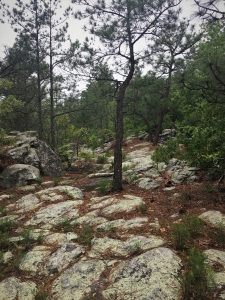 And there are certainly no longleaf pine (Pinus palustris) in the highland Appalachians.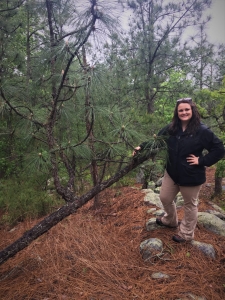 Pardon my leaping ahead with this next photo of another longleaf pine we found the following day within another ecotype, rocky, and in its own way just as harsh as the glade, craggy cliff-like terrain near Peavine Falls. Notice the clear blue sky as backdrop, far different from the showers and clouds of the prior day.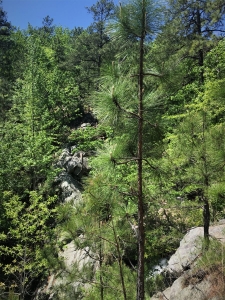 Had Lauren not introduced me, I would not have met this Boynton oak (Quercus boyntonii), a rare North American species of oak, endemic to only six Alabama counties. From the US Forest Service website, "It is commonly called the Boynton sand post oak or Boynton oak. Quercus boyntonii is a rare and poorly known species." Thanks to Lauren, I now know it!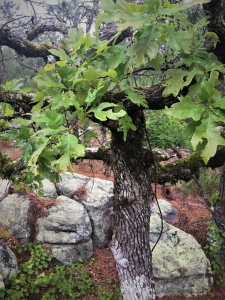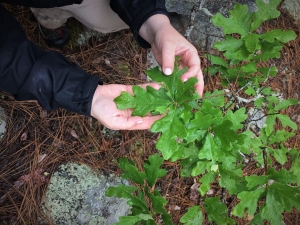 Again, the trail passed through some unforgiving terrain and nearly-barren soils, yet its very nature creates its charm. My notes (yeah, I took a few) described this image below as a tree and stone natural monument. Sandstone blocks and a longleaf standing amid the hilltop boulders spoke to me. I sensed something of reverence and significance. I felt as though I should pause, even kneel, and give thanks for a place of sanctity and solace just 20 miles from Birmingham. Could this be a natural tribute to those who envisioned our State Park System, preserving this 15.5 square miles for perpetuity?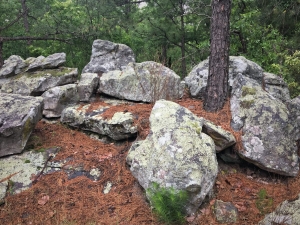 I commend OMSP for its array of interpretive signage and its special attention to birds, including many and diverse bird houses and, as you'll see later in this Post, the raptors of the Hilltop Nature Trail. I had not previously seen one of these Chimney Swift Nest Towers, of which the Park has at least two. From the road, I deemed it some kind of odd cooking chimney. Lauren gave me a closer look and explained its function and purpose. These swifts are voracious insect-consumers.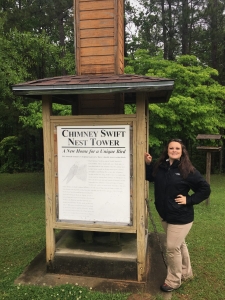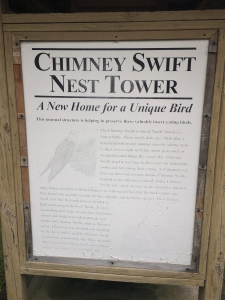 I am grateful to Lauren for availing her expertise for several afternoon hours. We met again first thing next morning, covering a lot more ground.
Tree Form Oddities and Peculiarities
As you can tell, I don't spend much time reporting on our Parks infrastructure. My intent, instead, is to focus on natural features. In fact, I devote my energies to seeing, cataloging, reporting, and translating the unusual and odd, as well as the amazing, when I visit our Parks. Trees (and clouds, weather, waterfalls, rock formations, and much else) fascinate and intrigue me. I've come a long way since my timber-beast forester days. I get more excited (well, at least as excited) by tree form oddities as I do with a three-log veneer-quality red oak! These Oak Mountain State Park hickories (Carya sp.) bear defects that would deter the sawyer's interest. No fine wood products will these individuals yield. Such large canker wounds and scars (fungal infections) provide woodland art that I appreciate. So much beauty lies hidden within plain sight. The forest gallery awaits those willing to search with new eyes. One man's tree defect is another's object of admiration and wonder! We discovered these two along a prominent road within the Park.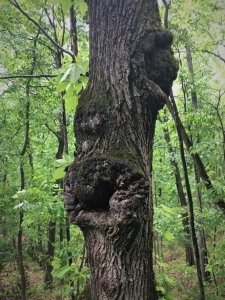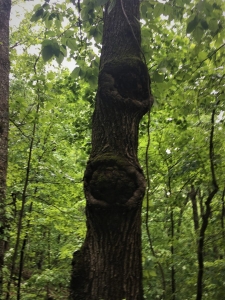 We discovered this interesting union of American beech (Fagus grandifolia) and sweetgum (Liquidambar styraciflua) along a well-used Park trail. Hiding in plain sight! Just another among what I would presume to be hundreds, if not thousands, of woodland gallery displays within OMSP's nearly 10,000 acres. Perhaps there is a budding (I couldn't resist the pun) Birmingham photographer who would consider a coffee-table style book of OMSP's top 100 forest gallery images? Or a challenge the Park might sponsor for Park users to submit their own photos (accompanied by GPS coordinates), eventually leading to an online inventory of special tree form oddities at Oak Mountain.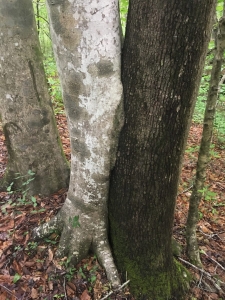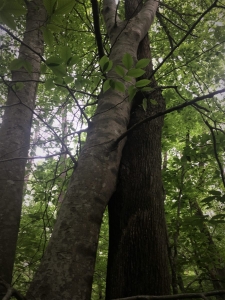 I relish seeing trees like this beech clinging to Earth with obvious embrace. The image is both literal and symbolic. Don't we all, in our own unique way, cling to Earth's bosom?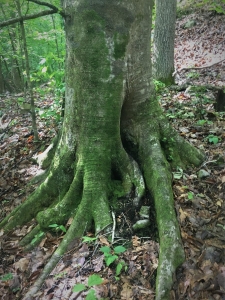 We found yet another hickory with an eye-level canker perfect for squirrels to perch while shelling hickory nuts (below left). That's a large burl (another defect for all but wood-turning enthusiasts) on the lower right hickory concealed in large part by the Virginia creeper (Parthenocissus quinquefolia) leaves.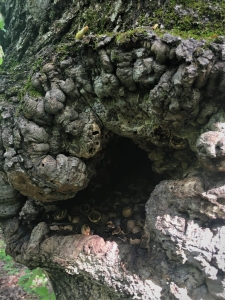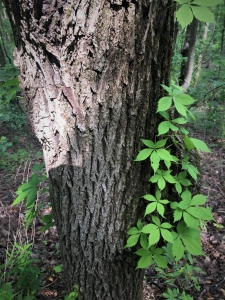 Judy and I watched two Tlingit Indian craftsmen carving a Sitka spruce (Picea sitchensis) totem several hours one afternoon in Southeast Alaska. No hand of man involved in creating this living hickory totem, lined vertically with unknown visages of forest spirits past, present, and future. Given time, I believe I could weave an appropriate tale! So many of the character trees I photographed at Oak Mountain are hickories. Perhaps some dynamic fungal agent specific to the genus Carya swept the region decades ago, infecting and precipitating the bizarre tree responses creating the woodsy artwork I so enjoy and appreciate.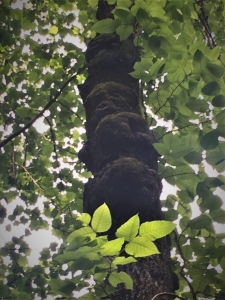 Along another internal Park road atop a ridge, we spotted two main canopy oaks within a hundred feet of one another, both lightning scarred from treetop to root collar. Callousing adjacent to the scars suggest that the hit occurred a couple of years ago, likely concurrently from a combination of primary and secondary strikes from the same bolt. Neither tree appears to be dying. The scars will be permanent. Life isn't always easy in Nature, yet lightning has been striking trees since the first thunderstorm passed over the first forest. Nature adapts and life goes forward or, in the case of a tree-shattering strike, does not. As a Nature-reading sleuth, I appreciate seeing and interpreting the evidence of Nature's power written in the forest.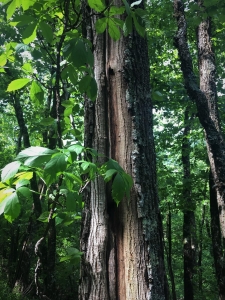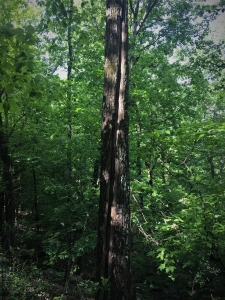 Big Ones
Lauren promised to show me Oak Mountain's big tree. We visited its grove the second afternoon, where we found it standing regally within a fertile, bowl-shaped cove protected from harsh winds and blessed with deep soils and ample bottom-of-slope, season-long abundant moisture. We measured this yellow poplar (Liriodendron tulipifera) at 38-inches DBH (diameter breast height; 4.5-feet above ground). The prior afternoon's rain and wind had gifted us with a fresh flower.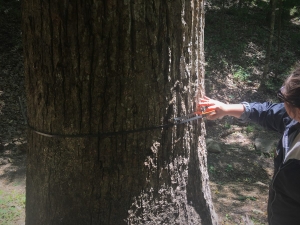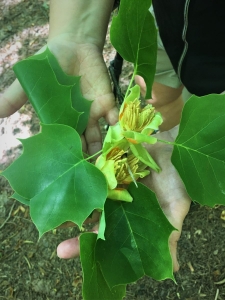 The poplar was not the only big tree we encountered. This 34-inch loblolly (Pinus taeda) also towered above us. Lauren and I talked about the Park cataloging its big trees. Perhaps offering a challenge to Park visitors similar to our idea of likewise noting the Park's special tree form oddities. Over time, the 21-Park System would have a full inventory of Big and Special trees. Is Oak Mountain home to the System's largest poplar, its largest loblolly? Who knows? What education and interpretive value lies in knowing. How significant an education factor is curiosity and a desire to know and discover. My experience as an educator tells me that perhaps nothing is more important to learning.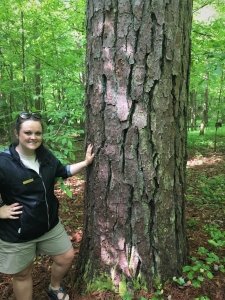 I know, too, from what motivates me, that I would love being the one who finds the biggest, most unusual, unique of anything in Nature.
Treetop Nature Trail
Lauren had previously worked at the Alabama Wildlife Center at Oak Mountain. We visited the Center and its associated Treetop Nature Trail that same second afternoon. Visit the Center's website (https://alabamawildlifecenter.org/), and then make a special effort to go there in person.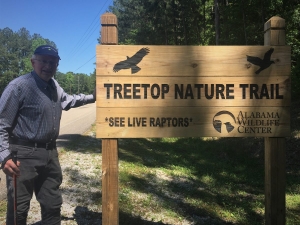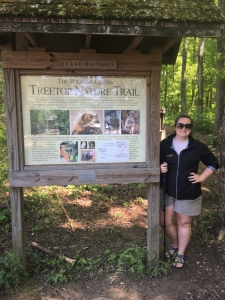 I simply cannot do justice in this Blog Post to this extraordinary Nature education facility and the spirit it embodies. Even the Center and Trail's cove hardwood setting thrilled me.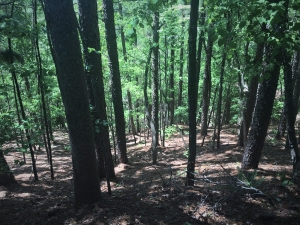 The signage is phenomenal, as are the aviary at each species location along the Trail. These enclosures are the avian equivalent of a five-star hotel. Lauren greet each bird, or set of inhabitants, as though she knows them personally. Well, she does! I have said many times that people don't care how much you know, until they know how much you care. Lauren CARES!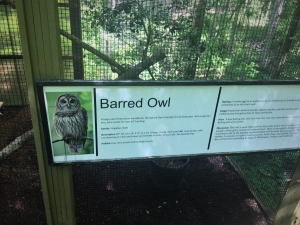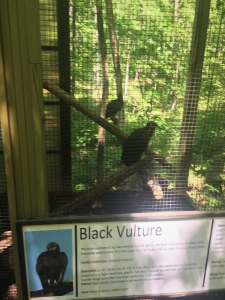 I won't attempt full explanation and comment for each. View this as a teaser… a prompt to encourage you to go there.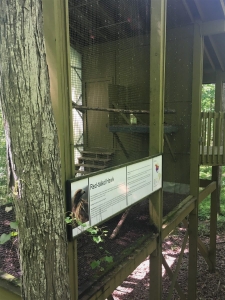 Were I better equipped, camera-wise, and more skilled as a photographer, I would have more clearly captured the essence of the towering forest within which the Trail is located. Perhaps with a little imagination you can get a sense of the cathedral forest above the Trail.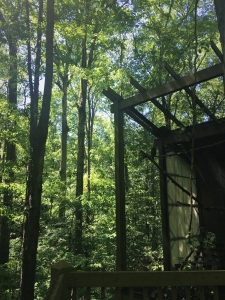 Again, what wonderful signage… a Park Naturalist's delight.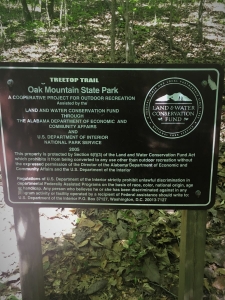 A Little Naturalist Whimsy
Our Alabama State Parks Naturalists take what they do quite seriously, even as they don't take themselves at all so seriously. Why not mix and bit of mirth and whimsy into what they do!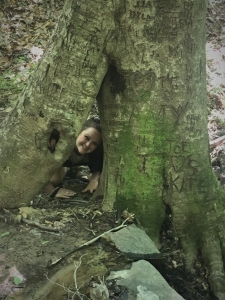 I thoroughly enjoyed my two-day venture at our state's largest Park. I want to go back… and I will. As an applied ecologist, I have a hard time resisting the urge to write, and write, and write about each Park's magic. Instead, I limit myself to presenting this overview and teaser for OMSP. I will present another Blog Post from this April visit showcasing the spring ephemerals we saw while touring and hiking.
Thoughts and Reflections
I wrote my books Nature Based Leadership (2016), Nature-Inspired Learning and Leading (2017), and Weaned Seals and Snowy Summits: Stories of Passion for Place and Everyday Nature (2019; co-authored with Dr. Jennifer Wilhoit; Submitted to publisher May 31, 2019), as well as another one by me (single author) scheduled for 2020, Natural Elixir: Lifting Your Life through Nature's Inspiration, to encourage all citizens to recognize and appreciate that every lesson for living, learning, serving, and leading is either written indelibly in or is powerfully inspired by Nature. Both published books are available on Amazon and other online sources.
Here are the four succinct lessons I draw from this Blog Post:
Rare, isolated, and unusual ecosystems (like Oak Mountain's glades) provide vast windows for understanding and appreciating the peculiar mechanisms and wonders of Nature.

Open your eyes to the special in Nature, whether tree form oddities or Big Trees.
Enter the forest knowing that magic and wonder lie hidden within.
Maintain a never-ending sense of curiosity for Nature's secrets and her common-place, plain-sight gifts.
Inhale and absorb Nature's elixir. May Nature Inspire and Reward you!
Note: All blog post images created & photographed by Stephen B. Jones unless otherwise noted. Please circulate images with photo credit: "©2019 Steve Jones, Great Blue Heron LLC. All Rights Reserved."
Another Note: If you came to this post via a Facebook posting or by an another route, please sign up now (no cost… no obligation) to receive my Blog Post email alerts: http://stevejonesgbh.com/contact/
And a Third: I am available for Nature-Inspired Speaking, Writing, and Consulting — contact me at steve.jones.0524@gmail.com
Reminder of my Personal and Professional Purpose, Passion, and Cause
If only more of us viewed our precious environment through the filters I employ. If only my mission and vision could be multiplied untold orders of magnitude:
Mission: Employ writing and speaking to educate, inspire, and enable readers and listeners to understand, appreciate, and enjoy Nature… and accept and practice Earth Stewardship.
Vision:
People of all ages will pay greater attention to and engage more regularly with Nature… and will accept and practice informed and responsible Earth Stewardship.
They will see their relationship to our natural world with new eyes… and will understand more clearly their Earth home.
Tagline/Motto: Steve (Great Blue Heron) encourages and seeks a better tomorrow through Nature-Inspired Living!
Alabama State Parks Foundation
I'll remind you that I serve on the Foundation Board, in part because of my love of Nature and in recognition for my writing many prior Posts about visiting and experiencing the Parks. I urge you to take a look at the Foundation website and consider ways you might help steward these magical places: https://asparksfoundation.org/ Perhaps you might think about supporting the Parks System education and interpretation imperative.
http://stevejonesgbh.com/wp-content/uploads/2019/05/IMG_0161.jpg-04.25.19-Boynton-Oak-Quercus-Boyntonii-Sandstone-Glade.jpg
900
1200
Steve Jones
http://stevejonesgbh.com/wp-content/uploads/2017/01/gbhweblogo.png
Steve Jones
2019-06-17 17:55:29
2019-06-17 17:55:29
Late Spring at Oak Mountain State Park