The Cook Museum of Natural Science opened June 7, 2019. Judy and I, along with 11.5-year-old grandson Jack, toured pre-opening June 3, with Explainer Kenny Ladner leading the way. I am grateful to Kenny and other members of the Cook Museum team for inviting me for an advance peek. The only caveat being that I not release this Blog Post until after the Grand Opening.
Our reaction to the visit — WOW!!! Here's what I found on the website June 6: "The Cook Museum of Natural Science is a state-of-the-art natural science museum in downtown Decatur, AL. It provides a hands-on, immersive experience where kids can explore, interact with, and learn about nature. Families leave the Cook Museum feeling fulfilled by their time together and inspired by the things they saw and learned. It truly is one amazing experience for families and children of all ages!" We three can vouch for the Amazing Experience — beyond our wildest expectations.
I often celebrate Wendell Berry's view of Nature and natural settings: "Outdoors we are confronted everywhere with wonders; we see that the miraculous is not extraordinary, but the common mode of existence. It is our daily bread." The same applies to the Museum — total indoor immersion in Nature's wonders and miracles, a far-ranging introduction to natural science on a global scale, yet at the hands-on level, within reach, up close and personal, in climate-controlled comfort. We bought a Museum membership on the spot — we will return again and again and again. Perhaps not for daily bread, yet certainly for frequent ingestion of Natural Elixir. Cook Museum will not replace our field excursions, but will supplement the rich palette of Vitamin 'N' (Nature) available here in Alabama's Tennessee River Valley region.
Allow me to introduce the Museum with a set of photos, reflections, and observations. View this as a teaser — an enticement to visit. A prelude to the incredible experience that awaits you! I can tell you for sure that I cannot do justice to the Museum. It truly is an Amazing Experience!
A New Building
From the exquisite building… to its world-class contents.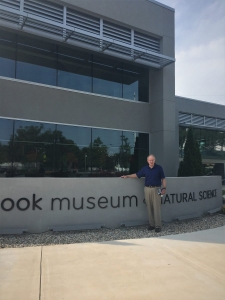 Nothing is overstated, yet all is convincing, compelling, and powerful. Nature comes to life within its walls. Designers and craftsmen/women left no detail undone or misdone.
Entering This New Icon of Environmental Education
Kenny Ladner ably and enthusiastically introduced us to the Museum. Kenny's the biped on the right!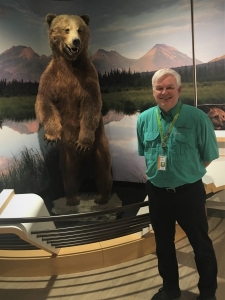 I saw by far the best indoor honeybee display I've ever encountered. This one houses some 50,000 Italian Honeybees. Like watching campfire flames, snow falling in a floodlight, or a stream flowing past, I could have watched this community for hours.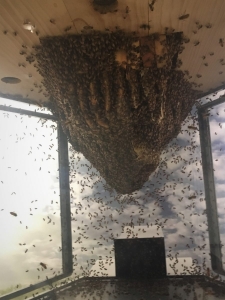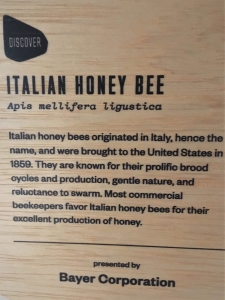 And that was just the entryway!
Undergirding Earth Sciences
The natural sciences cover far more than the living components. Cook makes sure visitors understand the earth sciences and their influence on life and the living. Jack stands with Kevin Kunze, the design mastermind behind a fascinating interactive exhibit explaining how complex factors aligned perfectly to enable life as we know it to exist on our fare planet. I love the "Perfect Position" and "Just Right" themes. Serendipity and fortuity have pretty much guided my life and career; now I am reminded that the same two factors have enabled all life and living on Earth!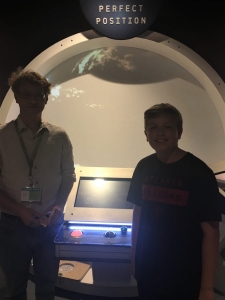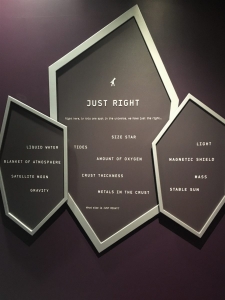 So many of us bemoan tornadoes, wildfire, earthquakes, volcanoes, hurricanes, and other such earthly violence, yet the Museum reminds us that perturbation is natural and that many systems are, in fact, disturbance-dependent. Our human recourse? Understand, predict, and adapt. I think of the old T-shirt: Don't Mess with Mother Nature!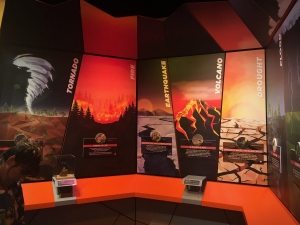 I failed to get a good photo of the Cook Museum Cave exhibit, yet it beautifully tells its own tale of physical forces over time.
Freshwater Realm
The U.S. Geological Survey estimates that approximately 10 percent of the freshwater resources in the entire continental United States originate in or flow through Alabama. The total surface area of Alabama is about 52,000 square miles, or 33.3 million acres. Total outflow of water from Alabama averages about 29 inches per acre per year, with 7 inches coming from groundwater discharge and 22 inches coming from stream outflow. About half of the rainwater that falls on our state evaporates or transpires. Water and its associated living systems in large measure define our state. Kenny is describing for us this reconstructed beaver lodge. Disassembled on site in the wild, Museum staff rebuilt it, even re-incorporating an old small tire, a broken fishing rod, and a T-shirt. The cross-section lodge is home to three mounted beavers.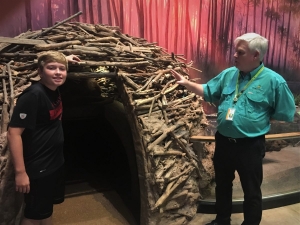 That's a gator tail in the elevated display in front of Judy and Kenny. Yeah, that's Jack placing his head between the gator's powerful jaws!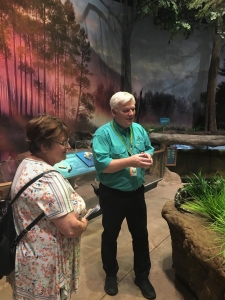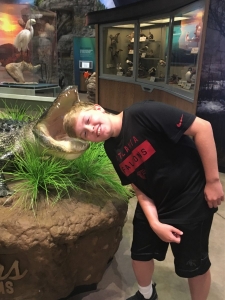 Sandhill and Whooping cranes are visitors to the winter wetland depicted below.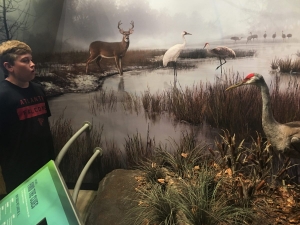 And my favorite wetland predator, the great blue heron, surveys the summer marsh, much to the chagrin of the potentially tasty foreground frog.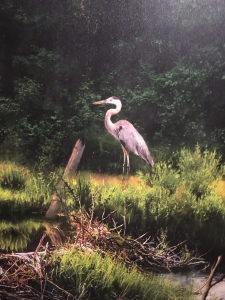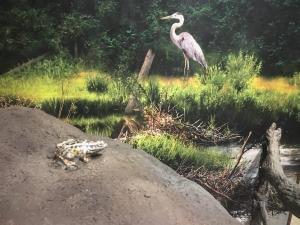 Again, I have a soft-spot for snapping great blue heron photos!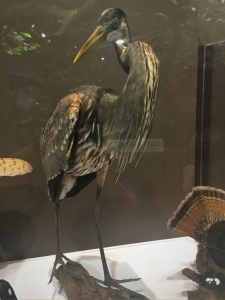 Woodland Terrestrial
From wetlands to mountaintop, Cook captures the magic. I wanted to sit and watch old sole descend through the gloaming.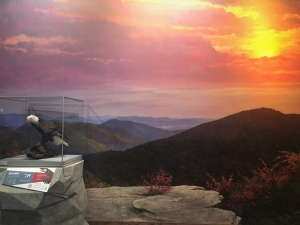 I have yet to visit Big Tree, Alabama's State Champion tulip poplar (Liriodendron tulipifera), in the Sipsey Wilderness, but here it is in its larger-than-life glory at Cook. Youngsters like Jack and even more nimble and flexible adults can climb some twenty feet vertical within the replica's hollow core. I now hunger to see the real thing! On my Alabama bucket list.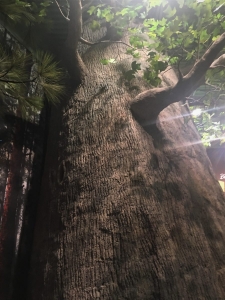 That's a much larger-than-life squirrel's nest in the sweetgum (Lquidambar styraciflua; below left). And a Cook woodland scene to the right.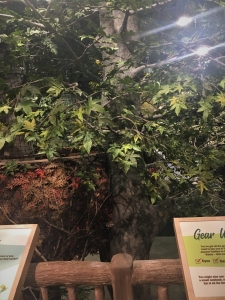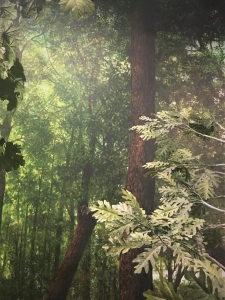 Woodland critters stand on one of Alabama's ubiquitous rock ledges. Everything looks true-to-life!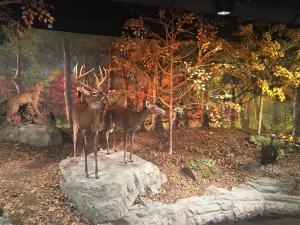 Another one of my favorite displays — a momma bear satisfying her sweet tooth. She's found a hive in a hollow standing dead tree and is enjoying, paying little heed to junior's pleading eyes! Do I detect a mirror of my own love affair with chocolate?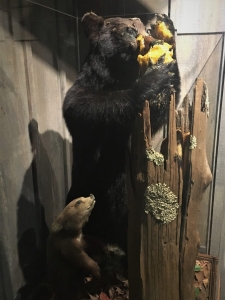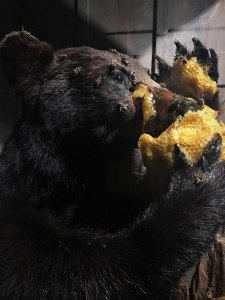 Again, keep in mind that I am offering just a taste (kind of like the momma bear) of the Cook Museum, which is in aggregate is a honey-tree feast of natural science delight.
Taking Flight
The Museum does great honor and holds high fidelity to our feathered friends. The raucous jay and the forest beyond remind all that life extends from deep in the ocean blue, through the soil biome, into forest and meadows, and to the sky-blue above us.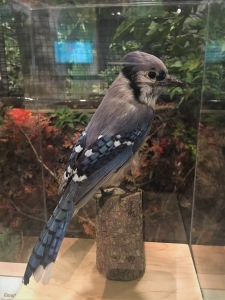 I love animal collective nouns, like the parliament or stare of these nocturnal denizens below left. Who cannot but marvel at the mighty horned owl? Or the caterwauling of our local barred owls? These large owls are not quite the size we see. Peel away feathers and flesh to reveal a rather deflated skeleton (below right). Like so much in Nature, a good bit (or, in this case, a little bit) lies hidden within. Cook opens our eyes to what otherwise is invisible.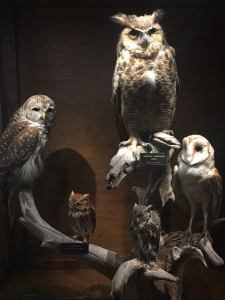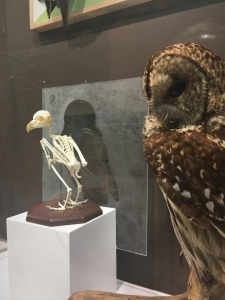 There's also the owls' daytime cousins, our fence post or treetop perching accipiters (red-tailed and red-shouldered hawks, respectively, below left and right.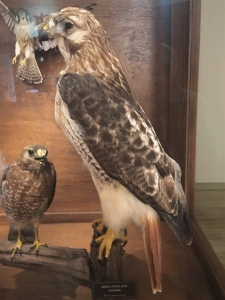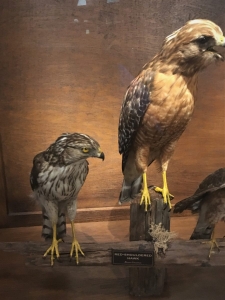 And the magnificent golden eagle!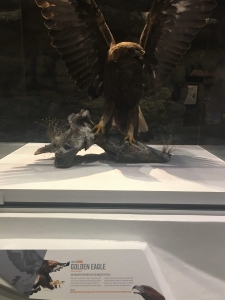 The Higher Latitudes
From the high blue sky to the high latitudes, Cook covers it all elegantly, beautifully, and masterfully. An arctic fox in hot pursuit of two arctic hares. And a snowy owl welcoming the deep snow of a long winter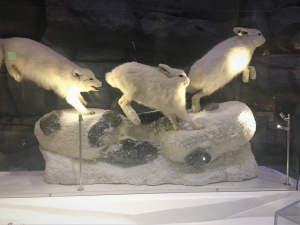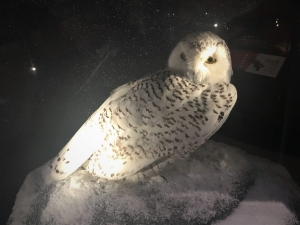 From our years in Alaska, one of my favorite among all God's creatures, a raven whose intelligence and repertoire never failed to amuse and astound us. Judy would converse with our Fairbanks backyard aerial neighbors, which both she and the birds found entertaining. They would call, and she respond in kind. Or she would lead the way, and they answer in like tones and intonations. Amazing animals… seeming as comfortable on a summer afternoon as they are at 50 degrees below zero!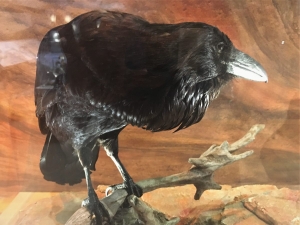 Ocean Depths
Cook likewise brings the deep sea to life — yet another realm of natural science wonder.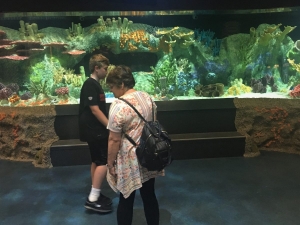 Coral reefs immaculately presented, including many living creatures. You'll fight the overwhelming urge to linger, feasting on the displays.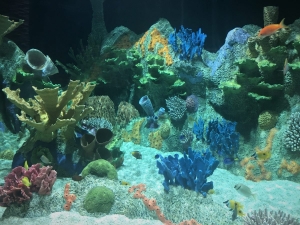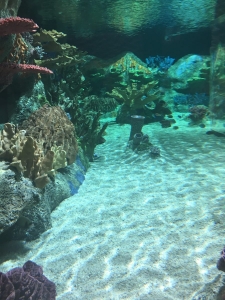 The black-lighted jellyfish tank had Jack (and me) riveted, as the iridescent critters circulated through the gently flowing current.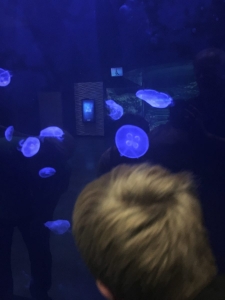 Our Earth–our home–our source and our destination. Our garden to tend. Our pale blue orb in the vast darkness of space.
Five hundred years ago Leonardo Da Vinci observed, "Nature is the source of all true knowledge. She has her own logic, her own laws, she has no effect without cause nor invention without necessity." Cook holds true to Da Vinci's wisdom.
Likewise, Henry David Thoreau passed a germ of wisdom to Cook: "I do not know that this higher knowledge amounts to anything more definite than a novel and grand surprise on a sudden revelation of the insufficiency of all that we called Knowledge before—a discovery that there are more things in heaven and earth than are dreamed of in our philosophy."
And John Muir could have passed the following on the Cook: "Everybody needs beauty as well as bread, places to play in and pray in, where nature may heal and give strength to body and soul."
Finally, Teddy Roosevelt might have imagined a Cook Museum, "The question is, does the educated citizen know he is only a cog in an ecological mechanism? That if he will work with that mechanism his mental wealth and his material wealth can expand indefinitely? But that if he refuses to work with it, it will ultimately grind him to dust? If education does not teach us these things, then what is education for?"
My compliments to those who dreamed a way to connect children of all ages to Nature… indoors and globally… at a single point in space and time to the magic, wonder, beauty, awe of Nature to children of all ages! Again, Cook invites all to an Amazing Experience.
Cook Museum Origins
Borrowing from the Museum's website, "The Cook Museum's humble roots can be traced back to 1968 when John Cook, Sr. opened his professional insect collection to the public by appointment, which at the time had been used primarily for employee training at Cook's Pest Control. It later grew to include a wide array of mounted wildlife, touring malls throughout Alabama, Tennessee, and Georgia.
In 1980, additional collections of rocks, minerals, fossils, coral, sea shells, mounted wildlife, and federally protected migratory birds were acquired, and a 5,000 square foot building was constructed. At that time, what became known as Cook's Natural Science Museum came into existence, and it welcomed more than 750,000 visitors from its opening in 1980 until its closing in 2016. The Cook Museum of Natural Science's grand opening in June 2019 marks the culmination of an approximately 50-year vision in the making.
Mr. Cook's inspiration and motivation for the museum came from his desire to generously serve and support his local community and region and to creatively display God's creation. The Cook Family continues this legacy with the Cook Museum of Natural Science, and we are still driven by the same vision today."
We have heard so much about the inequities of wealth and poverty and how unfair such a system is. Yet we see manifest in the Cook Museum of Natural Science the tremendous benefit derived from those who succeed in returning good and bounty to the future… our common benefit.
The family pays ultimate tribute to insects. The business of pest control has proven lucrative. The profits have enabled creation of this wonderful Museum. I compliment and offer appreciation to the family. Just as other elements of Nature express beauty, magic, wonder, and awe, so too do the most indomitable of Earth's creatures, the insects. Cook pays tribute where it is due — the Wonderful World of Insects!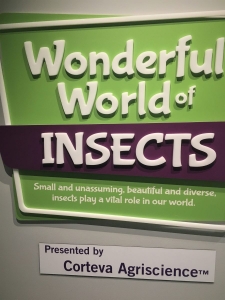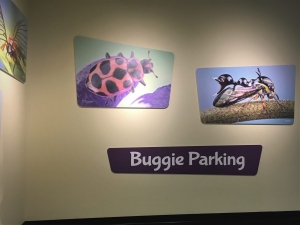 What an Amazing Experience!
Thoughts and Reflections
I wrote my books Nature Based Leadership (2016), Nature-Inspired Learning and Leading (2017), and Weaned Seals and Snowy Summits: Stories of Passion for Place and Everyday Nature (2019; co-authored with Dr. Jennifer Wilhoit; Submitted to publisher May 31, 2019), as well as another one by me (single author) scheduled for 2020, Natural Elixir: Lifting Your Life through Nature's Inspiration, to encourage all citizens to recognize and appreciate that every lesson for living, learning, serving, and leading is either written indelibly in or is powerfully inspired by Nature. Both published books are available on Amazon and other online sources.
Here are the three succinct lessons I draw from this Blog Post:
Done well, indoor environmental education can provide a full dose of Natural Elixir.
A key to success for all environmental education: hands-on, immersive experience where kids can explore, interact with, and learn about Nature.
Kids come in all ages, from toddlers to grandparents!
Inhale and absorb Nature's elixir. May Nature Inspire and Reward you!
Note: All blog post images created & photographed by Stephen B. Jones unless otherwise noted. Please circulate images with photo credit: "©2019 Steve Jones, Great Blue Heron LLC. All Rights Reserved."
Another Note: If you came to this post via a Facebook posting or by an another route, please sign up now (no cost… no obligation) to receive my Blog Post email alerts: http://stevejonesgbh.com/contact/
And a Third: I am available for Nature-Inspired Speaking, Writing, and Consulting — contact me at steve.jones.0524@gmail.com
Reminder of my Personal and Professional Purpose, Passion, and Cause
If only more of us viewed our precious environment through the filters I employ. If only my mission and vision could be multiplied untold orders of magnitude:
Mission: Employ writing and speaking to educate, inspire, and enable readers and listeners to understand, appreciate, and enjoy Nature… and accept and practice Earth Stewardship.
Vision:
People of all ages will pay greater attention to and engage more regularly with Nature… and will accept and practice informed and responsible Earth Stewardship.
They will see their relationship to our natural world with new eyes… and will understand more clearly their Earth home.
Tagline/Motto: Steve (Great Blue Heron) encourages and seeks a better tomorrow through Nature-Inspired Living!
http://stevejonesgbh.com/wp-content/uploads/2019/06/IMG_0633.jpg-06.05.19-Cook-Museum-of-NS.jpg
1200
900
Steve Jones
http://stevejonesgbh.com/wp-content/uploads/2017/01/gbhweblogo.png
Steve Jones
2019-06-10 10:28:56
2019-06-11 04:08:32
The Brand New Cook Museum of Natural Science!