My New Book
Hallelujah — a Big Announcement as we slip into June. Here's how my co-author and friend Dr. Jennifer Wilhoit spread the word on our joint book, Weaned Seals and Snowy Summits, via her website, TEALarbor, this afternoon: https://mail.google.com/mail/u/0/?tab=cm#inbox/FMfcgxwCgxxkMjlkFzcbzQskBHTzCQjz
I use Jennifer's words because I could not have said it any better: "I am thrilled to announce that my latest book project has just made it into our publisher's hands. Weaned Seals and Snowy Summits: Stories of Passion for Place and Everyday Nature is a co-authored volume with my colleague and friend, Dr. Steve Jones.
It is a great relief after months of writing and editing, and weeks of proofreading, polishing, and profusely sweating, to have surrendered our manuscript to the next phase.
In very brief sum, our book is "a collection of nature stories seeking to inspire deeper relationship with and care for this beautiful Earth." I'll share more in future posts.
We've received advance praise for our book from our early readers. We are eternally grateful to them for writing blurbs that will appear on the covers and inside of Weaned Seals and Snowy Summits. One endorsement, by Dr. Cheryl Charles (Co-Founder, Children and Nature Network), calls our work "…an enchanting, inspiring, important book."
Please celebrate with us by going outside into your own back yard or to a local park. Close your eyes, inhale deeply, thank the Earth for the abundance of beautiful gifts and life-sustaining elements we receive from her each day of our lives. That's where I'm headed – and what I'm going to do – right now!"
My Own Offerings of Celebration and Observance from the Last Two Days of May and Today
I concur with Jennifer's advice. In fact, Judy and I visited the Huntsville Botanical Garden (ten miles from our home) this afternoon, attending a show by the North Alabama Hosta Society, and then walking a couple of woodland trails. I offer just two photographs to help lift your spirits. First, as we approached the Butterfly House where the Hosta Society hosted the show, we encountered a momma mallard and her four ducklings.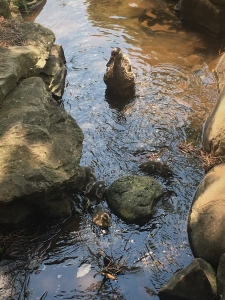 And along one of the trails, an exquisite native oakleaf hydrangea (Hydrangea quercifolia) in full floral display in the foreground of a large loblolly pine (Pinus taeda)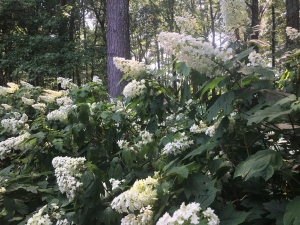 Patio Skies from the Last Two Days of May
I literally did not have to leave the backyard to take these photos of our ever-changing heavens above. The first is a delightful morning sky back-lighting one of our Japanese maples (Acer platinum). I'm a sucker for great skies.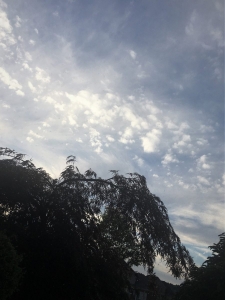 Still May 30, a surprise thundershower blessed us with 0.50″ of rain, then gifted us with a near-sunset rainbow, first a weak double and then a bit more vivid single.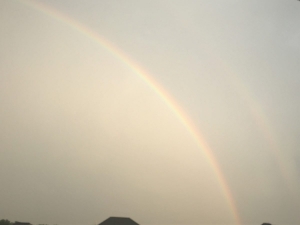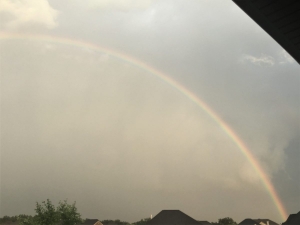 May 31, just after Jennifer submitted our manuscript, I spotted first a cirrus jellyfish.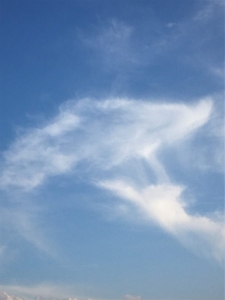 And then noticed a seahorse in fast pursuit.
Yes, some might say (a bit sarcastically, or just humoring the old guy), "Sure, Steve, I really do see those same images." Did I detect an eye roll?! I do enjoy all manner of sky. Permitting a bit of whimsy enhances my enjoyment and appreciation.
Again, Dr. Wilhoit nailed it. "Close your eyes, inhale deeply, thank the Earth for the abundance of beautiful gifts and life-sustaining elements we receive from her each day of our lives."
Thoughts and Reflections
I wrote my books Nature Based Leadership (2016), Nature-Inspired Learning and Leading (2017), and Weaned Seals and Snowy Summits: Stories of Passion for Place and Everyday Nature (2019; co-authored with Dr. Jennifer Wilhoit), as well as another (single author) scheduled for 2020, Natural Elixir: Lifting Your Life through Nature's Inspiration, to encourage all citizens to recognize and appreciate that every lesson for living, learning, serving, and leading is either written indelibly in or is powerfully inspired by Nature. Both published books are available on Amazon and other online sources.
Here are the three succinct lessons I draw from this Blog Post:
Nature lies within reach wherever you seek it.

All you need do is believe that the magic is there, then look keenly to see the beauty, wonder, and awe.
And make sure to close your eyes, inhale deeply, and thank Nature for the beautiful gifts and life-sustaining elements presented to us.

Inhale and absorb Nature's elixir. May Nature Inspire and Reward you!
Note: All blog post images created & photographed by Stephen B. Jones unless otherwise noted. Please circulate images with photo credit: "©2019 Steve Jones, Great Blue Heron LLC. All Rights Reserved."
Another Note: If you came to this post via a Facebook posting or by an another route, please sign up now (no cost… no obligation) to receive my Blog Post email alerts: http://stevejonesgbh.com/contact/
And a Third: I am available for Nature-Inspired Speaking, Writing, and Consulting — contact me at steve.jones.0524@gmail.com
Reminder of my Personal and Professional Purpose, Passion, and Cause
If only more of us viewed our precious environment through the filters I employ. If only my mission and vision could be multiplied untold orders of magnitude:
Mission: Employ writing and speaking to educate, inspire, and enable readers and listeners to understand, appreciate, and enjoy Nature… and accept and practice Earth Stewardship.
Vision:
People of all ages will pay greater attention to and engage more regularly with Nature… and will accept and practice informed and responsible Earth Stewardship.
They will see their relationship to our natural world with new eyes… and will understand more clearly their Earth home.
Tagline/Motto: Steve (Great Blue Heron) encourages and seeks a better tomorrow through Nature-Inspired Living!
http://stevejonesgbh.com/wp-content/uploads/2019/06/IMG_0560.jpg-06.01.19-Oakleaf-Hydrangea-and-Big-Loblolly.jpg
900
1200
Steve Jones
http://stevejonesgbh.com/wp-content/uploads/2017/01/gbhweblogo.png
Steve Jones
2019-06-01 18:50:33
2019-06-03 19:24:26
May Gives Way to June