Below Ground at Rickwood Caverns
I began my April 24, 2019 introductory visit to Rickwood Caverns State Park (30 miles due north of downtown Birmingham) in the main cavern with Superintendent Amanda White, entering through the controlled-entrance yellow door. Here's Amanda with keys in-hand.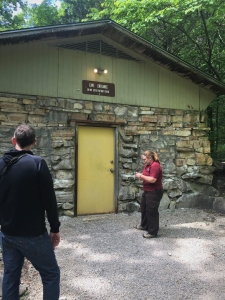 Like Cathedral State Park, it's the beauty, magic, wonder, and awe below ground that primarily attracts visitors. Above ground geology, landform, vegetation, views, water, and fauna compose the draw to our 19 other State Parks. I learned pretty quickly at Rickwood that my iPhone cannot do justice to what lies hidden within the cavern. Please see the Rickwood photo gallery online to gain a sense of what I saw: https://www.alapark.com/rickwood-caverns-state-parkgallery
We spent several hours touring — two Canadian tourists joined Amanda and me. We were under no deadline pressure. Amanda kindly gave us as much time and attention as we wished. Ours was the deluxe education tour! A handful of my photos passed my screening. Here are two examples of flow-stones: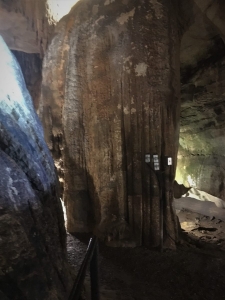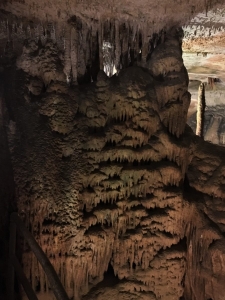 And two more of stalactites and stalagmites.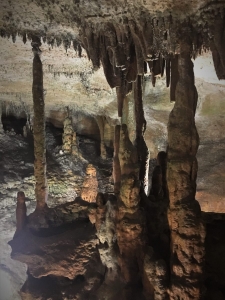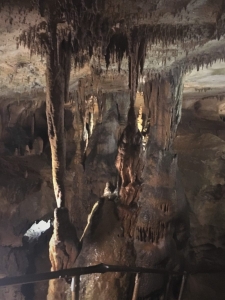 We even found fauna. Here's a cave cricket, poorly focused. Not even rising to poorly-focused, we also spotted a cave spider and a tri-color bat. Please give me a little slack — I'm a tree guy accustomed to being above ground in broad daylight. Yes, it may get a little dusky in deep woods on cloudy days. However, at the appointed spot during our cave tour, Amanda hit the light switch, bringing absolute, complete, total, and blinding darkness to us. It's a different world down there. Amanda knows the subterranean at Rickwood from the cavern's history to geology to its hydrology to ecosystem elements. She tells its tale with wonder, understanding, and passion. She cares. Our Canadian friends found magic through Amanda's skillful interpretation. I did as well.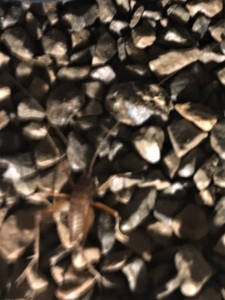 We found a bit of magic before entering the cave when we stopped by the nature center. A luna moth (Actias luna) welcomed us from its door-frame perch. I viewed it as a positive omen, a spectacular exclamation of beauty and promise!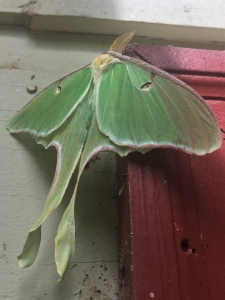 The Upside of Rickwood Caverns
Following our cavern trek, we emerged into full sunlight. Amanda had other duties to attend. She turned me over to Bridgette Grace, Assistant Superintendent. The two of us circuited the Fossil Mountain Hiking Trail. Like so many others of the Parks System staff I've met, Bridgette brought knowledge, enthusiasm, and cheer to the task.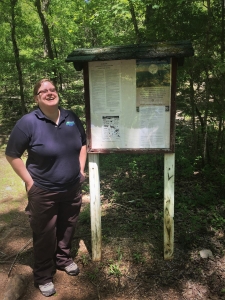 Fossil Mountain Hiking Trail
I found it rather incongruous that I had just covered the same footprint below ground. I sensed no hollow footfalls to reveal the cavern beneath. We found a different suite of beauty and magic. Some rather rough terrain of bouldery limestone. A few deep crevasses and lots of places for water to find its way without delay into the limestone depths. This was no forest of rich soils, straight boles, and towering tree heights. Easily read through my forester's eyes, this forest spoke the language of xeric conditions. Although ample annual rainfall wets the site, most of it passes quickly into the limestone as the stunted trees quench their thirst only sparingly. A sprouted acorn, cached by a sated squirrel,  can aspire to be the Mighty Oak, but the aerial rodent chose poorly for enabling such acorn-dreams.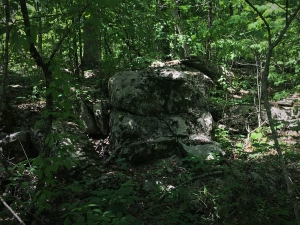 Perhaps poor site-quality-related, this deformed oak presented an image of internal distress. Tumor-like and probably fungal-rooted, burls, gnarls, swells, and hollows defined the main lower trunk and extended up the bole to the live crown. A good tree to feature on a Halloween trail, highlighted with special lighting and spooky music!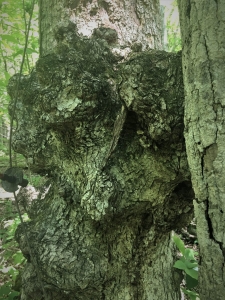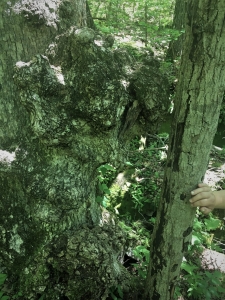 Another oak, while also not Mighty, wore a showy resurrection fern skirt. I imagined a slight curtsy as we approached.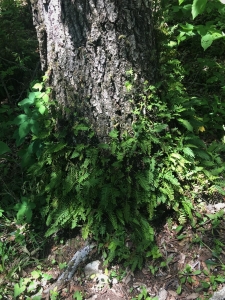 Many deceased Eastern red cedar (Juniperus viginiana) stood (or lay prostrate) throughout the Park. This 15-inch-diameter cedar has retained vigor. The species is a pioneer, one of the first, courtesy of birds eating and then gut-stratifying its fruit-bound seeds, to occupy abandoned pasture and agricultural openings across sweets soils (high pH limestone-derived soils).  I can't picture any self-respecting cow grazing the coarsely-bouldered landscape, yet I am somewhat certain that the site was cleared a century prior for some settler-designated purpose. The cedar captured the site and mixed hardwoods have since replaced the evergreens.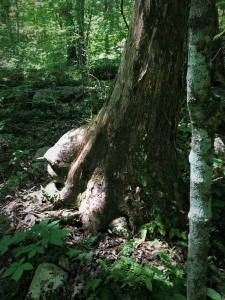 Fire pink (Silene virginica) brought a welcoming red brightness along the way. Its color earns its name.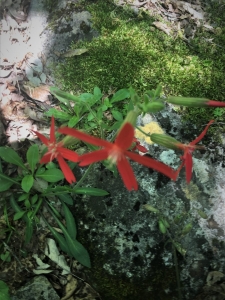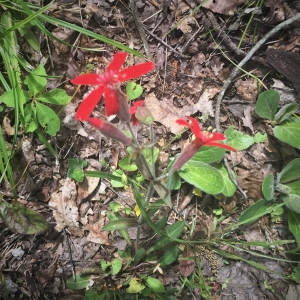 The same for pale blue-eyed grass (Sisyrinchium albidum) — jeepers-creepers, check out those gorgeous blue-eyed-peepers!
I had not yet this season seen four-leaf milkweed (Asclepias quadrifolia), another handsome spring ephemeral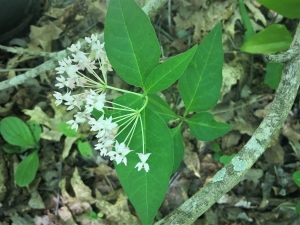 When I first issued this Post, I admitted the following: "I failed to field-identify this one, and likewise did not capture leaf or stem details. The flowers appear in this only image to be spurred. Perhaps someone can toss me an i.d. life preserver?" My friend and Lake Guntersville State Park Naturalist Mike Ezell came to my rescue May 30, 2019. He identified this one as Dwarf Larkspur (Delphium tricorne). Thank you Mike!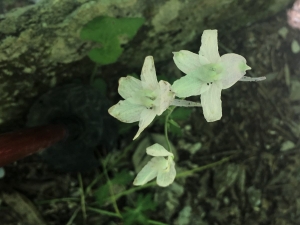 We didn't find many Virginia spiderwort (Tradescantia virginia), yet the ones we discovered gave us rich color.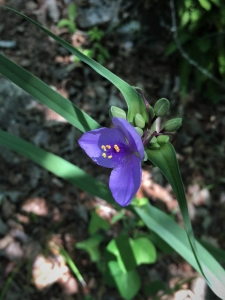 This was my first find of cross vine (Bignonia capreolata), a peculiarly showy flower that I saw several times during my next two-day explorations at Oak Mountain State Park. These are real beauties, vessel-like with a nice blend of striking colors. Below right is literal evidence that we are in Good Hands with our Alabama State Parks professionals — thank you, Bridgette!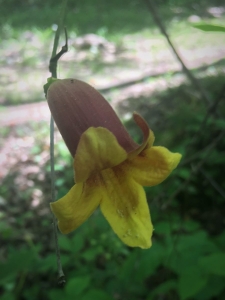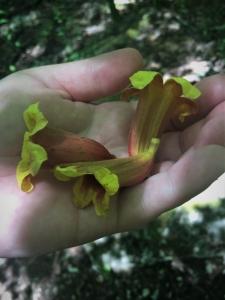 Rickwood Caverns State Park occupies just 0.6 square miles, 380 acres. Small but chocked full of special natural features, above and below ground. I've said repeatedly that we don't require Grand Canyon-scale Nature to find beauty, magic, wonder, and awe. Nor do we need Yellowstone's 3,468 square miles (or the 1,640 miles to drive there) to inspire our lives and expand our imagination and insight. A half-a-day was all I needed to convince me that Rickwood Caverns is a worthy gem on our Alabama State Parks necklace.
Thoughts and Reflections
I wrote my books (Nature Based Leadership (2016) and Nature-Inspired Learning and Leading (2017)) and the two scheduled for 2019 (Weaned Seals and Snowy Summits: Stories of Passion for Place and Everyday Nature) and 2020 (Natural Elixir: Lifting Your Life through Nature's Inspiration) to encourage all citizens to recognize and appreciate that every lesson for living, learning, serving, and leading is either written indelibly in or is powerfully inspired by Nature. Both published books are available on Amazon and other online sources.
Here are the three succinct lessons I draw from this Blog Post:
Our Alabama State Parks are jewels for the ages; whether Oak Mountain's nearly 10,000 acres or Rickwood's 380.

We don't require Grand Canyon-scale Nature to find beauty, magic, wonder, and awe.

Nor do we need Yellowstone's 3,468 square miles to inspire our lives and deepen our appreciation of our natural world.

Inhale and absorb Nature's elixir. May Nature Inspire and Reward you!
Note: All blog post images created & photographed by Stephen B. Jones unless otherwise noted. Please circulate images with photo credit: "©2019 Steve Jones, Great Blue Heron LLC. All Rights Reserved."
Another Note: If you came to this post via a Facebook posting or by an another route, please sign up now (no cost… no obligation) to receive my Blog Post email alerts: http://stevejonesgbh.com/contact/
And a Third: I am available for Nature-Inspired Speaking, Writing, and Consulting — contact me at steve.jones.0524@gmail.com
Reminder of my Personal and Professional Purpose, Passion, and Cause
If only more of us viewed our precious environment through my own filters. If only my mission and vision could be multiplied untold orders of magnitude:
Mission: Employ writing and speaking to educate, inspire, and enable readers and listeners to understand, appreciate, and enjoy Nature… and accept and practice Earth Stewardship.
Vision:
People of all ages will pay greater attention to and engage more regularly with Nature… and will accept and practice informed and responsible Earth Stewardship.
They will see their relationship to our natural world with new eyes… and will understand more clearly their Earth home.
Tagline/Motto: Steve (Great Blue Heron) encourages and seeks a better tomorrow through Nature-Inspired Living!
Alabama State Parks Foundation
I'll remind you that I serve on the Foundation Board, in part because of my love of Nature and in recognition for my writing many prior Posts about visiting and experiencing the Parks. I urge you to take a look at the Foundation website and consider ways you might help steward these magical places: https://asparksfoundation.org/ Perhaps you might think about supporting the Parks System education and interpretation imperative.
http://stevejonesgbh.com/wp-content/uploads/2019/05/IMG_0098.jpg-04.24.19-Internal.jpg
1200
900
Steve Jones
http://stevejonesgbh.com/wp-content/uploads/2017/01/gbhweblogo.png
Steve Jones
2019-05-28 04:39:52
2019-05-30 16:06:04
Rickwood Caverns State Park