Because this is the fourth and final GBH Blog Posts from my visit to Gulf State Park, allow me to repeat elements of my introduction from the first three:
Introduction
I toured Gulf State Park (GSP) January 18, 2019 from 8-5:30 with Kelly Reetz, Park Naturalist. See my January 28, 2019 Great Blue Heron Blog Post for my Overview: http://stevejonesgbh.com/2019/01/28/mid-january-at-alabamas-gulf-state-park-overview/ My February 5, 2019 Post on the beach, dunes, savannas, and wetlands ecotypes: http://stevejonesgbh.com/2019/02/05/mid-january-at-alabamas-gulf-state-park-beach-dunes-savannas-and-interior-wetlands/ And my February 12, 2019 post on the interior forests and use of prescribed fire: http://stevejonesgbh.com/2019/02/12/mid-january-at-alabamas-gulf-state-park-interior-forests-and-prescribed-fire/
I described the first GSP Post as a broad "Overview of a Globally Significant Coastal Center for Sustainable Tourism and Earth Stewardship." I issued my second GSP Post February 5, highlighting the beach, dune, savanna, and interior wetland ecotypes, offered "from my perspective as a doctoral level applied ecologist, lifelong Nature enthusiast, environmental educator, consummate champion for responsible Earth stewardship, and a tireless advocate for Nature-inspired life and living." From that same perspective, I will reflected with photographs and text on my impressions and interpretation for a second set of ecosystems: evergreen forests and xeric forests. I included a section on the use of prescribed fire in Park vegetation management.
Now, as a sky and cloud junkie, I'll lead you on a tour of the firmament that arced above our heads during my visit to GSP.
The heavens declare the glory of God;
and the firmament shows the work of His hands.
Psalm 19:1
Although the photos that follow include some of the same foreground objects that commanded my attention and guided my text in the prior three posts, I am today treating those objects as foredrop, a term that I just created as antonym to backdrop. I will focus on the sky and clouds… the setting that in my view is often the natural feature that most excites my body, mind, heart, soul, and spirit. The foredrop for me is somewhat the invisible element that helps me focus on admiring and appreciating what lies beyond and above. Just as the snowy canvas backdrop sets the mood for the family Christmas studio photo taken in August, the pier, shoreline, and placid Gulf water below merely direct my eye to the incredible sunset we witnessed our first evening at GSP.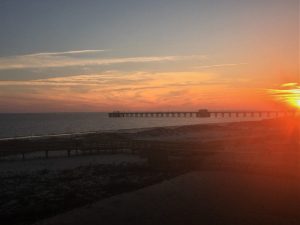 The next morning — another treat! Lower left, dawn brightened the eastern sky under a stratus cloud deck rolling in from the west. Ten minutes later (lower right), the clouds had rolled a little further eastward as the sun reached from below my horizon line to paint the cloud undersides burnt orange.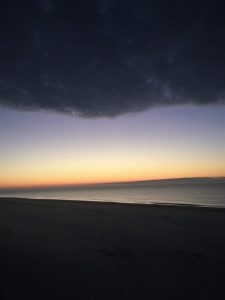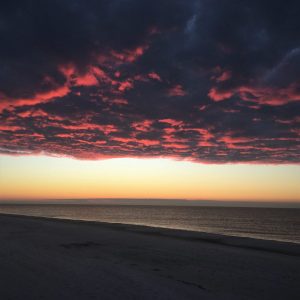 As I swung the lens shoreward, dawn-kissed stratus framed the Gulf State Park Lodge (with the nearest private hotel hazily silhouetted two-miles beyond). The image symbolizes the Park Enhancement as a new day dawning for a globally significant Coastal Legacy Project. Perhaps the photo can serve as a visual representation of the Project vision: Gulf State Park will be an international benchmark for environmental and economic sustainability demonstrating best practices for outdoor recreation, education, and hospitable accommodations.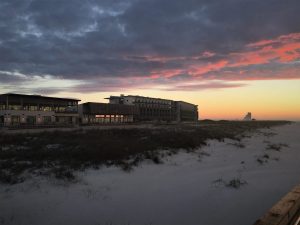 We began our all-day Park field tour under stratus clouds hugging the Gulf and its sandy beaches. We wondered whether our day would be fog-shrouded. We also pondered how many times has Sam, the pier's resident brown pelican, watched a new day dawning?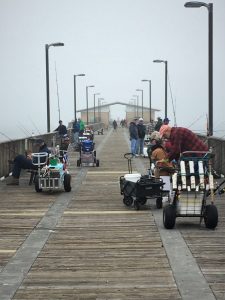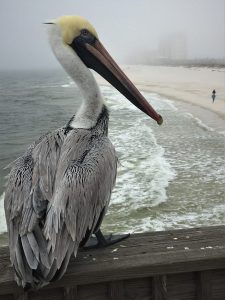 We headed into the Park as the sun began to eat through the stratus, breaking the solid, ground-hugging cover into patches of grey and weak blue. We lucked upon the perfect foredrop during this threshold transition from low blanket to high blue. Of course, as with so many natural phenomenon, the sky likewise serves as perfect backdrop to the weathered sand pine standing atop the old dune! Nature so often gives us just what we seek… provided we, in fact, know what we seek and where to find it.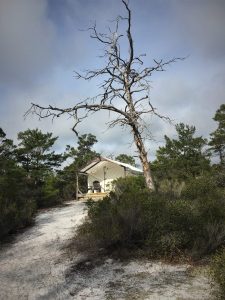 No hint of the morning's fog and stratus remained as we explored a slash pine savanna. The next day's cold front with accompanying low pressure, still several states to the west, hinted at its approach with cirrus five miles above us. What artist with brush in-hand has ever painted a more lovely sky or a more perfect foredrop?! Earth and sky; main canopy and understory; stem and crown; tree and sky — all intricately interconnected and inextricably integrated in beauty and function.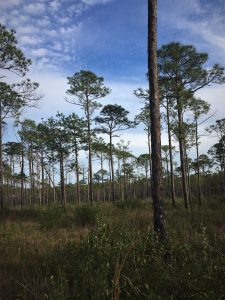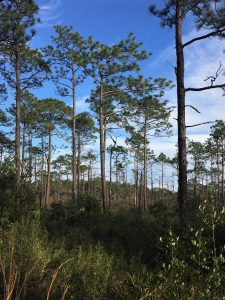 Two sages spoke great wisdom about the web of life captured by my lens (photos above and below).
Humankind has not woven the web of life. We are but one thread within it. Whatever we do to the web, we do to ourselves. All things are bound together. All things connect.
Chief Seattle
When we try to pick out anything by itself, we find it hitched to everything else in the universe.
John Muir
Such beauty, magic, wonder, and awe. Keep in mind that I did not enter the Park to find these exquisite images. Instead, they found me and my eager eye. So often Nature rewards my wanderings. As I have written and spoken so many times, I am guided by five verbs as I venture into Nature.
Believe — I know from experience that such wonders and truths await me
Look — I must focus my senses to discover what lies hidden and beyond view to many who are distracted by far too much
See — be prepared to register deeply what our senses detect
Feel — and to see deeply enough to evoke emotion and stir passion
Act — and to feel deeply enough to spur purpose… to accept our obligation to appreciate, understand, and steward this precious jewel — this planet Earth, our only home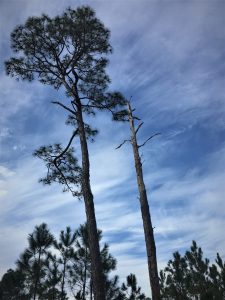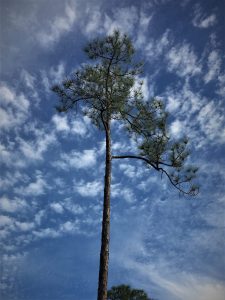 I am blessed with five grandchildren. Which one do I like best? Yes, none stands above the other. Yet among the two photos above (taken mid-afternoon well after the stratus had dissipated) and the one below (as the stratus was breaking), I can choose my favorite without harm or insult. The impressionistic cirrus brush dabs (above right) earn my highest marks. However, as I work my way through the day's sky and cloud portfolio, I am realizing that it is the combination of foredrop and backdrop, the total composition, and the ecological context, that in aggregate stir my senses. Nature and all other aspects of life and living, act in terms of the whole, which almost without exception, exceeds the sum of its parts.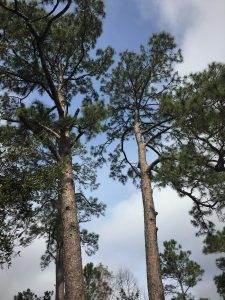 The two images below shift from a natural foredrop to the December-abandoned golf course. Just as we select from among seasonal backdrops for a family holiday portrait, choosing from among Gulf State Park foredrops alters the sky and cloud image and affect. Carrying my composite analogy a bit further, perhaps the most applicable aggregate is the entirety of images from my GSP tour. I suppose my own impression of Nature springs from my 67-year journey as a Nature-enthusiast and applied ecologist. Yes, it is the aggregate of a life in Nature that shapes my discernment of any single scene or moment in Nature. Isn't that true for all elements and components and days in life and living?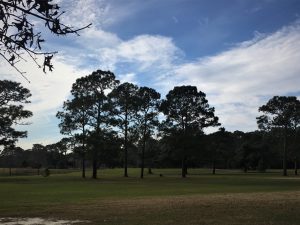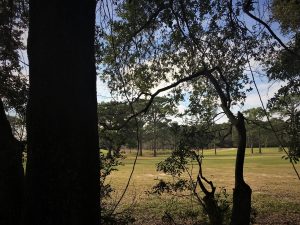 There comes often in life circumstances and occasions when we cannot, try as we might, distinguish between foredrop and backdrop. Between what might be essential and  associated clutter. Between substance and distraction. Between what matters irritating noise. Between problem and nuisance. Is the photo below an image of a live oak with the sky beyond… or the sky seen through the oak's spreading branches? Does it matter?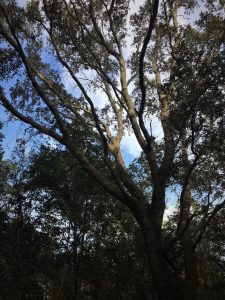 I'll end where we began. Sunset the first evening. Nature paints across time and place, just as we live across time and place. I urge you, wherever (and whenever) you are, to believe in its magic; look for its beauty; see its wonder; feel its inspiration; and act to embrace and steward this wonderful home we call Earth.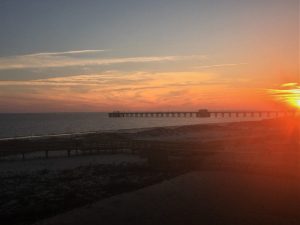 May Nature enrich your life and living… Nature-inspired living! And may you pass it forward.
The heavens declare the glory of God;
and the firmament shows the work of His hands.
Psalm 19:1

Thoughts and Reflections
I wrote my books (Nature Based Leadership (2016) and Nature-Inspired Learning and Leading (2017)) and the two scheduled for 2019 (Weaned Seals and Snowy Summits: Stories of Passion for Place and Everyday Nature and Natural Elixir: Lifting Your Life through Nature's Inspiration) to encourage all citizens to recognize and appreciate that every lesson for living, learning, serving, and leading is either written indelibly in or is powerfully inspired by Nature. Both published books are available on Amazon and other online sources.
Here are three succinct lessons I can easily draw from this Blog Post:
Nature so often gives us just what we seek… provided we, in fact, know what we seek and where to find it.
It is the aggregate of a life in Nature that shapes my discernment of any single scene or moment in Nature.
So often Nature rewards my wanderings.
Inhale and absorb Nature's elixir. May Nature Inspire and Reward you!
Note: All blog post images created & photographed by Stephen B. Jones unless otherwise noted. Please circulate images with photo credit: "©2019 Steve Jones, Great Blue Heron LLC. All Rights Reserved."
Another Note: If you came to this post via a Facebook posting or by an another route, please sign up now (no cost… no obligation) to receive my Blog Post email alerts: http://stevejonesgbh.com/contact/
And a Third: I am available for Nature-Inspired Speaking, Writing, and Consulting — contact me at steve.jones.0524@gmail.com
Reminder of my Personal and Professional Purpose, Passion, and Cause
If only more of us viewed our precious environment through my own filters. If only my mission and vision could be multiplied untold orders of magnitude:
Mission: Employ writing and speaking to educate, inspire, and enable readers and listeners to understand, appreciate, and enjoy Nature… and accept and practice Earth Stewardship.
Vision:
People of all ages will pay greater attention to and engage more regularly with Nature… and will accept and practice informed and responsible Earth Stewardship.
Great Blue Heron clients will see their relationship to our natural world with new eyes… and will understand more clearly their Earth home.
Tagline: Steve (Great Blue Heron) encourages and seeks a better tomorrow through Nature-Inspired Living!

http://stevejonesgbh.com/wp-content/uploads/2019/01/IMG_9192.jpg-01.18.19-Gulf-State-Park-Slash-and-Sky-in-Bog.jpg
1200
900
Steve Jones
http://stevejonesgbh.com/wp-content/uploads/2017/01/gbhweblogo.png
Steve Jones
2019-02-20 15:31:03
2019-02-20 15:31:03
Mid-January at Alabama's Gulf State Park: Oh Beautiful for Spacious Skies!