I toured Gulf State Park (GSP) January 18, 2019 from 8-5:30 with Kelly Reetz, Park Naturalist. See my January 28, 2019 Great Blue Heron Blog Post for my Overview: http://stevejonesgbh.com/2019/01/28/mid-january-at-alabamas-gulf-state-park-overview/
The 2016 Gulf State Park Master Plan identified nine distinct GSP ecosystems:
Evergreen Forests
Pine Savannas
Maritime Forests
Dune Ridges / Sand Scrub habitats
Fresh and Salt Marshes
Freshwater and Brackish Lakes
Coastal Swales
Dunes
The Beach and Gulf
I promised three subsequent Gulf State Park GBH Posts:
Beach, Dunes, Savannas, and Interior Wetlands (this one)
Interior Forests and Prescribed Fire
Oh Beautiful for Spacious Skies
I described the first GSP Post as a broad "Overview of a Globally Significant Coastal Center for Sustainable Tourism and Earth Stewardship," offered "from my perspective as a doctoral level applied ecologist, lifelong Nature enthusiast, environmental educator, consummate champion for responsible Earth stewardship, and a tireless advocate for Nature-inspired life and living." From that same perspective, I'll reflect with photographs and text my impressions and interpretation for this first set of ecosystems with respect to five of the ecological subsets comprising the Park:
The Beach and Gulf
Dunes
Dune Ridges / Sand Scrub Habitats
Savannas and Inland Wetlands
Pitcher Plant Bog
The Beach and Gulf
The name Gulf State Park speaks volumes. Two-and-one-half miles of white sand beaches define the Park, the coastal gem in Alabama's 22-pearl, State Park necklace that reaches to the Tennessee River Valley, nearly 400 miles to the north. Advancing at a rate of a week per 100 miles latitude and a week per 800-feet vertical, spring will reach Monte Sano State Park's plateau-top six weeks after its arrival on the Gulf coast.
I stood on the pier some 1,500 feet from the shore, visiting with Sam the pelican, who has spent three years in residence. He's a fixture, banded, recognized by many, and tolerated by most anglers, whose bait he covets and frequently pilfers. He's twice visited a nearby veterinarian clinic, driven there by Park staff. Once with a broken wing after being accidentally cast-hooked and slammed into the water. Again after swallowing a treble hook. Both times he recuperated in luxury on the Park. Staff aggressively shoo all other pelicans to maintain the permanent pier population at one. We spotted the loggerhead shrike (lower right) as we approached the pier. We saw many others but managed only one photo, this one magnified to the point of blurriness, not doing justice to the beauty of this entertaining insect predator. Audubon's website describes the shrike's feeding behavior: "Forages mostly by watching from an exposed perch, then swooping down to take its prey on or near the ground or from low vegetation. Kills its prey using its hooked bill. Often stores uneaten prey by impaling it on thorn or barbed wire, returning to eat it later."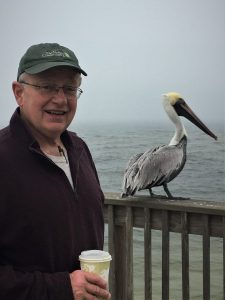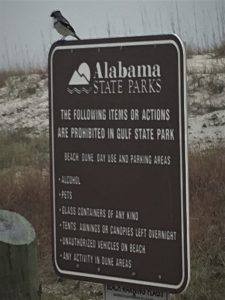 Because we were at GSP when many of my northern friends (located in PA, NY, NH, etc.) were facing a major winter storm, I asked to have this photo taken so I could (and I did) send them a taunting image of me on our "snowy" south Alabama beaches! I told them that I had no trouble driving, or difficulty shoveling, and didn't get a bit cold.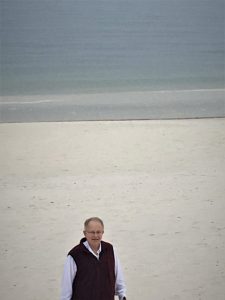 Dunes
The dune ecosystem begins immediately interior to the flat sandy beach. The endangered Alabama beach mouse flourishes in this zone. GSP provides the most expansive protected dune system within the mouse's range. The Park is working tirelessly to expand and stabilize the dunes. One fascinating step in that endeavor involves securing the season's Christmas trees in small piles, allow nature to work her magic by depositing wind-blown sand around the piles and building new dunes in-situ.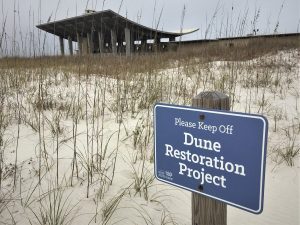 Dune Ridges/Sand Scrub Habitats
Further interior, fully vegetated stabilized dunes transition to dune ridges and upland sand scrub ecotypes. I took this photo from the boardwalk trail on the south side of Lake Shelby. This is a zone of intermingled marsh grasses and forbs, standing water, and thick shrubs on the elevated dunes. I won't venture a guess at species composition; I know my limits. I do know the Park is intent at maintaining these diverse ecosystems.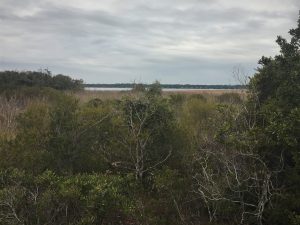 Taken from the pedestrian bridge crossing the coastal highway, this view (below left) looks north across Middle Lake to the campground and Nature Center. Nearly a mile inland, the Little Lake shoreline (below right) offers a view of the Orange Beach beachfront hotel high rises more two miles to the southeast. Once again, wildness lies within sight of fully developed coastline. The contrast is sharp; the message is stark. Except for the paved trails, a few non-native species, and the distant commercial skyline, the Park ecosystems are timeless and ageless. From the 2016 GSP Master Plan: Gulf State Park is a one-of-a-kind environmental treasure, with a rich diversity of ecosystems and 6,150 acre area. Restoring the environment and promoting stewardship are key elements of the Master Plan, creating a place where everyone can connect with nature. Outside the Park, wildness lies remote… somewhere else in time and place. Park visitors certainly connect with Nature.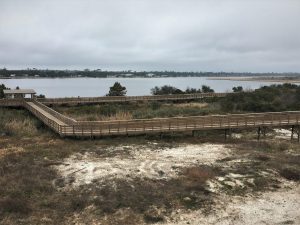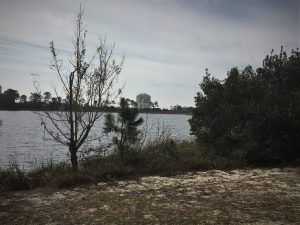 I suppose that tourists who play at the beach, bask in the sunshine, enjoy food and drink, hit the putt-putt courses, and troll the arcades are, in some fashion, connecting with nature. As for me, I would view such a vacation as a sentence. I would shrivel… mentally, physically, and emotionally. I would expire in body, mind, heart, soul, and spirit. Instead, within Gulf State Park, I soared with its beauty, magic, wonder, and awe. In my younger days as an environmental effete, I would have scoffed at the thought of thousands of snow-birders on the trails. Those days are done; now I revel at the sight of so many people understanding and appreciating wildness. I take solace that the message of Earth stewardship perhaps is finding traction. Again, I am convinced that GSP stands as a globally significant coastal legacy project.
Savannas and Inland Wetlands
Please recognize that the nine identified ecosystems do not stand clearly delineated and distinct. The margins often blend and intergrade… across both space and time. The wet grass and shrub zone below may have once been a marsh, now filling in and "dry" enough that slash pine (Pinus elliotti) insists upon invading. Note the 4-10 feet tall pine extending from the ridge well over a hundred feet into the meadow. Once the pine are established, their powerful vertical pumps and effective evapotranspiration will further dry the site, in effect sealing the transition from marsh to pine forest. Park managers had hoped to run a prescribed fire across the site the prior November. The weather did not cooperate for running a fire hot enough to ignite or kill the sapling pine. They plan to try again this coming fall. A fire will not eliminate or discourage the desirable wetland species, which are accustomed to periodic "catastrophic" burns. Sure, it will kill the above ground vegetation, but it will re-sprout or seed-in-place will germinate in the exposed soil rich with nutrients released by the fire.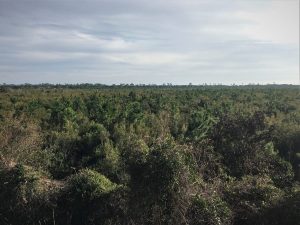 Conservation entails wise use and management. Management requires the deliberate application of art (many decisions involve subjective values) and science. The Park is not a preserve, where Nature is permitted to run her course.
Slash pine occupies the upland foreground (below). I snapped this photo to capture the cypress (Taxodium distichum) swamp beyond. The cypress are mature as evidenced by their flattening canopy; that is, they have achieved their terminal height. These two ecosystem types occupy distinct sites — a freshwater swamp and an upland ridge. As we approached this photo point we watched 10-15 cormorants leave their cypress perches. Perhaps some day I will buy a camera with telephoto lens capable of catching images my iPhone can only dream to capture.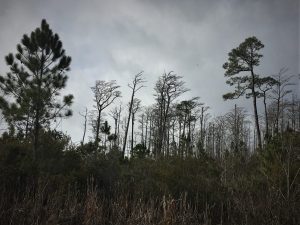 Below is a classic slash pine savanna. The University of Florida Extension Service defines the type: "The most extensive terrestrial ecosystem in Florida is the pine flatwoods. This community evolved under frequent lightning and human-caused fire, and seasonal drought and flooded soil conditions. Pine flatwoods are characterized by:
low, flat topography
relatively poorly drained, acidic, sandy soil
typically open woodlands dominated by pines
an extensive shrub layer
and a variable and often sparse herbaceous layer."
Imagine the view below if instead of savanna, this forest were closed. We would see a solid wall of forest, devoid of the incredible sky now drawing our eye and accenting the scattered slash pine. Since my early career days with Union Camp Corporation, I have loved the flatwoods aesthetic. However, they can be impenetrable by foot… briars, jungle-like shrub layer, brutal saw palmetto, snakes, biting insects, choking vines, and stifling heat.  Like I said, I love the aesthetic… from the trail!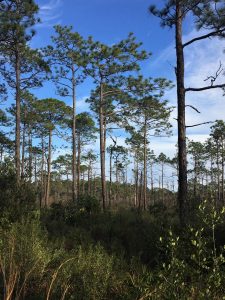 The Park excels at identifying and interpreting the ecosystems. Vegetation differences correspond to associated fauna — birds, reptiles, amphibians, and mammals have niche requirements. A devoted naturalist could commit years to learning the intricate intertwined ecological nuances and relationships on GSP's 6,150 acres and nine distinct ecosystems.
Pitcher Plant Bog
The Park's pitcher plant bog requires requires third-mile hike off of the 28-mile bike path system, through first a ridge forest, then into a savanna, growing increasingly more poorly drained to the bog itself. Standing water 4-10″ deep challenged my boot waterproofing (below). We tread carefully to avoid stepping on pitcher plants. Again, the sky is visible through the widely-scattered savanna slash pine canopy.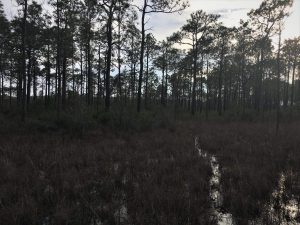 We found three species of pitcher plant. White-top (Sarracenia leucophylla) and purple (Sarracenia purpurea) pitcher plants (below left and right, respectively) were very evident and abundant. The pitchers are modified leaves (trap leaves), which the Alabama Plant Atlas says, "are erect, hollow, tubular in shape with an arching hood over the opening. The trap leaves are green towards the base and white with red veins near the opening. They are pubescent with downward pointing hairs. The hollow interior of the leaf in partially filled with rain water and digestive enzymes. Insects attracted to the colorful leaves drown in the fluid and are digested by the plant. Flowers are solitary on a long scape. The flowers are nodding and red in color." Last year's flower stocks and brittle flowers still waved above the basal trap leaves. In contrast to the erect white-top trap leaves, the purple pitchers hug the ground. Kelly, my tour host and Park Naturalist, identified a diminutive third species (I believe she referred to it as a parrot pitcher plant). However, this old guy was unable (unwilling) to go to my knees in the standing water to actually see and photograph the few specimens she spotted. I stood with weak eyes and still-dry knees, humbled that I failed this challenge. Had I remembered to bring my selfie stick, so that I could reach the plant without kneeling, I would have captured all three.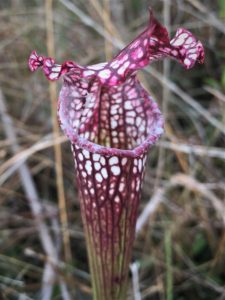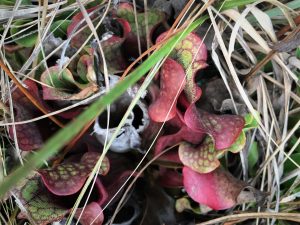 The burrowing crawdad or crawdad (Fallicambarus sp.) is another bog denizen. The genus includes 19 species; I was unable to identify species. The photographs below show the chimneys, composed of piled sand and mud pellets to create a vertical corridor for the crustacean to exit or enter its water-filled chamber 2-6 feet beneath the surface. I have seen these mud chimneys in many places where we have resided, yet never have I seen the actual critter.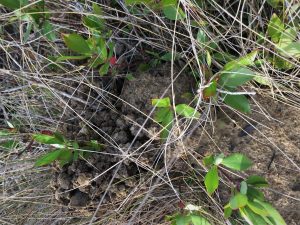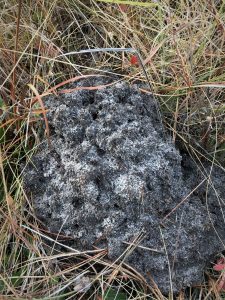 Water is a dominant ecosystem component within Gulf State Park… from the Gulf to some 800 acres of fresh and brackish ponds and marshes, savannas, and bog sites where water lies at or near the surface for much of the year. Nearby Foley, AL averages 66 inches of annual rainfall, which is 11 inches less than where I live in northern Alabama. Growing seasons are long; these water-based ecosystems in this near-tropical climate are home to dynamic and diverse plant and animal communities. We saw only a sampling of the richness that varies between and within ecosystems… and across the seasons. We scratched the surface. The Park is striving to tell the entire story of life and living within this globally significant coastal legacy site.
I am grateful for the opportunity to spend a day with a naturalist who knows the Park and its life. I learned a great deal, including gaining a deeper appreciation for how much I do not know. I will shift gears in my third of four GSP Posts to the upland ecosystem elements.
May Nature enrich your life and living… Nature-inspired living! And may you pass it forward.

Thoughts and Reflections
I wrote my books (Nature Based Leadership (2016) and Nature-Inspired Learning and Leading (2017)) and the two scheduled for 2019 (Weaned Seals and Snowy Summits: Stories of Passion for Place and Everyday Nature and Harnessing Nature's Wisdom and Inspiration) to encourage all citizens to recognize and appreciate that every lesson for living, learning, serving, and leading is either written indelibly in or is powerfully inspired by Nature. Both published books are available on Amazon and other online sources.
Here are six succinct lessons I can easily draw from this Blog Post:
Restoring the environment and promoting stewardship are key elements of the Park Master Plan, creating a place where everyone can connect with nature — an essential goal for global life and living.

Nature offers gifts from the past; we must protect and manage to pass our natural treasures forward without diminution.
Take advantage of every opportunity (Learning Everywhere) in Nature to sow seeds for making tomorrow brighter.

Living harmoniously within Nature is essential… and it is doable with wisdom, knowledge, and hard work.

We must adopt a land ethic as a societal cornerstone in all that we do; conserving wildness is not necessarily self-defeating.
Learn Everywhere… every day!
Repeating the sage wisdom of Mr. Rogers and Mark Twain:
Play is often talked about as if it were a relief from serious learning. But for children, play is serious learning. Play is really the work of childhood. Fred Rogers
Anyone who stops learning is old, whether twenty or eighty. Anyone who keeps learning stays young. The greatest thing you can do is keep your mind young. Mark Twain
May Nature Inspire and Reward you… and keep your mind young!
Note: All blog post images created & photographed by Stephen B. Jones unless otherwise noted. Please circulate images with photo credit: "©2019 Steve Jones, Great Blue Heron LLC. All Rights Reserved."
Another Note: If you came to this post via a Facebook posting or by an another route, please sign up now (no cost… no obligation) to receive my Blog Post email alerts: http://stevejonesgbh.com/contact/
And a Third: I am available for Nature-Inspired Speaking, Writing, and Consulting — contact me at steve.jones.0524@gmail.com
Reminder of my Personal and Professional Purpose, Passion, and Cause
If only more of us viewed our precious environment through my own filters. If only my mission and vision could be multiplied untold orders of magnitude:
Mission: Employ writing and speaking to educate, inspire, and enable readers and listeners to understand, appreciate, and enjoy Nature… and accept and practice Earth Stewardship.
Vision:
People of all ages will pay greater attention to and engage more regularly with Nature… and will accept and practice informed and responsible Earth Stewardship.
Great Blue Heron clients will see their relationship to our natural world with new eyes… and will understand more clearly their Earth home.
Tagline: Steve (Great Blue Heron) encourages and seeks a better tomorrow through Nature-Inspired Living!

http://stevejonesgbh.com/wp-content/uploads/2019/01/IMG_9182.jpg-01.18.19-Gulf-State-Park-Pine-Savannah-On-Way-to-Pitcher-Plant-Bog.jpg
1200
900
Steve Jones
http://stevejonesgbh.com/wp-content/uploads/2017/01/gbhweblogo.png
Steve Jones
2019-02-05 19:11:41
2019-02-05 19:11:41
Mid-January at Alabama's Gulf State Park: Beach, Dunes, Savannas, and Interior Wetlands