I had been to Gulf State Park 20 years ago. Since then, several hurricanes, the Deepwater Horizon Spill, and subsequent settlement funds combined to both force and enable creation of an Alabama seacoast legacy project. Judy and I spent three nights at the new lodge January 16-18, 2019. I view the Park as Alabama's globally significant restoration, preservation, demonstration, education, and recreation project. Here are the Enhancement Project book cover and Vision statement: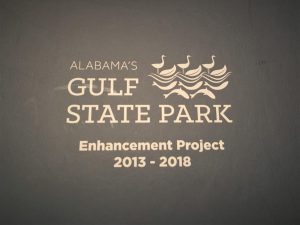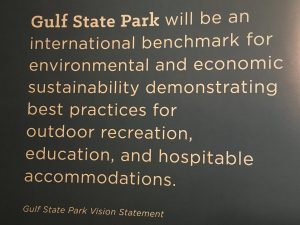 One hundred forty million dollars later, the Vision is now reality. We arrived early enough Wednesday to enjoy a near-lodge late afternoon stroll. Thursday's meeting (which brought me to Gulf State Park) allowed more time for both morning and afternoon strolls. Friday I spent nearly nine hours on-site with Kelly Reetz, the Park's Naturalist… a "globally significant" naturalist and environmental educator in her own right!
The Park stretches along 2.5 miles of protected shoreline — unspoiled wildness nestled within otherwise continuous commercial and residential development. The 2016 Park Master Plan notes:
"There are no other parks along the Gulf Coast with as many different ecosystems and as many acres preserved overall. Gulf State Park is a very diverse park, with many different ecosystems within its 6,150 acres. The Park includes:
Evergreen Forests
Pine Savannas
Maritime Forests
Dune Ridges / Sand Scrub habitats
Fresh and Salt Marshes
Freshwater and Brackish Lakes
Coastal Swales
Dunes
The Beach and Gulf
As the largest contiguous preserved open space along the Gulf Coast with such a diversity of landscapes, the park is home to a great diversity of wildlife and an important rest stop for migrating birds and butterflies. Some of the animal species that call Gulf State Park home are not found in many other places. For example, the Alabama beach mouse that lives in the park's dunes is a federally endangered species. Dune restoration will help the park be an even better home for this sensitive creature."
The Enhancement Project Goals:
Restoring the Environment
Visitor Experience
Improving Mobility
Accessible to All
Learning Everywhere
For All Ages
I checked all boxes as I experienced the Park! Again, Gulf State Park is an international gem. My purpose with this Great Blue Heron Blog Post is to provide an overview… to scratch the surface, offer my own reflections (and photographs), and set the stage for three subsequent Gulf State Park GBH Posts:
Beach, Dunes, Savannas, and Interior Wetlands
Interior Forests and Prescribed Fire
Oh Beautiful for Spacious Skies
Overview of a Globally Significant Coastal Center for Sustainable Tourism and Earth Stewardship
The academic in me yearns to tell the Enhancement Project story… the entire story. I promise to resist. The Project Book does just that. And does it thoroughly and beautifully. No need for me to do more than offer a broad overview from my perspective as a doctoral level applied ecologist, lifelong Nature enthusiast, environmental educator, consummate champion for responsible Earth stewardship, and a tireless advocate for Nature-inspired life and living.
I'll begin with the Lodge — a large, five-story beach-side facility that blends aesthetically with its natural environs and honors the goal to restore and protect the shore and dune environment. The Lodge and Park remind me of Lyrics in Robert Service's Spell of the Yukon:
There's a land—oh, it beckons and beckons,
   And I want to go back—and I will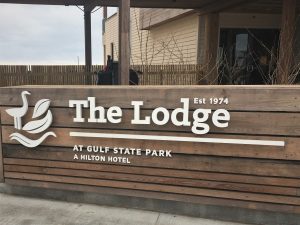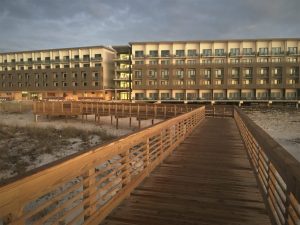 The Park's 1,500′ pier provides access beyond the shore and sand bars. Nothing beats the off-shore perspective on the Park's 2.5 miles of beach and dunes.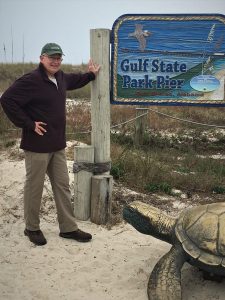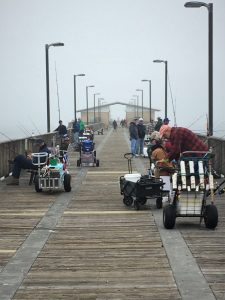 Miles of boardwalk offer easy pedestrian and bicycle access to the Park's nearly ten square miles. This view, from Pedestrian Bridge East crossing the east-west highway connecting Gulf Shores to Orange Beach, is to the north looking across Middle Lake to the campground (496 sites) and Nature Center.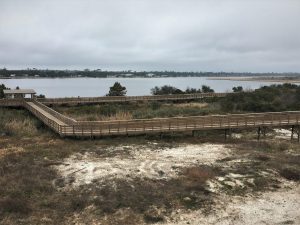 Dune Restoration is a principal Enhancement Project Goal: "Create a dune system that encourages a connection to nature and maximizes the ability for that system to provide protection, habitat, and resiliency for all types of communities." That's the Beach Pavilion beyond the sign — a shelter for escape from sun and inclement weather and for education.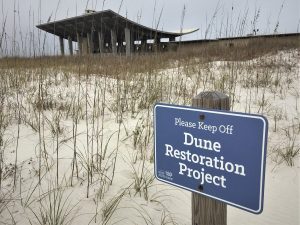 The beachside Interpretive Center Goal: "Create a gateway to the park that excites visitors about the entire 6,150 acres and entices them to cross over into the green side of the park." The Project Book includes two of my favorite quotes about learning:
Play is often talked about as if it were a relief from serious learning. But for children, play is serious learning. Play is really the work of childhood. Fred Rogers
Anyone who stops learning is old, whether twenty or eighty. Anyone who keeps learning stays young. The greatest thing you can do is keep your mind young. Mark Twain
Recall one of the Enhancement Project's primary goals: Learning Everywhere. The Interpretive Center is a core element… and one of many "everywheres" throughout the Park!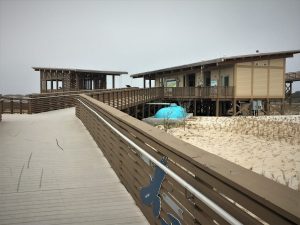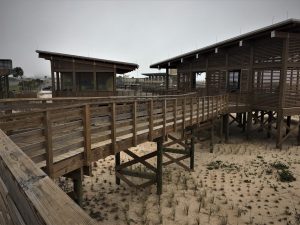 Designers engineered a lighter element at the Outpost, a three-platform remote camping area with these Does and Bucks outhouses! The nearby city of Orange Beach designed and built the Outpost in cooperation with the Park — what a great symbol of shared mission and joint venture! It's the way natural communities operate within vibrant ecosystems.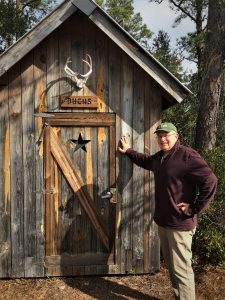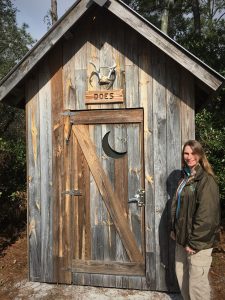 Here's one of the three platforms… outfitted with chairs on a front porch and hammocks within. I had little idea how emblematic of the Park this scene is until I viewed the photo several days later. The low stratus began to break, permitting the sun to illuminate the white of sand, platform tent, and clouds to intermingle. Contrasting the life and vitality on this inland dune ridge, the sand pine skeleton symbolizes that both life and death compose the ebbs and flows of these coastal ecosystems. Or, for that matter, any ecosystem on our fine Earth. My mind relaxes when the photo draws me into its intimate setting, emphasizing that this one spot is a microcosm of the entire Park. A special place where life abounds in multiple textures, and senescence and rebirth integrate seamlessly and in perfect long-term balance. The Enhancement Project assures that across the Park human use and Nature are in perfect long-term balance.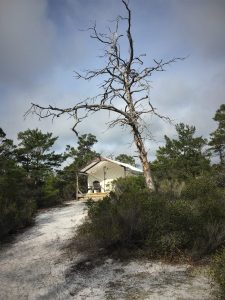 The Forest Pavilion and Butterfly Garden, an interior Park learning facility, sits over a mile from the nearest road and parking area. Accessible to only bicyclers and pedestrians, the classroom had a full house of snow-birders enjoying a presentation on Park reptiles. Again, Learning Everywhere!
Here is one of several Pause Stations located throughout the Park and its trail system. This two-story structure allows visitors to explore a representation of a gopher tortoise burrow. Interpretive signs tell the tale while riders and hikers take a break to catch their breath. Aldo Leopold lamented 70 years ago in A Sand County Almanac: "Is education possibly a process of trading awareness for things of lesser worth?" Dr. Leopold would have enjoyed seeing the visionary outcome of the Enhancement Project. Learning Everywhere!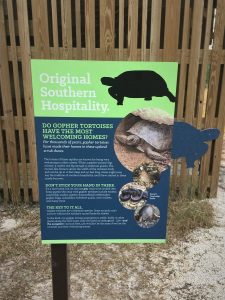 Nearing completion, the new Learning Campus will house, feed, and immerse up to 64 participants in a state-of-the-art self-contained facility, within a natural setting for hands-on learning. Fencing protects this live oak from construction equipment damage. Other natural vegetation throughout the emerging campus is similarly protected. I hope to return to offer a lecture or lead a future workshop.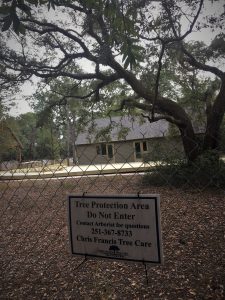 I include this photo to evidence yet another option for overnight accommodations and to provide some notion of the Park's scale. The cottages and cabins sit on the north shore of Lake Shelby. The Park's water tower stands approximately one mile to the southeast. A cottage resident can walk or bicycle (on paved or boardwalk trails) from this viewpoint to the water tower, beach, lodge, forest pavilion, or any of the other features I've mentioned.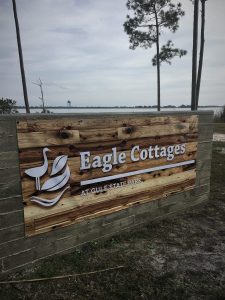 What better location to place a resting area and overlook than among live oaks draped in Spanish moss, a quintessential symbol of the deep south!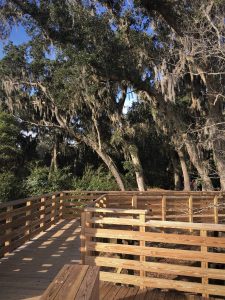 The Enhancement Project at Gulf State Park represents a new day. A fresh and essential way to demonstrate best practices for outdoor recreation, education, and hospitable accommodations… an international benchmark for environmental and economic sustainability. Two predawn easterly views (below) promise a grand new day ahead, both literally and metaphorically. Aldo Leopold saw deep shadows of environmental decline and degradation on the horizon… unless we changed our human and societal trajectory, again from A Sand County Almanac:
All conservation of wildness is self-defeating, for to cherish we must see and fondle, and when enough have seen and fondled, there is no wilderness left to cherish.
I believe the Enhancement Project faithfully ensures against excessive seeing and fondling. Although not true wilderness, the Park certainly constitutes nearly ten square miles of wildness, within a long strand of continuous development where seeing and fondling leave little wildness left to cherish.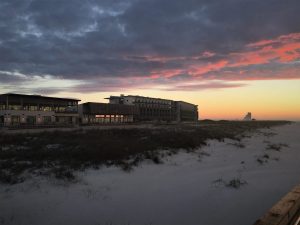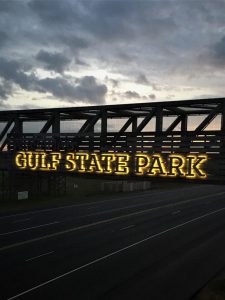 The Enhancement Project embodies implicitly, if not in so many words, the kind of land ethic Leopold implored in the 1940s, again from A Sand County Almanac:
My favorite quote: The land ethic simply enlarges the boundaries of the community to include soils, waters, plants, and animals, or collectively: the land… In short, a land ethic changes the role of Homo sapiens from conqueror of the land-community to plain member and citizen of it. It implies respect for his fellow-members, and also respect for the community as such.
May Nature enrich your life and living… Nature-inspired living! And may you pass it forward. Remember: Learning Everywhere, Everyday!

Thoughts and Reflections
I wrote my books (Nature Based Leadership (2016) and Nature-Inspired Learning and Leading (2017)) and the two scheduled for 2019 (Weaned Seals and Snowy Summits: Stories of Passion for Place and Everyday Nature and Harnessing Nature's Wisdom and Inspiration) to encourage all citizens to recognize and appreciate that every lesson for living, learning, serving, and leading is either written indelibly in or is powerfully inspired by Nature. Both published books are available on Amazon and other online sources.
Here are four succinct lessons I can easily draw from this Blog Post:
Take advantage of every opportunity (Learning Everywhere) in Nature to sow seeds for making tomorrow brighter.

Living harmoniously within Nature is essential… and it is doable with wisdom, knowledge, and hard work.

We must adopt a land ethic as a societal cornerstone in all that we do; conserving wildness is not necessarily self-defeating.
Learn Everywhere… every day!
Repeating the sage wisdom of Mr. Rogers and Mark Twain:
Play is often talked about as if it were a relief from serious learning. But for children, play is serious learning. Play is really the work of childhood. Fred Rogers
Anyone who stops learning is old, whether twenty or eighty. Anyone who keeps learning stays young. The greatest thing you can do is keep your mind young. Mark Twain
May Nature Inspire and Reward you… and keep your mind young!
Note: All blog post images created & photographed by Stephen B. Jones unless otherwise noted. Please circulate images with photo credit: "©2019 Steve Jones, Great Blue Heron LLC. All Rights Reserved."
Another Note: If you came to this post via a Facebook posting or by an another route, please sign up now (no cost… no obligation) to receive my Blog Post email alerts: http://stevejonesgbh.com/contact/
And a Third: I am available for Nature-Inspired Speaking, Writing, and Consulting — contact me at steve.jones.0524@gmail.com
Reminder of my Personal and Professional Purpose, Passion, and Cause
If only more of us viewed our precious environment through my own filters. If only my mission and vision could be multiplied untold orders of magnitude:
Mission: Employ writing and speaking to educate, inspire, and enable readers and listeners to understand, appreciate, and enjoy Nature… and accept and practice Earth Stewardship.
Vision:
People of all ages will pay greater attention to and engage more regularly with Nature… and will accept and practice informed and responsible Earth Stewardship.
Great Blue Heron clients will see their relationship to our natural world with new eyes… and will understand more clearly their Earth home.
Tagline: Steve (Great Blue Heron) encourages and seeks a better tomorrow through Nature-Inspired Living!

http://stevejonesgbh.com/wp-content/uploads/2019/01/IMG_0521.jpg-01.19.19-Gulf-State-Park-Dawn-Entrance-Sign.jpg
1200
900
Steve Jones
http://stevejonesgbh.com/wp-content/uploads/2017/01/gbhweblogo.png
Steve Jones
2019-01-28 04:51:48
2019-01-28 08:30:15
Mid-January at Alabama's Gulf State Park: Overview