I'll keep this Blog Post short. My two Alabama grandsons and their step-father accompanied me the day after Christmas to Wheeler National Wildlife Refuge. My two-part message is quite simple:
Take advantage of every opportunity in Nature to sow seeds for making tomorrow brighter.

Invest your time, knowledge, and passion for Nature in young people whenever you can.
The geniuses in Washington had seen fit to make sure the Visitors Center and observation building were locked tight as a drum due to the partial government shutdown. Regardless, we enjoyed the trails and the distant view below of several thousand sandhill cranes.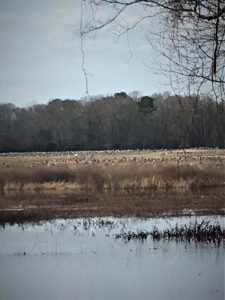 I shared my passion for lying on my back to appreciate and enjoy crown shyness in the cypress stand near the Visitors Center. What could be more fun than lying on our backs along the boardwalk and watching the trees sway?!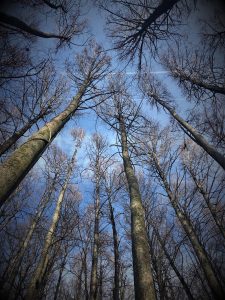 The boys marveled at the shiny green magnolia (Magnolia grandiflora) leaves on the seedling in the otherwise brown forest floor. I shamelessly employed every stop to share lessons of ecology.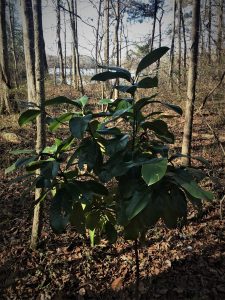 And what youngster (or adult) could resist my challenge to see whether the three of them could link hands around this magnificent red oak (Quercus rubra).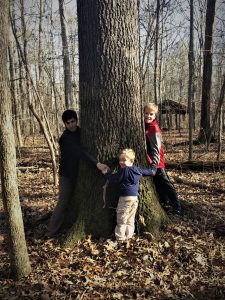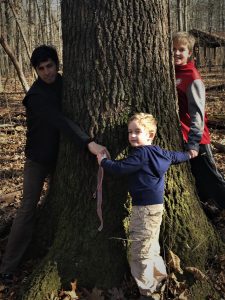 They looked in wonder at both the 30-inch diameter, tall and straight oak and the hollowed spooky tree below. I admit to not identifying the species on site. We focused on the novelty and the cause — a former fork that broke off long enough ago to decay and return to the forest floor, yet leaving a long-lasting scar and decay.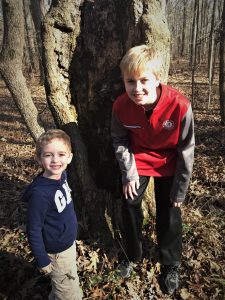 And what fun in scaling a leaning red oak, or resting on its 45-degree bole!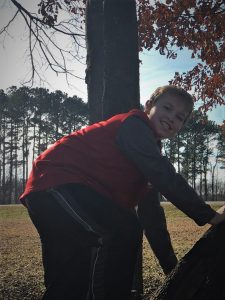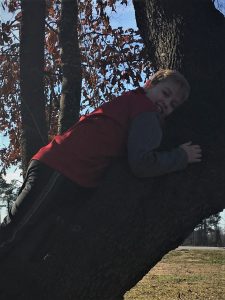 Or standing atop a trailhead post while step-dad provides hidden support and assurance. I dare say the boys will long remember our sunny afternoon adventure. Environmental education is a contact sport. I pledge to do my part to pass my passion forward. I urge you to do the same.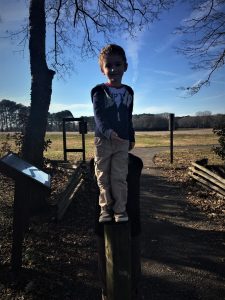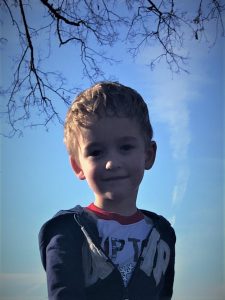 This is the future. I close every email with my favorite Robert Louis Stevenson quote: Don't judge each day by the harvest you reap but by the seeds that you plant. I commit to sow seeds for informed Earth stewardship.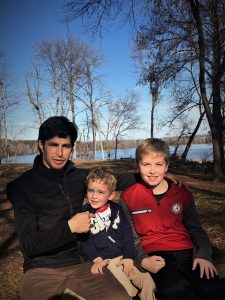 May Nature enrich your life and living… Nature-inspired living! And may you pass it forward.

Thoughts and Reflections
I wrote my books (Nature Based Leadership (2016) and Nature-Inspired Learning and Leading (2017)) and the two scheduled for 2019 (Weaned Seals and Snowy Summits: Stories of Passion for Place and Everyday Nature and Harnessing Nature's Wisdom and Inspiration) to encourage all citizens to recognize and appreciate that every lesson for living, learning, serving, and leading is either written indelibly in or is powerfully inspired by Nature. Both published books are available on Amazon and other online sources.
Here are three succinct lessons I can easily draw from this Blog Post:
Take advantage of every opportunity in Nature to sow seeds for making tomorrow brighter.

Invest your time, knowledge, and passion for Nature in young people whenever you can.

Consciously and deliberately enrich your own life and living by sowing seeds for informed and responsible Earth stewardship.
May Nature Inspire and Reward you!
Note: All blog post images created & photographed by Stephen B. Jones unless otherwise noted. Please circulate images with photo credit: "©2019 Steve Jones, Great Blue Heron LLC. All Rights Reserved."
Another Note: If you came to this post via a Facebook posting or by an another route, please sign up now (no cost… no obligation) to receive my Blog Post email alerts: http://stevejonesgbh.com/contact/
And a Third: I am available for Nature-Inspired Speaking, Writing, and Consulting — contact me at steve.jones.0524@gmail.com
Reminder of my Personal and Professional Purpose, Passion, and Cause
If only more of us viewed our precious environment through my own filters. If only my mission and vision could be multiplied untold orders of magnitude:
Mission: Employ writing and speaking to educate, inspire, and enable readers and listeners to understand, appreciate, and enjoy Nature… and accept and practice Earth Stewardship.
Vision:
People of all ages will pay greater attention to and engage more regularly with Nature… and will accept and practice informed and responsible Earth Stewardship.
Great Blue Heron clients will see their relationship to our natural world with new eyes… and will understand more clearly their Earth home.
Tagline: Steve (Great Blue Heron) encourages and seeks a better tomorrow through Nature-Inspired Living!

http://stevejonesgbh.com/wp-content/uploads/2019/01/IMG_8745.jpg-12.26.18-WNRW-Obs-Bldg-Closed-to-Govt-Shutdown.jpg
1200
900
Steve Jones
http://stevejonesgbh.com/wp-content/uploads/2017/01/gbhweblogo.png
Steve Jones
2019-01-21 14:12:31
2019-01-21 14:12:31
December 26, 2018 at Wheeler National Wildlife Refuge: Reaping While Sowing