December 4, 2018, three days after a 48-hour rain dropped over two inches, I bicycled a relaxing 15 miles on the Bradford Creek Greenway, just four miles from my home in Madison, Alabama. I dubbed this my summer is officially gone ride. The morning low had entered the mid-20s; almost all leaves were down; Bradford Creek was at winter flow; and flowering plants had either dispersed or were shedding seed. I offer these photos as evidence announcing summer's departure, fall's deepening, and winter's arrival. The paved trail is leaf-carpeted (below). I would have ridden the day before but I delayed to give the slippery leaves a chance to dry in that day's wind and bright sun. The loblolly pine (Pinus taeda) stands tall and full-crowned among its leafless neighbors, back-dropped by a magnificent blue sky.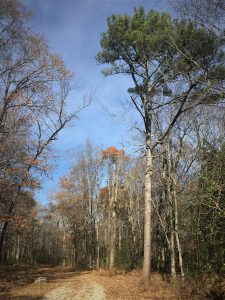 Likewise, a loblolly border frames the fair-weather blue below. Shrubs and herbaceous trail-side plants have long-since given way to the 18-degree morning a week prior. Winter's announcement is not awaiting some cold blast with snow; this is pretty much our standard winter look. Sure, we may see a snow-dusting or two… perhaps even a little accumulation. Of note, the New Year's Eve Storm of 1963 dropped a record 17.1 inches on Huntsville, the most since 1889. Our average annual snowfall is 2.4 inches.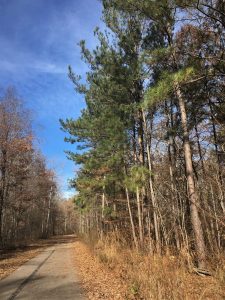 Bradford Creek crosses the trail under the bridge ahead (below). The sycamore (Platanus occidentalis) stands sentry silhouetted by the the royal blue mid-day sky and the flotilla of stratocumulus. These are distinctly rich fall/winter hues. Beyond the tree and bridge, the fields and pasture reach to the distant woods edge marking Mill Creek.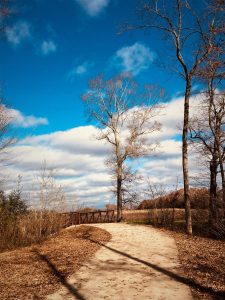 The wetland below gathers water and releases it to Bradford Creek just upstream of the Greenway. Occasionally, robust cold domes of high pressure will freeze the standing water for 2-3 days before back-side southerly winds return. Again, this is our winter scenery — cold enough to bring full dormancy until late February or early March when this wetland will announce spring with red maple (Acer rubrum) flowering and spring peepers in full throat.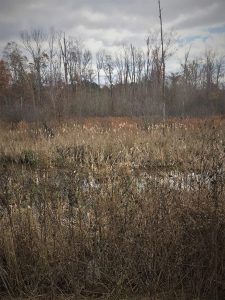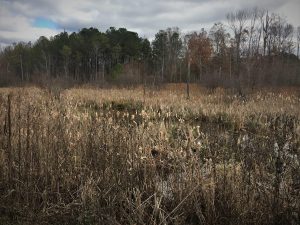 Even during the driest period of 2018 (September and October), Bradford Creek maintained flow. By this December 4 photo, nearly eight inches had fallen since November 1.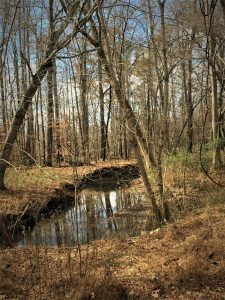 Soils are saturated and likely will remain so in this floodplain until leaf-out in late April to early May. Again, typical winter condition.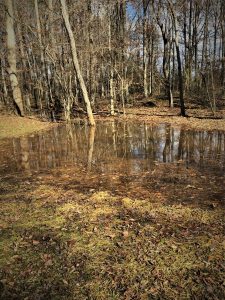 Two months ago, goldenrod (Solidago sp.) blessed the trail with its rich yellow. I find beauty still in its seed that is ready for flight. To every thing there is a season… and a time to every purpose, under heaven.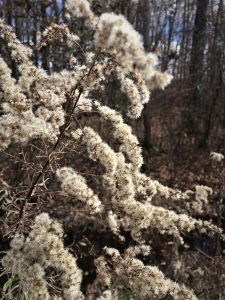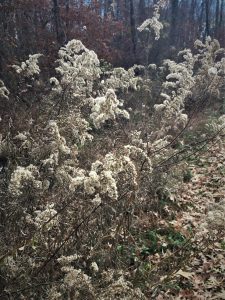 I did not take time to identify this plant. I believe it is an aster. Like the goldenrod, it is at dispersal-flight-ready seed maturity. I like its subtle winter beauty.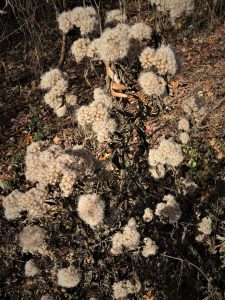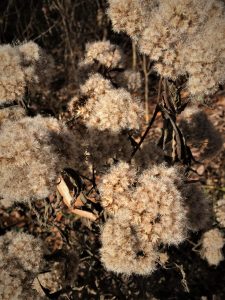 Wildlife also signal the season. A buck, irritated by its itchy antler velvet, has declared war on a two-inch-diameter trail-side willow. Squirrels took advantage of a picnic table to feast on acorns and hickory nuts. Why not?! 'Tis the season for gathering… a time to reap.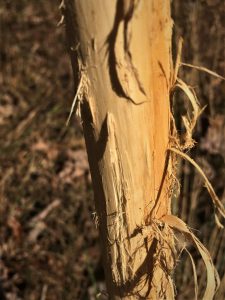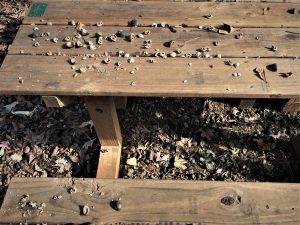 Just upstream from the bridge, the utility crew that laid new pipe and reconstructed the trail during the late summer had brought materials to the trail along this now-harvested cotton field. The crew repaired the ingress/egress damage by leveling, harrowing, seeding, mulching, and planting two 150-foot rows of longleaf pine (Pinus palustris). I am eager to watch these signature southern pine individuals grow. What could be more southern than longleaf pine and cotton!?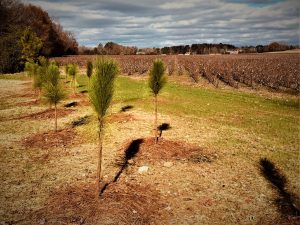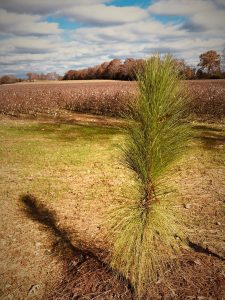 Across our 13 career-driven interstate moves, we've lived both where winter arrives with certainty and holds fast (upstate NY; central PA; southern NH; interior AK), and also where winter not so much arrives as summer departs (southeastern VA; coastal GA; coastal plain NC; and three times in AL). I'm writing this text December 19, two days from the solstice. I just returned from a 21.5-mile bicycle ride on Bradford Greenway under partly cloudy skies at temperatures in the upper 50s. Were I living in one of those more northerly locales, my bike would be winterized and hanging in the garage. Not so here where winter visits but does not stay long enough to be more than an occasional nuisance.
No matter where we've lived, we've chosen to blossom and bloom. I've learned that we can accommodate to any kind of weather. And that we can optimize best when we know what to expect. I know the seasons and norms here in northern Alabama. I relish the gradual transitions and the ebbs and flows of life across the landscape and with the seasons. I believe life is better lived and enjoyed when we likewise anticipate our own seasons across time, distance, family, career, and this thing we call aging (or, if you prefer, seasoning).
Nature instructs that we recognize and enjoy the seasons of our life, even as we anticipate and enjoy the seasons of the year. May Nature Inspire all of your seasons, whether of life or the calendar. I find richness, joy, and fulfillment by chronicling these stories of my own passion for Place and Everyday Nature.
Thoughts and Reflections
I wrote my books (Nature Based Leadership (2016) and Nature-Inspired Learning and Leading (2017)) and the two scheduled for 2019 (Weaned Seals and Snowy Summits: Stories of Passion for Place and Everyday Nature and Harnessing Nature's Wisdom and Inspiration) to encourage all citizens to recognize and appreciate that every lesson for living, learning, serving, and leading is either written indelibly in or is powerfully inspired by Nature. Both published books are available on Amazon and other online sources.
My Mission for all that I do: Employ writing and speaking to educate, inspire, and enable readers and listeners to understand, appreciate, and enjoy Nature… and accept and practice Earth Stewardship.
Here are two succinct lessons I can easily draw from this Blog Post:
Blossom and bloom wherever you are.

Recognize and enjoy the seasons of your life, even as we anticipate and enjoy the seasons of the year.
May Nature Inspire and Reward you!
Note: All blog post images created & photographed by Stephen B. Jones unless otherwise noted. Please circulate images with photo credit: "©2018 Steve Jones, Great Blue Heron LLC. All Rights Reserved."
Another Note: If you came to this post via a Facebook posting or by an another route, please sign up now (no cost… no obligation) to receive my Blog Post email alerts: http://stevejonesgbh.com/contact/
And a Third: I am available for Nature-Inspired Speaking, Writing, and Consulting — contact me at steve.jones.0524@gmail.com
http://stevejonesgbh.com/wp-content/uploads/2018/12/IMG_8577.jpg-12.03.18-Bradford.jpg
1200
900
Steve Jones
http://stevejonesgbh.com/wp-content/uploads/2017/01/gbhweblogo.png
Steve Jones
2019-01-02 04:22:32
2019-01-02 04:22:32
Suddenly Summer is Gone -- Bradford Creek Greenway