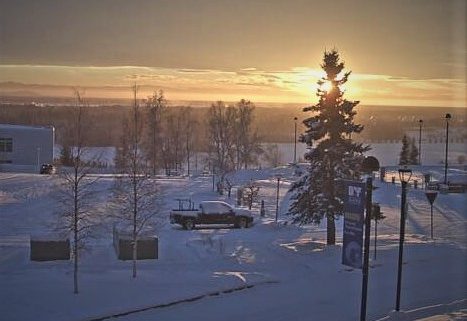 I've issued these Great Blue Heron Blog Posts routinely since January 2017. Both they and I have evolved over the two years. Perhaps I will reflect on that evolution as we enter the new year. For this Post, I will simply wish you Blessings for the Holiday Season and Joy for 2019!
As you know, we live in northern Alabama's Tennessee Valley Region, where winter doesn't so much barge into our lives as summer simply retreats. Here in the Deep South, December only rarely delivers a Holiday Winter Wonderland. Allow me to share a few of my own photographs from my Far North archives to help us celebrate this Season of Blessings and Joy.
These first two photos are now in my archives. Both are captured from the University of Alaska Fairbanks web cam from atop the Geophysical Institute building on UAF's West Ridge campus. The view is south across the Tanana Flats toward the Central Alaska Range, 70 miles distant. Lower left is solstice (December 21, 2018) dawn (10:12am; ~40 minutes prior to actual sunrise). The other is sunset four hours later (2:05pm). Fairbanks "enjoys" six months of Winter Wonderland! I served UAF as Chancellor (CEO) 2004-08, loving every minute of it. I re-experience the beauty and magic through the web cam lens. No need for winter-layering from that vantage point!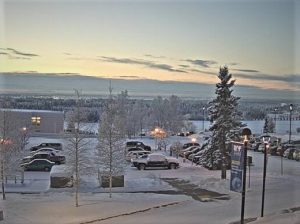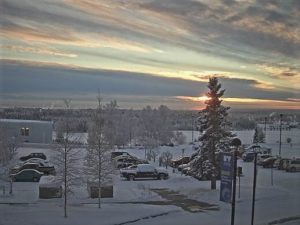 While residing in Fairbanks, we mailed our Christmas cards from North Pole, AK (lower left). This is a mid-April photo from Santa Clause House — note the persistent snow pack. The snow man is a February 2007 photo I took on the Arctic Circle near Rovaniemi, Finland.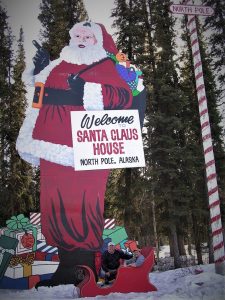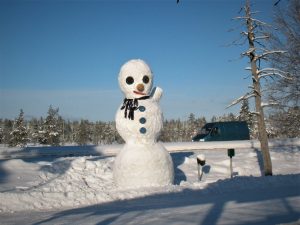 Deep cold rendered the landscape to levels of winter majesty beyond imagination. These two photos are of trees sculpted with snow and hoard frost along a stretch of the Tanana kept open by warm water effluent from the in-town power plant.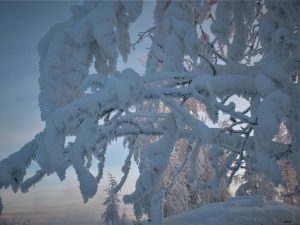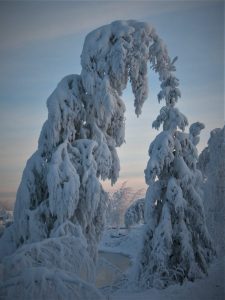 During the Finland trip, we visited this trail head at a near-town complex of cross-country skiing and hiking trails. Peace, quiet, and beauty beyond compare. My Finnish hosts made sure I was prepared for Arctic forest wanderings, loaning me an appropriately fashioned overcoat of traditional Sami-design. I returned to Rovaniemi's Lapland University several September's hence to deliver the Fall Convocation Address. As with the UAF web cam, I keep the Rovaniemi web cam bookmarked on my computer. A piece of my heart resides still in the high latitudes!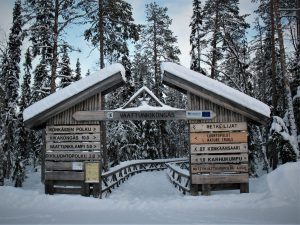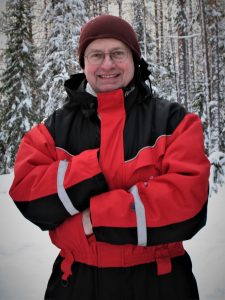 I served on the Board for the Denali Education Center during our Alaska years. That's then Executive Director Willie Karidis on my left. We're snow shoeing on the thickly frozen Nenana River in early March. The temperature is negative 37. A bit later that morning I suffered my only episode of frostbite during our Alaska residency. Willie had noticed the tip of my nose turning white, ordered me to pull the scarf over my face, and led me back to the DEC building. No need to pull the scarf over my face while viewing the web cams! Of interest, that same river is a raging torrent, glacier-melt-gorged when great hordes of summer visitors view it nearby at the entrance to Denali National Park.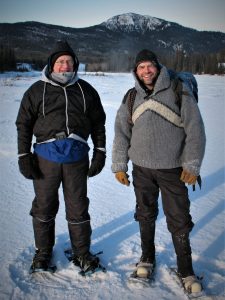 And Denali epitomizes Winter Wonderland year-round.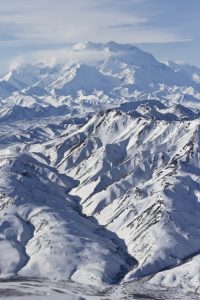 One need not venture to Alaska to experience real winter and discover a Winter Wonderland. Here's Judy in February 2015 saluting the snow pile just outside our garage door. The snow pack in our yard had deepened to 30 inches.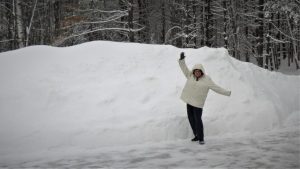 Okay, I did find a wee taste of Winter Wonderland mid-November at Alabama's Camp McDowell. A rainy night had ended with cold air advection and a brief switchover to snow, decorating a sweetgum (Liquidambar styraciflua) leaf.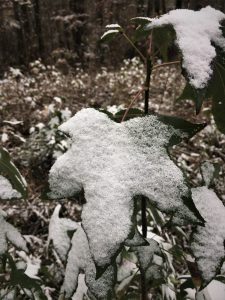 Merry Christmas and Happy New Year! May you find Holiday spirit and winter joy no matter where you live!
Note: All blog post images created & photographed by Stephen B. Jones unless otherwise noted. Please circulate images with photo credit: "©2018 Steve Jones, Great Blue Heron LLC. All Rights Reserved."
Another Note: If you came to this post via a Facebook posting or by an another route, please sign up now (no cost… no obligation) to receive my Blog Post email alerts: http://stevejonesgbh.com/contact/
And a Third: I am available for Nature-Inspired Speaking, Writing, and Consulting — contact me at steve.jones.0524@gmail.com
http://stevejonesgbh.com/wp-content/uploads/2018/12/image.cgi-2.jpg-12.15.18-Sunset-at-UAF-web-cam.jpg
351
467
Steve Jones
http://stevejonesgbh.com/wp-content/uploads/2017/01/gbhweblogo.png
Steve Jones
2018-12-25 18:24:39
2018-12-25 18:24:39
Holiday Wishes from Steve at Great Blue Heron!