What a blessing that our home planet tilts 23.5 degrees relative to its orbital plane. We in the northern hemisphere lean toward the sun in summer; Earth stands vertical to the sun at the spring and fall equinoxes; we now tilt away from ole sol at the fast-approaching winter solstice, our shortest day(light). Without the tilt, we would have no seasonal changes. I love the summer/fall/winter/spring swings and pay close attention to their relation to our sun. I'm fascinated by the science, and find that understanding the orbital and seasonal relationships enhances my appreciation of the beauty and magic of Nature's displays.
Within five weeks of the solstice (November 17 sunset below), the sun sets at about 24 degrees south of due west; by December 21, it sets a full 30 degrees from west. By mid summer, the sun sets at 30 degrees north of due west… far past the right margin of the photo. A remarkable 60-degree swing over just six months. As we approach either solstice, both sunrise and sunset have shallower angles of ascent and descent, thus increasing the duration of displays like this one. During our four years in Fairbanks, Alaska, where the sun rose and set at the solstices 80 degrees plus or minus from due east or west (a six-month 160-degree swing!), spectacular colors could last for 30-40 minutes! Again, knowing the science boosts my appreciation for Nature's wonder and awe.
I'll focus most of these remarks and photographs on Nature's artistry. Again, this is our November 17 sunset: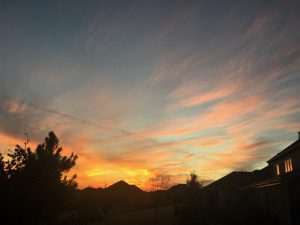 Here's the next morning's (November 18, 2018) dawn. I suppose no words required beyond these implied 1,000 (recall that a picture is worth a thousand words)!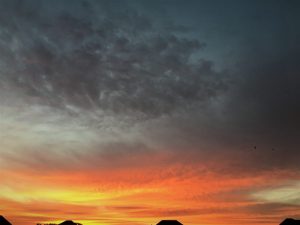 More wonderful dawn images from November 23. I can't imagine how empty life is for those who never awaken before daylight!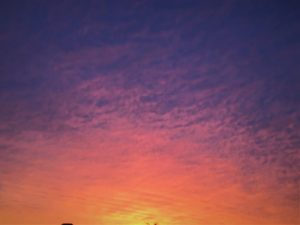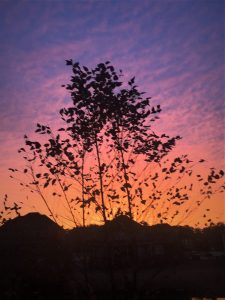 Fitting that I am reading Henry David Thoreau's Walden. I have tried Walden several times previously, each occasion thwarted by Thoreau's 180-year-old style and thick language, and perhaps owing in large measure to the demands of whatever job I happened to hold and family commitments of one sort or another. In this semi-retirement stage, I'm still struggling with Walden, working hard to mine gems from his difficult text. Here are some rich words regarding his predisposition to morning:
For my panacea… let me have a draught of undiluted morning air. Morning air! If men will not drink of this at the fountainhead of the day, why, then, we must even bottle up some and sell it in the shops, for the benefit of those who have lost their subscription ticket to morning time in this world.
I think by morning air, Thoreau meant the entire experience of a new day dawning — the actual air, the sounds, the sky, and the darkness retreating westward. Cat Stevens likewise celebrated the morning air in Morning Has Broken:
Morning has broken like the first morning
Blackbird has spoken like the first bird
Praise for the singing
Praise for the morning
Praise for them springing fresh from the world
Sweet the rain's new fall, sunlit from heaven
Like the first dewfall on the first grass
Praise for the sweetness of the wet garden
Sprung in completeness where his feet pass
Mine is the sunlight
Mine is the morning
Born of the one light Eden saw play
Praise with elation, praise ev'ry morning
God's recreation of the new day
Morning has broken like the first morning
Blackbird has spoken like the first bird
Praise for the singing
Praise for the morning
Praise for them springing fresh from the world
I speak with so many acquaintances for whom morning does not include dawn. An unimaginable fate for me. I refuse to allow the day to begin without me! I don't want to risk missing something worthy that might be springing fresh from the world. Aldo Leopold spoke of how in these modern times (for him that was the mid-20th century… 70 years ago), Education, I fear, is learning to see one thing by going blind to another. I cannot fathom going blind to the dawn!
Evening's Farewell Salute
Sunset often trumpets a day well-lived. Why else would Nature end the day with displays like December 3, 2018, when cirrus offered several thousand words of glory and brilliance as the sun neared the evening horizon? I snapped these between passes as grandson Jack and I tossed a football in the street at the front of my house. Jack enjoyed the display as much as I, and what better way to share Nature's generous gifts than with an Earth Steward of tomorrow!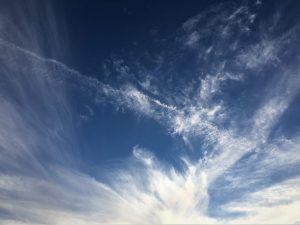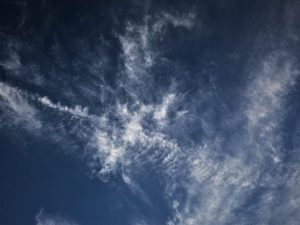 The same evening and the same magic!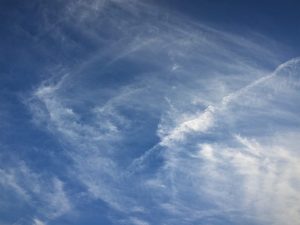 And a few minutes later as the sun dipped below the west by southwest horizon: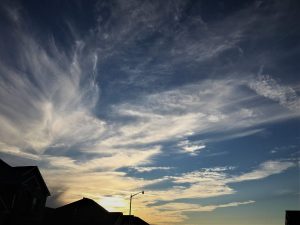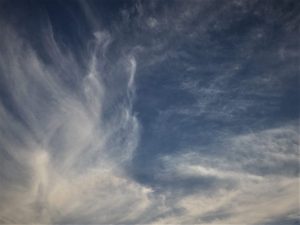 I have said often that I prefer paintings that look like well-taken photographs… and I love photographs that look like paintings. These few sky images fit the bill. Nature is not selfish nor selective. She gifts equally to all who care to look… and rewards those who make the effort (as though it should require any effort at all) to see… and graces those who see deeply enough to feel the power, passion, and inspiration infused in and bursting from the image.
May Nature Inspire all that you do!
Thoughts and Reflections
I wrote my two books (Nature Based Leadership (2016) and Nature-Inspired Learning and Leading (2017)) to encourage all citizens to recognize and appreciate that every lesson for living, learning, serving, and leading is either written indelibly in or is powerfully inspired by Nature. Here are three powerful and succinct lessons I can easily draw from this Blog Post:
Don't be blind to what lies in front of you. "Vision is the art of seeing what is invisible to others." (Jonathon Swift) 
Pay heed to Leopold's implied lesson: Do not allow your own Education to devolve to learning to see one thing by going blind to another.
Share your enjoyment of Nature with young people. They are our society's hope for tomorrow. Do all you can to inspire and spark their awareness of Earth Stewardship as an obligation and  lifetime calling.
Again, may Nature inspire your life. Pay attention to what daily springs fresh from the world!
Note: All blog post images created & photographed by Stephen B. Jones unless otherwise noted. Please circulate images with photo credit: "©2018 Steve Jones, Great Blue Heron LLC. All Rights Reserved."
Another Note: If you came to this post via a Facebook posting or by an another route, please sign up now (no cost… no obligation) to receive my Blog Post email alerts: http://stevejonesgbh.com/contact/
And a Third: I am available for Nature-Inspired Speaking, Writing, and Consulting — contact me at steve.jones.0524@gmail.com
http://stevejonesgbh.com/wp-content/uploads/2018/12/IMG_8585.jpg-12.03.18-Sunset-2.jpg
900
1200
Steve Jones
http://stevejonesgbh.com/wp-content/uploads/2017/01/gbhweblogo.png
Steve Jones
2018-12-09 05:52:11
2018-12-09 05:52:11
Special Skies as Fall Yields to December