October 17-19, 2018 brought me to Alabama's highest point, to 2,407′ Mt. Cheaha crowning Cheaha State Park. I wrote last week about some of my general observations at Cheaha. I admit to having a low threshold for declaring Nature's beauty, magic, wonder, and awe. Even a broken mid-October altostratus deck, sunset-viewed to the northwest from Bald Rock, stirred feelings of deep appreciation. Not spectacular… yet soothing, assuring, and promising a clear and cool autumn day tomorrow.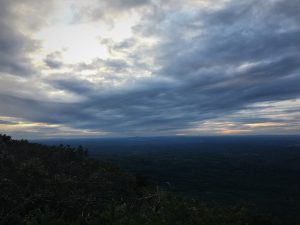 By morning two days hence, the fall high pressure center had drifted east of us, pivoting the chilly northwesterly breeze to southeast. I took both photos below from the west-facing restaurant deck. The strong SE breeze lifting some 1,500 feet from the valley floor had capped Cheaha with stratus, placing us in cloud-shadow. The lower left view to the SSW shows cloud streamers descending and evaporating, revealing clear skies above the valley beyond. The lower right view to the WNW shows more descending streamers and the sunlit valley floor. Even a mountain of Cheaha's relatively small stature generates micro-climate phenomena that are fascinating and quite predictable. I could have sipped coffee and watched the streamers race downhill and westward for hours. However, even if I had chosen to sit tight, the sun-warmed morning air would have soon taken the lifting condensation level higher than Cheaha's summit.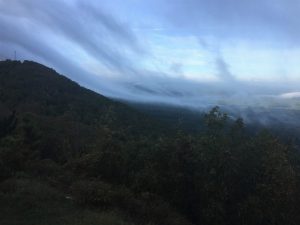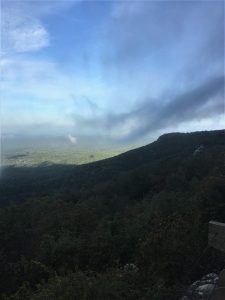 Here's the deck-view to the west 35 minutes earlier… before the sun had fully illuminated the valley floor and brought deep blue to the western sky. The streamers then were more pronounced and descended further into the valley. Nothing in Nature (or in our lives and enterprises) is static. Change rules the day (and night) and we must learn to anticipate and adapt.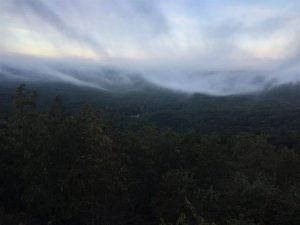 Mid-afternoon on the 18th I hiked the quarter mile from the old CCC reservoir to Rock Garden, overlooking Cheaha Lake to the southwest. I would ascend the rough trail from the lake to Cheaha's summit the next morning. Watch for my Blog Post soon reflecting upon the ascent and Nature's treats along the way. This shot shows the deep blue and thin cirrus typical of the season's first intrusion of cool high pressure from the north.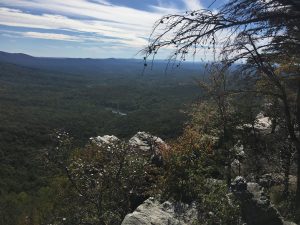 Clouds can mesmerize me. This burst of wispy cirrus blossoming from the trees greeted me as I ascended Friday late morning from the continuous forest canopy into the scattered trees tucked within the massive stones and ledges of Rock Garden. An ice crystal bouquet at >20,000 feet… temperature at least 20-degrees below zero from my 60-degree point of observation! Even without the exquisite beauty, the magic of physics excites wonder. Once again, I feel humility and inspiration knowing that relative to these grand scales and epic contrasts I am nothing. Compared to a single cirrus burst, what am I? Yet a simple moment in the life of one cloud formation among ten million worldwide at this instant elevates my heart rate, and yields deep gratitude that I am privileged to witness this gift. A gift that is there for me not because I am anything special, but because I believe that if I look, I will see. And when I see, I will feel its power. And when I feel, I will continue my mission (to act) to remind all that we Earth residents carry the burden of informed and responsible Earth Stewardship. My five essential verbs: believe; look; see; feel; act.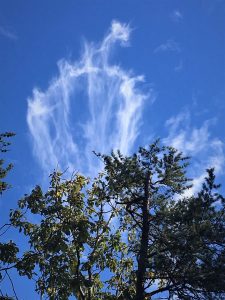 How different (and lesser) would this Rock Garden silhouette be without its blue and cirrus backdrop? Again, we are blessed by Nature's infinite art forms… renewed and rearranged every minute of every day.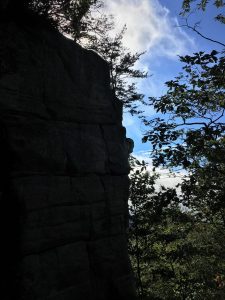 Where would an October Cheaha cloud and sky tour be without a couple photos from atop the tower? A late Thursday afternoon view to the west (lower left) and to the southeast (lower right). All peace and tranquility, soft and gentle. Above 1,500-feet, the Park lost thousands of Virginia pine trees during a January 2014 ice storm. Guy wires thick with ice, a crystal wonderland, and the rifle crack clamor of trees snapping in the frozen wind, the tower deck would have been a frightful perch. Again, nothing in Nature is static. We prefer our first visit to have been this quiet time.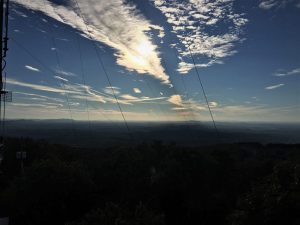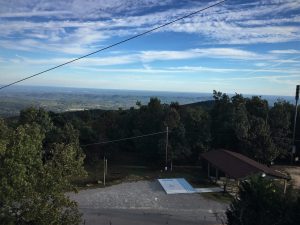 We returned to our restaurant deck a bit later to enjoy dinner as we watched the sun dip below the horizon. The views below are to the SSW (lower left) and directly to the setting sun (lower right).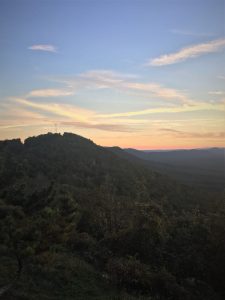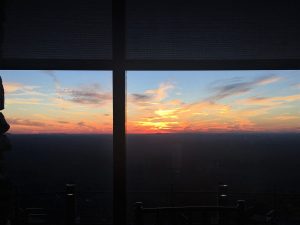 A perfect backdrop for our first visit to the highest point in Alabama.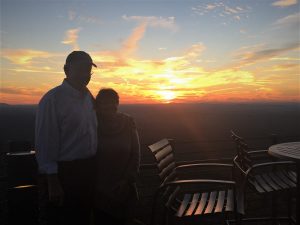 Thoughts and Reflections
I wrote my two books (Nature Based Leadership (2016) and Nature-Inspired Learning and Leading (2017)) to encourage all citizens to recognize and appreciate that every lesson for living, learning, serving, and leading is either written indelibly in or is powerfully inspired by Nature. Here are succinct lessons I can easily draw from this Blog Post:
Individuals, enterprises, and society broadly must awaken to our obligation to wisely steward our environment – from within our local community to globally. The State Park speaks lucidly to this cause.
Don't be blind to what lies in front of you. "Vision is the art of seeing what is invisible to others." (Jonathon Swift) So many people neither see nor appreciate sky and clouds.
Nature can serve as an essential life focus. Such is my own pursuit… my own life-chord. Sky and clouds are essential notes in my chord.
Nature provides multiple attractions for enhancing life's journey. Why else would I be planning four GBH Blog Posts from a simple two-night/three-day immersion at Cheaha State Park?!
Every life… every enterprise is interdependent with all else. While my perspective on every cloud may be mine alone, the cloud and I are part of something much larger and grander.
Effective and fulfilling living, learning, serving, and leading require full doses of humility and inspiration. I could not view the cirrus burst without feeling humility and a deep sense of inspiration.
I have said often that Alabamans are blessed with Nature's richness, including our 22 State Parks encompassing 47,000 acres from the Gulf Coast to the Tennessee Valley. I intend to continue my 22-stop journey… and share my travels, reflections, observations, and lessons from Nature with you.
Note: All blog post images created & photographed by Stephen B. Jones unless otherwise noted. Please circulate images with photo credit: "©2018 Steve Jones, Great Blue Heron LLC. All Rights Reserved."
Another Note: If you came to this post via a Facebook posting or by an another route, please sign up now (no cost… no obligation) to receive my Blog Post email alerts: http://stevejonesgbh.com/contact/
And a Third: I am available for Nature-Inspired Speaking, Writing, and Consulting — contact me at steve.jones.0524@gmail.com
Postscript Cheaha Photos from the Official State Park Archives
View of the restaurant perched on the ridge… a cloudless winter's day.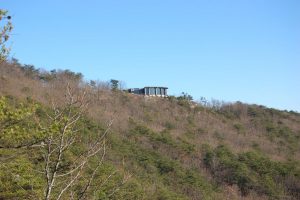 Another winter day, less benign, with clouds from a cold front retreating to the ESE.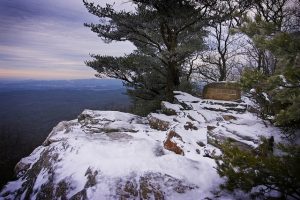 And a Final Photo from a Day of Pleasurable Terror on New Hampshire's Highest Mountain
I reflect briefly on another state's highest peak — New Hampshire's Mount Washington. Clear sky and ground blizzard; temperature at summit negative 20 and wind above 100MPH! We're at 5,300-feet, preparing to re-board the Mount Washington Observatory's Arctic-Cat and return to the base. That's me second from the rear.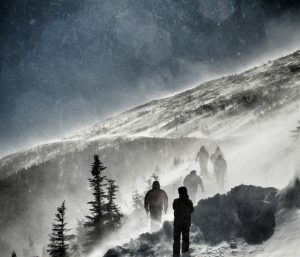 (Photo by Meteorologist Ryan Knapp, Mount Washington Observatory staff.)
http://stevejonesgbh.com/wp-content/uploads/2018/10/IMG_8043.jpg-10.18.18-Cheaha-Cirrus-.jpg
1200
900
Steve Jones
http://stevejonesgbh.com/wp-content/uploads/2017/01/gbhweblogo.png
Steve Jones
2018-11-07 04:26:01
2018-11-07 12:27:46
Cheaha State Park -- Mid-October Sky and Clouds