August 29, Judy and I walked pre-dawn in our neighborhood. Why so early? We prefer 71 degrees over the upper 80s and lower 90s that the sun will deliver by mid-morning. We always head to the patio after our morning wanderings. Nothing beats watching and hearing dawn swell and seeing sunrise. We witnessed a special treat.
Sunshine Magic
The photo view is to the west. Notice three prominent features. The one-day-beyond-full moon in the upper left. The Earth's shadow clearly retreating several degrees above the horizon. And the magnificent rays appearing to radiate from that same horizon. Not so. These are anticrepuscular rays, converging at the antisolar point 180 degrees opposite from the rising, but still below-the-horizon sun in the east. Crepuscular rays are simply the sunbeams we see emanating from the horizon at dawn and sunrise, or shining through breaks in the clouds any time of day. The solar point (the origin) is the sun. The antisolar point at any time of day is easy to spot. It's always in the center of the shadow of your head. In the photos above and below, the sun is still below the horizon… thus no shadow of your head!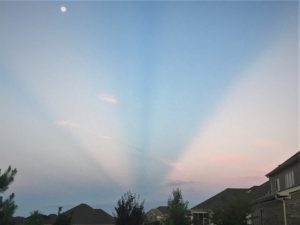 Below are crepuscular rays, beaming from the below-the-horizon morning sun over the Student Center last summer at Fairmont State University.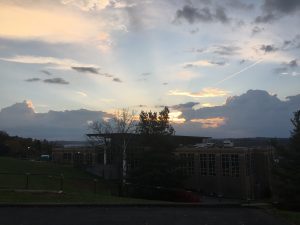 Isn't it striking that both crepuscular and anticrepuscular rays appear identical? That is, with one exception. The rising sun rays photo does not include Earth's retreating shadow on the horizon. All sun rays play visual games. The crepuscular and anticrepuscular rays neither diverge or converge. They are parallel, simply appearing to be otherwise based upon our respective distance from them. We are much nearer those passing overhead and can actually discern their broad parallel bands. And like standing on two distinctly parallel railroad tracks, they fade to a vanishing point at distance in either direction (either the solar or antisolar point).
Mid-September I asked 4.5-year-old-grandson Sam to kneel at the center of an incomplete fairy ring (see the semi-circle of white mushrooms). Little did I know that I was capturing the antisolar point just inside the magical fairy ring! Take a moment to search the internet for fairy ring images — some wonderful examples will pop-up.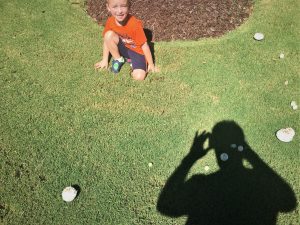 Much in Nature inspires awe and seems magical and wondrous. However, so many of our historical figures of special intellect are taken more by what they don't know or can't imagine than by the depth of their knowledge and understanding. I recently found this Sir Isaac Newton image and quote — the "great ocean of truth" surely does "lay all undiscovered" before us!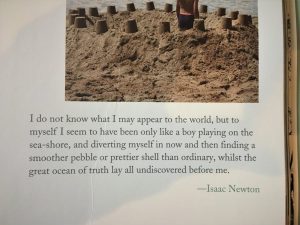 Funny thing that the older I get… the less perfect and complete my knowledge of Nature, the focus of my undergraduate and doctoral degrees, and of my life's pursuit and passion. Consider the irony. I recognize more and more how less and less I know of what is knowable. Each day I'm reminded of the great ocean of truth that lay all undiscovered before me. And that is not all bad. The generated strong sense of humility does inspire me to learn more; to look deeper; to question with greater intensity; to appreciate all that I do see and know; to reach beyond my grasp.
Mixed Messages
I now seek nuance, correspondence, and lessons in that ocean around me. I search for serious revelation, even as I look for the lighter side. For example, many of us have beseeched from time to time when we face dilemmas, "Lord, please give me a sign. Show me the way." The signs are there before our eyes. A person seeking such guidance can interpret the sky-message below as a cross bestowing blessings on a decision… or as an 'X' signaling, "No, don't do it!"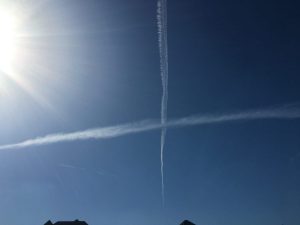 I recount in the final chapter of Nature Based Leadership (my first book; available at: https://www.amazon.com/Nature-Based-Leadership-Stephen-Jones/dp/1489710957/ref=sr_1_1?s=books&ie=UTF8&qid=1537390559&sr=8-1&keywords=nature+based+leadership) such competing meanings that I drew from an appearance by a peregrine falcon on a seventeenth-floor hotel window ledge in January 2016, as I awaited a job interview. The omen I discovered could be interpreted as liberally as the cross or 'X' above! The job did not pan out, yet I found unlimited satisfaction in ruminating on the message and thoroughly enjoying the up close and personal falcon visit.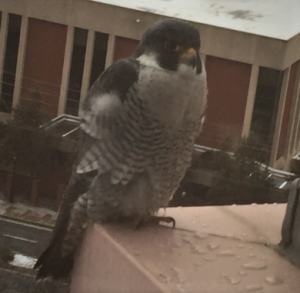 I accidentally captured the sun-streaks creating a sacred aura for the bench and rock ledge below on March 15, 2018. Here is a relevant GBH Blog Post from that visit to Cane Creek Canyon Nature Preserve: http://stevejonesgbh.com/2018/03/20/cane-creek-canyon-preserve/
"Once Faye had left us, I rode in the back of the ATV, snapping an occasional photo between jostles and bounces. This photo revealed what I did not see. I simply intended to capture the nice bench placed at a ledge overhang along the trail. Instead, the sun's rays gave this image a sacred appearance, leading me to dub this as The Altar. The entire Preserve expressed an ethereal character. I felt the spiritual in multiple places that day. Too, I sensed in Jim and Faye a connection to the land of a sacred nature. They do obviously love the land and draw as much from it as they give to it. I'm reminded of Aldo Leopold's remark about caring for the land: We can only be ethical in relation to something we can see, understand, feel, love, or otherwise have faith in. I feel certain that Jim and Faye are guided by understanding and love for the Preserve, which is itself in whole an altar of sorts."
The mixed message? A spiritual sign… or, bad photography! I'll accept it as Divine Providence, yet I recognize unintentional good fortune from photographic practice ineptitude when I see it! In any case, I'm grateful for the result.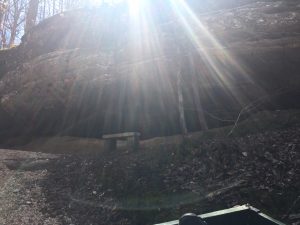 The Play of Light
Twilight at 32,000 feet northbound from a port-side window seat makes for great light play. Six and one-half miles below us darkness with emerging stars prevails. Likewise, at this altitude the dark sky above signs a final farewell to the sun's closing sliver of day. This was mid-February somewhere over Missouri. The ground-level temperature would have been mid-twenties. Outside the window this thin air would have been some 80 degrees less hospitable.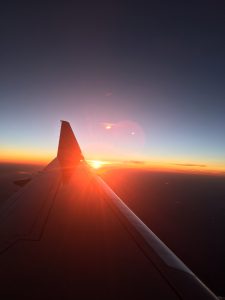 Weather performs light-play as well. From my back patio late December 2017. A long day of cold-frontal rain came to a clearing-sky close. The front sagging beyond us to the east and south, its trailing stratus already dark beneath the sun's last reach still kissing cirrus far above. I could not resist capturing the drama and beauty. I admit that I felt a bit of remorse that here in the south such systems do not leave a foot of fresh powder to reflect and enhance the light-play. However, I did not fell compelled to shovel 1.35 inches of rain!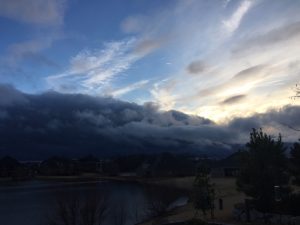 Shortly after my heart pumps its last beat, I expect my ashes to be spread on Dolly Sods Wilderness in West Virinia's Highland. Yes, I know that it's illegal. But what do I care — try cuffing a tin of ashes! I revisited this spiritual place early September 2017 during my Fairmont State University tenure. Here at ~4,000-feet, the low broken clouds raced across the plateau. Sunbeams splayed this holy place. I felt renewal, peace, and acceptance. I take comfort knowing that one day my earthly remains will cycle through the magic of this special place.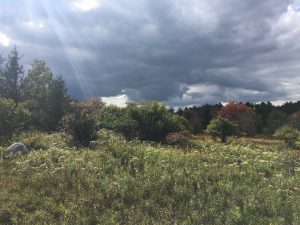 Here is one of the stock images from my Great Blue Heron website. I think of it as a portal to eternity. I imagine strolling such a pathway on my final trek. I want to do my own small part to ensure that such pathways remain for my grandchildren and theirs… thousands of generations removed. The light-play along this tree-lined portal is both literal and metaphorical. The sun's light… and, the light of wisdom, knowledge, responsibility, and stewardship action. We must keep the light of tomorrow burning intensely.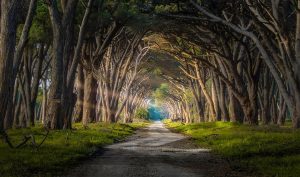 Perhaps nothing is more heavenly than a vertical view into this cypress forest canopy. Every stem reaching skyward, branches up-stretched. Again, metaphorically, I think of us as Earth residents and stewards reaching beyond our frail planet to secure a future that we are collectively placing at peril. Like the cypress, we must reach high to secure our future footing. aside from its symbology, the photo expresses so eloquently the beauty, magic, wonder, and awe of a northern Alabama Cypress swamp on a late winter afternoon.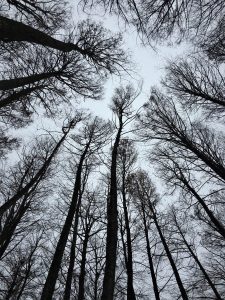 Reflections and Ruminations
I have distilled ten distinct lessons for leading, serving, learning, and living from Nature Based Leadership, my first book. Among those ten, these five hold special relevance to this Blog Post:
Individuals, enterprises, and society broadly must awaken to our obligation to wisely steward our environment – from within our local community to globally.
We operate most effectively and live with greater reward when we accept that we are part of something larger and more permanent.
Nature demonstrate that nothing is without meaning and purpose; if only we operated in similar fashion.
We can all change a small corner of this Earth for the better by wisdom, knowledge, and hard work.
Learn from Nature each day… and apply her lessons time and time again.
Look for Nature's Inspiration in life's simple moments — every minute of every day… where you live.
Note: All blog post images created & photographed by Stephen B. Jones unless otherwise noted. Please circulate images with photo credit: "©2018 Steve Jones, Great Blue Heron LLC. All Rights Reserved."
Another Note: If you came to this post via a Facebook posting or by an another route, please sign up now (no cost… no obligation) to receive my Blog Post email alerts: http://stevejonesgbh.com/contact/
And a Third: I am available for Nature-Inspired Speaking, Writing, and Consulting — contact me at steve.jones.0524@gmail.com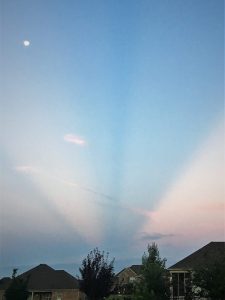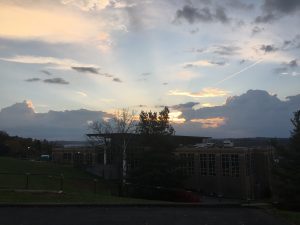 http://stevejonesgbh.com/wp-content/uploads/2018/08/IMG_7606.jpg-08.29.18-Anticrepuscular-Rays-Dawn.jpg
900
1200
Steve Jones
http://stevejonesgbh.com/wp-content/uploads/2017/01/gbhweblogo.png
Steve Jones
2018-09-25 11:08:41
2018-09-25 11:08:41
Sunshine Magic