Mid-Summer Floral Offerings
I limit most of my wildflower botanizing to our local spring ephemerals, setting the forest floor ablaze (early March through the beginning of May) with life and color before canopy leaf-out casts deep shade below. Cooler spring temperatures make woods-walks much more pleasant than during summer.
I've brought my bicycle out of dormancy… now that I once more live near several paved greenways. My morning jaunts (a couple days per week on average) totaled ~250 miles in July. I find it difficult to carefully and effectively inventory the floral inhabitants along the trail at 14-or-so miles per hour, especially those that reside beyond the right-of-way edge into the forest. I paid more attention on two rides during the first week of August. Because I had begun to extend my rides from 20 to as may as 40 miles (multiple laps), I decided to give greater notice to special features and plants in flower during an intentionally slower final loop, a cool-down during which I actually stop when I spot something to examine and photograph.
Here's woodland spider lilly (Hymenocallis occidentalis), a real beauty. Petal-end to petal-end some flowers are four inches in diameter. I don't recall seeing this species before this year. I place it into my spectacular range. I've actually observed two other parties stopping to admire various individuals and clusters along the trail. I am always pleased to see fellow recreationists paying attention to Nature's gifts.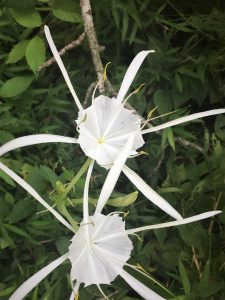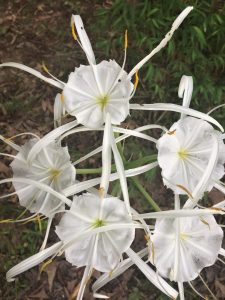 I've found Joe-Pye Weed (Eupatorium fistulosum) everywhere we've lived except Alaska. It grows to 6-9-feet and it frequents rights-of-way, field edges, and fence lines.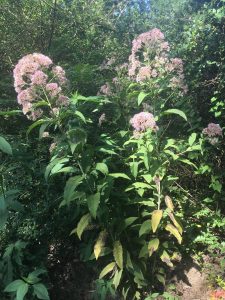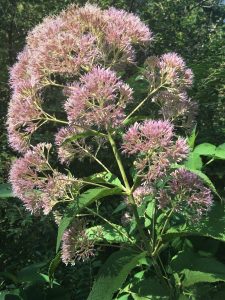 Trumpet Creeper (Campsis radicans) is another common summer bloomer along woods edges and as a home-site ornamental.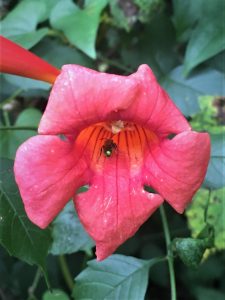 Wild Potato Vine (Ipomoea pandurata) presents a flower three-inches across. I noted it simply as white morning glory (same species), but Jack Carmen's Wild Flowers Tennessee set me straight once I did a little work at home. I did notice a blue morning glory (Ivy-Leaf?; I. hederacea) on one of my passes that I could not find again on the final photo-loop.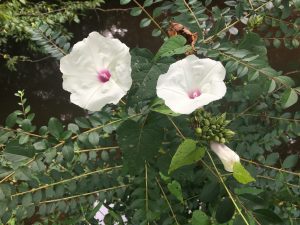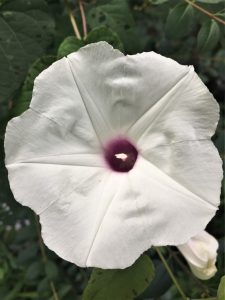 Partridge Pea (Chamaecrista fasciculata) also brightens the edges. I appreciate its blossom and its finely compound and delicate foliage.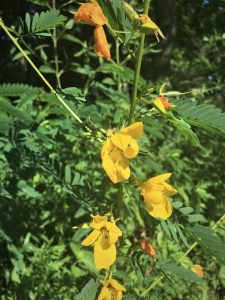 Jewelweed or Spotted Touch-Me-Not (Impatiens capensis) has such an oxymoronic name — both weed and jewel! We do some odd things with common names. I learned sumac as a youngster by the unflattering moniker of stink-weed tree.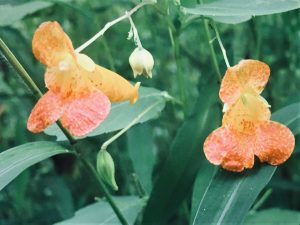 Purple Passionflower or Maypops (Passiflora incarnata) is one that merits close examination. The lower left close-up does it justice. Its photo is indeed worth a thousand words.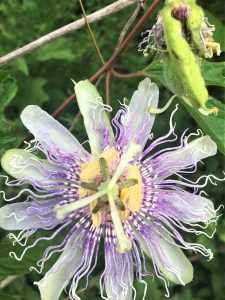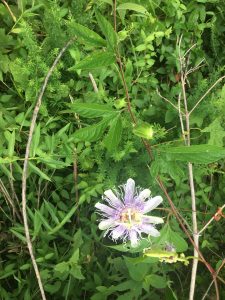 I'm adding another beauty August 25. This morning, sweet autumn clematis (Clematis terniflora) graced the trail-side. To every thing there is a season; and a time to every purpose under heaven. 'Tis the season for one of Nature's most splendid gifts.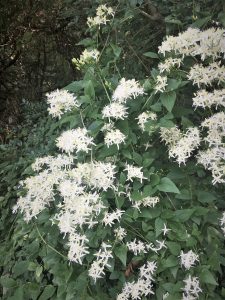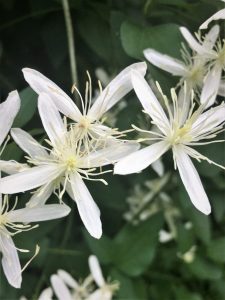 Other Offerings
I love the sign at the trail's southern terminus. The wild animals I encountered on my first few rides included rabbits, squirrels, deer, chipmunks, turtles, and multiple bird species. Technically they qualify as wild animals, yet not worthy of a "beware."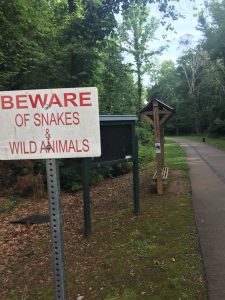 Over subsequent rides I have stopped three times to make sure my friends, the Gray Rat-Snake, completed the trail crossing. I feared that some other person would not appreciate this reptile at the level of my joy in seeing this magnificent predator. Twice I saw this one (I'm assuming a single individual) at about the same point. I made my third observation about a mile to the north.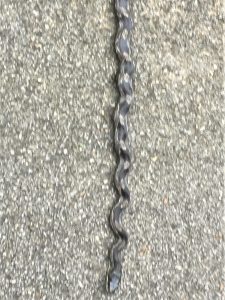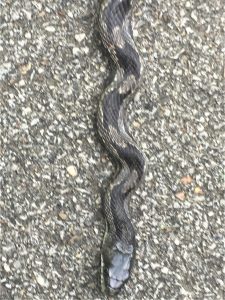 I found pleasure and satisfaction in seeing this family enjoy the snake as it worked its way into the trail-side vegetation.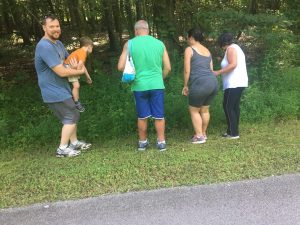 I admit ignorance of local fungi. This saucer-size mushroom impressed me. It's a gill fungus. In retrospect, I should have taken some close-up shots, top and bottom.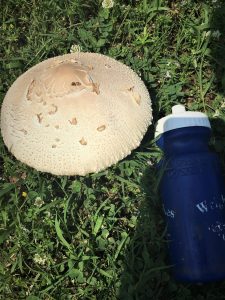 I did snap some up-close photos of this compelling hackberry tree. Deep corky ridges with moss, algae, and lichen adornment. The lower right frame includes two dead poison ivy vines with numerous hair-like clinging roots.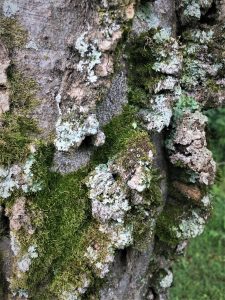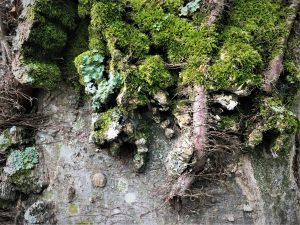 This hackberry supports a living poison ivy vine, which was kind enough to offer a leaf cluster and developing fruit at eye level. Perhaps the trail-head sign should have said "Beware Of Snakes, Wild Animals, and Poison Ivy!"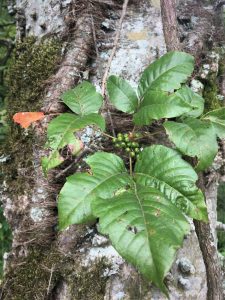 Both local greenways run along urban streams. Here's a downstream view from one of the bridges. What a blessing it's been to have a summer of abundant rainfall. I'm finishing this Post August 25; I've measured nearly 45″ of rain year-to-date. Greenway vegetation remains at May-green intensity. Very pleasant for late August, when some summers begin to dry and brown.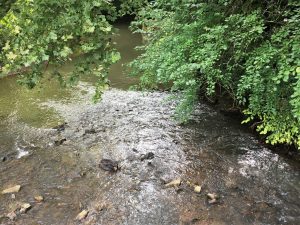 Reflections and Lessons
I've just returned from a road trip to Ohio and Pennsylvania, covering about 1,400 miles, mostly on Interstates with 70 MPH speed limits. I know that I see a lot more in way of trees, landscapes, and even some flowering plants than most people of lesser Nature interest and experience can even imagine. Yet I hunger for immersion when I race past something that catches my eye. I can say that most people cruising along have no idea what they are missing. Sadly, I know what I'm missing, and that adds an element of regret. However, I console myself by knowing that the destination will provide time for closer looks and exploration.
So, what conclusions might I draw from cycling local greenways? I've developed thirteen lessons from my Nature-Inspired Learning and Leading. Here are some I think are applicable:
One: Nature can serve as an essential life focus — I forget about woes and problems when pedaling along the trail
Three: Don't be blind to what lies in front of you — so much is within reach, even at 14 MPH
Five: Nature provides multiple attractions for enhancing life's journey — hallelujah to what cruises along on either side!
Eight: Test your limits; be bold; ignite and employ your passion — perhaps a longer, more demanding ride tests my limits to a greater extent, yet even these 1-2-hour jaunts generate great blood flow and mental reward
Nine: Nothing stands apart from Nature — the trail evidences that we urban residents can quickly find Natural escape
Ten: Recognize the irreconcilable burden of Earth stewardship we bear as individuals and enterprises — how can trail users not feel at least some connection and obligation!
Eleven: Use whatever bully pulpit you have to change some small corner of the Earth for the better — several times I've engaged conversationally with other trail users when I noticed their interest in a flower or other feature. Without fail, the persons were interested in learning more. I am grateful for the chance to speak from the pulpit!
Thirteen: Nothing is as it appears at first glance; always seek to know what lies hidden within — I think about those who simply drive past the southern trail-head along Palmer Road and glance northward. What a shame that they sense no hint of the beauty, magic, wonder, and awe that lie hidden along that narrow wildland corridor
Each way-station along my life's journey furnished Nature of some sort and scale nearby. Each such offering stood within arm's length… or certainly within a few miles ride. Whether a backyard stroll into the forest at our New Hampshire home, a hike from our Alaska residence into some wild moose and grizzly country adjoining campus, or the 250-mile Rails-to-Trail network accessed a quarter mile from our front door in Ohio, Nature has always welcomed me. Has presented gifts and wisdom beyond compare. Has inspired me to learn and teach… and embrace my obligation to steward this amazing Earth.
Note: All blog post images created & photographed by Stephen B. Jones unless otherwise noted. Please circulate images with photo credit: "©2018 Steve Jones, Great Blue Heron LLC. All Rights Reserved."
Another Note: If you came to this post via a Facebook posting or by an another route, please sign up now (no cost… no obligation) to receive my Blog Post email alerts: http://stevejonesgbh.com/contact/
And a Third: I am available for Nature-Inspired Speaking, Writing, and Consulting — contact me at steve.jones.0524@gmail.com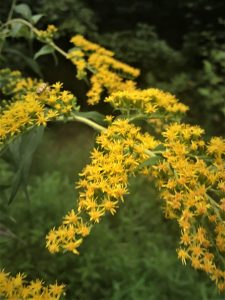 http://stevejonesgbh.com/wp-content/uploads/2018/08/IMG_6303.JPG-06.03.18-Bradford-Creek-Trail-2-Edited-1.jpg
1200
900
Steve Jones
http://stevejonesgbh.com/wp-content/uploads/2017/01/gbhweblogo.png
Steve Jones
2018-08-25 15:27:46
2018-08-25 15:27:46
Biking Local Greenways -- An Eclectic Nature View at 14 MPH