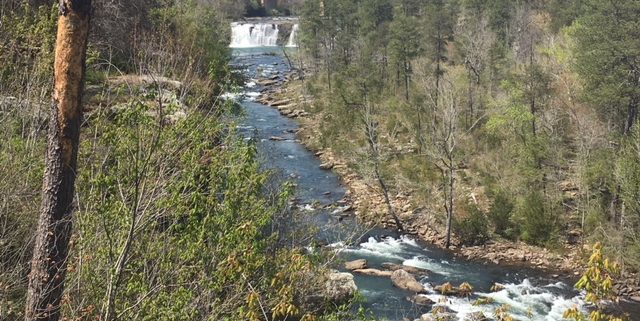 I previously posted reflections from my April 21, 2018, first visit to Alabama's Little River Canyon National Preserve: http://stevejonesgbh.com/2018/05/15/little-river-canyon/
Time has somehow sped a quarter-year beyond that delightful orientation. Widespread Virginia pine (Pinus virginiana) mortality captured my eye as I toured and hiked the Preserve. I snapped lots of photos to remind me of the extent of demise. Only now am I finding time to reflect. Nature's natural cycles define all life (and much of the physical world) on our home planet. Forests… and trees within forests… exhibit somewhat predictable such ebbs and flows. Does that mean we can attribute some explanation to the Virginia pine decline and mortality I saw in April? The answer is a simple (well, not entirely simple) affirmative.
The Nature of the Species — Virginia Pine
From Silvics of Forest Trees of the United States, Agricultural Handbook No. 271 (USDA Forest Service 1965): Virginia pine is a transitional type eventually replaced by climax hardwood forest. It is a disaster species, coming in after fire, and on badly eroded areas or worn-out old fields. Compared to other associated pines, it is generally more aggressive on the poorer sites. As environmental conditions improve, hardwoods become a definite part of the understory. These become the dominants and gradually take over the area in succeeding rotations, unless fire or other factors retard the hardwoods.
Ag Handbook 271 served as my undergraduate textbook for a Silvics course. Since updated to Silvics of North America, Vol One — Conifers (USDA Handbook 654; 1990), the revised version now reads: Virginia pine often grows in pure stands, usually as a pioneer species on old fields, burned areas, or other disturbed sites… Virginia pine is a shallow-rooted species… Being intolerant of shade, Virginia pine is a transitional type and is eventually replaced by more tolerant hardwood species. It is a pioneer species, coming in after fire, and on eroded areas or worn-out old fields. Compared with associated pines, it is generally more successful on poorer sites. Virginia pine seedlings cannot become established under the shade of an existing stand, so hardwoods invade the understory. 
Picture the plateau top mid-twentieth century land use pattern as mixed agriculture, woodlots, and transportation routes. Transitioning to public use and ownership, marginal farmland gave way to abandonment and natural succession. Virginia pine, a reliable disturbed site pioneer, colonized the abandoned land, forming pure stands in some areas. The species had a job to do — take root, establish cover, protect the land, and eventually transition to climax hardwood. This is the ecological niche it occupies. Not by some self-regulated sense of duty. Instead, by evolution across the millennia. You might wonder how being a transition species serves to further self-preservation? Doing a job to assure replacement by other forest species? The answer may be simple over the vast sweep of time. By acting in selfless service to preservation of the site and protecting its soil, Virginia pine is a guarantor that when some future disturbance brings the replacement forest to the ground, the site can once more welcome and support a new cohort of Virginia pine pioneers.
Mid-summer through late fall 2016 saw much of Alabama suffering "historic drought." Northeast Alabama stood at the epicenter of what several newspapers in November called "the worst in memory." The shallow-rooted, poor-site-colonizing Virginia pine, which had evolved as a transition species, suffered fatally across the plateau. Already reaching terminal age and viability, many individuals and stands felt the tremendous drought stress as the straw breaking the camel's back. This dead individual stands at the canyon rim, in the foreground of many still seeming healthy individuals on the canyon sides where moisture seepage provides a more favorable site during extended drought.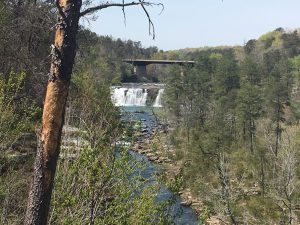 Plateau top stands are in full retreat. Most of the crowns in this view are dead and yellowing. Even the dominant individual in the center evidences a thinning crown. One former main canopy inhabitant has already fallen onto the center tree, suggesting that the stand was in decline prior to the proximate drought.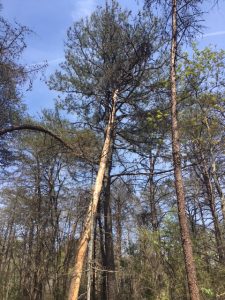 In some ways, the drought serves as the pneumonia infection that ends the life of the octogenarian human. General health decline enables a secondary infection to push beyond the final threshold. This stand was already dying from age and genetic predisposition — the ultimate cause)… slowly, inexorably, naturally… when the drought delivered the final injury (the proximate cause).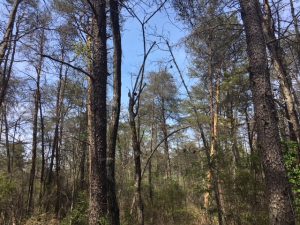 Virginia pine silvical characteristics suggest that hardwood should be invading the understory, replacing the dead and declining Virginia pine stand. We have a bit of a complicating twist here at Little River Canyon. Managers have been dutifully running prescribed fire through the understory, thus controlling the invading hardwoods. So, not much in the way of hardwood advanced regeneration to succeed the pine. The big question that I cannot answer from my quick circuit is this: Is there sufficient seed-in-place or remaining in cones on standing trees to regenerate Virginia pine? The totally dead canopy in this next photo is no longer producing new seed.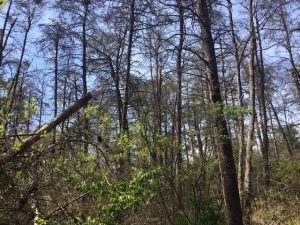 Some understory hardwood is evident in places where prescribed fire did not burn hot enough to kill seedlings above ground (photo below). What I could not determine in mid-April is whether hardwood root sprouts will emerge from seedlings burned above ground.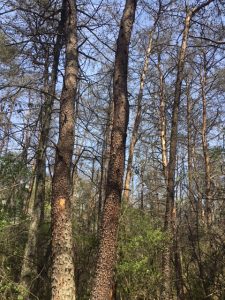 Cycles define Nature. Winners and losers ebb and flow across time. Imagine the boon to insects (and fungi) that thrive on dead wood. And the woodpeckers depending upon tasty wood-boring insects.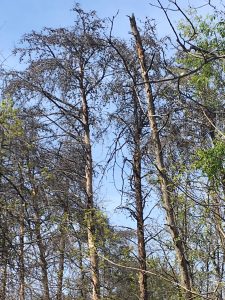 Full sunlight reaching the forest floor will ignite plant communities receiving only dappled sunlight barely penetrating the healthy unbroken canopy for several decades.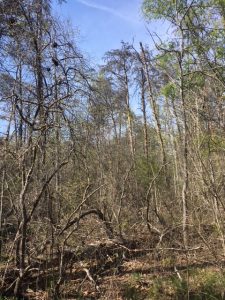 Reflections and Lessons
I had too little time for an in-depth exploration. Please view my observations above as cursory and shallow, a first approximation. I found nothing on the website to glean additional insight. The Little River Canyon Center (operated and staffed by Jacksonville State University) hosted its Earth Day weekend when I visited. A beautiful Center with lots of enthusiastic staff and students attending to the educational and nature-interest needs of thousands of visitors. I hungered for time to learn more about the Center and its work. I knew that staff and educators could have answered my many questions. I hope I can arrange a future visit with some of those experts.
I remain convinced that every property tells a story. My quick tour serves as a weak substitute for an informed tale. Of one thing I can be certain — the Little River Canyon Preserve Land Legacy Story is rich far beyond my feeble interpretation. I wonder whether it has been written? Perhaps there is a book in the Center gift shop that tells the tale?
I also know that I'm pretty close on the Virginia pine tale. And I know, too, that Virginia pine is just one chapter in the volumes detailing the Canyon from precolonial habitation, to European domestication, through Civil War influences, and all the way to creating a National Preserve and establishing a national-class Jacksonville State University Center.
Like Virginia pine, every individual, business, and enterprise of any sort occupies a version of our own silvical niche and function. We cannot be both the Mighty Oak and the pioneer Virginia pine. We can't be both the towering yellow poplar along an alluvial plain and the poor-site-colonizing Virginia pine. And we can't expect the humble Virginia pine to both boldly conquer a ravaged site and live for centuries once it has worked its transition magic.
Wisdom runs deep in Nature and humans have captured its lessons in sources as ancient and revered as the Bible. Ecclesiastes summed the sage knowledge of seasons and cycles:
To Everything There is a Season (King James)
To every thing there is a season, and a time to every purpose under the heaven:
A time to be born, and a time to die; a time to plant, and a time to pluck up that which is planted;
A time to kill, and a time to heal; a time to break down, and a time to build up;
A time to weep, and a time to laugh; a time to mourn, and a time to dance;
A time to cast away stones, and a time to gather stones together; a time to embrace, and a time to refrain from embracing;
A time to get, and a time to lose; a time to keep, and a time to cast away;
A time to rend, and a time to sew; a time to keep silence, and a time to speak;
A time to love, and a time to hate; a time of war, and a time of peace.
May all that you do be Nature-Inspired.
Note: All blog post images created & photographed by Stephen B. Jones unless otherwise noted. Please circulate images with photo credit: "©2018 Steve Jones, Great Blue Heron LLC. All Rights Reserved."
http://stevejonesgbh.com/wp-content/uploads/2018/04/IMG_5662-4.21.18-LRC-lo-res.jpg
480
640
Steve Jones
http://stevejonesgbh.com/wp-content/uploads/2017/01/gbhweblogo.png
Steve Jones
2018-07-17 15:11:20
2018-07-18 09:44:08
Drought and Nature's Cycles at Little River Canyon