We've been "enjoying" heat indices of 95-105 degrees — it's deep summer here in northern Alabama. Late June 2012, Judy and I spent ten days at a friend's cabin along the bay in Sitka, Alaska. I post this now as a reminder that seasons and cycles vary across this pale blue orb. Pick any point in time and shift your location — everything differs. Pick any location and change the time of year — everything differs. The same holds true for life, living, and enterprise. As the old saw observes: location, location, location!
I offer this post mostly as a mid-summer interlude. The photos provide a glimpse of the magic in just a single slice of Alaska. Sitka sits on Alaska's southeast coast straddling Baranof Island and the southern half of Chichagof Island in the Alexander Archipelago of the Pacific (part of the Alaska Panhandle), with deep fjords and snow-capped mountains rising sharply to >4,000-feet within sight. This is Mount Edgecumbe (dormant volcano; 3,200 feet); Alaska is tectonically active, with lots of volcanoes and earthquakes.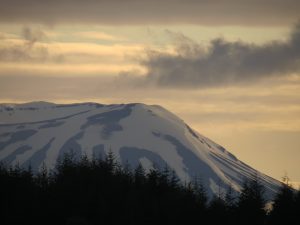 Late June 2012, Judy and I were just six weeks beyond being struck (as we walked in our neighborhood) by a two-ton SUV running a stop sign. We viewed the Alaska trip as recovery — mentally, physically, emotionally, and spiritually. Nature is therapeutic, healing, and renewing. We look back on these photos with gratitude for our health and well-being. And for the life we have enjoyed since… and for all the days that lie ahead. Nature continues to enrich our mind, heart, soul, body, and spirit. As you glance through this scenic menagerie, reflect on how Nature has and might salve your days. Lower left I stand along the bay at Sitka's Totem Park, a celebration of the region's rich Native heritage. Lower right a view typifying Sitka's extraordinary beauty. Again, this is the end of June!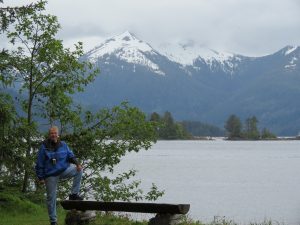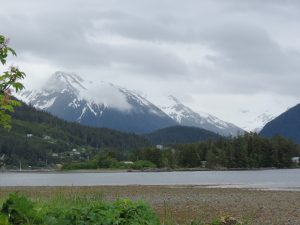 That's me pausing at one of the rainforest bridges across another of the countless freshets of melting snow and almost daily rains. Would be nice to be transported there on days like this when my air-conditioned office is 10 degrees warmer than most Sitka sweatshirt summer days!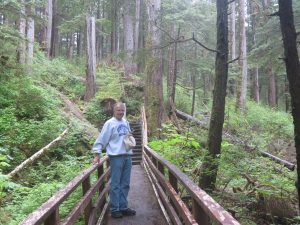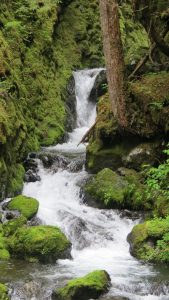 The trail up Mount Verstovia — wet and rugged for a guy with a still-mending crushed left wrist, arm in a sling and a soft, removable cast.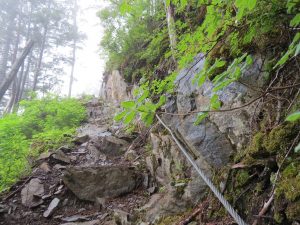 A trail-side over-view of Sitka as I ascended taken at perhaps 1,500 feet above the bay.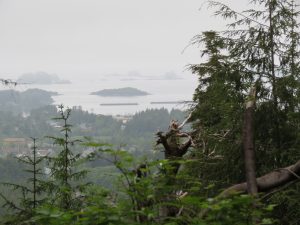 I repeat — this is the end of June! I hit the snowline at 2,750 feet, by my estimation. I pushed just a bit into the hard pack, by that point at least three-feet deep. The small Sitka spruce (below left) shows evidence of yielding to a far deeper pack slipping downhill, bending the then younger sapling, since recovered by a vertically-reaching leader.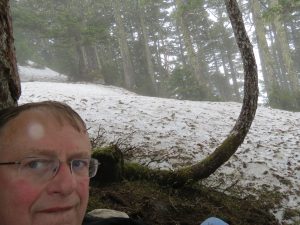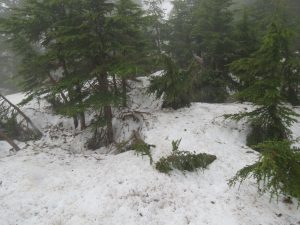 Downtown Sitka's Native and Russian heritage reminds us that our 49th state came to us March 30, 1867. U.S. Secretary of State William H. Seward signed a treaty with Russia for the purchase of Alaska for $7 million. Despite the bargain price of roughly two cents an acre, the Alaskan purchase was ridiculed in Congress and in the press as "Seward's folly," "Seward's icebox," and President Andrew Johnson's "polar bear garden." One hundred fifty-one years later, I say thank God the purchase rose above the still-prevalent Washington D.C. bickering… no matter the issue!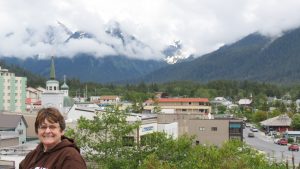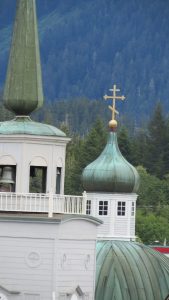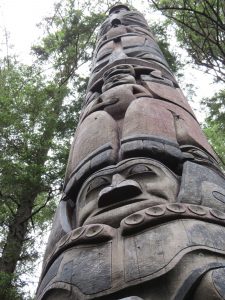 This view alone may be worth $7 million!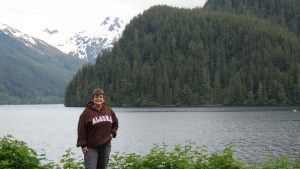 And this one as well! We felt blessed to recover from May 3, 2012 and revel in Nature's beauty, magic, wonder, and awe. I've argued multiple times in these blog posts that Nature's elixir is at-hand where we live. Not on an Alaska scale yet still rewarding and fulfilling, Nature's richness is often where we seek to see it.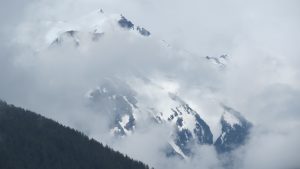 All creatures great and small! The grizzly made me a bit nervous, even though I snapped the shot with telephoto. That look? I think it's the same way I inspect the restaurant menu! I continued on slowly and with suppressed anxiety, glancing occasionally to make sure his attention stayed with the water and its salmon. Slugs come large (and far less threatening) in the southeast Alaska coastal rainforest!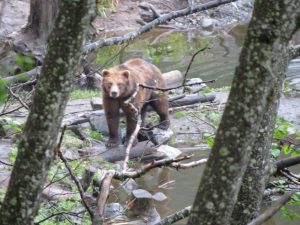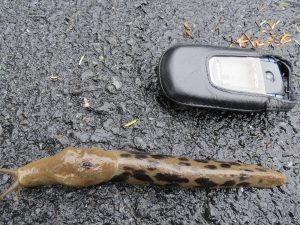 Avian friends are constant companions. We could have watched ravens and eagles for hours. In fact, we did!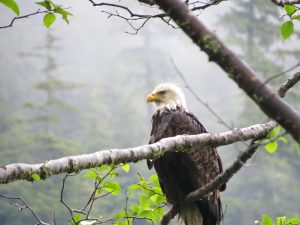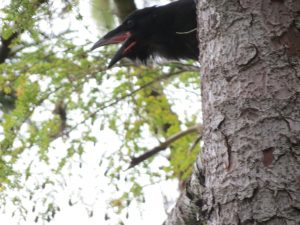 Here are a couple Sitka blacktailed deer on the muskeg. A nice addition to our visit.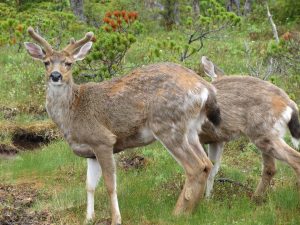 Closing Reflections
Again, Nature is therapeutic, whether recovering from an unfortunate accident or simply dealing with the stresses of day-to-day existence. I'm drafting these words on a hot afternoon following a wonderful 25-mile morning bike ride on a nearby Huntsville Greenway — a paved, mostly wooded, streamside trail along a public utility right-of-way. What a wonderful way to bring Nature to residents… and residents to Nature.
However, as with so much of modern life and living, I observed incredulously how many hikers, runners, and bikers were there… without really being there. At least half wore ear buds. What could be more inspiring than bird-song, stream gurgling, squirrels barking, a horse neighing, and what little breeze we had rustling leaves? Or even conversation with a companion. I watched a runner texting! Several hikers talking incessantly on a cell phone. Some people neither heard nor reacted to my bike's bell sounding my approach from the rear and asking for passage. I'm saddened that we are so easily and continuously distracted. Are we substituting the urgent and banal for things of real importance? Afraid so.
Judy and I refused distraction in Sitka. No, on second thought, we went there to be distracted… distracted from the urgent and less-important day-to-day issues and circumstances by what is and ought to be paramount. Dedicated time with each other in a place that provides Nature's 24/7 buffet for nourishing and renewing mind, body, heart, soul, and spirit.
Nature-Inspired Learning and Leading holds that such renewal and therapy do not require a trip to an exotic land. Look in your backyard, in your own community.
As for relief from the heat, memories of summer sweatshirt days help. Beating the hot afternoon sun with a morning Nature excursion likewise works magic. Keep your glass half-full — your iced-tea glass and your life-glass. Remind yourself that these hot summer days will give way to a long exquisite fall that will transition eventually to an equally extended spring. Enjoy the seasons of you life and enterprise. Drink deeply of Nature's elixir.
Remove the ear buds of distraction!
Note: All blog post images created & photographed by Stephen B. Jones unless otherwise noted. Please circulate images with photo credit: "©2018 Steve Jones, Great Blue Heron LLC. All Rights Reserved."
http://stevejonesgbh.com/wp-content/uploads/2018/06/IMG_0622.jpg
3000
4000
Steve Jones
http://stevejonesgbh.com/wp-content/uploads/2017/01/gbhweblogo.png
Steve Jones
2018-07-10 04:35:38
2018-07-10 04:35:38
Six Years Ago and Plus Twenty-three Degrees Latitude