I remind you that I am a weather addict, hooked on its captivating nuances, predictable (and not so predictable) patterns, and heart-stopping power and beauty. I witnessed one of Nature's most powerful land-based weather phenomena last week — a derecho.
Accuweather's online definition:
Derechos are often referred to as inland hurricanes due to the hurricane-like conditions, in terms of ferocious wind and torrential rain, which are spawned by this weather phenomenon.
This term refers to a dangerous type of thunderstorm complex that travels along a path of at least 240 miles, according to the Storm Prediction Center. These violent severe thunderstorm clusters produce widespread and long-lived, straight-line wind damage.
June 28, 2018 late morning I watched high clouds begin to sag from the north. I checked the radar to see a thickening line of thunderstorms building and dropping from northeastern Tennessee. The high clouds proved to be the anvil ahead of the derecho. Our local forecast soon included a severe thunderstorm watch, followed by a warning. The derecho approached at 30+ miles per hour. Its gust front and preceding shelf cloud brought 12:30 PM near-darkness to us. This photo captures the turbulent underside of that front, extending for tens of miles, racing south well ahead of the rain shield. This view is nearly vertical from my Madison, Alabama driveway. By now the wind howled and thunder boomed less than five miles away.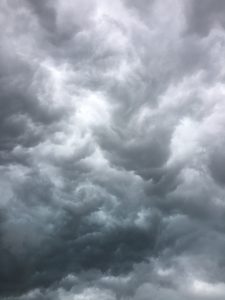 I raced to our south-facing lawn looking over Big Blue Lake. A fearsome image. I thought the four horsemen of the apocalypse might appear at any moment. Or Willie Nelson's Ghost Riders in the Sky! Are the Hounds of Hell baying within that violent firmament!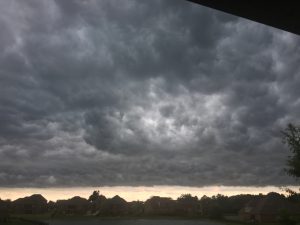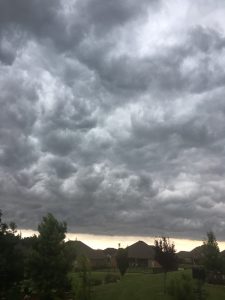 The menacing roiling, massive underside hinted at Armageddon. I admit to some level of deep apprehension and fear. As a student of Nature and weather, I knew and appreciated with certainty what I was witnessing yet something hard-wired within me evoked an involuntary fear/flight reaction, one that may have served a survival purpose. As the lightning grew closer I retreated indoors to window-watch. As the rain hit and continued I snapped a photo to the south, the ugly prefatory sky, strong winds, and initial deluge long since given way to a moderate rain.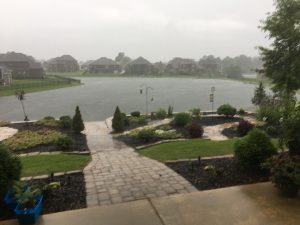 I measured 1.3 inches of welcome rain, bringing the June total to 5.15 Inches.
The derecho reached the Gulf coast by evening, far exceeding the Storm Prediction Center's minimum path of 240 miles for derecho designation. The next morning, 65,000 Alabamians remained without power. I saw a few small branches and a handful of downed trees as I drove into town. By and large we escaped the full fury in this vicinity.
Reflections
I characterize this derecho as still another episode of Pleasurable Terror for me. We inhabit a dynamic planet… whether a north-Alabama derecho or Hawaii's Kilauea volcano. That dynamism over the vast sweep of time has shaped the Earth and its living systems that sustain us. This is our Garden of Eden. The turbulent, occasionally menacing, and sometimes devastating forces at play are part of the bargain in living on Planet Earth. In fact, such is the case for every life and enterprise within this wonderful experiment we call humanity. Into each life a little rain must fall.
Our burden is to understand these forces of Nature and human nature. We are best served when we know what we face and deal with circumstances accordingly. Nature-Inspired Learning and Leading demands that we pay attention and learn from Nature's Lessons.
Clouds portending fury certainly do not capture my sole (or soul) attention. Two evenings before the derecho, a thunderstorm dying to the WSW caught my eye (lower left). The next morning, a delightfully pleasant sunrise sky suggested that all would be well for the day ahead (lower right).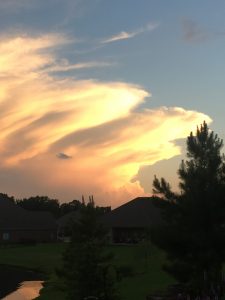 May Nature Inspire all that you do!
Note: All blog post images created & photographed by Stephen B. Jones unless otherwise noted. Please circulate images with photo credit: "©2018 Steve Jones, Great Blue Heron LLC. All Rights Reserved."
http://stevejonesgbh.com/wp-content/uploads/2018/06/IMG_6629.JPG-06.28-Mid-day-lo-res-Severe-Thunderstorm-Warning-Approach-from-N-e1530392554601.jpg
4032
3024
Steve Jones
http://stevejonesgbh.com/wp-content/uploads/2017/01/gbhweblogo.png
Steve Jones
2018-07-01 16:09:38
2018-07-01 16:33:05
Late June Derecho -- Nature's Fury