We departed our Madison, Alabama home mid-morning, Thursday May 10, destination Fairmont, West Virginia, 660 road miles to the northeast. We stayed overnight in Princeton, WV about 200 miles from Fairmont, where we needed to be early afternoon for events in advance of Saturday's Commencement ceremonies and my two addresses. We began our journey from near Huntsville's Space and Rocket Center (below left) and finished at the FSU Falcon Center (below right).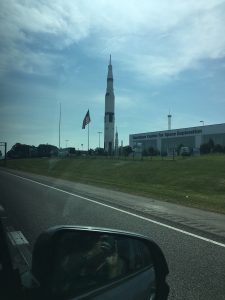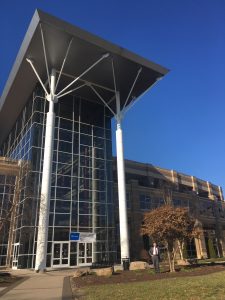 This time of year affords sufficient daylight for us to avoid driving in the dark. The journey traversed what I felt might be an interesting ecological transect… one worthy of capturing with a Great Blue Heron blog post. Think about some of the factors:
Mid-May is a shoulder season of sorts — summer-like on this southern end and still spring on the other
Elevation ~570 feet along the Tennessee River near here
Elevation of 3,400 feet at highest point of journey — I-77 at Flat Top, West Virginia
Fairmont ~450 miles north of Madison
Please recognize that developing this post served as an ancillary outcome of our trip… not the primary purpose. Therefore, we captured most photographs with my iPhone camera at highway speed. As evidence, Judy's reflected image appears in the side-view mirror in the Space Center photo, snapped as we headed east on I-565. See her again below capturing Monte Sano's 1,600-foot ridge (really, the ridge is the profile expression of the Cumberland Plateau) rising just east of Huntsville. The Plateau and the Valley geology consists of horizontal sedimentary rock strata of sandstone and limestone.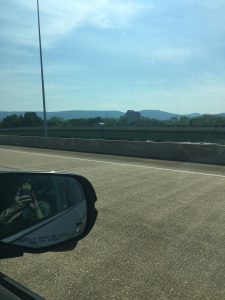 Once I pop east of Huntsville I feel somehow less in the deep South, sensing from the dissected Cumberland Plateau a return to my Appalachian roots. No, same climate as Madison, yet a landscape within this deeply-dissected Plateau land that echoes the ridge and valley of my youth. Some15 miles east of Huntsville, the valleys are broad with sandy loam soil totally unlike the clayey red soils of Madison and the Tennessee River Valley. The Plateau, with its accordant summits borders every valley.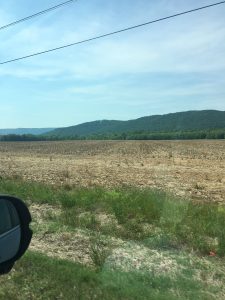 TVA's Lake Guntersville (Tennessee River) reaches north across our Route 72 east-bound passage. The impoundment occupies the broad flat valley, once again framed by the Plateau. I continued driving even as I entertained a few fantasies of largemouth bass! What an enticing view to the south. This 11-day trip will include:
The FSU Commencement
Visiting our son and his family north of Pittsburgh
A couple days with Judy's sister and other family members in Cumberland, Maryland
A side trip for me to Flushing, Ohio to explore a potential Land Legacy Story contract with owners of a 1,100-acre cattle operation
A memorial service and appreciation event at West Virginia University Medical Center for the families of persons who donated their bodies for medical use over the preceding year (Mom died April 17, 2017 and donated hers)
Arrival back home May 20
My brief fantasy side-trip led me to promise myself some fishing time in these game-fish-infested southern waters! What is it that the coffee mug concludes: "Even a bad day of fishing is better than a good day at work." My mental interlude took me around the bend at the sight-line, sheltered in some cove far from traffic noise, my light spinning rod in-hand, and the promise of some bass and crappie action — Nature's elixir working its therapeutic magic! Okay, with a snap of my fingers — 610 miles to go.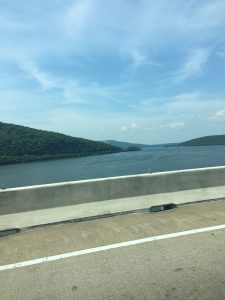 Entering Tennessee
That's Lookout Mountain below looking east from the Interstate near Chattanooga, TN. The Cumberland Plateau stands at ~1,850 at this point on Lookout Mountain, some 1,000 feet above the valley. The predominantly deciduous forest cover very closely resembles the cover at Huntsville's Monte Sano State Park. We've stayed at roughly the same elevation and have gone mostly due east. We've covered ~120 road miles — about 540 miles to go. In terms of climate zones, we have not left Madison!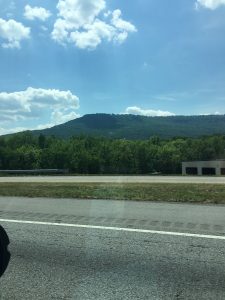 Mid-way between Chattanooga and Knoxville, I spot a disturbing first along the route — dead ash trees along the highway. The  imported (an international shipment stow-away) emerald ash-borer is spreading rapidly in North America across the range of genus Fraxinus. It is decimating ash. We saw the ubiquitous mortality from this point north to our destination, and beyond to Pennsylvania, Ohio, and Maryland. Oh, the price we pay for our shrinking globe. We do business in a global economy; we and all Earth species must sustain within a global ecosystem. I find the ash decline and imminent peril particularly disturbing. I have been a big ash fan from my days conducting forest inventory on State Forests in western Maryland during undergraduate summers… to conducting forest fertilization on planted green ash stands for Union Camp Corporation in Virginia and North Carolina… through my PhD research on Pennsylvania and New York Allegheny Hardwood stands (white ash a major component). I have revered its preference for high quality sites, its fast growth, straight boles, strong wood, and deep green foliage. Nothing beats its easy response to a splitting maul, its non-sputtering flame and hi BTUs in a fireplace or stove, and the crack of a Louisville Slugger bat connecting with a fastball. As we've faced before with American Chestnut and American elm, how on Earth do we contend with vanishing ash!?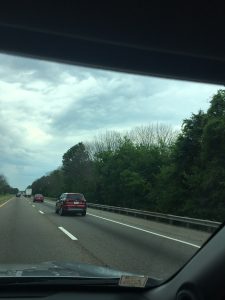 We encountered the dead ash for reasons other than crossing some ecological divide. Instead, we entered the geographic margin of spread from the borer's Cleveland point of entry. Officials have already noted the green beetle's presence in Alabama, though not yet widespread. Time will tell. We can hope for some climatic barrier… yet I fear the insect will continue its spread of infestation and death.
Crossing An Ecological Border
The next photo does indeed signal that we crossed an ecological boundary. North of Knoxville, mid-way to the Virginia line, we began seeing our first native white pine (Pinus strobus), evidencing that we had left the Southern Pine Region, where loblolly pine (also slash and longleaf pines) reigns supreme. White pine extends north into Canada. The white pine stands at the forest edge at about one-third of the distance from the photo's left margin. White pine graced our New Hampshire property, with crowns emergent (reaching a shoulder above) from the main hardwood canopy. As I indicated, the Cumberland Plateau topography resonated with my central Appalachian homing instincts. Loblolly transitioning to white pine likewise brought me a step closer to my own head-water spawning stream.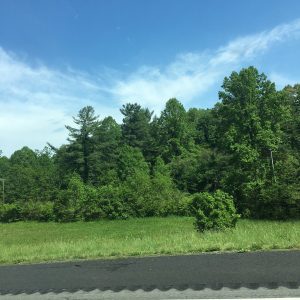 About the same place, when open views presented to the east, we could see the Great Smokey Mountains, where Clingmans Dome in Tennessee lifts to 6,643 feet, just shy of North Carolina's Mount Mitchell at 6,784 feet, the highest east of the Mississippi River. The Smokies are the heart of the ancient Appalachians, tortured, folded, faulted, and thrust vertically by tectonic plate collisions that culminated in construction of the supercontinent Pangea some 480 million years ago. Picture Himalaya-like, now long since scoured and weathered to their minimal (yet still impressive) remnant geography. This view doesn't do them justice. It's the best we could do without a 30-40-mile one-way side trip. I remind you, my intent with this post is to chronicle our ecological transect, in this case just hinting at what I still characterize as a magnificent old mountain chain, blessed with one of the world's richest and most biologically diverse temperate forest ecosystems. Even as I fantasize about an occasional day fishing on Lake Guntersville, my bucket list includes spending several late spring to early summer weeks in the Smokies.
Notice that now the view below is to the left of our direction of travel. We're in Virginia heading northeast on I-81 between Bristol and Wytheville. We're in the region termed the Cumberland Mountains, like the Smokies, tectonically-tortured ancient remnants.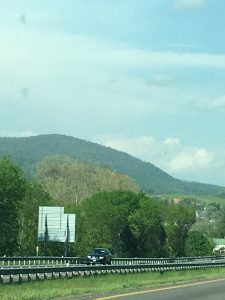 Unlike the Cumberland Plateau far behind us, the underlying rock strata here are anything but horizontal, tilted in this case (below right) a good 30 degrees up to the left; nearer to 45 degrees below left.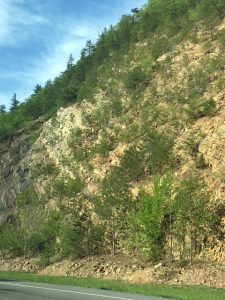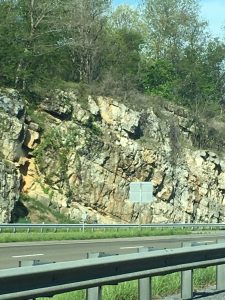 We passed a few road cuts with strata inclination nearly vertical.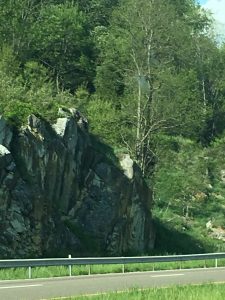 Our final first day landmark took us from Virginia into West Virginia on I-77 northbound through the East River Mountain Tunnel. We spent the night not far to the north in Princeton, WV.
Day Two — The Final Stretch
Significantly, we soon reached the elevation apex of I-77 at Flat Top, WV — 3,400 feet. And Flat Top places us at approximately 300 miles north of our Madison home. Consider my speed-of-season advance rules of thumb. Spring speeds north at roughly 0ne week per hundred miles; spring climbs mountains at more or less 800-feet per week. So, how far behind was spring's May 11, advance compared to Madison, Alabama? Okay, Flat Top is some 2,700 feet higher — that's 3.375 weeks. And 300 miles north converts to three weeks. Total elevational and latitudinal delay is nearly six-and-one-half weeks, or 45 or so days, placing the predicted spring front date for Flat Top on May 11, equivalent to the last week in March for Madison. Below right shows oak just opening flower buds; the lower left photo shows early valley greening and near-dormant ridge tops.
The National Weather Service monthly temperature averages for the two locations test my rules of thumb. Madison, AL — average high and low temperatures for March are 64 and 42; for Flat Top, WV May comparable values are 66 and 48. Adjust the two averages for the late-in-March equivalent to Flat Top's early-in-May and we have rough confirmation! Leonardo da Vinci observed some 500 years ago, "Nature never breaks her own laws." Rules of thumb derive from Nature's laws.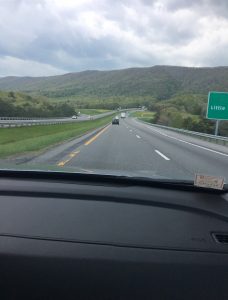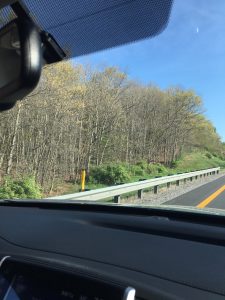 One reason I have The Smokies in spring on my bucket list relates to elevational time travel. Four thousand vertical feet enables sampling five weeks of spring ephemerals in a single day, with the help of a bit of automobile jockeying from valley to higher elevations!
Heading north from Beckley, WV on Route 19 we crossed the New River Gorge Bridge and stopped at the visitor's center. The New River flows some 900-feet beneath the road surface. Once more, we are now in plateau topography, the strata mostly horizontal, the river having cut deeply through the uplifted highlands. My brother long ago rappelled several times from the bridge. He tells me that he first assisted rope management from river level, looking up and perceiving the span as a narrow two-lane roadway. When his turn came to drive topside, he looked in amazement at an interstate-class roadway. and gazed astonished at the tiny ribbon of water below. Perhaps one day I will understand the optical phenomenon that makes any height always seem greater from atop.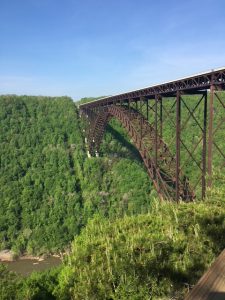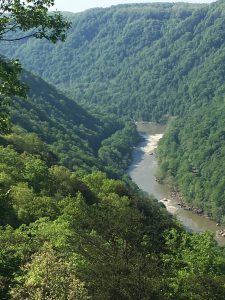 The gorge supports heavy forest cover. I snapped the photo below from an interpretive display in the visitors center. Nearly all of West Virginia saw the crosscut and axe, sometimes repeatedly, from the mid-1800s through early 20th Century. Nature does indeed abhor a vacuum, natural hardwood regeneration (seedlings and stump or root sprouts) quickly recaptured the cut-over sites.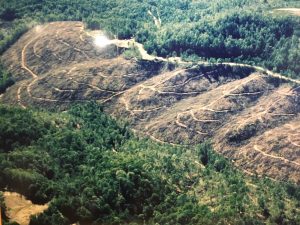 Again, the landscape stands merely uplifted in planar fashion; no tortured strata. Mostly sandstone, shale, and limestone, and in this exposure a thin band of coal.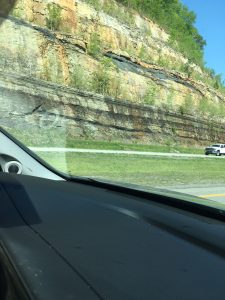 We arrived in Fairmont a little after noon, eager for the evening's festivities.
Commencement Day
No longer speeding along at 70+ MPH, we snapped a typically foggy valley view from our Fairmont accommodations during our morning walk (below left). Once more, horizontal strata characterize these north-central West Virginia plateau hills (right).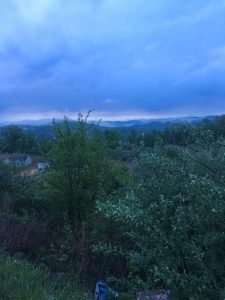 And mid-afternoon between the two graduation ceremonies, I walked out on the deck at the President's residence (Shaw House) to photograph (below left) the view east that I enjoyed most every morning over my six-month tenure. Below right one of those special dawn views!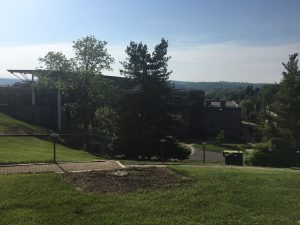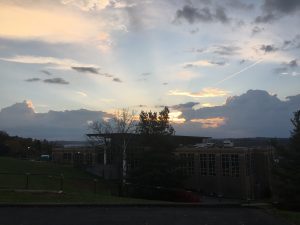 Reflections
What a wonderful 660-mile journey — so many dimensions! The trip spanned 7.5 weeks across the spring season. Having this blog post as one peripheral outcome forced me to look a little harder and think more deeply about the transect. I'm once more reminded of my five verbs applicable to Nature-Inspired Learning and Leading:
Believe — I was certain that the trip would reveal lessons and truths
Look — Too many people live and travel blindly, not deliberately conscious of anything beyond traffic and signposts, whether literal or metaphorically
See — And even fewer people actually see past the distractions of life, work, and the near-meaningless digital world in which they struggle
Feel — Believing, looking, and seeing with purpose and intensity inspires feeling, stimulates emotion, and infuses Nature's elixir
Act — My own mind surges, ideas surface, and action scenarios present themselves
Nature's lessons are there for our discovery and implementation. I weaved some of my Nature-Inspired Learning and Leading theme into my commencement remarks. From this day forward I will travel life's journey with a greater spirit of intentional observation, which accompanied this 660-mile transit.
I am blessed to have been invited back to Fairmont State University to offer words of celebration, encouragement, and challenge to the graduates and the campus community.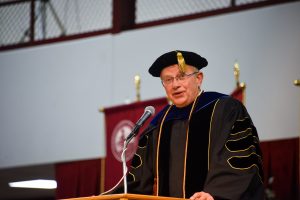 May your own life be Nature-Inspired, passion-fueled, purpose-driven, and results-oriented!
Note: I am available for Nature-Themed motivational/inspirational speaking and writing… for NGOs, businesses, landowners, agencies, and Nature-oriented enterprises. Contact me at: steve.jones.0524@gmail.com
My Premise and Core Belief: Every lesson for living, learning, serving, and leading is either written indelibly in or is powerfully inspired by Nature!
http://stevejonesgbh.com/wp-content/uploads/2018/05/IMG_6036-1-5.10.18-NR-Gorge-lo-res-e1526670352607.jpg
2016
1512
Steve Jones
http://stevejonesgbh.com/wp-content/uploads/2017/01/gbhweblogo.png
Steve Jones
2018-06-05 06:24:36
2018-06-05 06:25:17
Six-Hundred-Sixty Mile Transect