Fairmont State University Commencement Remarks
May 12, 2018; S. Jones
Having served Fairmont State University as Interim President July-December 2017, I felt honored to present the University's Commencement address May 12, 2018 at both the morning and afternoon ceremonies. That's the FSU campus below right, an aerial view from my week-before-Christmas-fly-over with one of our flight instructor faculty; nearby Tygart River Falls in July at left. Normally I focus these blog posts on my Nature-Inspired Learning and Leading core message. This one strays topically a bit afield. Yet I include it because so many of the posts I drafted within the Nature-Inspired theme during my interim presidency drew from my six-month total immersion in this Central Appalachian Region, rich in Nature harking back to my youth.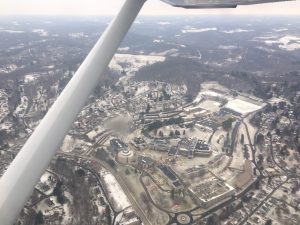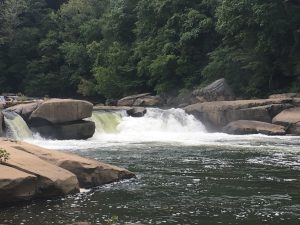 I now offer my Commencement remarks, which I've converted to text from the cryptic notes I used at the lectern:
Good morning/afternoon!
I spent six wonderful and memorable months here at Fairmont State university (FSU), my home away from home July-December 2017. I've served at nine universities. This one is special, from its spectacular sunrises from the Shaw House deck to the heart of the Falcon spirit that defines us:
FSU is notably place-committed: to this community, north-central West Virginia, and the broader region
The University is powerfully purpose-driven, dedicated to serving Marion and adjoining counties, our students, and Falcon alumni everywhere
No institution is more passion-fueled than this one — FSU faculty and staff bring the unbridled passion of their commitment to you every day, apparent to me from the first time I walked onto campus
And every person here in the Feaster Center is results-oriented; today is just one facet of the results they and we seek
My six-month interim presidency changed me forever – I know that your time as a Falcon has done the same for you! Nature is Change, evidenced by the seasonal cycles that define a year, a career, and a lifetime. An FSU education prepared you graduates to recognize and anticipate change, and deal with it across the seasons that lie ahead. As a Nature enthusiast, I see and communicate deep lessons in the simple (yet miraculous) transition from summer to winter, especially in these central Appalachians. To every thing there is a season, and a time to every purpose under heaven!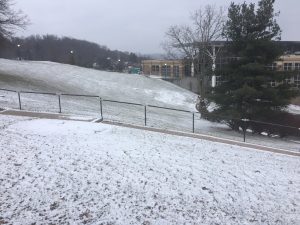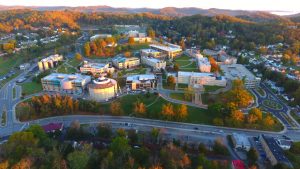 Sharing Three Memorable Speeches
Today is all about you and what you will take from FSU on life's journey. My task this day is twofold. To give you some words of wisdom and spur you on your way. Rather than reinvent the wheel, allow me to borrow shamelessly from the three most memorable speeches I have heard across my own journey. Each offers immutable lessons for life and career that are as applicable today as when first presented.
Only one of the three is a Commencement address — Dr. Jim Goodnight's 2003 North Carolina State University remarks. An accomplished business executive and former NC State faculty member, Dr. Goodnight offered three suggestions for the degree-recipients. First, to the extent possible, align your vocation with your avocational interests. That is, focus your career on what you love. Jim's second suggestion surprised me initially. He said simply, "When you find yourself in a hole, stop digging!" Upon reflection, how well-stated and on-target. Persistent, futile digging is epidemic, whether in Washington DC or the local city hall. Too many leaders keep digging! I found Jim's third suggestion powerful yet exceedingly difficult: seek balance in faith, family, community, work, and other life-elements. I have found that pursuing balance is so easy to say and so elusive to achieve.
Dr. Goodnight's insight proved apt, extraordinarily brief, and absurdly simple. His is the only commencement address I remember – ever! I may recall gems from others but I cannot recall attribution. Jim's every remark is indelible! He took no longer to present his address than I consumed in summarizing it for you. Reflecting upon it led me to remember the best speaking advice I've ever heard, "If you don't have much to say… don't take so long to say it." And it reminded me of the scariest words any speaker has ever uttered, "I will be brief." Never believe it — it's a warning that "I want you to believe I will be brief, but there is no way I will!"
Jim Valvano, 1983 NCAA men's basketball championship coach at NC State University, presented the second memorable speech among the three. Facing a diagnosis of incurable terminal cancer, Jim took to the motivational and inspirational speaking circuit several years after the championship season. He offered three necessary daily elements for living life to the fullest. First he said, think deeply about something important to someone you care about. Second, find daily a reason to laugh heartily. And third, feel something to the point of tears each and every day. As with Dr. Goodnight's remarks, coach Valvano's advice stood as simple, succinct, and powerful, spoken from the heart, soul, and spirit… with passion and purpose. His message stands as relevant some thirty years later for you; for every one; for every day!
I go back more than half-a-century for the third memorable speech, President John F. Kennedy's January 16, 1961 Inaugural Address. The young President said, "Ask not what your country can do for you — ask what you can do for your country." I submit that his powerful call to service stands as a fine point for a commencement address… even now; perhaps especially now. And service is a compelling component of my charge to you. Serve is one of four verbs lying ahead for you: Live; Learn; Lead; and Serve
I said three memorable speeches. I offer a fourth of sorts, unspoken yet a strongly communicated message from my Dad, deceased 23 years. One of my heroes, Dad led me to a life and career dedicated to Nature. A blue collar laborer and WWII combat veteran, Dad loved fishing, hiking, camping, picnicking, and other such pursuits. We often headed outdoors summer weekday evenings and most weekends. However, Sunday afternoons we observed Dad's spirit dimming perceptibly. Mom explained that Dad began to despair from knowing that Monday morning he returned to a job he loathed — not loved. I vowed then to never take a job I didn't love.
I've managed to live by that vow and code. I urge you to do the same. Align your vocation and your avocation!
Life Events Shape Us
I paused and began again by telling the graduates that life events shape us. Today is a new beginning (Commencement) for you. Six years ago (May 3, 2012), stands as a new beginning for Mrs. Jones and me. While we were enjoying a full-daylight evening stroll, a two-ton SUV plowed into us. During our recovery we realized that life is fleeting and fragile… and that there are no guarantees for tomorrow. The incident stood as a life-event for us. I think of three relevant quotes that help define the lessons and draw deep relevance from the incident.
First, Helen Keller observed, "Life is a daring adventure or nothing at all." Keller did not deem daring as foolhardy but instead as bold, aspirational, and determined. Second, Bernard Malamud, who authored The Natural, expressed through his lead character, "We have two lives to live; the one we learn with, and the life we live after that." Mrs. Jones and I are living our second Life! And in a third relevant quote, author Author Napoleon Hill said, "Dreams and visions are the children of your soul."
Each of you has dreams and visions — of career, life, and service. I urge you to take time to devote thought and energy to defining your dreams and visions. Once you can articulate those dreams and visions, embrace them; cherish them; bring life to them! Remember, those dreams and visions are the children of your soul — nourish them!
My own dreams are clearer now, six years into my second life, than ever before. My first component is to leave this world a better place for my having passed through it. I commit to giving full measure to living. I pledge to dedicate the full power and passion of my soul to realizing my vision. I wish the same for you – devote yourself to purpose fueled by passion.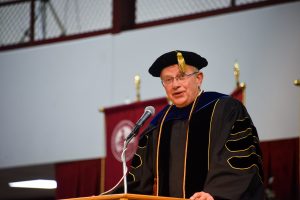 I want to emphasize a strong personal focus for me. Louis Bromfield, a mid-Twentieth Century best selling author with some 30 best-sellers, including a half-dozen adapted to Hollywood movies, purchased what he termed an old, worn-out north-central Ohio farm in the mid-30s. He dedicated his life to rehabilitating Malabar Farm, and chronicled his mission in Pleasant Valley, a non-fiction book account of his efforts: "The adventure at Malabar is by no means finished… The land came to us out of eternity and when the youngest of us associated with it dies, it will still be here. The best we can hope to do is to leave the mark of our fleeting existence upon it, to die knowing that we have changed a small corner of this Earth for the better by wisdom, knowledge, and hard work." That paragraph synthesizes my own life's work and vision. May those words likewise, serve as metaphor for your life!
Concluding Reflections
I give you a final quote. Douglas Adams in The Long Dark Tea-Time of the Soul speaks to the journey and outcome that many of us have and will recognize, "I may not have gone where I intended to go, but I think I have ended up where I needed to be." Such is where life has guided and steered me.
May this Commencement begin your journey to where you need to be!
So, wherever life takes you:
Be true to your vision and dreams
Commit to place, wherever it happens to be
Dare to be bold!
Live with purpose
Let passion fuel all that you do
Enjoy life – don't waste it!
Safe and pleasant travels – may you forever soar like a Falcon!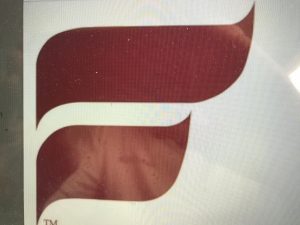 A Postscript: Although I could not match Jim Goodnight's five-minute Commencement address, I do feel good to have kept my remarks to a dozen. Will anybody remember my speech in the same way I so vividly recall Jim's? Likely not… yet I hope I at least stimulated a bit of retrospection among graduates, faculty, and guests. I also hope that the bit of Nature-Inspired Learning and Leading I infused found some traction.
That's permanent FSU President Dr. Mirta Martin and me below left; Judy and me with Dr. Martin and husband John below right. A bit of Nature providing backdrop! May Nature Inspire all that you do.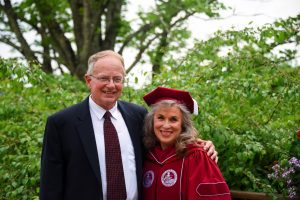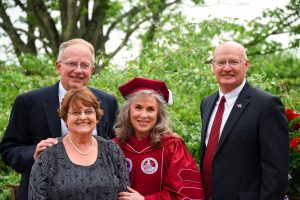 Note: I am available for Nature-Themed motivational/inspirational speaking and writing… for NGOs, businesses, landowners, agencies, and Nature-oriented enterprises. Contact me at: steve.jones.0524@gmail.com
My Premise and Core Belief: Every lesson for living, learning, serving, and leading is either written indelibly in or is powerfully inspired by Nature!
http://stevejonesgbh.com/wp-content/uploads/2017/12/IMG_4323SJ-at-Falcon-Center-Creoe-Myrtle-e1512438114754.jpg
2016
1512
Steve Jones
http://stevejonesgbh.com/wp-content/uploads/2017/01/gbhweblogo.png
Steve Jones
2018-05-22 04:41:48
2018-05-22 04:41:48
Fairmont State University Commencement