Judy and I visited Cane Creek Canyon Nature Preserve March 15 — see my March 20, 2018 post for a more general narrative about the Preserve and my impressions. See also my March 26 post for the wonderful examples of life Finding a Place on some seemingly precarious and marginal positions across the 1.25 square miles of the Preserve.
Please view this post as less a philosophical and science-based reflection on lessons for living, learning, serving, and leading, and more as a celebration of spring's beauty and bounty at forest understory scale. Seldom (no, never) in this part of the south does snow carpet the forest floor beyond a coating to a few inches occasionally during the depths of our abbreviated winter. By the end of April, most forest canopy species are already deeply shading the forest floor. The weeks and months between a waning winter and forest leaf-out translates to an opportunity window for spring ephemerals to grow, flower, produce seed, and fall into senescence — i.e. complete their annual life cycle — before the canopy blocks life's essential sunlight. We timed our Cane Creek Canyon pilgrimage to hit the peak ephemerals window. Our timing rewarded us with 23 species in flower.
I have been a spring wildflower enthusiast since taking a Systematic Botany course in spring 1971. We journeyed into the field for the lab section whenever weather permitted, and sometimes when it didn't! We covered diverse habitats, raced up, down, and across hill, valley, and dale, traversing field, forest, meadow, and stream-side. We kept detailed journals and sketched our findings. I still have my weather-beaten field guides and plant keys. I've carried one pocket-sized six-ring notebook with me at Cane Creek. Its first-page entry is dated May 17, 1989. The place: Penn State's Shaver's Creek Environmental Education Center. Judy and I tallied 27 species that long-ago day. Hard to believe that nearly 30 years have raced past since then. The joy of discovery and counting is still strong. We've grown more appreciative, even if a little slower covering the distance.
So, 29 years later, allow me to take you along for a quick March 15, 2018 inventory of flowers tallied, from first to last in order of seeing them at Cane Creek:
Virginia spring beauty
Trailing arbutus
Red buckeye
Bluet (Quaker ladies)
Purple violet
Plantain-leaf pussytoes
Service berry
Bird's foot violet
Blue woodland phlox
Early saxifrage
Rue anemone
Beaked trout lily (yellow fawn lily)
Spice bush
Sharp-lobed hepatica
violet wood sorrel
Twisted trillium
Sweet Betsy trillium
Bloodroot
Wood vetch
Hairy phlox
False garlic
Yellow trout lily
Fire pink
One of my all-time favorites greeted us at number 11: Rue anemone, abundant from southern Ontario south to Georgia and Alabama. Its pure-white petals shout from the dormant winter forest floor, sounding a clarion call for the coming season of renewal, life, and warmth. This individual is expressing its joy from a sandstone micro-ledge at the foot of a block in the named 'Boulder Garden.'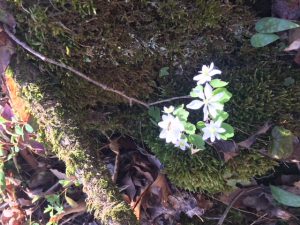 A rich floral arrangement presents atop the same boulder. Yellow trout lily and twisted trillium dominate. Nature has a way of dolling out luxuriant beauty. That morning our Madison, Alabama temperature bottomed at 25 degrees. These spring ephemerals can handle it. They know the drill.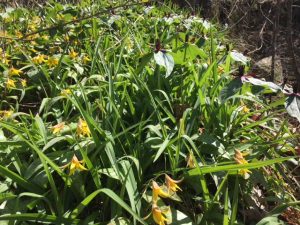 We have here the Hanging Gardens of Cane Creek Canyon's Boulder Garden. A wonderful oak leaf hydrangea anchors at lower left on yet another boulder. Early saxifrage bedecks a thin ledge about five feet above the ground, conveniently at eye- and camera-level. Several trout lily flowers peek over the edge above the saxifrage. What florist could do better? Nature exploits every advantage… not for us, but for sustaining the species, capitalizing the niche… of time and place. We enjoy her offerings, and relish her boundless beauty and vitality.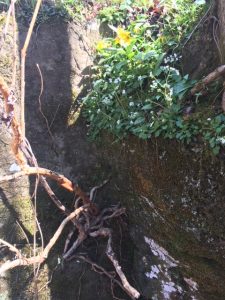 A closer look at the hanging early saxifrage. Nature abhors each and every vacuum. A precarious foothold becomes a ledge of luxury.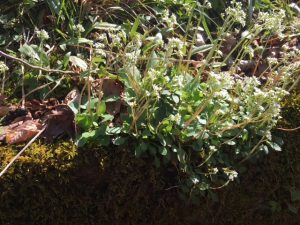 I recall seeing bird's foot violet for the first time in Cumberland, Maryland's Constitution Park on one of those Systematic Botany field excursions nearly a half-century ago. Its aptly-named bird's foot foliage and bi-color flower are unmatched in the early spring palette. The photo at left below (yeah, the one with my thumb!) I took in western Maryland's Allegheny Mountains last April. The Maryland photo depicts the flower and foliage more clearly than the photo I snapped at Cane Creek.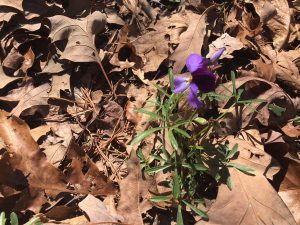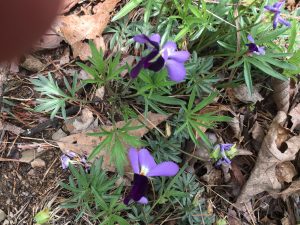 This red buckeye is tantalizingly close to opening its flowers. Close enough that I counted it! Will you grant me the latitude to claim 23?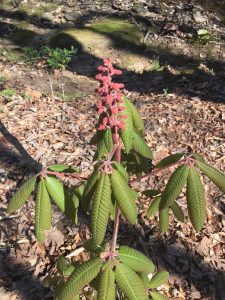 Here's a close-up of the beaked trout lily. Note that its flower is looking up at the sun. The yellow trout lily (yeah, they are both yellow), in the second photo above, hangs its head as though shy and embarrassed. Both have the same dappled foliage, earning another common name, yellow fawn lily.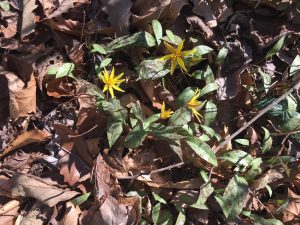 I have seen elsewhere rich forested floodplains carpeted with blue woodland phlox. Cane Creek's population, at least where we traversed, is more scattered, yet there is distinct beauty in even a single stem with a cluster of soft blue.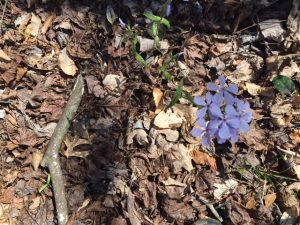 Virginia spring beauty is another common early ephemeral that I've tallied from New Hampshire to Ohio to Alabama.
Our final tally of the day took the prize for its aesthetic elegance. Fire pink seemed quite red. This is the only one in full flower we encountered. Interestingly, and disturbingly, the Lacefields told us of coming across trail-side patches of other showy species where visitors had picked bouquets and then tossed them aside. Reminds me of Aldo Leopold's statement that "Conservation of all wildness is self-defeating, for to cherish we must see and fondle. And when enough have seen and fondled, there is no wildness left to cherish." Such is one goal of Cane Creek Canyon Preserve. To inform and educate visitors to the sanctity of Nature. To the imperative to see, appreciate, understand, and cherish. To the imperative to leave behind only footprints; to take with us only what we brought. To respect and enjoy.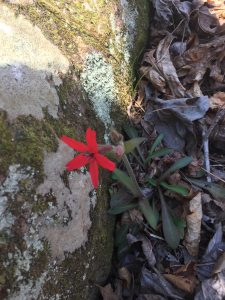 Concluding Reflections
Although we timed our visit to hit the early spring peak wildflower window, I long to visit more frequently over this extended spring season. Once a week sees change at a scale suitable for awe and inspiration. So much happens so quickly to the knowledgeable, discerning visitor. There is magic at our fingertips, and lessons aplenty.
Once again, I applaud Jim and Faye Lacefield, as well as the Friends of Cane Creek Canyon Nature Preserve. All are stewards extraordinaire — land steward exemplars.
Judy and I are grateful for our visit and tour.
http://stevejonesgbh.com/wp-content/uploads/2018/03/IMG_5319-2-Fire-Pink-lo-res-1-e1521489004826.jpg
2016
1512
Steve Jones
http://stevejonesgbh.com/wp-content/uploads/2017/01/gbhweblogo.png
Steve Jones
2018-04-03 04:28:31
2018-04-03 04:28:31
Spring's Richness