My February 22, 2018 Great Blue Heron post reports on our February 11, hike at Konza Prairie near Manhattan, KS (http://stevejonesgbh.com/wp-admin/post.php?post=1752&action=edit). Among other sights of the day, I reflected on a prairie crab apple anchored happily (my view) on a limestone ledge: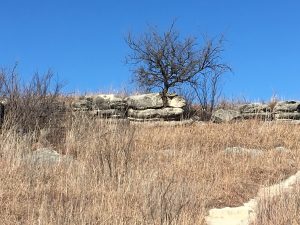 I ruminated at depth on the conditions, advantages, and pitfalls associated with its perch, concluding that Nature has enabled life's many variants to exploit resources across a wide range. Our March 15 hike and tour at Cane Creek Canyon Preserve demonstrated the same lesson in multiple variations. Our northern Alabama climate is a bit more forgiving than the drier Kansas Flint Hills. See my March 20, 2018 post for a more general narrative about the Preserve and my impressions. Today's follow-up post focuses on Nature's uncanny, yet millions-of-years-tested, propensity for Finding a Place. For flourishing wherever the ingredients for life are available, whether or not the place appears at my first estimation worthy.
Our first example is a now deceased Eastern red cedar, perched at the canyon rim on a sandstone ledge. This individual survived, and appears to have thrived, on its precarious anchorage for decades. Roots marginally "sunk" in the thin soil atop the rock, holding gamely on the face, able to access substrate only on the uphill side. All is not negative. The seedling cedar faced little competition for light. Its ledge position afforded a 20-30-foot vertical advantage over trees starting at ground level beneath the ledge. Ample moisture, enriched with nutrients percolating from the soil upslope nourished our pioneer cedar. I'm surmising, too, that when our cedar gained a foothold, the soil uphill supported a coarse and unimproved pasture that gradually succeeded to the forest now occupying the site. The cedar actually enjoyed a set of favorable circumstances. It likely produced seed for other cedar trees growing in the neighborhood of the now-dead sentinel. A good life for our subject cedar? What is a good life to a cedar? Adding a little new wood each year and producing seed sufficient to pass genes into the future will suffice, I believe. My sense is that this one met those criteria before entering the great cedar afterlife! Incidentally, that's not a memorial bouquet attached about five feet up the bare bole. It's last year's seed-head from a native oak-leaf hydrangea leaning across it. How fitting and perfectly placed!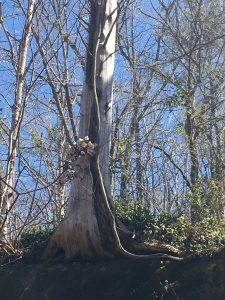 This beech (below left) holds tightly to sandstone detritus beneath a similar rim ledge. The cavity visible under its base suggests that the original seedling found anchorage on a decaying tree stump, sinking roots that reached around the stump into the soil among the rocks. The old stump fully decayed, leaving our beech elevated above where the stump once stood. Perhaps a chipmunk shelter alternative to scurrying among the ledge-rock fissures. Like the prairie crab apple, this beech seems to perch on stone, yet I am sure that its roots reach deeply into the debris of the long-crumbling sandstone ledge. Again, our moist temperate climate furnishes ample moisture during all seasons of most years. Note the abundant moss on exposed rock. Life is good in the canyon!
Like the now deceased cedar, the thriving white oak (below right) has a commanding rim-rock view, similarly perched at the edge. Once again, its roots reach into fissures and tap soil uphill, even as the shallow bedrock uphill channels moisture to the oak. See the thick moss on exposed rock. Life is good on the canyon rim!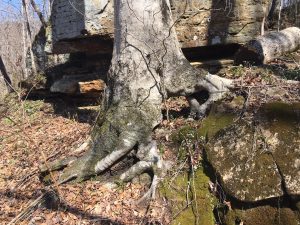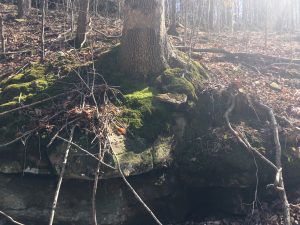 So, we found forest trees finding a place throughout the canyon. For every tree oddly positioned, we found scores of woody shrubs similarly challenging our perception of a favorable place to grow and prosper.
Judy and I fell hopelessly in love with oak leaf hydrangea, one of those woody perennial shrubs, when we lived in Auburn, AL 1996-2001, when I served as Alabama Cooperative Extension Director, overseeing the operation across the state's 67 counties. We established oak leaf hydrangea plantings in our Auburn landscape beds, and subsequently in Cary, NC, Urbana, OH, and West Chesterfield, NH. When at Auburn, I hiked the Bankhead National Forest Sipsey Wilderness, marveling at the dense understory stands of oak leaf. How nice to see it among the principal understory tenants at Cane Creek Canyon. Clearly a site opportunist, the species clings tenaciously to the sandstone faces and boulders, thriving wherever it finds purchase. As Jim Lacefield reminded me several times, this sandstone is porous, holding water like a sponge and making it available to plants. Note also the lichens and mosses that coat even the vertical exposed rock faces. Nature truly does abhor a vacuum.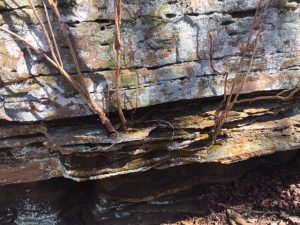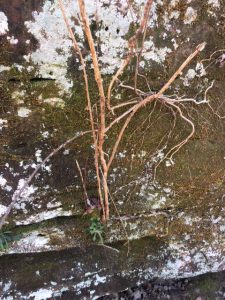 Oak leaf hydrangea examples of finding a place met us at every turn. They also appeared on other than exposed rock — it's just that the hangers-on beckoned my camera lens.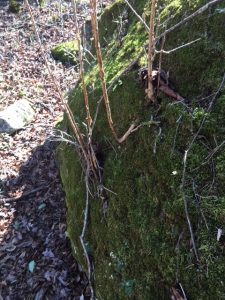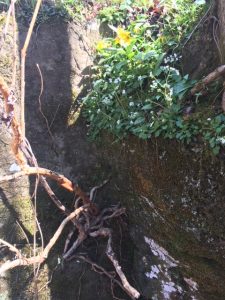 We did not limit our pondering and amazement to trees and shrubs. After all, we timed our visit with the Lacefields to hit the early peak of spring wildflowers. Although we did not anticipate finding vernal richness on exposed rock tops, faces, and fissures, we found such glories in abundance. I will say much more about the the 23 species of wildflowers we identified in a subsequent Great Blue Heron blog post. For now I offer one of my all time favorites, rue anemone, which grows ubiquitously from Alabama to southern Ontario. Here it is in its pure white splendor in two terrarium-like settings. First, peeking from a horizontal fissure on the lichen-covered face of a sandstone boulder. Below right it is flourishing on a moss draped rock lip of another boulder. Like so many of our spring ephemerals, rue anemone completes it annual life cycle in the forest understory before tree leaf-out and its associated deep shading.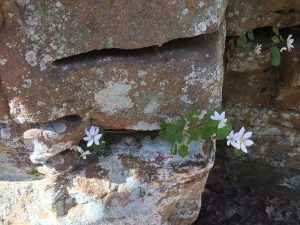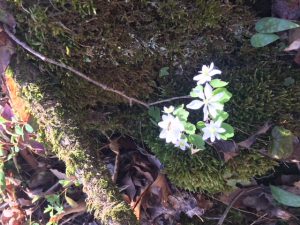 Speaking of terrariums, the Canyon's designated Boulder Gardens epitomize my finding a place theme. Nature exploits purchase where we observers may not expect it. Her lesson is quite simple. Life flourishes where it can; where the ingredients present opportunity. The barren sandstone boulder offered little initially beyond porous rock, oriented horizontally, in a humid temperate climate. Horizontal is crucial. Lichen and moss, the photos evidence, can grow on vertical surfaces. What horizontal assures is that organic litter from trees collects on the table-top. Dead and decaying moss and lichens accumulate, along with tree-origin litter and any other plant taking root atop the rock. Add mineral debris from the biological, chemical, and physical weathering of the rock surface. Horizontal keeps the products of all this action in-place. In aggregate, soil-forming processes eventually provide a medium for the rocky-top Boulder Gardens. How long did it take? I won't hazard a guess. Yet I will simply ask, "What is time to a sandstone boulder?" In a very real sense, the plateau itself is little more than a soil-covered boulder top. Nature works magic… wonder and awe there for those who choose to discern it. The ingredients for a life well-lived are not in short supply.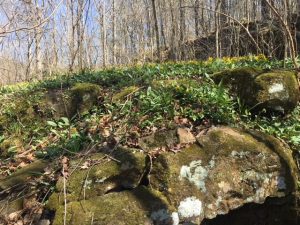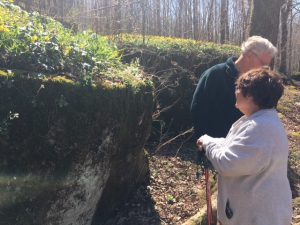 The exposed ledge in the photo below, directly above the feeder stream, has little opportunity to build soil and support plant life beyond the moss carpeting it in green. Why little opportunity? Spring freshets and summer deluges even in this head-water drainage scour the rock of any organic or mineral material that accumulates between those run-off episodes.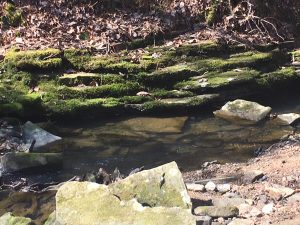 Lessons from Nature — Universal Laws Apply
"Nature never breaks her own laws" (Leonard da Vinci some 500 years ago). I may not rise to the level of forensic naturalist (my term), yet I strive to understand the evidence she presents. My absolute favorite graduate course during my doctoral journey involved a kind of forensic sleuthing: Geomorphology, the study of the form of the Earth. Dr. Ernie Muller, a noted Syracuse University scientist (now deceased) who taught the course, viewed the form of the Earth more as poet and philosopher than cold, objective scientist. He employed passion to explain and inspire. He led us on field trips near Syracuse. We examined local relief and landform, and he asked us a simple question: "Why?" Each field visit required an essay describing what we had seen, and explaining "why." What are/were the geology and geomorphic processes creating today's expression of landscape form and function. He liked my essay on Green Lakes State Park enough to share it with the Park for use in interpretive literature.
Ernie lives on in what he inspired in me. I can only hope and pray that I have similarly touched others along my pathways since. I employ my Ernie Muller-enabled lens when I write these Great Blue Heron website posts. I do not intend for these to be scholarly mini-treatises, complete with citations and references. I write them, instead, to inspire appreciation and understanding of Nature's beauty, magic, wonder, and awe… to encourage readers and fellow Nature enthusiasts to grasp Nature's lessons for living, learning, serving, and leading. And to plant seeds for informed and responsible Earth stewardship. I see this particular essay as a catalyst for each of us to Find Our Place… in the web of our own life. A Place where, like Louis Bromfield in Pleasant Valley,  "The best we can hope to do is to leave the mark of our fleeting existence upon it, to die knowing that we have changed a small corner of this Earth for the better by wisdom, knowledge, and hard work."
Nature has infinite Places. The number of Places available for life, living, and thriving on just the 1.25 square miles at Cane Creek Canyon Preserve approaches incalculable… unknowable. What about in your life and enterprise. What can you learn from Nature? Are you advantaging the essential elements of Place where you have rooted or might yet root? Life flourishes where it can; where the ingredients present opportunity. Are you exploiting the opportunity afforded you… gifted to you?
May Nature inspire all that lies ahead for you.
http://stevejonesgbh.com/wp-content/uploads/2018/03/IMG_5314-1-Dead-Cedar-on-Ledge-lo-res-e1521488117306.jpg
2016
1512
Steve Jones
http://stevejonesgbh.com/wp-content/uploads/2017/01/gbhweblogo.png
Steve Jones
2018-03-27 04:54:44
2018-03-27 04:54:44
Finding a Place