We've heard many times the old adage that we must play the hand we're dealt. Because we've made 13 interstate moves over our married years, we're often asked, "Which place did you like best?" We have a stock answer, one we earnestly believe and have little trouble answering: "We have always preferred the place where we happened to be." Granted, each location is one we chose to accept and embrace as career progressed. Here's a quick chronology with mileposts of our journey:
Cumberland, MD
Syracuse, NY
Franklin, VA (then Sedley, VA — an intrastate move)
Savannah, GA
Prattville, AL
Manlius, NY
State College, PA
Auburn, AL
Cary, NC
Fairbanks, AK (we maintained a condo in Wexford, PA near our son Matt and his family)
Urbana, OH
West Chesterfield, NH
Madison, AL
Fairmont, WV (six-month temporary)
Madison, AL (not counting as another because we never permanently left)
Again, we selected each location; we chose to bloom where we were planted. We considered ourselves place-committed. In contrast, we've met too many people who strike us as place-bound. Who lament the rain; the snow; the heat; the cold; the wind; the remoteness; the crowding; the shopping; you name it. I suppose that we are half-full people; our glass is never half-empty. I could look out over Big Blue Lake and see only the houses. Instead, I prefer focusing on the water, its diverse fish, amphibians, reptiles, and birds: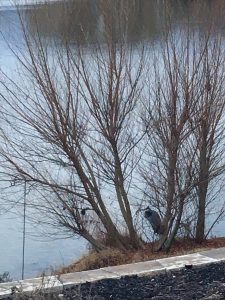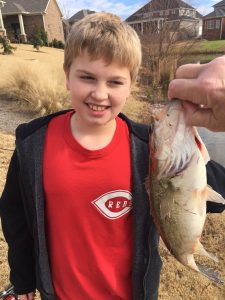 I know that my own career-nomadic life in early 21st Century America is fortunate… blessed with choices. Few global citizens can choose. At least not so easily as we. February 10 and 11, we toured the Flint Hills in Kansas. A cut-metal hilltop sculpture welcomed us to Council Grove, depicting 19th Century settlers making a far more arduous relocation along the Santa Fe Trail: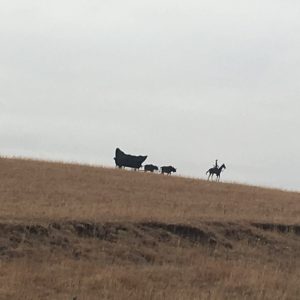 And perhaps many of these same families had already crossed the Atlantic from their European homes. Prior nomads had likewise seasonally crossed these tallgrass prairies in search of sustenance, temporary quarters, and life energy: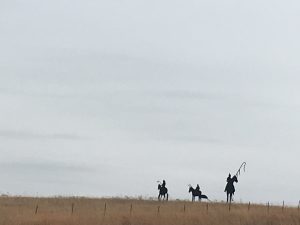 A Non-Mobile Opportunist
Now, imagine that some small ground-burrowing mammal had enjoyed the bitter fruit of a prairie crab apple, and scarified the hard seed coat through its digestive system. Then standing alert on a limestone outcrop, the ground squirrel deposited the seed and its fecal accompaniment serendipitously at a fissure atop the ledge. The seed might have managed much better in a more fertile setting, yet the small crack provided protection from crows that may have pounced had it been exposed. The seed germinated, having been dealt what I gauged (upon my initial assessment) to be a pretty lousy hand. Yet, Nature has been dealing poor hands to many generations of prairie crab apples. A seed lucky enough to secure purchase on deep and fertile soil in the open would simply not have survived the first fire (a prairie certainty) to sweep across the prairie. Far better to root on the rock:
A bird couldn't reach the seed; fires burned less intensely across the spartan ledge-rock prairie vegetation. I'm guessing (yes, I admit it's a wild guess) this specimen has seen a century or more of tallgrass seasons. It's made the most of what I call at least a questionable hand, if not outright lousy. This tree couldn't relocate, but it did manage the next best thing. It sent out a scouting party — roots that dipped into the crevasse, and reached deeper soil.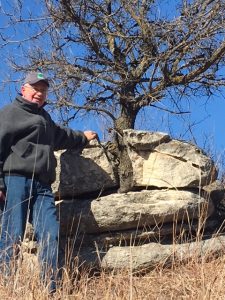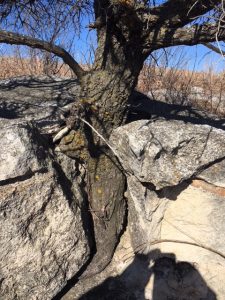 Root exploitation and now brute force (widening the fissure) serve the tree beautifully! The fibrous, moisture- and nutrient-gathering fine roots reach into moist and reasonably fertile soil beneath and below the rock. The best of all worlds, I suppose.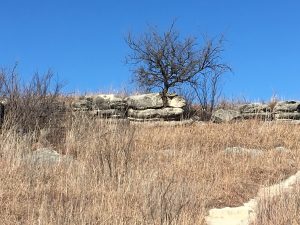 A quick geology side-trip. An interpretive sign diagrams the pancake strata of limestone, chert/flint, and shale that underlie and shape these Flint Hills. Limestone strata are the most resistant. Hence limestone ledges run their contour where they intersect the side slopes (see the cross section upper right).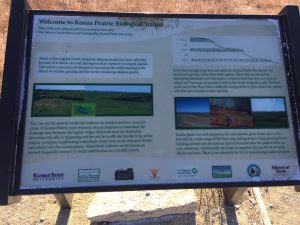 Other crab apples make a living along the outcrop ledge, but none thrive like this individual. As I write these words, I'm shifting my assessment. No lousy hand for this crab. This perspective just struck me with yet another trump card dealt this fateful seed. As I've already noted:
Seed dropped with a dose of natural fertilizer
Into a fissure sufficient to protect it from avian marauders
With enough substrate to germinate
And send roots down to underlying soil
Elevated above the reach of periodic grass fires
Add a new one — out of easy reach of whitetail deer. We saw nine the Sunday morning we hiked the Konza Prairie Trail, just eight miles from Manhattan, KS, home of Kansas State University. This view west along the ledge shows both the density of woody vegetation and the superior, deer-resistant position of our hero.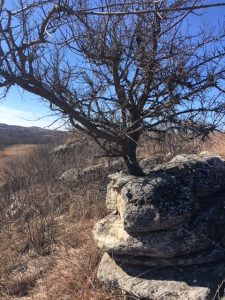 Had the small mammal deposited our crab apple seed here (the open prairie photo below), multiple natural forces would have doomed it. Such is one reason why crab apples produce far more than the one seed it takes to grow one new offspring. Even if the seed on this upland prairie had germinated, it would not have reached an age/size to flower and bear fruit. Counter to my lousy-hand original assessment, our heroine may continue bearing fruit for decades to come. She (crab apples bear perfect flowers — male and female on every tree) has all that a prairie crab apple might wish to have. Although her height is suppressed by the rather harsh exposure, the tree does not need to reach far for full sunlight. Nothing nearby is competing for the solar gift. And another favorable attribute — this stretch of ledge faces south, well below the concordant prairie hill summit elevation, a lee position sheltered from howling northerly and westerly winds. What more than a long life, a great view, firm anchorage, ample nutrition and moisture, and protection from adversity could any of us hope to secure?!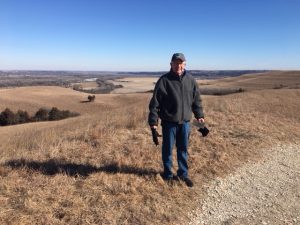 So, what is Nature's lesson. First, as in life and enterprise, what seems apparent upon first glance isn't necessarily so. Even as a student of applied ecology, I leaped to seeing this rock-bound crab apple as having been given a raw deal. But not so fast — he's living the good life! I began this blog post in my head even as we stood by this rock-top sentry, thinking it a lesson for persevering under adversity. Yet here in the comfort of my office, examining the photos, and reflecting on this individual, I have switched gears.
I see two levels of beauty, magic, wonder, and awe in this resolute prairie crab apple. The first dimension is purely aesthetic — a full-crowned tree/shrub standing astride a rock. The second level is hidden within the secret of its success. Think about the remarkable alignment of favorable site factors that enable this tree to stand as a symbol for the exquisite opportunism hard-wired in Nature.
Do you know what remarkable potential lies hidden within you and your enterprise? Do you focus on what at first glance seems a lousy hand? Or do you consider what might be… and strive to secure firm footing, satisfaction, and a long, productive, and vibrant life? Are you choosing to bloom where you're planted? Nature is an opportunist — are you?
I even choose my attitude — life is too fleeting, fragile, and short not to choose upbeat! Although I certainly have always taken what I do seriously, I refuse to take myself with other than a sense of joy and lightness. As we approached trail's end, we passed the shell of a long-dead snag. We chose to be framed on the Konza Prairie Trail!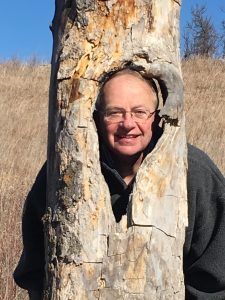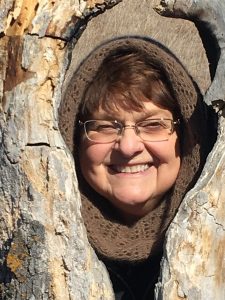 Life is GOOD!
http://stevejonesgbh.com/wp-content/uploads/2018/02/IMG_4991-Crab-lo-res-e1518481183250.jpg
640
480
Steve Jones
http://stevejonesgbh.com/wp-content/uploads/2017/01/gbhweblogo.png
Steve Jones
2018-02-19 20:15:43
2018-02-19 20:15:43
The Nature of Exploiting... Making the Best of the Hand We're Dealt!