Happy New Year!
I left Big Blue Lake end of June, 2017 for my six-month Interim Presidency at Fairmont State University. We returned mid-day December 23. I squeezed a lot out of that half-year. Yet I must admit, I cannot ignore the trade-offs… the costs of a six-month full immersion out of state. Judy (my spouse of 45.5 years) joined me a week per month, too infrequently for me not to feel generally as though I was living alone. Also, I made it back to Alabama only once during the term, making our daughter and grand sons Jack (10) and Sam (4) seem remote. We kept up through phone and Face-time, yet it's not the same.
Was great to reconnect at Big Blue Lake upon return! As I appreciated this special place and reunited with family, I thought of Wendell Berry's "VII," his poem reminding us that the day-to-day small things aggregate to life, pleasure, and reward:
"Again I resume the long
lesson:  how small a thing
can be pleasing, how little
in this hard world it takes
to satisfy the mind
and bring it to its rest."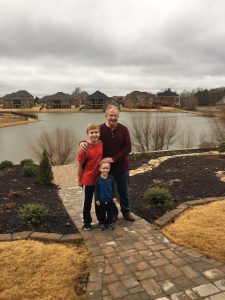 Christmas Eve stayed cloudy most of the day as a cold front slowly slipped south. Thick low clouds parted at sunset, rewarding us with sparkling clear skies above as the cloud deck slipped away.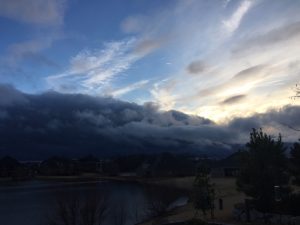 Again, Nature serves dollops of magic to those willing to look, see, and feel. What did seeing this wonder require of me? Sensing the light changing outside my window… and wandering to the patio with camera at the ready. The view is to the south, clouds racing from the northwest, heralding the first really cold spell of the young winter. The mix and richness of colors and textures constitute the scene, yet the details of season, wind direction, and frontal passage add meaning and content not discernible to the unknowing and disinterested. I observe people clinging to their digital devices, and feel sorrow for what they are missing.
When I hit the shutter for this frame, I saw only the magnificent sky. Then my eye saw Big Blue standing at water's edge near the willow clump just right of center. Hunched to buffer the now chilly breeze, he did not rise.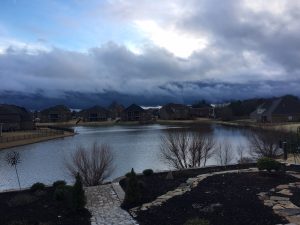 I brought him closer via the zoom. This was my first close-up of our resident great blue heron since my return the day prior. I viewed his presence as a gift, an acknowledgment that the simple things matter. Berry's "VII" said it beautifully:
"What more did I
think I wanted?  Here is
what has always been.
Here is what will always be."
I seek Nature's gifts relentlessly. She rewards selflessly… and often. She asks only that I be alert, and not demanding on a Grand Tetons or Alaska Range scale. Life presents itself in bite-size morsels. Enjoyment, appreciation, and fulfillment need not await the once-in-a-lifetime vacation adventure.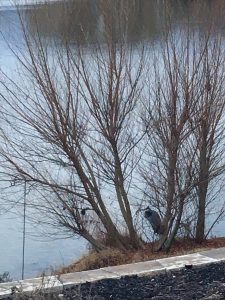 Christmas brought the anticipated pleasure of celebrating the ultimate Gift of a Life that forever changed the world to those of us who embrace Christianity. May each of you have found some similar Spiritual awakening… your own belief in a higher power — a spiritual purpose and calling.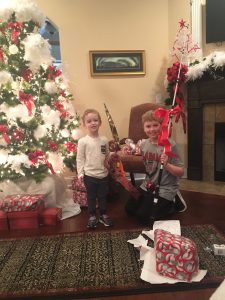 Jack's new fishing rod and reel connected the day after — a 1.5 pound large-mouth bass right at our shore. We immediately released it, knowing that the frogs, smaller fish, and other critters will soon nurture his growth to tougher future angling battles and perhaps a fry-pan.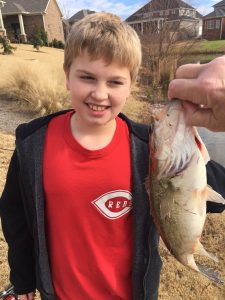 That day ended with yet another gift, this one at sunset, welcoming a night that fell into the lower twenties. Balmy by our Fairbanks, Alaska winter standards, yet seasonably cold for northern Alabama.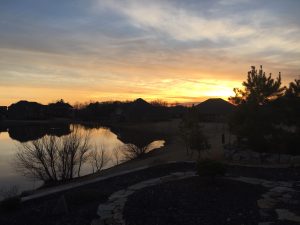 Again, just four days back at Big Blue Lake and life is rich, full, and good. All without any digital immersion beyond a few emails and texts from friends and family.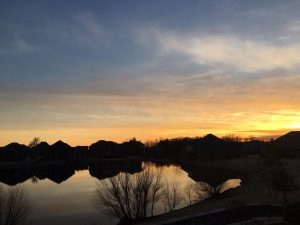 I can't resist the shutter when Nature paints the evening sky.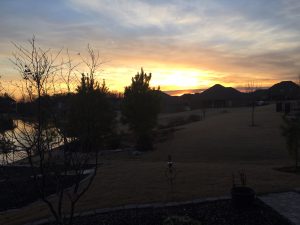 The same holds for Nature's wake-up call, this one greeting December 29, a full-week returned to Big Blue Lake.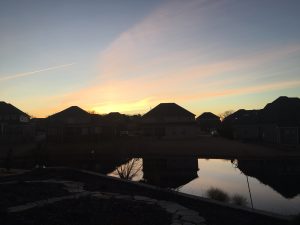 Are you on alert for Nature's richness?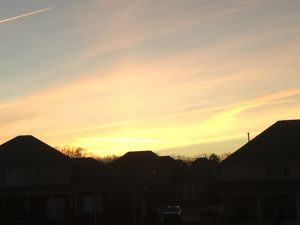 Are you looking, seeing, feeling, and acting? I'm writing these words Friday evening, the 29th. I just glanced out my office window to the north, discovering a glow reflected in windows across the street. I rushed to the patio, camera in hand, curious to see whether the day would end with the west ignited in farewell: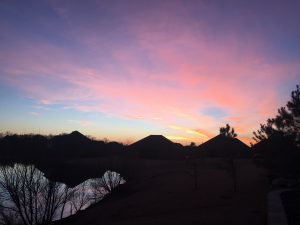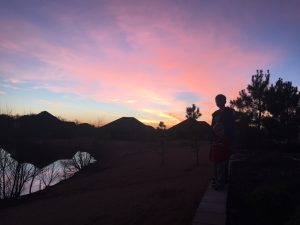 Sure enough, another blessing, both without and with Sam and Jack in silhouette! As I've said too many times to count, every lesson for living, learning, serving, and leading is either written indelibly in or is compellingly inspired by Nature. This Blog Post focuses on Nature's incessant inspiration. Yet perhaps her most poignant lesson expressed powerfully in these photographs and reflections is simple and direct. Berry nailed it:
"Again I resume the long
lesson:  how small a thing
can be pleasing, how little
in this hard world it takes
to satisfy the mind
and bring it to its rest."
Dewitt Jones, decades-long National Geographic photographer extraordinaire, observed in The Nature of Leadership (Covey, Marshall, and Jones), "Perhaps the greatest lesson we can learn from nature is gratitude. If we could publish it in our lives everyday, the way nature publishes beauty in every sunrise and every sunset, how different might the world be?"
Great Blue Heron can help you find Nature's simple power and wisdom to guide your life and enterprise. And how we might inculcate a measure of gratitude for the world around us.
http://stevejonesgbh.com/wp-content/uploads/2017/12/IMG_4561-1-Big-Blue-at-Willow-12.24-sunset-e1514341082316.jpg
1512
2016
Steve Jones
http://stevejonesgbh.com/wp-content/uploads/2017/01/gbhweblogo.png
Steve Jones
2018-01-02 04:44:51
2018-01-02 04:44:51
Returning from a Six-Month Absence