I hiked September 17 at Dolly Sods National Wilderness Area (approximately 4,000 feet elevation), a couple hours from my six-month West Virginia home. Dolly Sods has been a favorite destination for me since I first sojourned there as a forestry student nearly 50 years ago. In fact, I intend for it to be my final destination, where I want my ashes spread. Please don't tell the National Forest Service!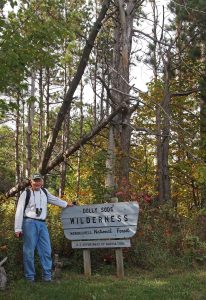 I write these reflections six weeks later, October 29, 2017. Our September day proved unseasonably warm — highs in the low 70s, warmer than many summer days of my younger years in West Virginia's high country. Currently, our Fairmont temperature with drizzle is 40 degrees. At Snowshoe, WV, where conditions are similar to those at Dolly Sods, the temperature is 29 degrees, with snow of 3-4 inches forecast tonight, temperatures falling to the lower twenties, and winds to 35 MPH. At the higher elevations winter comes early, reaches deeply, and extends weeks beyond conditions here more than a half-mile lower.
Exposed trees at Dolly Sods bow to the unyielding forces of wind, ice, and snow. Westerlies above 4,000-feet flag branches to the east, the more exposed, the greater and more pronounced the flagging. Krummholz expresses the most severe flagging. The German Krumm translates to bent, twisted, crooked. Holz is wood. The combined word could not be more descriptive. I've seen extreme Krummholz above timberline in New Hampshire's White Mountains, atop WV's Spruce Mountain and North Carolina's Mount Mitchell, as well as on Hurricane Ridge in the Olympics, and on the upper reaches of Verstovia above Sitka, Alaska: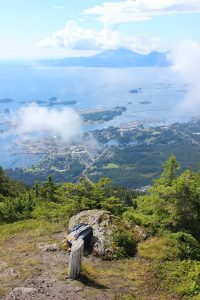 Exposed west-facing rim-rocks at Dolly Sods also support pronounced Krummholz spruce. Away from the rim, yet still at ~4,000-feet, the forest is recovering from past logging, followed by extensive and repeated late 19th Century wildfires, and periods of grazing and abandonment. For more than 100 years, Nature has been reclaiming the "sods," succeeding to mixed stands of hardwoods and spruce. Once established, the forest self-protects as it gains full-stocking and develops a canopy dense enough to force the persistent winds above it. However, those spruce that are emergent (see the one below reaching above the general protective crowns) flag to the east in the buffeting winds.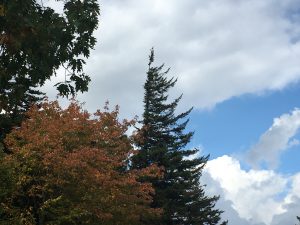 Applicable Lessons for Life and Enterprise
Life's winds shape us and our enterprises. Every time Union Camp Corporation promoted me to a different job and location, my head emerged above the canopy of protective comfort, practice, and knowledge. My reach time and again (temporarily) extended beyond my grasp. I adjusted to the fresh gales and grew stronger from commitment, hard work, making more than a few mistakes, and learning as a result. Longfellow once said: "The purpose of that apple tree is to grow a little new wood each year. That is what I plan to do." Isn't that what life and enterprise seek as well? We learn and grow by dealing with stresses — the shifting winds that force us to react, respond, and adapt.
Although Fairmont State University is my first Interim presidency, my limbs and crown had adapted to these higher education leadership gales as CEO of three prior universities, and reporting to the president at three others before the CEO gigs. I've grown a bit of new wood with each such exposure. My roots reach deep into my career and life soil, anchored firmly, drawing nurture from diverse experiences. Elsewhere I've dealt with state budget reductions, recalcitrant boards, frustrated faculty, and sagging enrollment. Fairmont State University's winds are mild and balmy contrasted to some conditions I've previously encountered. I view the forecast here as an "adverse weather watch." Foul weather is not imminent, yet the clouds are on the horizon; the storm could develop and then intensify. Blessedly, we still have time to avoid facing its wrath and, unlike our inability to change our near-Earth weather, we can actually abate the atmospheric circumstances that could otherwise generate the fury. My role as Interim President has been to survey our institutional strengths, weaknesses, opportunities, and threats in expedited fashion. That is, assess what might be brewing, evaluate our storm-readiness, and take actions to reduce or eliminate the hazards and vulnerabilities. I've done so through the lenses of my multiple prior exposures and trials. FSU's biggest risk? Spiraling enrollment and a pervasive attitude of acceptance of the slide as inevitable. I have raised the alert, rallied the troops, and instituted necessary adjustments. I've attempted to illuminate an aspirational vision of a favorable eventuality… one that is within reach.
As I often preach, I have applied my four core verbs. I conducted my SWOT analysis by Looking deeply into the fabric of this institution. Peeking behind the curtains and, when necessary, under the rocks. The act of Looking, in and of itself, accomplishes little — instead, I've vowed to See. And to See deeply enough to evoke Feelings of need, empathy, and urgency. Feelings that spur and prompt Action. Look, See, Feel, and Act — my approach for dealing with the issues and circumstances that effect lives and enterprises of all manner and sort. We at FSU will act to disperse the gathering storm. We will act to stop and reverse the enrollment decline. Within my first week of preparation after accepting the Interim assignment, I discovered the looming enrollment storm. Simply by Looking and Seeing with fresh eyes that by late June, I found with dismay that our Fall 2017 enrollment numbers were tracking at 4.7 percent below last year to date. Although others seemed ambivalent, I immediately Felt a sense of crisis and urgency. Too late to affect a Fall 2017 turn-around, we began focusing relentlessly on Spring and Fall 2018 — Acting deliberately, aggressively, and systematically.
I've found too many individuals whose limbs and stems have bent with, thus accommodating the ill wind, rather than resisted by becoming stronger. The spruce tree at the rim-rock has no option for surviving. The choice with respect to how we deal with the wind is ours. I will not accept gnarled, twisted branches on the FSU tree. I refuse to stand other than tall, straight, and strong. I decry accepting something less than what we might, should, and will become. Even the Krummholz spruce can sustain itself, producing seed, some of which may germinate in a more protected micro-site. Finding purchase at the rim-rock edge, I suppose, may provide ancillary benefits — but only if spruce appreciate a good view!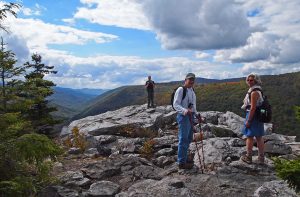 By turning the enrollment tide, FSU will enjoy the view. Our campus perches 300-feet above Locust Avenue at our southern edge. We have a great view of the Monongahela River Valley. And we (our entire campus community) now have a much clearer picture of what lies ahead. I believe the institution re-believes in itself. Krummholz implies harsh conditions, scant survival, and endless stress. We were sliding in that direction. Potentially a desperate, scraggly, misshapen shrub clinging to life. Instead, we can be a stout tree, reaching for the sky, sending roots deep and wide into fertile soil, and  growing new wood each year.
This University can be a strong oak — but only if we choose to be — and believe in a destiny of hope, promise, potential, and realization. We are at that juncture. Dr. Mirta Martin, President-Select who begins January 1, 2018, will stand strong like the Mighty Oak, and she will lead the way into FSU's bright future. I am eager to transition to the new day as I pass the mantel of leadership.
I am grateful for the lessons Nature offers for living, learning, serving, and leading. Nature is wise, seasoned, and persistent. Nature's lessons, most importantly, are time-tested. Smart leaders heed and harness Nature's wisdom and inspiration.
http://stevejonesgbh.com/wp-content/uploads/2017/09/IMG_4036Spruce-branch-flagging-to-E.jpg
3024
4032
Steve Jones
http://stevejonesgbh.com/wp-content/uploads/2017/01/gbhweblogo.png
Steve Jones
2017-10-31 03:55:10
2017-11-04 21:18:45
Environmental Influences