By September 16, 2023, nearly three months after my triple bypass surgery, I had healed enough to spend time alone at the nearby Wheeler National Wildlife Refuge…unaccompanied by a fellow Nature enthusiast. I enjoyed three distinct facets of the Refuge that afternoon: driving and stopping along Rockhouse Bottoms Road on the north shore of Lake Wheeler; exploring the northern edge of my favorite riparian hardwood forest just south of HGH Road; and experiencing the tranquility of Blackwell Swamp.
Rockhouse Bottoms
I felt the liberating force of venturing alone into wildness, regaining confidence in myself, even if all three micro-explorations kept me within a few hundred feet of my vehicle. As they say, one step at a time! The Corps of Engineers and TVA tamed the Tennessee River 90 years ago. Lake Wheeler varies no more than five feet in elevation (water level) over a calendar year. The river no longer ebbs and flows with seasonal freshets, spring tempests, and extended droughts. Commercial tugs and barges ply its waters with assured full-pool ease.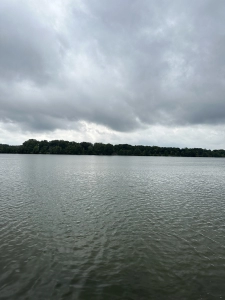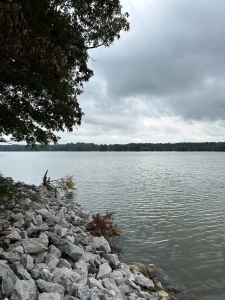 Threatening clouds offered a hint of rain, yet my home rain gauge would not record a drop the remaining two weeks of September. Not to worry,…Lake Wheeler will continue to serve navigational (and power generation) needs. I watched a gentleman cast for game fish off-shore from his kayak. He landed several fish that I could not identify beyond most likely as bream. I had not brought my binoculars. The I-65 bridge crosses the river downstream just out of sight.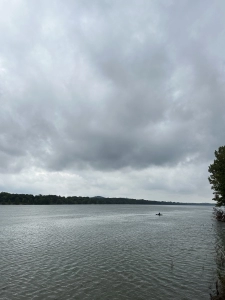 I recorded this 31-second video as the fisherman worked his bait offshore. My mind traveled back many decades to fishing with Dad and my brother along the rivers and creeks among western Maryland's Central Appalachians. I regret not bringing along a folding chair to while away an hour enjoying the river and breathing in the summer afternoon's soothing elixir.
I recorded this thirty-two second video along the Tennessee River:
I remind myself that these sandy river terrace floodplain fields are fertile, well-watered, and richly productive. This field is among the 4,000 acres of the Refuge that are under a Cooperative Farm Agreement.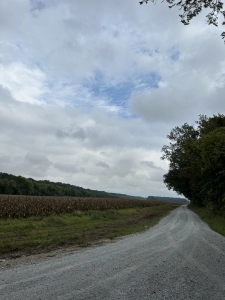 I recorded this 0:31 video of Cooperative corn farming along Rockhouse Bottoms Road:
Under contract with the US Fish and Wildlife Service the producer manages the crop, leaving 15-18 percent of the harvest for wildlife consumption.
HGH Road: Thunder Echoes
The heavier (less sandy) soils inland nearly a mile, similarly fertile, support the riparian hardwood forest that I frequently bushwhack north to HGH Road. I spotted this recently bolted and scarred red oak as I cruised along HGH Road. Evidence suggested that the strike occurred the prior week when a cluster of thunderstorms raked Madison and Limestone Counties. This strike reached from the tree's base as far into the crown as I could see. Long strips of bark and stout slivers of wood spear the ground within 50 feet of the bole.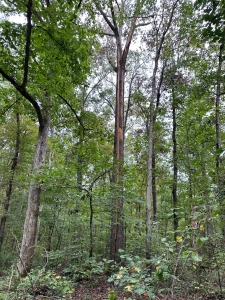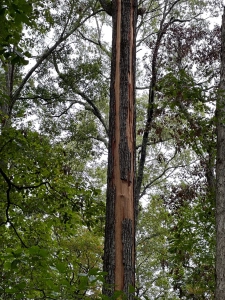 This was a powerful blow! Will it be fatal? I've seen trees similarly struck that survived for decades. Others lost foliage within a week. Where do I place my bet? I don't look for it to leaf out next spring. I stood in awe, camera in hand recording this 31-second video, sensing the absolute power of Nature's ferocity just a week prior.
Because the tree stands within 50 feet of HGH Road, I will track its progress frequently.
Blackwell Swamp
Blackwell Swamp lies along Jolley B Road midway between the river and HGH Road. I love the habitat and ecosystem diversity represented by the open lake water along the river, the adjoining agricultural fields, the deep riparian hardwood forests along HGH Road, and the saturated swamp riverine habitat at Blackwell. Every ecosystem at Wheeler tells a compelling story.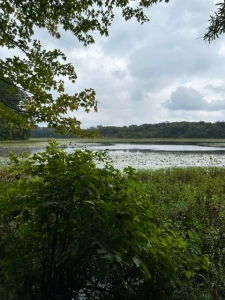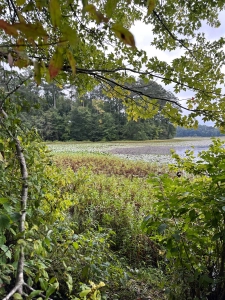 I recorded this 31-second video as I enjoyed the sounds, visuals, and summer mood of the swamp:
I will revisit the Refuge trifecta once autumn weather takes a firmer grip on northern Alabama.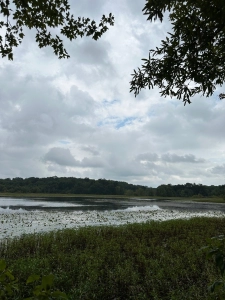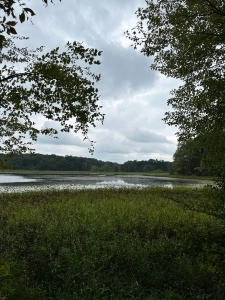 I grew up in country far removed from the Tennessee River. My Central Appalachian Ridge and Valley roots offered nothing remotely akin to the three stops I experienced September 16. Yes, I miss autumn in western Maryland…and on up into New England…where vibrant colors, sharp-edged weather shifts, and wide temperature swings prevailed. I also yearn for a little deep winter, lamenting that here our chances are slim. However, I refuse to succumb to memories that inflate the wonder of deep, fanciful recollections of falling and drifting snow, a roaring fireplace, and the pure frosted white a fresh blanket of snow brings to a sparkling dawn.
I need only remind myself of my mid-June triple bypass surgery and the reality that even if I resided in the land of blizzards and Hallmark winters, my spouse of 51 years would declare my snow shovel off-limits! So, I'll occasionally welcome a bit of weather melancholy…and embrace our northern Alabama winter weather delight that counters our hot summers. I tell people who may not be familiar with our dormant season that fall ever-so-slowly grades into spring, sprinkled now and again with a day or two of winter.
I am ready for our extended fall-to-spring to begin.
Thoughts and Reflections
I offer these observations, from a single Louis Bromfield quote (Pleasant Valley):
By September 16, 2023, nearly three months after my triple bypass surgery, I had healed enough to spend time alone at the nearby Wheeler National Wildlife Refuge.
I felt the liberating force of venturing alone into wildness and regaining confidence in myself. As they say, one step at a time!
Every one of the diverse ecosystem elements at the Wheeler National Wildlife Refuge tells a compelling story.
Inhale and absorb Nature's elixir. May Nature Inspire, Inform, and Reward you!
Note: Unless otherwise noted, all blog post images are created & photographed by Stephen B. Jones. Please circulate images with photo credit: "©2023 Steve Jones, Great Blue Heron LLC. All Rights Reserved."
Another Note: If you came to this post via a Facebook posting or by another route, please sign up now (no cost… no obligation) to receive my Blog Post email alerts: http://eepurl.com/cKLJdL
And Third: I am available for Nature-Inspired Speaking, Writing, and Consulting — contact me at steve.jones.0524@gmail.com
A reminder of my Personal and Professional Purpose, Passion, and Cause
If only more of us viewed our precious environment through the filters I employ. If only my mission and vision could be multiplied by untold orders of magnitude:
Mission: Employ writing and speaking to educate, inspire, and enable readers and listeners to understand, appreciate, and enjoy Nature… and accept and practice Earth Stewardship.
Vision:
People of all ages will pay greater attention to and engage more regularly with Nature… and will accept and practice informed and responsible Earth Stewardship.
They will see their relationship to our natural world with new eyes… and understand their Earth home more clearly.
Tagline/Motto: Steve (Great Blue Heron) encourages and seeks a better tomorrow through Nature-Inspired Living!
Steve's Three Books
I wrote my books Nature Based Leadership (2016), Nature-Inspired Learning and Leading (2017), and Weaned Seals and Snowy Summits: Stories of Passion for Place and Everyday Nature (2019; co-authored with Dr. Jennifer Wilhoit) to encourage all citizens to recognize and appreciate that every lesson for living, learning, serving, and leading is either written indelibly in or is powerfully inspired by Nature.
I began writing books and Posts for several reasons:
I love hiking and exploring Nature
I see images I want to (and do) capture with my trusty iPhone camera
I enjoy explaining those images — an educator at heart
I don't play golf!
I do love writing — it's the hobby I never needed when my career consumed me
Judy suggested my writing is in large measure my legacy to our two kids, our five grandkids, and all the unborn generations beyond
And finally, perhaps my books and Blogs could reach beyond family and touch a few other lives… sow some seeds for the future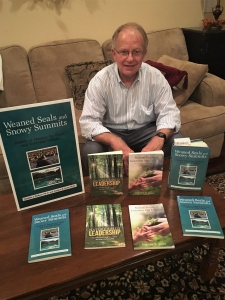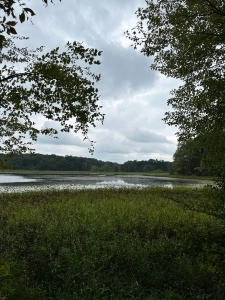 All three of my books (Nature Based Leadership; Nature-Inspired Learning and Leading; Weaned Seals and Snowy Summits) present compilations of personal experiences expressing my (and co-author Dr. Wilhoit for Weaned Seals and Snowy Summits) deep passion for Nature. All three books offer observations and reflections on my relationship with the natural world… and the broader implications for society. Order any from your local indie bookstore, or find them on IndieBound or other online sources such as Amazon and LifeRich.
I now have a fourth book, published by Dutton Land and Cattle Company, Dutton Land & Cattle: A Land Legacy Story. Available for purchase directly from me. Watch for details in a future Post.
http://stevejonesgbh.com/wp-content/uploads/2023/09/IMG_0495.jpg-09.16.23-1.25-PM-Blackwell-Swamp.jpg
640
480
Steve Jones
http://stevejonesgbh.com/wp-content/uploads/2017/01/gbhweblogo.png
Steve Jones
2023-11-29 15:18:36
2023-11-29 15:26:24
Three Mid-September Nature Stops at Wheeler National Wildlife Refuge!