August 18, 2018, while in Florence, Alabama taking photographs in preparation for my October 13, 2023 presentation at the city's 27th Annual Horticulture and Tree Conference, I stopped by the nearby Forever Wild Shoal Creek Nature Preserve, my first "wildland" venture since triple bypass surgery eight weeks prior. I admit to a bit of trepidation as I wandered from the trailhead. I didn't penetrate the 298 acres for much more than 15 minutes, turning well short of Shoal Creek, a future destination when I return.
Shoal Creek Preserve (dedicated by Forever Wild resolution as the Billingsley-McClure Shoal Creek Preserve) allows visitors to explore 298 acres of fallow fields, mature upland hardwood stands and scenic creek bottoms in Lauderdale County. Waterways on the tract include Indian Camp Creek, Lawson Creek, Jones Branch and Shoal Creek.
The tract was purchased in part through a Land and Water Conservation Fund grant awarded by the Alabama Department of Economics and Community Affairs, as well as through financial and in-kind contributions from the City of Florence and Lauderdale County.
Two trails totaling 4.3 miles give hikers views of Shoal Creek, Indian Camp Creek, Lawson Branch, and Jones Branch, all on this small 300-acre property.
Jones Creek at the entrance road to the property, SW corner of the 298-acre NP, drains into Shoal Creek where backwaters of Wilson Lake swell Shoal Creek. Shoal Creek enters the Tennessee River at Turtle Point Yacht & Country Club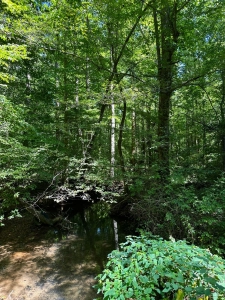 I felt fortunate to reenter Nature, albeit cautiously, just eight weeks from open heart surgery. The sky could not have been more welcoming…cerulean blue with puffy cumulus. I'm a softy for trailhead signage, especially when graffiti and trash don't mar the scene. My compliments to those maintaining the area.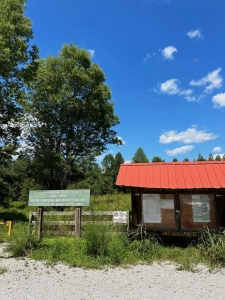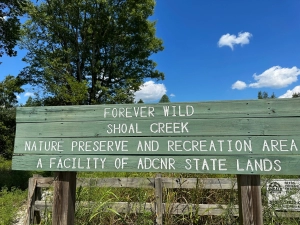 I like the red roof over the entrance marquis. Here's the view from 100 yards within the trail, looking back to the red roof.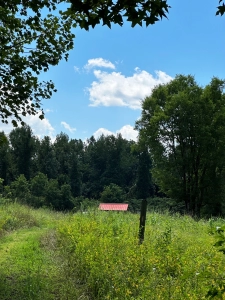 Trails at Shoal Creek NP are well marked, a necessity for first time trekkers, and a comfort to those who are returning infrequently.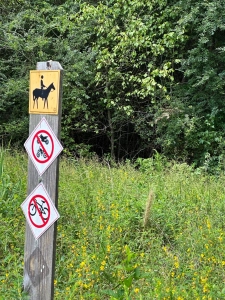 The interpretive text I quoted earlier mentioned acres of fallow fields. Importantly, nothing in Nature is static. A fallow field transitions in our moist temperate climate rather rapidly from meadow to woody brush to young trees to forest and finally to old growth forest. The photo below shows a meadow still dominated by herbs and forbes, a mixture of annuals and perennials. Come back at ten-year intervals and you won't believe your eyes!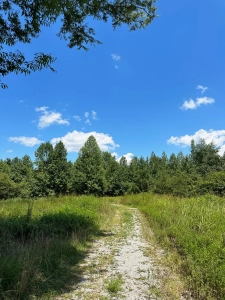 No one can dispute the beauty, wonder, magic, and awe of Nature's richness and her grandeur. Can you imagine a yellow more vibrant and rich than the blossom of this partridge pea, a native legume common in such early successional habitats? I wonder, how many partridge pea plants per meadow acre is sufficient? Ideal? The same can be asked of any plant, animal, insect, or life form in an ecosystem. Is there a mathematical formula to derive the optimum mix of taxa? In simplest terms, there is no correct answer. Nature doesn't need a species diversity comptroller to track and enforce ratios, minima, distribution, variances from norms, and standard deviations.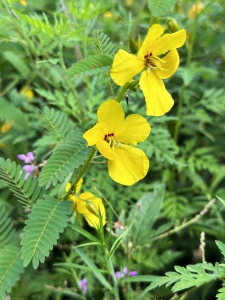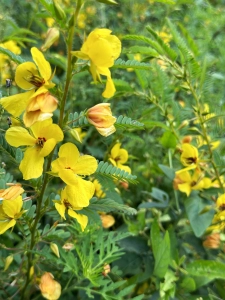 And yet, today's societal leanings are embracing a mindset that places great stock on monitoring, categorizing, and meticulously controlling metrics related to human Diversity, Equity, and Inclusion, as though some bureaucratic class understands the optimum admixture for human affairs, varieties, races, genders, ethnicities, and predilections. Nature, on the other hand, cares only about the function and outcome from a proven, timeless, and extraordinarily successful sorting mechanism — an effective meritocracy. In human endeavors, some bureaucrat may deem five partridge pea plants per acre as ideal. Nature simply does not care…that hapless staffer knows nothing!
The fallow field below will convert to forest if left to Nature's devices. I admit, however, to a bias toward mixed habitat. Were this already a closed forest, the lovely sky would lie hidden beyond an enveloping canopy. Bluebirds, grasshoppers, meadow voles, and harriers would yield to species common to the mature forest. We maintain the early successional cover only through active and deliberate management! Prescribed fire is one obvious tool. I don't know what managers of the preserve plan. I'll watch with anticipation.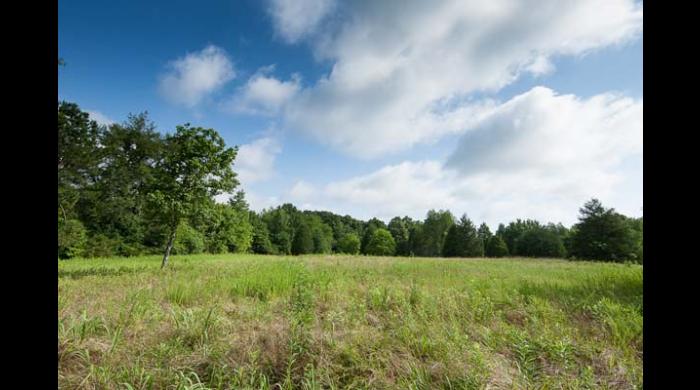 Among other plants thriving within this section of meadow are Eastern red cedar, blackberry, thistle, sweet gum, poison ivy, and many other woody perennials, shrubs, and trees. A new forest is emerging.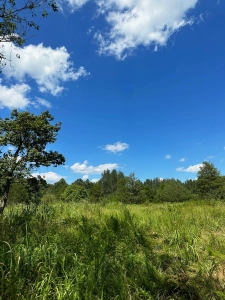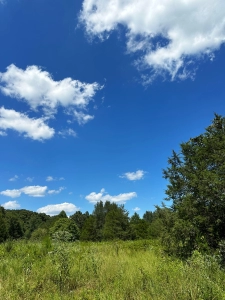 Because still photographs fall short of revealing a cogent reality, I recorded this 1:00 video with narration:
Panicoideae grasses, large native perennials, dominate this area. Panic grasses are deeply rooted. Without active management (usually in the form of prescribed fire), forest will succeed. The olde truth prevails…nothing in Nature is static.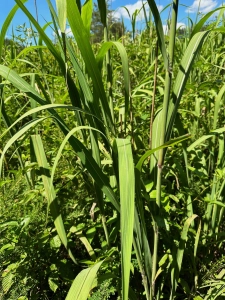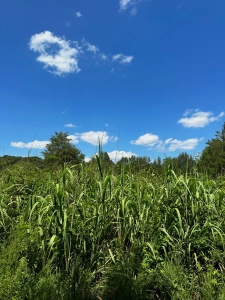 Shining sumac is a small, early successional tree. This thriving specimen is producing a full seed crop, attracting meadow-habitat birds that will consume the fruits. Digestive juices will scarify the hard seed, encouraging germination when the birds deposit the seed elsewhere in the meadow. Again, I ask, how many shining sumac individuals is enough? Optimum? What is the ideal number of seeds per acre? How many goldfinches are needed to properly disperse the seeds? Perhaps when we know how many angels can sit on the head of a pin we can answer such questions about Nature and her ideal species numbers and distributions. I shall remain a species comptroller skeptic, just as I will forevermore fail to see real value in business, industry, government, and universities bloating with DEI staff and administrators.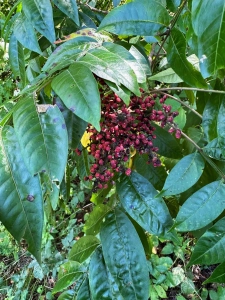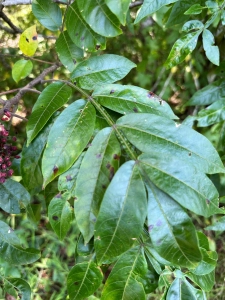 I am certain of my own bias to rich and varied habitat, like this image from the Shoal Creek Nature Preserve website.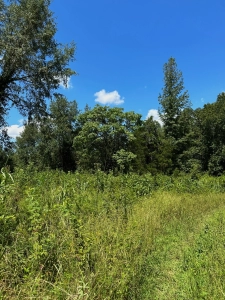 SCNP Website
I'm curious to see what the future holds. Does the Preserve have a management plan? Does it prescribe treatments for maintaining habitat diversity? By what means? I feel a little guilty posting this photo essay on the basis of my very preliminary and shallow explorations post-surgery. However, my elation at stepping back into Nature overshadowed my guilt. I plan to return and I will dig more deeply.
Thoughts and Reflections
I offer these observations:
Nothing in Nature is static.
As in our own lives, successional stages carry us from youth to maturity to our senior years.
Experiencing a new (to me) Nature Preserve whets my appetite for deeper exploration and understanding.
Inhale and absorb Nature's elixir. May Nature Inspire, Inform, and Reward you!
Note: All blog post images created & photographed by Stephen B. Jones unless otherwise noted. Please circulate images with photo credit: "©2023 Steve Jones, Great Blue Heron LLC. All Rights Reserved."
Another Note: If you came to this post via a Facebook posting or by an another route, please sign up now (no cost… no obligation) to receive my Blog Post email alerts: http://eepurl.com/cKLJdL
And a Third: I am available for Nature-Inspired Speaking, Writing, and Consulting — contact me at steve.jones.0524@gmail.com
Reminder of my Personal and Professional Purpose, Passion, and Cause
If only more of us viewed our precious environment through the filters I employ. If only my mission and vision could be multiplied untold orders of magnitude:
Mission: Employ writing and speaking to educate, inspire, and enable readers and listeners to understand, appreciate, and enjoy Nature… and accept and practice Earth Stewardship.
Vision:
People of all ages will pay greater attention to and engage more regularly with Nature… and will accept and practice informed and responsible Earth Stewardship.
They will see their relationship to our natural world with new eyes… and will understand more clearly their Earth home.
Tagline/Motto: Steve (Great Blue Heron) encourages and seeks a better tomorrow through Nature-Inspired Living!
Steve's Three Books
I wrote my books Nature Based Leadership (2016), Nature-Inspired Learning and Leading (2017), and Weaned Seals and Snowy Summits: Stories of Passion for Place and Everyday Nature (2019; co-authored with Dr. Jennifer Wilhoit) to encourage all citizens to recognize and appreciate that every lesson for living, learning, serving, and leading is either written indelibly in or is powerfully inspired by Nature.
I began writing books and Posts for several reasons:
I love hiking and exploring in Nature
I see images I want to (and do) capture with my trusty iPhone camera
I enjoy explaining those images — an educator at heart
I don't play golf!
I actually do love writing — it's the hobby I never needed when my career consumed me
Judy suggested my writing is in large measure my legacy to our two kids, our five grand kids, and all the unborn generations beyond
And finally, perhaps my books and Blogs could reach beyond family and touch a few other lives… sow some seeds for the future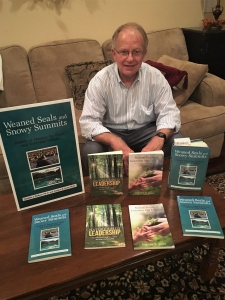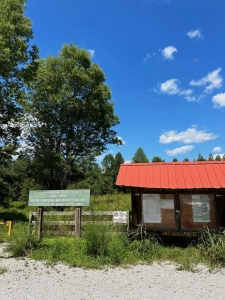 All three of my books (Nature Based Leadership; Nature-Inspired Learning and Leading; Weaned Seals and Snowy Summits) present compilations of personal experiences expressing my (and co-author Dr. Wilhoit for Weaned Seals and Snowy Summits) deep passion for Nature. All three books offer observations and reflections on my relationship to the natural world… and the broader implications for society. Order any and all from your local indie bookstore, or find them on IndieBound or other online sources such as Amazon and LifeRich.
I now have a fourth book, published by Dutton Land and Cattle Company, Dutton Land & Cattle: A Land Legacy Story. Available for purchase directly from me. Watch for details in a future Post.
Inhale and absorb Nature's elixir. May Nature Inspire, Inform, and Reward you!
http://stevejonesgbh.com/wp-content/uploads/2023/08/IMG_9946.jpg-08.18.23-Shoal-Creek-NP.jpg
2016
1512
Steve Jones
http://stevejonesgbh.com/wp-content/uploads/2017/01/gbhweblogo.png
Steve Jones
2023-11-01 10:36:29
2023-11-01 10:36:29
Mid-August 2023 First Time Visit to Forever Wild Shoal Creek Nature Preserve