On August 20, 2023, a friend took me aloft in his Cessna 182. We departed Pryor Regional Airfield, Decatur, Alabama at 7:00 AM under cloud-free but hazy skies, with the threat/promise (depending upon perspective) of expanding heat index…arriving long after our scheduled return to the airfield. We intended to focus primarily on exploring the Wheeler National Wildlife Refuge, yet we took advantage of the near-perfect morning to fly upstream to Guntersville Dam all the way downstream to Wheeler Dam. Very few residents of the Huntsville to Madison to Decatur to Athens to Rogersville communities have seen their strand of the Tennessee River and Lake Wheeler that connects all of us so intimately. Because this Tennessee Valley serves as the central element of the Nature that inspires me here in Northern Alabama, I feel obliged to share my Lake Wheeler transect with you.
Beginning at Guntersville Dam, I'll offer a brief narrative on our aerial trip westbound to Wheeler Dam, a total of 74 miles along the river.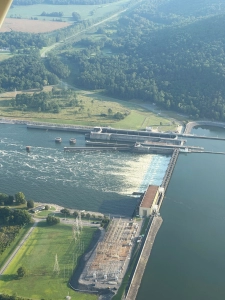 I recorded this 20-second video of as we flew from Guntersville Dam to the bank of fog hiding the river a couple of miles downstream.
The early morning fog obscured only this single stretch of the Tennessee River.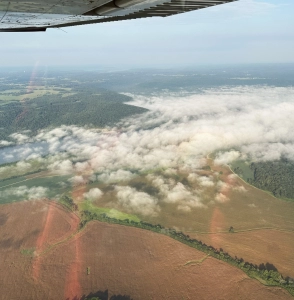 We made another pass recording this 44-second video of the foggy river and dam from above the north shore.
The Paint Rock River entered the Tennessee from the north a few miles downstream of the foggy stretch.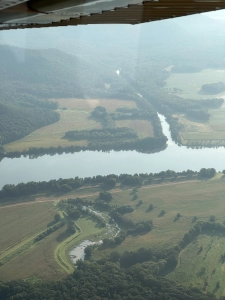 I admit to not taking the time to provide exact distances. The Flint River, also entering from the north (left), seemed no more than five miles from where the Paint Rock entered. The image at right looks south to the Tennessee River.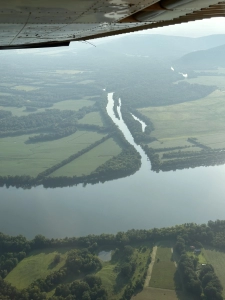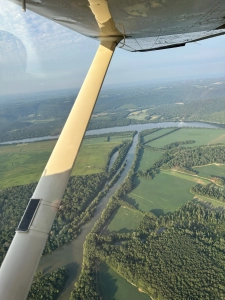 Ditto Landing, a popular marina and recreation area on the south side of Huntsville, sits on the north side of the river.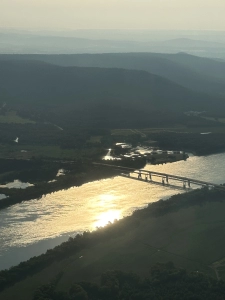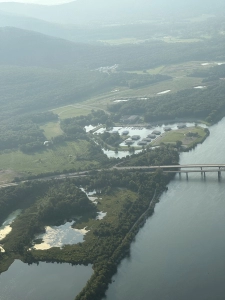 The Redstone Arsenal, a major Huntsville, Alabama landmark, covers 35,000 acres stretching south from Huntsville to the Tennessee River. The Refuge extends eastward along the River from Decatur, overlapping the Arsenal by 4,085 acres. Snapped flying westward south of the River, the photo below captures the Arsenal and the Refuge's overlapping acreage, indistinguishable from the greater Arsenal. Just as property lines do not appear from the air, wildlife visiting and resident to the Refuge pays no heed to boundaries.
We approached and then crossed the I-65 bridge.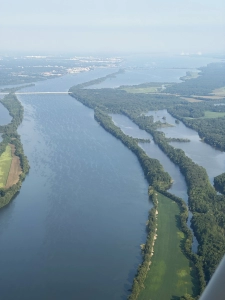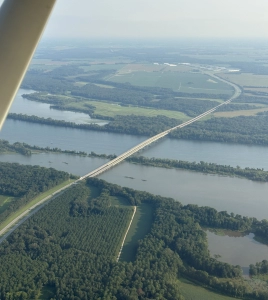 I recorded this 0:37 video of  he tbridge.
The Brown's Ferry nuclear plant site on the north shore about midway between Decatur and Wheeler Dam. I was surprised that we could fly directly over its airspace. Accustomed to seeing the squat round-based colling towers at power plants, I was surprised to see this linear arrangement.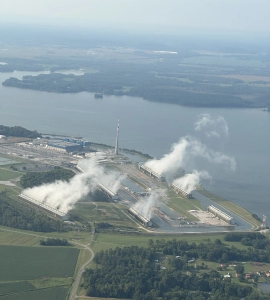 I've visited Joe Wheeler State Park at least a dozen times. Familiar with its roads, trails, and adjoining lake waters, this was my first aerial introduction. The lodge and marina lie on the far shore of First Creek Inlet (below left; view to east). The JWSP campground and day use area (below right) line the shore of the smaller inlet just east of First Creek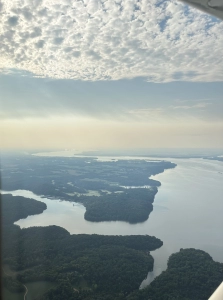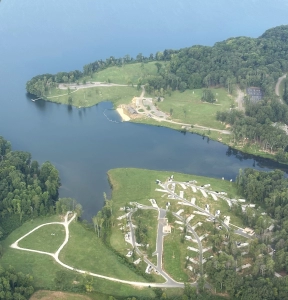 I recorded this 39-second video of the lodge and marina overflight:
We ended our downstream tour at Wheeler Dam (view to north at left). The park extended to the dam and highway on both sides of Lake Wheeler. Lake Wilson lies downstream.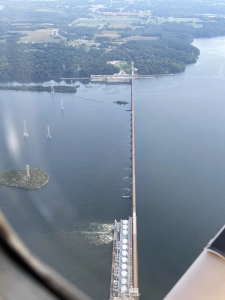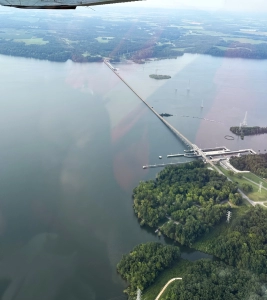 I enjoyed the 74-mile aerial tour. We saw lots of territory…thousands of acres of forests, fields, residential neighborhoods, commercial property, and water. The flight took less time than I have spent examining a single forested acre. From the air, I saw not a single mushroom, one hanging cluster of resurrection fern, a moss-covered rock, or a hollow tree trunk. Yet, I saw so much more than presented itself when I visually scouted that one acre of forest. Life and living are segmented by spatial and temporal scales. I welcome the occasional aerial tour. However, I cherish my far more frequent forest incursions…my saunters that reveal all that remains hidden in plain sight until my efforts to look, see, and feel, emerge from invisibility!
I thank my friend (and pilot), Ted Satcher, for lifting me above the Tennessee River (Wheeler Lake) and opening a window to enjoy a new perspective on the river that breathes economic, social, and environmental richness into our lives right here in our greater Huntsville backyard!
Thoughts and Reflections
I offer these observations:
What appears "in plain sight" is merely a matter of scale, both spatial and temporal.
The Tennessee Valley serves as the central element of the Nature that inspires me here in Northern Alabama.
I wonder what my own life looks like from a perspective comparable to a 2,00-foot overflight?!
Inhale and absorb Nature's elixir. May Nature Inspire, Inform, and Reward you!
Note: Unless otherwise noted, all blog post images are created & photographed by Stephen B. Jones. Please circulate images with photo credit: "©2023 Steve Jones, Great Blue Heron LLC. All Rights Reserved."
Another Note: If you came to this post via a Facebook posting or by another route, please sign up now (no cost… no obligation) to receive my Blog Post email alerts: http://eepurl.com/cKLJdL
And Third: I am available for Nature-Inspired Speaking, Writing, and Consulting — contact me at steve.jones.0524@gmail.com
A reminder of my Personal and Professional Purpose, Passion, and Cause
If only more of us viewed our precious environment through the filters I employ. If only my mission and vision could be multiplied by untold orders of magnitude:
Mission: Employ writing and speaking to educate, inspire, and enable readers and listeners to understand, appreciate, and enjoy Nature… and accept and practice Earth Stewardship.
Vision:
People of all ages will pay greater attention to and engage more regularly with Nature… and will accept and practice informed and responsible Earth Stewardship.
They will see their relationship to our natural world with new eyes… and understand their Earth home more clearly.
Tagline/Motto: Steve (Great Blue Heron) encourages and seeks a better tomorrow through Nature-Inspired Living!
Steve's Three Books
I wrote my books Nature Based Leadership (2016), Nature-Inspired Learning and Leading (2017), and Weaned Seals and Snowy Summits: Stories of Passion for Place and Everyday Nature (2019; co-authored with Dr. Jennifer Wilhoit) to encourage all citizens to recognize and appreciate that every lesson for living, learning, serving, and leading is either written indelibly in or is powerfully inspired by Nature.
I began writing books and Posts for several reasons:
I love hiking and exploring Nature
I see images I want to (and do) capture with my trusty iPhone camera
I enjoy explaining those images — an educator at heart
I don't play golf!
I do love writing — it's the hobby I never needed when my career consumed me
Judy suggested my writing is in large measure my legacy to our two kids, our five grandkids, and all the unborn generations beyond
And finally, perhaps my books and Blogs could reach beyond family and touch a few other lives… sow some seeds for the future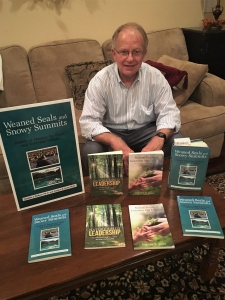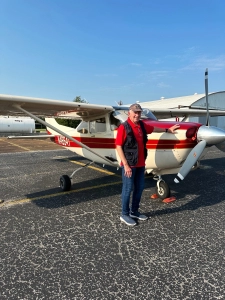 All three of my books (Nature Based Leadership; Nature-Inspired Learning and Leading; Weaned Seals and Snowy Summits) present compilations of personal experiences expressing my (and co-author Dr. Wilhoit for Weaned Seals and Snowy Summits) deep passion for Nature. All three books offer observations and reflections on my relationship with the natural world… and the broader implications for society. Order any from your local indie bookstore, or find them on IndieBound or other online sources such as Amazon and LifeRich.
I now have a fourth book, published by Dutton Land and Cattle Company, Dutton Land & Cattle: A Land Legacy Story. Available for purchase directly from me. Watch for details in a future Post.
http://stevejonesgbh.com/wp-content/uploads/2023/08/IMG_0015.jpg-08.20.23-Redstone-7.50-AM-scaled.webp
2560
1920
Steve Jones
http://stevejonesgbh.com/wp-content/uploads/2017/01/gbhweblogo.png
Steve Jones
2023-11-21 10:17:25
2023-11-21 10:17:25
Aerial Exploration of the Tennessee River from Guntersville Dam to Wheeler Dam