July 7-14, 2023, I luxuriated (and began deep recovery from major surgery) in the blessed balms of healing Nature and nurturing family on Tennessee's Lake Norris (TVA impoundment on the Clinch River). I gratefully opened all five personal portals to the powerful elixir: body, heart, mind, soul, and spirit!
Shedding the Shrouds of a Major Setback
Readers and followers by now know my tiresome tale of an early June 2023 failed stress test, June 15 shocking catheterization result (I'm a former competitive distance and marathon runner, damn it!), and June 19 triple bypass surgery. My surgeon released me from the hospital on June 26. Eleven days later (July 7) Judy and I departed for a long-planned, family-gathering vacation week at a rental house. The surgeon reluctantly granted passage…with a list of caveats, in accord with I maintained fidelity. Our kids, grandkids, and a total of 19 family members awaited the arrival of the recent patient.
Judy drove. I sat on the back seat with my right leg (from which surgeons had harvested a primary vein for the bypass) elevated, stopping every hour for me to stretch and walk. I wondered whether I would be reduced to a blubbering old fool upon arrival and reunion. I've learned that major surgery (in some ways a reminder of mortality) is as much an emotional ordeal as it is physical. My maudlin frailty did not erupt, yet stayed close at hand, likely evident to loved ones.
The week worked wonders. I've been promoting the theme of Nature-Inspired Life and Living since I began publishing these photo-essays. When I suffered a minor stroke (another major blow to the old athlete!) in April 2022, I added a second theme: Nature-Buoyed Aging and Healing! The Lake Norris week gave me a full dose that I will cherish forever. I won't weaken your resolve to read more of these Posts by identifying all family members, regaling you with their exploits, or droning on about the swelling in my right leg, the agony of sneezing, the difficulty of sleeping, and my reduced appreciation for food, etc.
Instead, consider this Post a portfolio of the week's moments in Nature that lifted my soul, stirred my heart, and spurred me to appreciate life, living, today, tomorrow, and the people, places, and things that matter.
Arrival Nature Infusion
Here's our arm of the Lake when we arrived at 5:56 PM July 7. My heart leapt.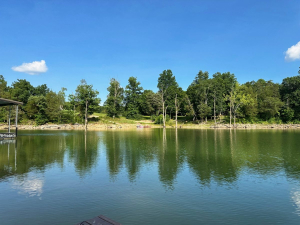 Without narration, I recorded this 30-second video shortly after snapping the still photo above.
A Thundershower Boost
The next afternoon at 4:58 PM, I recorded this 28-second video of a thundershower. I am a lifelong weather enthusiast, unable to resist the thrill of fat raindrops and a rumble of thunder.
Daybreak Immersion and Lift
I can't recall the last time I missed dawn. Nature offers a gift every time the sun lifts above the horizon. July 9 at 7:00 AM a few wisps of ridge-riding fog draped the nearby shallow ridges. Alto-cumulus graced the firmament above our inlet.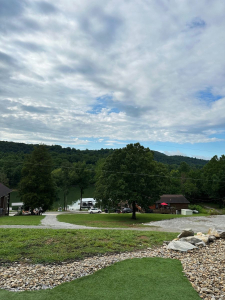 The sun lifted from behind the low ridge to our east at 7:43 and 7:46 AM July 9. How could anyone be disappointed with days that began with such beauty, magic, wonder, awe, and inspiration!?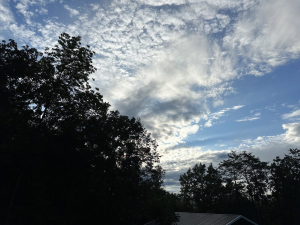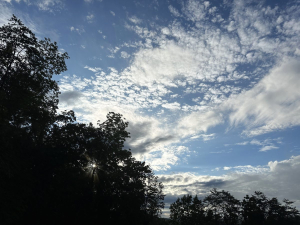 I frequently cite the timeless wisdom of John Muir, who often encapsulated my own sentiments in words far grander than I could ever achieve:
This grand show is eternal. It is always sunrise somewhere; the dew is never dried all at once; a shower is forever falling; vapor is ever rising. Eternal sunrise, eternal dawn and gloaming, on sea and continents and islands, each in its turn, as the round earth rolls.
Mid-morning the same day I photographed the striking blue flowers of chicory and the delicate foliage of mimosa.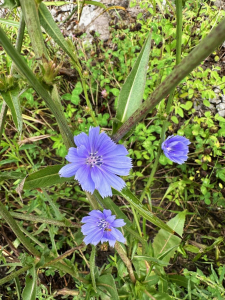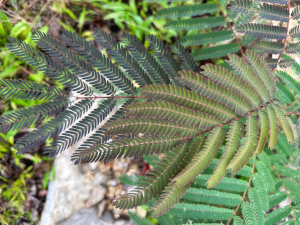 Virginia pines stood as foreground to the ridge-view across the inlet at 9:21 AM. Clouds still clung to the Cumberland Mountains (right at ~2,500 feet) at 9:26 AM.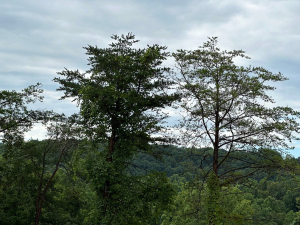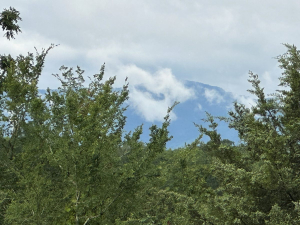 Venturing Onto the Lake
Still July 9, I ventured onto the lake in our pontoon boat. The clouds had thickened (non-threatening) by 9:54 AM. I love water, trees, and clouds…and a boat filled with loving family!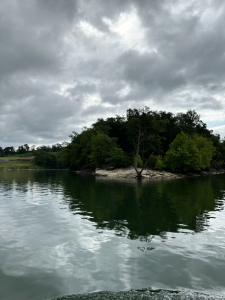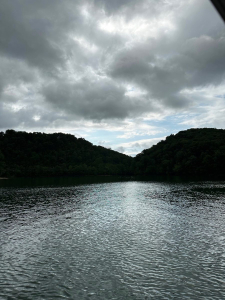 I recorded this 31-second video to add depth and substance to my still photos.
The days raced along. A green heron visited near the dock on July 11 at 10.25 AM. Although the great blue heron is my signature avian avatar, I love this second cousin. How kind of it to stop by, perch for several minutes, and then depart. Although I did not photograph any great blues, we saw a dozen or more during our week.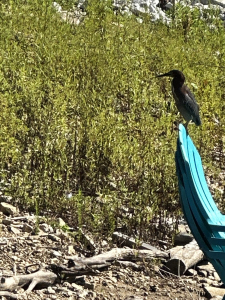 July 11, I ventured back onto the Lake, capturing these images at 11:06 and 11:13 AM. Dead-fall along shoreline on the left adds character and texture to the scene. My forester's eye stays riveted both on the immediate shore, then lifts to the ridges near at hand and the mountains at distance. I find fascination with the manner in which tree roots anchor to the layered rocks at right.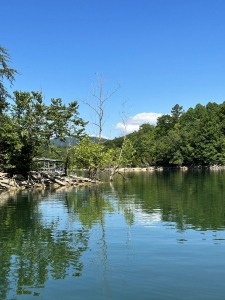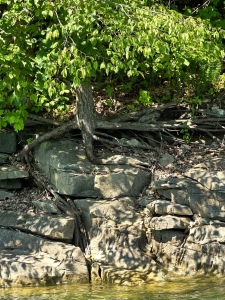 Sunset Cruise
My early morning ramblings did not dissuade me from a sunset cruise July 11. On the west side of the Eastern time zone, at 8:12 and 8:29 PM, the evening sky remains bright just three weeks after the solstice. Shadows are lengthening and deepening by the latter window, in both of these views to the east.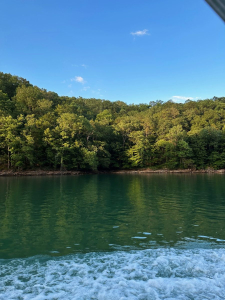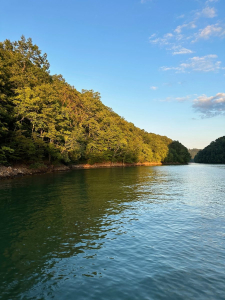 Here are the same two times (8:12 and 8:29 PM) looking to the west, the sun dipping to the tree line on the right.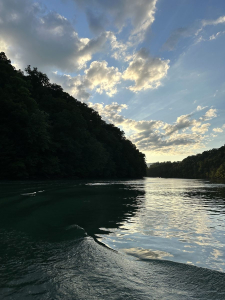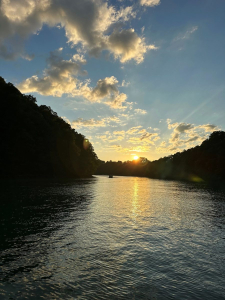 This 18-second sunset video sweep captures the sunset magic more effectively.
I mused often that just three weeks prior I lay deep within what a Mended Heart volunteer at the hospital described as a dark tunnel. A day or two out of the ICU, with chest drains still connected and the entire ordeal shrouded in mental fog, I wondered whether I would ever emerge. My visitor said, "You will see daylight beyond the darkness. Bright skies; warm breezes; birdsong; hope and promise. This current pit of mental anguish is temporary. Hold on; have faith; be strong; dedicate yourself to recovery." The Lake at sunset proved him right. The coming night porteneded a far different nature of darkness than what the immediate surgery aftermath imposed.
I sensed a type of rebirth with the entire ordeal, including the surge of renewal that accompanied my week at the Lake with family. The views east and west at 8:32 and 8:35 PM brought the promise of a night enriched by the warmth of family, a campfire with s'mores, and a new dawn ahead.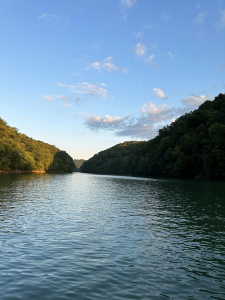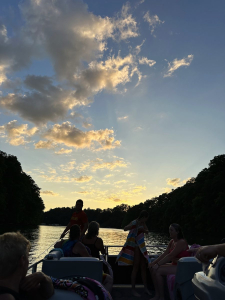 I hold dearly to my photo-essay mantras: Nature-Inspired Life and Living; Nature-Buoyed Aging and Healing!
Once again, Muir captured the essence of my healing week:
The sun shines not on us but in us. The rivers flow not past, but through us. Thrilling, tingling, vibrating every fiber and cell of the substance of our bodies, making them glide and sing. The trees wave and the flowers bloom in our bodies as well as our souls, and every bird song, wind song, and tremendous storm song of the rocks in the heart of the mountains is our song, our very own, and sings our love.
Everybody needs beauty as well as bread, places to play in and pray in, where nature may heal and give strength to body and soul.
The world is big and I want to have a good look at it before it gets dark.
I am encouraged by the wisdom, knowledge, and passion of a handful of dedicated nature enthusiasts who are Naturalists with the Alabama State Parks System. Foremost among them is Renee Simmons Raney, Chief of Interpretation and Education. Renee posted the following on her FaceBook site this morning (August 15, 2023) as I drafted this photo-essay, which you have just perused, on my own healing journey:
Emerson said, "Happiness is not in another place — it is in THIS place. Not for another hour, but THIS hour." We have a tendency to look ahead and we are driven toward tomorrow. I recall lessons on Cheaha mountain as a child at the knee of my Daddy. He taught me in the ways of our ancestors, Cherokee and Hebrew: to sit very still, to listen, to look, to smell and to be very ware…out of the stillness comes a symphony of life: all around me and within me. This lesson is for everyone in every moment no matter where you are or what is happening. Be still. Be ware. Find your peace. Discover your joy. Ease into your healing. It doesn't depend on someone else. It is right there-a little spark inside of you. Cherish it. Nurture it. Breathe in and feel it grow. Be still and know that I AM. (Psalm 46:10)
My Great Blue Heron website extolls what I term the four levels of fitness:
Four levels of fitness – I urge readers to recognize the critical nature of their own four-dimensional fitness, even as they understand that capacity, performance, fulfillment, and enjoyment correlate with health and well-being. That maintaining fitness across all four fronts enhances a person's ability to perform and draw satisfaction and fulfillment:

Mental – acuity and sharpness
Physical – health and vitality
Emotional – friends, family, colleagues
Spiritual – embrace of a presence larger than self
The four levels are critical, I've learned, to both maintaining the status quo…and to recovering from significant setbacks. Renee's text amplifies the fourth level: Be still and know that I AM!
Thoughts and Reflections
I offer these observations:
Thanks to family and Nature, I've emerged from the post-surgery darkness of a foreboding tunnel.
The trees wave and the flowers bloom in our bodies as well as our souls! (John Muir)
Nature's "grand show is eternal." (John Muir)
Be still and know that I AM! (Psalm 46:10)
Inhale and absorb Nature's elixir. May Nature Inspire, Inform, and Reward you!
Note: All blog post images created & photographed by Stephen B. Jones unless otherwise noted. Please circulate images with photo credit: "©2023 Steve Jones, Great Blue Heron LLC. All Rights Reserved."
Another Note: If you came to this post via a Facebook posting or by an another route, please sign up now (no cost… no obligation) to receive my Blog Post email alerts: http://eepurl.com/cKLJdL
And a Third: I am available for Nature-Inspired Speaking, Writing, and Consulting — contact me at steve.jones.0524@gmail.com
Reminder of my Personal and Professional Purpose, Passion, and Cause
If only more of us viewed our precious environment through the filters I employ. If only my mission and vision could be multiplied untold orders of magnitude:
Mission: Employ writing and speaking to educate, inspire, and enable readers and listeners to understand, appreciate, and enjoy Nature… and accept and practice Earth Stewardship.
Vision:
People of all ages will pay greater attention to and engage more regularly with Nature… and will accept and practice informed and responsible Earth Stewardship.
They will see their relationship to our natural world with new eyes… and will understand more clearly their Earth home.
Tagline/Motto: Steve (Great Blue Heron) encourages and seeks a better tomorrow through Nature-Inspired Living!
Steve's Three Books
I wrote my books Nature Based Leadership (2016), Nature-Inspired Learning and Leading (2017), and Weaned Seals and Snowy Summits: Stories of Passion for Place and Everyday Nature (2019; co-authored with Dr. Jennifer Wilhoit) to encourage all citizens to recognize and appreciate that every lesson for living, learning, serving, and leading is either written indelibly in or is powerfully inspired by Nature.
I began writing books and Posts for several reasons:
I love hiking and exploring in Nature
I see images I want to (and do) capture with my trusty iPhone camera
I enjoy explaining those images — an educator at heart
I don't play golf!
I actually do love writing — it's the hobby I never needed when my career consumed me
Judy suggested my writing is in large measure my legacy to our two kids, our five grand kids, and all the unborn generations beyond
And finally, perhaps my books and Blogs could reach beyond family and touch a few other lives… sow some seeds for the future
All three of my books (Nature Based Leadership; Nature-Inspired Learning and Leading; Weaned Seals and Snowy Summits) present compilations of personal experiences expressing my (and co-author Dr. Wilhoit for Weaned Seals and Snowy Summits) deep passion for Nature. All three books offer observations and reflections on my relationship to the natural world… and the broader implications for society. Order any and all from your local indie bookstore, or find them on IndieBound or other online sources such as Amazon and LifeRich.
I now have a fourth book, published by Dutton Land and Cattle Company, Dutton Land & Cattle: A Land Legacy Story. Available for purchase directly from me. Watch for details in a future Post.
http://stevejonesgbh.com/wp-content/uploads/2023/07/IMG_9652-1.jpg-7.11.23-8.35-PM.jpg
1200
900
Steve Jones
http://stevejonesgbh.com/wp-content/uploads/2017/01/gbhweblogo.png
Steve Jones
2023-09-20 09:15:39
2023-09-21 13:34:33
Triple Bypass Surgery Recovery at Tennessee's Lake Norris: Nature-Buoyed Aging and Healing!