Fellow retired forester Chris Stuhlinger and I arrived at Oak Mountain State Park on schedule at 9:00 AM June 8, 2023, intent upon touring the 1,600-acre Belcher property addition, visiting historic Camp Tranquility, and orienting Chris to hazard tree control measures at the Park. I focus this Post on the three lake jewels that the acquisition brought to Oak Mountain State Park.
November 11, 2020, I photographed the pre-acquisition Belcher property from King's Chair. The state's by-far-largest state park now totals some 11,632 acres.
I previously visited Oak Mountain State Park April 2021, stopping by the Park's Lunker Lake where a late March 2021 EF-2 tornado tore a swath along the lake's north shore. I include the photo taken by staff within several days of the strike as an orientation point for the first overlook view from the northeast corner of the Belcher property (below right). That's Lunker Lake at central right from the overlook. State Park officials cut the ribbon on the new 2.8-mile Lunker Lake Trail April 21, 2023. I look forward to circuiting the new trail on my next visit.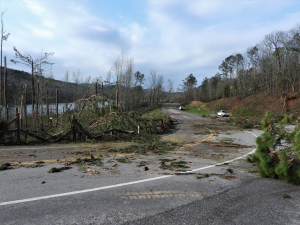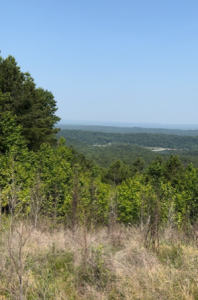 From the online YellowHammer News April 24, 2023 article on the trail ribbon cutting: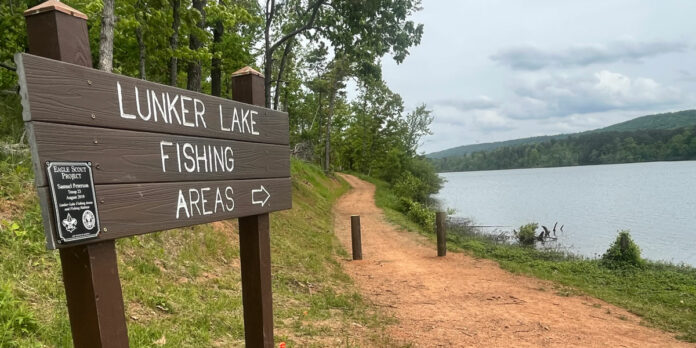 This Post holds special significance for me. I had originally scheduled to drive separately, meet Chris at the Park, spend the night in a cabin on the Park's Lake Tranquility, and devote the next day to solo trail wanderings (to include the Lunker Lake Trail!), Nature exploration, and photography. However, the prior week's stress test raised concerns with my cardiologist, who scheduled a catheterization for June 15, a week after the trip to OMSP. My wife convinced me (over-ruled me!) that an extra night and a day alone in the woods was not well-advised. As it turned out, the catheterization resulted in urgent triple bypass surgery June 19. I resolve this fall to return to OMSP to hike the Lunker Lake Trail loop!
I recorded this 0:29 video from the Belcher overlook shortly after we entered the property. I suppose that the view would have encompassed most of my intended June 9 hike.
Near the overlook, we stopped at the first of three beautiful impoundments, Catfish Pond. I felt compelled to secure a grassy spot to "sit a spell," enveloped in the simple pleasure of a summer morning rich with bird song and promise. Instead, we moved on, the remainder of the 1,600 acres calling to us.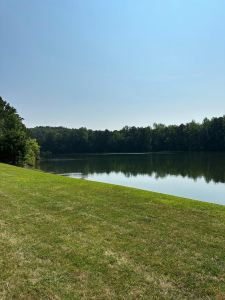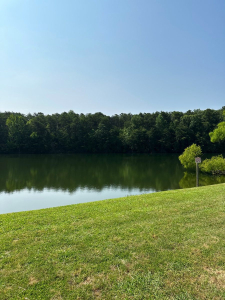 I recorded this 0:16 video at Catfish Pond, intent upon leaving you with more than a couple of still photos.
Our two Park Naturalists, Lauren Massey and Brianna Day, led us masterfully through the Belcher property, already knowing the 1,600 acres well.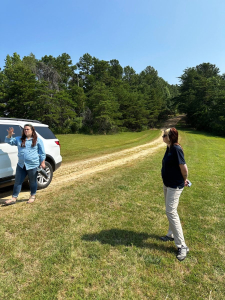 Demopolis Pond, the second of Belcher's lucustrine pearls, beckoned us to stop to enjoy her beauty.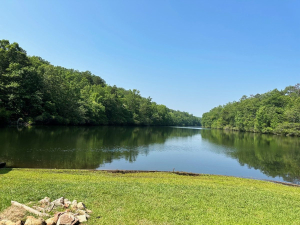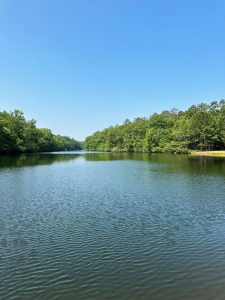 Dutifully I recorded this 0:41 video at Demopolis pond.
Belcher Lake, the third and final of the lakes, reached out and grabbed us. Only reluctantly did we leave.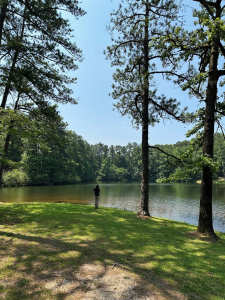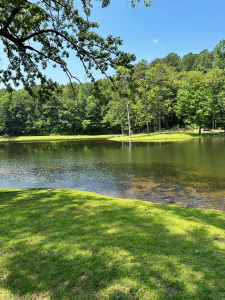 As per the routine I recorded this 0:18 video at Belcher Lake.
Each view and perspective proved compelling.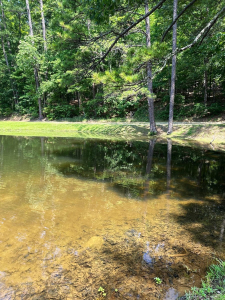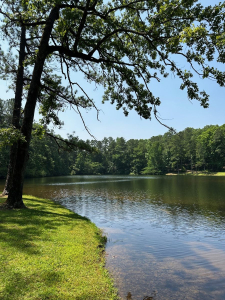 I will publish two additional Posts from my June 8 explorations:
Miscellaneous Treasures Encountered on the Belcher Addition
Civilian Conservation Corps Camp Tranquility
And I pledge a future Post on the Lunker Lake Trail!
Alabama State Parks Foundation
Thoughts and Reflections
I offer these observations:
Lacustrine jewels immeasurably enrich a 1,600 forested enclave just a few miles from urban Birmingham.
Everybody needs beauty…places to play in and pray in where nature may heal and cheer and give strength to the body and soul alike. (John Muir)
The Belcher property gives the illusion of higher elevation, a hint of the mountains: "Going to the mountains is going home." (Muir)
Inhale and absorb Nature's elixir. May Nature Inspire, Inform, and Reward you!
Note: All blog post images created & photographed by Stephen B. Jones unless otherwise noted. Please circulate images with photo credit: "©2023 Steve Jones, Great Blue Heron LLC. All Rights Reserved."
Another Note: If you came to this post via a Facebook posting or by an another route, please sign up now (no cost… no obligation) to receive my Blog Post email alerts: http://eepurl.com/cKLJdL
And a Third: I am available for Nature-Inspired Speaking, Writing, and Consulting — contact me at steve.jones.0524@gmail.com
Reminder of my Personal and Professional Purpose, Passion, and Cause
If only more of us viewed our precious environment through the filters I employ. If only my mission and vision could be multiplied untold orders of magnitude:
Mission: Employ writing and speaking to educate, inspire, and enable readers and listeners to understand, appreciate, and enjoy Nature… and accept and practice Earth Stewardship.
Vision:
People of all ages will pay greater attention to and engage more regularly with Nature… and will accept and practice informed and responsible Earth Stewardship.
They will see their relationship to our natural world with new eyes… and will understand more clearly their Earth home.
Tagline/Motto: Steve (Great Blue Heron) encourages and seeks a better tomorrow through Nature-Inspired Living!
Steve's Three Books
I wrote my books Nature Based Leadership (2016), Nature-Inspired Learning and Leading (2017), and Weaned Seals and Snowy Summits: Stories of Passion for Place and Everyday Nature (2019; co-authored with Dr. Jennifer Wilhoit) to encourage all citizens to recognize and appreciate that every lesson for living, learning, serving, and leading is either written indelibly in or is powerfully inspired by Nature.
I began writing books and Posts for several reasons:
I love hiking and exploring in Nature
I see images I want to (and do) capture with my trusty iPhone camera
I enjoy explaining those images — an educator at heart
I don't play golf!
I actually do love writing — it's the hobby I never needed when my career consumed me
Judy suggested my writing is in large measure my legacy to our two kids, our five grand kids, and all the unborn generations beyond
And finally, perhaps my books and Blogs could reach beyond family and touch a few other lives… sow some seeds for the future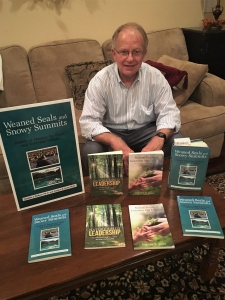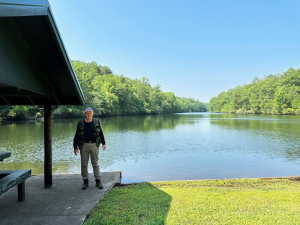 All three of my books (Nature Based Leadership; Nature-Inspired Learning and Leading; Weaned Seals and Snowy Summits) present compilations of personal experiences expressing my (and co-author Dr. Wilhoit for Weaned Seals and Snowy Summits) deep passion for Nature. All three books offer observations and reflections on my relationship to the natural world… and the broader implications for society. Order any and all from your local indie bookstore, or find them on IndieBound or other online sources such as Amazon and LifeRich.
http://stevejonesgbh.com/wp-content/uploads/2023/06/IMG_9274.jpg-06.06.23-OMSP-Belcher-Lake-11.07-AM.jpg
1200
900
Steve Jones
http://stevejonesgbh.com/wp-content/uploads/2017/01/gbhweblogo.png
Steve Jones
2023-09-07 13:54:19
2023-09-07 13:58:13
Three Lake Jewels on the 1,600-Acre Belcher Property Addition: Oak Mountain State Park