On May 11, 2023, I revisited the Wheeler Dam construction era (1930s) recreation area (along the Multi-Use Trail) on the Wilson Lake side of Alabama's Joe Wheeler State Park. The 90-year-old area, once serving thousands of workers and their families, now lies in decay, deep within the second-growth forest enveloping it.
I am not yet fully satisfied with translating my on-the-ground discoveries to the reality of the mid-1930s. I've already published a Great Blue Heron Post as my first attempt August 12, 2020: http://stevejonesgbh.com/wp-admin/post.php?post=7284&action=edit&classic-editor=1
Via this current Post, I'm bringing us a step closer, aided in large measure by my May 2023 visit, accompanied by then Park Naturalist Sam Woodroof (since moving on to alternate employment), and fellow retired forester Chris Stuhlinger, and further assisted by a US Government Printing Office 1940 book, The Wheeler Project, A Comprehensive Report on the Planning, Design, and Initial Operations.
The old recreation site lies entirely within the 2.26 mile Multi-Use Trail that loops along the bluffs overlooking Wilson Lake. The Google Map image (left) highlights the route of old County Road 411, the road no longer visible in the aerial photograph. The Multi-Use Trailhead is where the old road leaves the current state highway.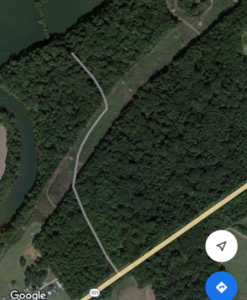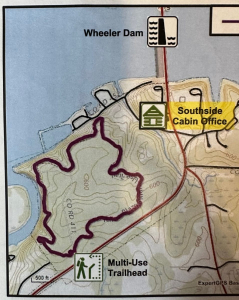 Nature is reclaiming the former thoroughfare, hence the route highlighting above, where Chris is walking below right. The paved surface is inexorably yielding to time, weathering, and life forces (moss below left).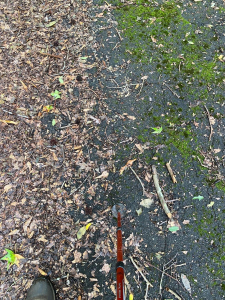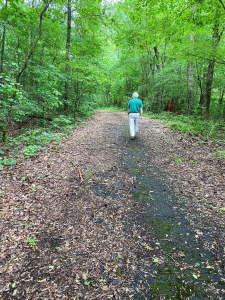 The Civilian Conservation Corps built all the infrastructure within the recreation area, including this stone culvert and crossing where the old road enters the forest on the far side of the power line right-of-way.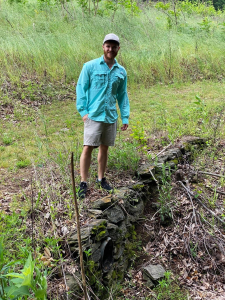 The former County Road 411 ended with dam construction at an observation cul-de-sac on a peninsular bluff above Wilson Lake. Immaculate stone work, typical of the CCC, lends significance and permanence to the turn-around. Imagine the 1930s view to the lake unobstructed by trees. The maturing second growth forest obscures the Lake Wilson viewscape.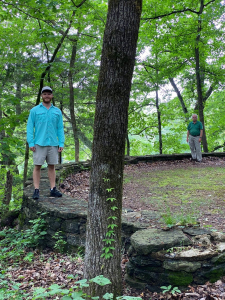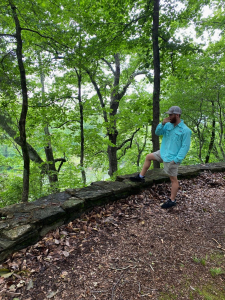 Note also below that a large oak tree stands within the cul-de-sac, an impossibility when the overlook feature carried automobiles. Nature has a way of making short-shrift of human constructs.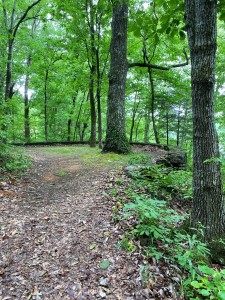 These two northern red oaks evidence relatively rich soil and the passage of 90 growing seasons. They certainly witnessed workers enjoying the recreation amenities, but only decades after the area fell into disuse did they attain their stature as forest monarchs.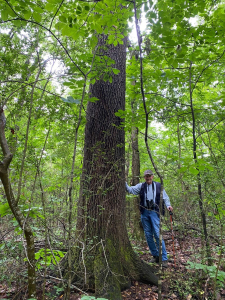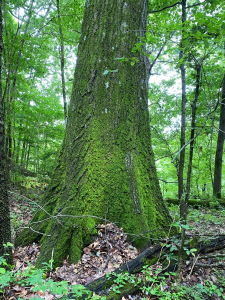 The Wheeler Project book describes the recreation area:
Within the reservation immediately south of the dam, the Authority [TVA], with the cooperation of the National Park Service and the Emergency Conservation Work program, developed two small areas for intensive recreation use. [The smaller is on the Wheeler Lake side of the primary dam road.] The larger of the two areas is located along the shoreline of Big Nance Creek and its junction with Wilson Lake, and consists of approximately 50 acres of heavily wooded land. Note: Big Nance Creek is at the west side of both map images above.
Facilities include a cherted access road [County Road 411], a parking area, a frame picnic shelter with twin fireplaces, a rustic overlook building, a latrine building, drinking fountains, tables, benches, and outdoor ovens, together with foot trails leading to various points of interest.
A National Park Service CCC camp constructed the facilities in these areas between April 1934 and November 1935. The areas are used extensively by individuals and local groups from the nearby and cities within a radius of 75 miles.
This excerpt warrants a few clarifying comments. What is now Joe Wheeler State Park remained in federal ownership until 1949, hence the narrative about the 1930s mentioning the National Park Service, CCC, and other federal agencies. The 1940 book narrative indicates that the recreation areas continued to operate through the date of publication. I've found no indication of a closure date. I assume that the responsible federal agency ceased operations before the state acquired the property in 1949, suggesting abandonment and subsequent neglect over three-quarters of a century.
Here is the rustic overlook building, which I and others have referred to as the gazebo, with stonework still intact and wood elements collapsed.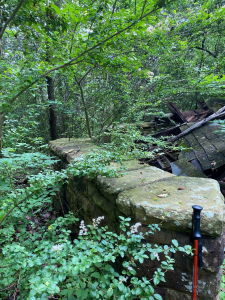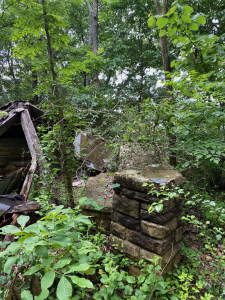 Here is what remains of the frame picnic shelter with twin fireplaces (my photos from July 2020).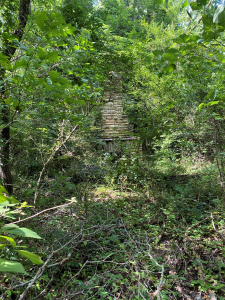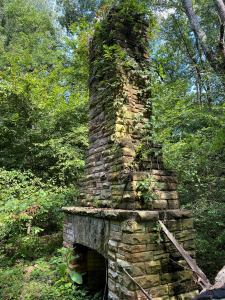 I recorded this 1:18 video at the shelter. Note that the tree lying across the chimney below in 2023 was not there in 2020, corroborating my consistent observation that nothing in Nature is static.
Here is what The Wheeler Project refers to as the latrine building, and I've described it in modern parlance as a bathhouse.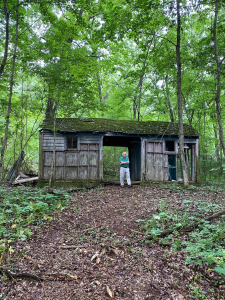 To supplement my narrative and the still photo, here is my 0:51 video of the latrine building or bathhouse
Here is the picnic area, with concrete construction standing firm, the wooden benches long since decayed.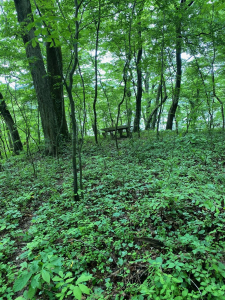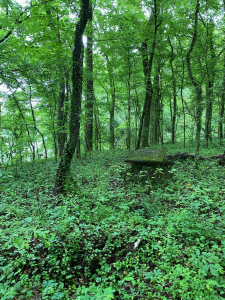 Here is a photo of me at one of the tables in July 2020.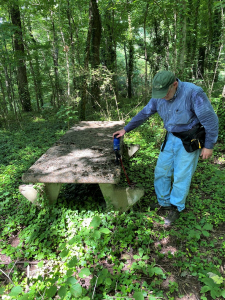 We examined these concrete and rebar structures carefully, puzzling about their purpose. We referred to them as outdoor cook-pits, their flimsier grates burned and rusted to oblivion. Could these be the outdoor ovens mentioned by The Wheeler Project?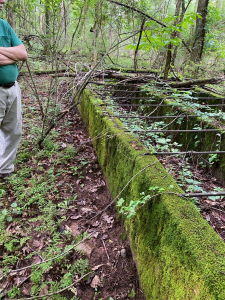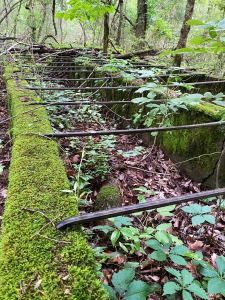 Here is my 0:34 video of the barbeque pits (outdoor ovens).
Interestingly, this 30-inch diameter yellow poplar stands within a pit, having grown around one of the rebar cross-members. Nature keeps her secrets well hidden.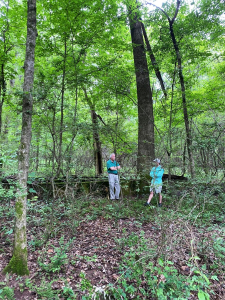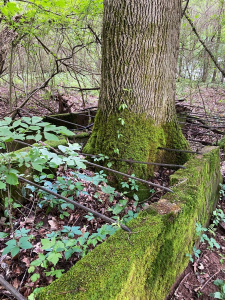 I plan to return to the old recreation site mid-winter, when greenery hides less effectively. I want to find the parking area, drinking fountains, benches, and foot trails leading to various points of interest, among other evidence of this once vibrant recreation area. I am hoping that recently-designated Alabama State Parks Chief of Interpretation, Renee S. Raney, can add her keen and practiced naturalist skills to the effort, on-ste here at JWSP, and at other of our Parks where the CCC played major roles.
Other sleuthing awaits me (and Renee). Google Maps allow me to see only recent aerial views. I want to examine aerial photographs that date back to the 1930s and 1940s, periods that will reveal ground structures, paths, and roads.
I've focused this Post on the old recreation area. The Wheeler Project also offers informative narrative about the associated housing facilities for white and Negro employees. Both camps were located just ENE of the Multi-Use Trail loop. What might we find on the ground? Perhaps such exploration will yield a subsequent Post…and additional invaluable interpretive resources.
The book offers considerable detail on land clearing and reforestation efforts associated with Wheeler Dam construction and the land inundated and now bordering/buffering the lake. Watch for a future Post.
Alabama State Parks Foundation
Thoughts and Reflections
I offer these observations:
Look deep into nature, and then you will understand everything better. (Albert Einstein)
The intersection of human and natural history is rich with mystery and discovery.
It's not what you look at that matters; it's what you see. (Thoreau)
Inhale and absorb Nature's elixir. May Nature Inspire, Inform, and Reward you!
Note: All blog post images created & photographed by Stephen B. Jones unless otherwise noted. Please circulate images with photo credit: "©2023 Steve Jones, Great Blue Heron LLC. All Rights Reserved."
Another Note: If you came to this post via a Facebook posting or by an another route, please sign up now (no cost… no obligation) to receive my Blog Post email alerts: http://eepurl.com/cKLJdL
And a Third: I am available for Nature-Inspired Speaking, Writing, and Consulting — contact me at steve.jones.0524@gmail.com
Reminder of my Personal and Professional Purpose, Passion, and Cause
If only more of us viewed our precious environment through the filters I employ. If only my mission and vision could be multiplied untold orders of magnitude:
Mission: Employ writing and speaking to educate, inspire, and enable readers and listeners to understand, appreciate, and enjoy Nature… and accept and practice Earth Stewardship.
Vision:
People of all ages will pay greater attention to and engage more regularly with Nature… and will accept and practice informed and responsible Earth Stewardship.
They will see their relationship to our natural world with new eyes… and will understand more clearly their Earth home.
Tagline/Motto: Steve (Great Blue Heron) encourages and seeks a better tomorrow through Nature-Inspired Living!
Steve's Three Books
I wrote my books Nature Based Leadership (2016), Nature-Inspired Learning and Leading (2017), and Weaned Seals and Snowy Summits: Stories of Passion for Place and Everyday Nature (2019; co-authored with Dr. Jennifer Wilhoit) to encourage all citizens to recognize and appreciate that every lesson for living, learning, serving, and leading is either written indelibly in or is powerfully inspired by Nature.
I began writing books and Posts for several reasons:
I love hiking and exploring in Nature
I see images I want to (and do) capture with my trusty iPhone camera
I enjoy explaining those images — an educator at heart
I don't play golf!
I actually do love writing — it's the hobby I never needed when my career consumed me
Judy suggested my writing is in large measure my legacy to our two kids, our five grand kids, and all the unborn generations beyond
And finally, perhaps my books and Blogs could reach beyond family and touch a few other lives… sow some seeds for the future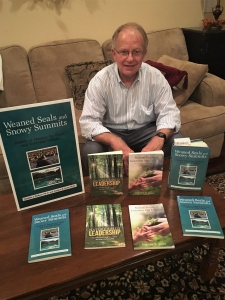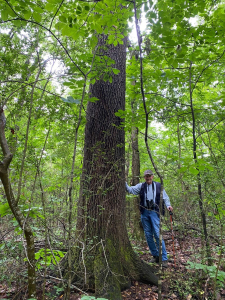 All three of my books (Nature Based Leadership; Nature-Inspired Learning and Leading; Weaned Seals and Snowy Summits) present compilations of personal experiences expressing my (and co-author Dr. Wilhoit for Weaned Seals and Snowy Summits) deep passion for Nature. All three books offer observations and reflections on my relationship to the natural world… and the broader implications for society. Order any and all from your local indie bookstore, or find them on IndieBound or other online sources such as Amazon and LifeRich.
http://stevejonesgbh.com/wp-content/uploads/2023/07/IMG_8928.jpg-05.11.23-Bathhouse.jpg
1200
900
Steve Jones
http://stevejonesgbh.com/wp-content/uploads/2017/01/gbhweblogo.png
Steve Jones
2023-08-31 10:30:13
2023-09-01 13:11:52
Revisiting the Old Recreation Site at Joe Wheeler State Park