I am pleased to offer the 16th of my new GBH Brief Form Posts to my website (Less than three minutes to read!). I tend to get a bit long-winded with my routine Posts. I don't want my enthusiasm for thoroughness and detail to discourage readers. So I will publish these brief Posts regularly.
Brief-Form Post on My Timid Re-Venture (post-surgery) into Forever Wild's Shoal Creek Preserve Near Florence, Alabama!
August 18, 2018, while in Florence, Alabama taking photographs in preparation for my October 13, 2023 presentation at the city's 27th Annual Horticulture and Tree Conference, I stopped by the nearby Forever Wild Shoal Creek Nature Preserve, my first "wildland" venture since triple bypass surgery eight weeks prior. I admit to a bit of trepidation as I wandered from the trailhead. I didn't penetrate the 298 acres for much more than 15 minutes, turning around well short of Shoal Creek, my future destination once I return to greater strength and confidence…in cooler fall weather.
I had no expectation of what my tentative ramblings would reveal. I had not been here before. Henry David Thoreau's sage wisdom accompanied me: It's not what you look at that matters; it's what you see. I wanted to accept whatever Nature revealed in my short venture. Watch for a future longer Post. I concluded that even a brief trip into Nature's out there can inform, inspire, and stimulate observations and reflection.
A Condensed Portfolio of Things Worth Seeing
I found a nice trailhead sign, made all the more impressive back-dropped by a cerulean sky patterned with a handful of slight cumulus. I also liked the idea of an adobe red information marquis roof.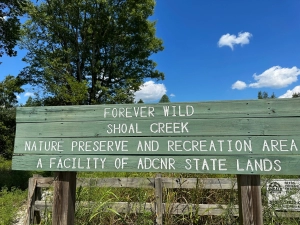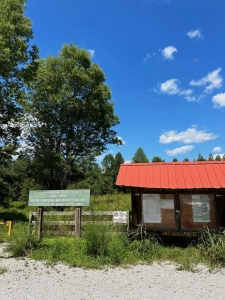 The trail enters a meadow that appears to be occasionally mowed, once every summer, to maintain its open condition.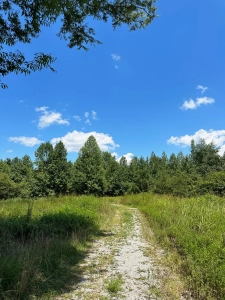 Partridge pea provided late summer color…American goldfinch color!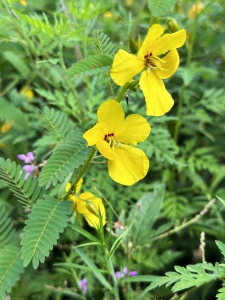 A meadow several hundred yards deeper is inexorably converting to forest. Bushy eastern cedar as large as 25-feet tall and wide are already claiming territory, while an admixture of herbs, woody brush, and tree seedlings is gaining purchase. A forest will emerge, heavy at first to early successional pioneer species, then in time to longer lived upland hardwood.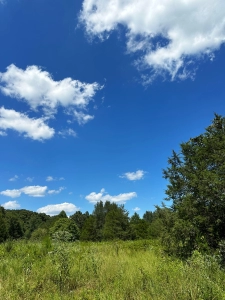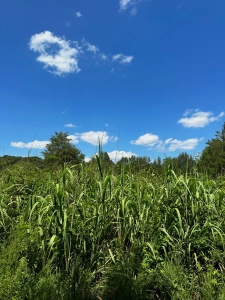 I recorded this 0:17 video of the active conversion without narrative.
I accept the challenge of distilling these Brief-Form Posts to a single distinct reflection, a task far more elusive than assembling a dozen pithy statements. Sometimes, I borrow a distinct reflection from the truly great minds of conservation and environmental antiquity, but for this one I simply offer my own simple reflection:
I learned to manage my expectations, accepting the ordinary as special when events recently curtailed my health, strength, and endurance.
NOTE: I place 3-5 short videos (15-seconds to three minutes) on my Steve Jones Great Blue Heron YouTube channel weekly. All relate to Nature-Inspired Life and Living. I encourage you to SUBSCRIBE! It's FREE. Having more subscribers helps me spread my message of Informed and Responsible Earth Stewardship…locally and globally!
http://stevejonesgbh.com/wp-content/uploads/2023/08/IMG_9931.jpg-08.18.23-1.43-Shoal-Creek-NP.jpg
1512
2016
Steve Jones
http://stevejonesgbh.com/wp-content/uploads/2017/01/gbhweblogo.png
Steve Jones
2023-08-22 10:22:12
2023-08-22 10:22:12
Brief-Form Post #16: My First Cautious Venture into the "Wild" at Eight Weeks after Bypass Surgery