May 4, 2023, I spent a lovely late spring afternoon on the nearby Wheeler National Wildlife Refuge. I offer reflections, observations, photographs, and five brief videos from my six-stop wanderings within a five-mile driving radius: gravel road wildlife; riparian forest; Tennessee River; Blackwell Swamp; January 2, 2021 tornado recovery forest; Beaverdam Swamp Boardwalk.
Jolly B Road — Gravel Road Wildlife
I entered the Refuge about 15 miles due south of my Madison, Alabama residence, turning from County Line Road east onto gravel Jolly B Road. About a mile into the Refuge I stopped to admire (and usher from the road surface) a five-foot long grey rat-snake. The snake certainly has a right to sun on the road, but I feared that other driver's may be less apt to recognize the snake's privilege.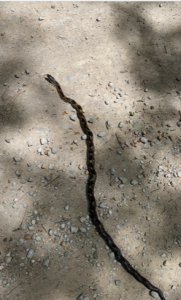 I recorded this 29-second video as the snake slithered into the forest.
Within a quarter mile, this incredibly muddy cooter turtle was near the road edge about to enter the forest. Once again I braked to capture an image. I would love to have the turtle's explanation for its supremely mud-caked carapace!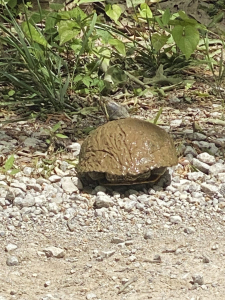 Speaking of privilege, I felt fortunate to visit with two reptilian friends along Jolly B Road!
Riparian Forest
Within four hundred yards, I turned west onto HGH Road, parking a half-mile further, where I entered the riparian hardwood forest, one of my routine exploration areas. I'm never disappointed by what I find hidden in plain sight. This large black oak presented itself. Two features suggested its heart-rot-hollowed trunk. Its swollen base is an external signal of internal decay. It also provided a direct peephole into its hollow core at roughly five feet above the ground. A squirrel left its teeth-gnaw marks around the hole's perimeter, as the rodent attempted to prevent the tree from callousing over the point of entry. This is apparently a family den tree for the aerial rodents. The tree may also furnish habitat for chipmunks, snakes, birds, lizards, and other forest residents.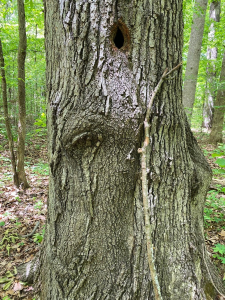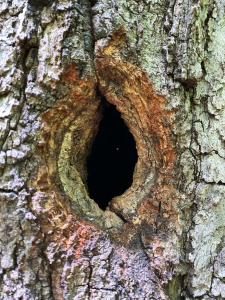 I recorded this 1:02 video of our black oak family tree:
I found one of my favorite fall-fruiting plants in full spring flower, strawberry bush or hearts-a-bustin'. Their soft yellow-green flowers give little hint to their special fall-fruit-glory (see public domain image below).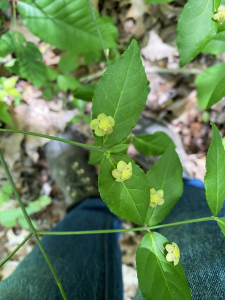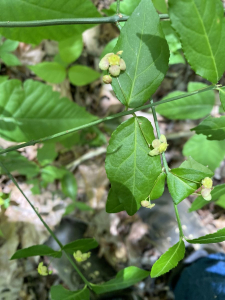 The aptly-named hearts-a-bustin' fruit.

Public Domain Image
Along the Tennessee River
The entire Wheeler National Wildlife Refuge exists around its Lake Wheeler core, the body of water created by Wheeler Dam 40 miles downstream on the Tennessee River at Rogersville, Alabama. The shoreline below is a little more than a mile south of the riparian forest. I chose (it chose me) a picture-perfect day of cerulean sky, high white clouds (alto cumulus), and light breezes to wander the Refuge.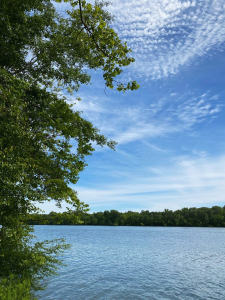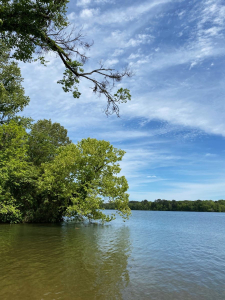 As I strive to do, I captured a short (20-second) video to amplify my narrative and still photos.
The Refuge manages some 4,000 acres for crop production under an arrangement that calls for leaving a percentage of the crop for winter wildlife food. The contract agricultural operator was sowing seed this day in the fields adjacent to the river.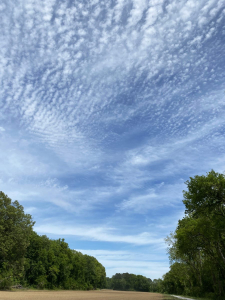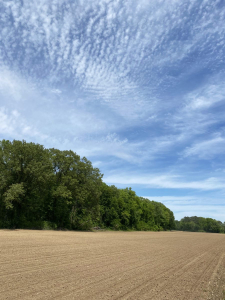 Here's my 0:18 video of seeding underway in the agricultural fields adjacent to the river:
Dazzling clouds and magnificent sky bring life to the river and its adjoining forests and fields!
Blackwell Swamp
Blackwell Swamp lies just a few hundred yards north of the Tennessee River, the swamp created by a Refuge drainage gate that impounds water, thus artificially keeping the swamp well-watered year-round, all in the interest of maintaining waterfowl habitat. I snapped the photo below from the gravel road crossing the wooded outflow at the gate.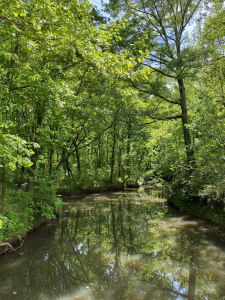 The swamp offers a welcome habitat break from the continuous riparian forests that border the swamp. Again, cerulean sky, fresh summer greens, ample wetland vegetation, and plenty of associated wildlife.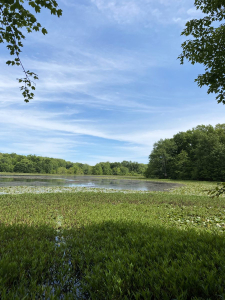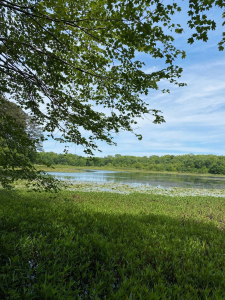 I recorded this  sound- and sight-dense 30-second video from the southwest shore of the swamp, the same location as the two photos above.
Tornado Recovery
January 1, 2022 an EF-1 tornado dropped from a strong cold front adjacent to the swamp's northern end, approximately 1.5 miles from the earlier swamp photo points.
I've been monitoring forest recovery since I first discovered the twister track March 22, 2022, when I photographed the shattered bur oak below left.  I revisited the shattered tree May 27, 2022 (below right) following green-up. Already, the oak was fighting back, transferring root reserves to growing resurgent foliage.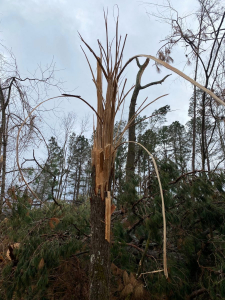 May 4, 2023, I made the fifth of six stops at the bur oak. Nature equips all living organisms with the genetic capacity to overcome setbacks. The bur oak, and the entire "destroyed" forest within which it stands, is rebounding remarkably. The tornado did not destroy this 80-90 year old forest. Instead, the storm delayed the forest's rush toward maturity. It remains a forest, albeit altered.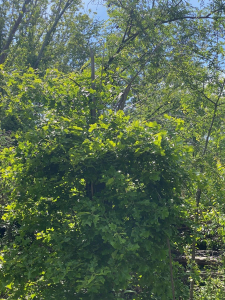 Nature is always lovely, invincible, glad, whatever is done and suffered by her creatures. All scars she heals, whether in rocks or water or sky or hearts. John Muir
Beaverdam Creek Boardwalk
I made my sixth stop at the Beaverdam Creek Swamp National Natural Landmark, an ancient water tupelo swamp transected by a boardwalk, reconstructed during summer 2022. I see little need to offer detailed reflections and observations. Suffice it to say that this is one of my favorite Nature-destinations in north Alabama. This special place exudes its magic and mystery.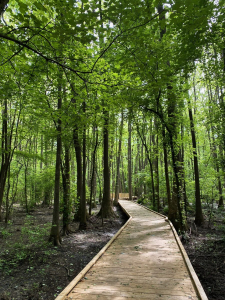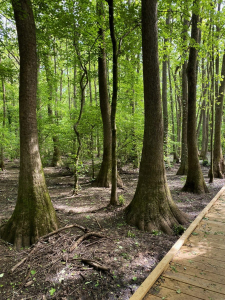 I recorded this 15-second video from the boardwalk, telling a palpable visual and audio tale.:
The great tupelos reach back at least two centuries, having born witness to many seasons, storms, droughts, deep cold, and searing heat. Oh, if only we could hear their stories!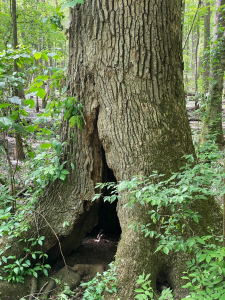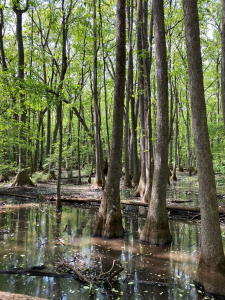 Six stops on an early summer day, a rich sampling of a small corner of a magnificent national natural treasure. I've resided nearby since January 2018. I've met many people who have lived in the area far longer, yet have never visited the swamp. I am blessed to have such a special place in my backyard. However, so many of the long-term residents know nothing about the Refuge. Perhaps Posts such as this will find their way to those who have not yet sampled the mental, physical, emotional, and spiritual fruits of this exquisite slice of Nature.
Thoughts and Reflections
I offer these observations:
Nature is a panoply — a magnificent or impressive array.
The Wheeler National Wildlife Refuge is a 38,000-acre ecosystem potpourri.
Nature appreciation involves seeing and understanding both the components and the whole!
Inhale and absorb Nature's elixir. May Nature Inspire, Inform, and Reward you!
Note: All blog post images created & photographed by Stephen B. Jones unless otherwise noted. Please circulate images with photo credit: "©2023 Steve Jones, Great Blue Heron LLC. All Rights Reserved."
Another Note: If you came to this post via a Facebook posting or by an another route, please sign up now (no cost… no obligation) to receive my Blog Post email alerts: http://eepurl.com/cKLJdL
And a Third: I am available for Nature-Inspired Speaking, Writing, and Consulting — contact me at steve.jones.0524@gmail.com
Reminder of my Personal and Professional Purpose, Passion, and Cause
If only more of us viewed our precious environment through the filters I employ. If only my mission and vision could be multiplied untold orders of magnitude:
Mission: Employ writing and speaking to educate, inspire, and enable readers and listeners to understand, appreciate, and enjoy Nature… and accept and practice Earth Stewardship.
Vision:
People of all ages will pay greater attention to and engage more regularly with Nature… and will accept and practice informed and responsible Earth Stewardship.
They will see their relationship to our natural world with new eyes… and will understand more clearly their Earth home.
Tagline/Motto: Steve (Great Blue Heron) encourages and seeks a better tomorrow through Nature-Inspired Living!
Steve's Three Books
I wrote my books Nature Based Leadership (2016), Nature-Inspired Learning and Leading (2017), and Weaned Seals and Snowy Summits: Stories of Passion for Place and Everyday Nature (2019; co-authored with Dr. Jennifer Wilhoit) to encourage all citizens to recognize and appreciate that every lesson for living, learning, serving, and leading is either written indelibly in or is powerfully inspired by Nature.
I began writing books and Posts for several reasons:
I love hiking and exploring in Nature
I see images I want to (and do) capture with my trusty iPhone camera
I enjoy explaining those images — an educator at heart
I don't play golf!
I actually do love writing — it's the hobby I never needed when my career consumed me
Judy suggested my writing is in large measure my legacy to our two kids, our five grand kids, and all the unborn generations beyond
And finally, perhaps my books and Blogs could reach beyond family and touch a few other lives… sow some seeds for the future
All three of my books (Nature Based Leadership; Nature-Inspired Learning and Leading; Weaned Seals and Snowy Summits) present compilations of personal experiences expressing my (and co-author Dr. Wilhoit for Weaned Seals and Snowy Summits) deep passion for Nature. All three books offer observations and reflections on my relationship to the natural world… and the broader implications for society. Order any and all from your local indie bookstore, or find them on IndieBound or other online sources such as Amazon and LifeRich.
http://stevejonesgbh.com/wp-content/uploads/2023/05/IMG_8751.jpg-05.04.23-2.32-PM-WNWR.jpg
1200
900
Steve Jones
http://stevejonesgbh.com/wp-content/uploads/2017/01/gbhweblogo.png
Steve Jones
2023-08-10 13:47:20
2023-08-10 13:47:20
A Six-Stop Early May Immersion in the Nature of the Wheeler National Wildlife Refuge!