Big Cove Creek and the Hays Preserve
April 13, 2023 I visited Huntsville, Alabama's Hays Nature Preserve, focusing my limited wanderings near where Big Cove Creek enters the Flint River. Big Cove Creek flows south (left) in a channel evidencing historic linearization, appearing more like a canal than a natural, winding stream. The creek enters the Flint River (right) with an accommodating inflection downstream, a natural signature of stream/river confluences across the globe.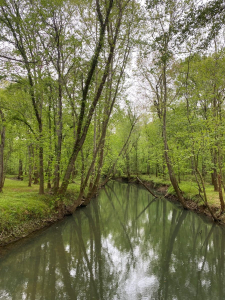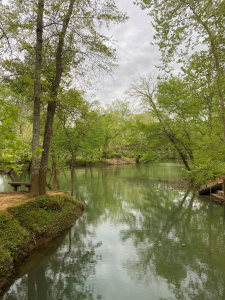 Some photos require little interpretation, observations, and reflections. I snapped the above photos from the footbridge (below left) from downstream, looking north (above left) and southwest (above right). The view below right looks northeast across the creek from above the bridge. All four images show the rich reflective stream surface.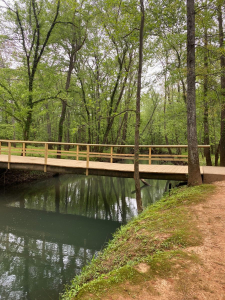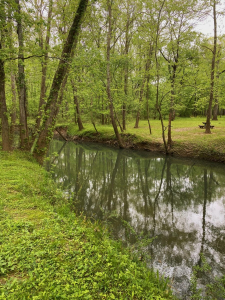 This fifth image shows the creek entering the Flint from the right. The Hays Greenway bridge crosses the Flint 500 feet downstream (lower center photo through the trees).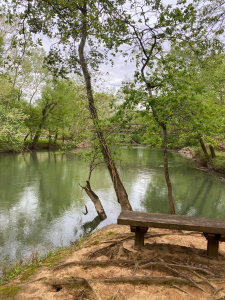 The Greenway bridge is necessarily sturdy. The Flint flushes frequently and savagely. This northerly view places the Flint's downstream to the left, where within ten miles it meets the Tennessee River.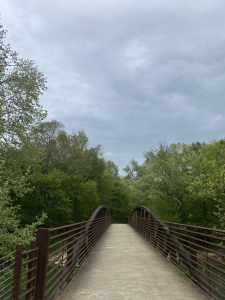 Greenways and Sewer Lines
The same view from a few steps back, offers some important signage. This past spring semester I co-taught The Streams (and Sewers) of Madison County with colleague Jim Chamberlain. We combined streams and sewers for reasons that may not be apparent at first glance. First, across the US, our streams throughout the 19th century and well into the 20th were, in reality, our sewers. The 'solution to pollution was dilution.' Only with extensive federal regulations in the latter half of the 20th century did we begin widespread sewage treatment.
The greenway passing south through the Hays Preserve is a sewer line right-of-way. The sign here, looking north across the Flint River, warns of the treated water outfall on the far side. Decades ago, Big Cove Creek served as the sewer. The day I visited, the treated water was much clearer than the still somewhat turbid water of the Flint River.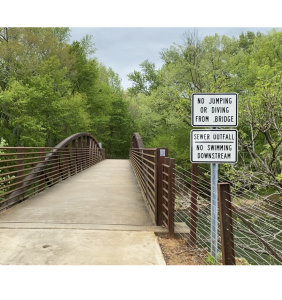 I'm reminded of a mid-20th century clarion call of conservation warning from Aldo Leopold (A Sand County Almanac). He worried whether we would ever awaken to the need to identify, protect, and preserve wildness:
All conservation of wildness is self-defeating, for to cherish we must see and fondle, and when enough have seen and fondled, there is no wilderness left to cherish.
Leopold, I am grateful, proved overly pessimistic. He wrote those words when sewage clogged our streams, a condition we've remedied. Today, we are managing a level of wildness within Huntsville, Alabama, America's Rocket City!
The Flint is a delightful river; its mood varying with rainfall patterns. Here are the bridge views east (upstream) and west (downstream). Darkening sky, fresh spring greens, and perfect afternoon light brought the scene to life!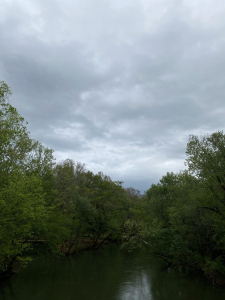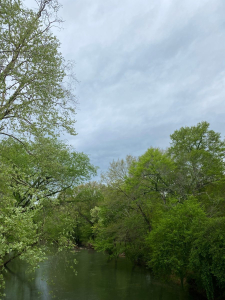 As I've observed frequently, if a picture is worth a thousand words, a video raises the return yet another order of magnitude! Here's my 2:08 video of views up- and downstream.
Expanding on the sewer line element, the photo below left shows the actual outflow point (lower left open water). The image below right looks south over the same 'candy cane' vent pipe to the river.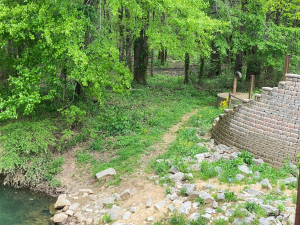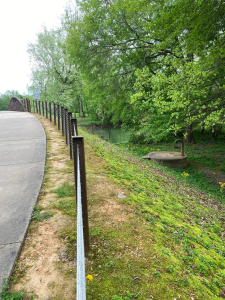 Two-tenths of a mile to the north, another telltale vent pipe reminds me that many of our local greenways follow sewer lines (in this case, treated water).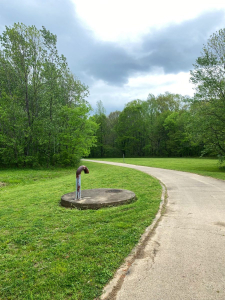 Match Stick Forest: A Special Feature
This special riparian forest feature sits just west of the parking lot where Big Cove Creek enters the Flint River. I can only speculate how it earned its moniker. The grove is densely populated with sweetgum and oak, perhaps ten to fifteen years ago bringing to mind a forest of slender matches (or pencils). Today, the stand is rapidly self-thinning, looking less and less like matchsticks. I'll continue to watch it develop.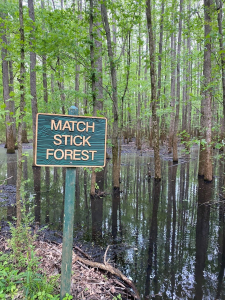 I recorded this 1:44 video to once again provide a clearer depiction of a special place.
Hays is indeed a special place, made all the more endearing by its rich history, a location in the state's fastest growing metropolitan area, and by its diverse and dynamic ecosystem elements.
Thoughts and Reflections
I offer these observations:
If the land mechanism as a whole is good, then every part is good, whether we understand it or not. Aldo Leopold
All conservation of wildness is self-defeating, for to cherish we must see and fondle, and when enough have seen and fondled, there is no wilderness left to cherish. Leopold
Every parcel of land (whether back Forty or urban Nature Preserve) has its own story to tell.
Inhale and absorb Nature's elixir. May Nature Inspire, Inform, and Reward you!
Note: All blog post images created & photographed by Stephen B. Jones unless otherwise noted. Please circulate images with photo credit: "©2023 Steve Jones, Great Blue Heron LLC. All Rights Reserved."
Another Note: If you came to this post via a Facebook posting or by an another route, please sign up now (no cost… no obligation) to receive my Blog Post email alerts: http://eepurl.com/cKLJdL
And a Third: I am available for Nature-Inspired Speaking, Writing, and Consulting — contact me at steve.jones.0524@gmail.com
Reminder of my Personal and Professional Purpose, Passion, and Cause
If only more of us viewed our precious environment through the filters I employ. If only my mission and vision could be multiplied untold orders of magnitude:
Mission: Employ writing and speaking to educate, inspire, and enable readers and listeners to understand, appreciate, and enjoy Nature… and accept and practice Earth Stewardship.
Vision:
People of all ages will pay greater attention to and engage more regularly with Nature… and will accept and practice informed and responsible Earth Stewardship.
They will see their relationship to our natural world with new eyes… and will understand more clearly their Earth home.
Tagline/Motto: Steve (Great Blue Heron) encourages and seeks a better tomorrow through Nature-Inspired Living!
Steve's Three Books
I wrote my books Nature Based Leadership (2016), Nature-Inspired Learning and Leading (2017), and Weaned Seals and Snowy Summits: Stories of Passion for Place and Everyday Nature (2019; co-authored with Dr. Jennifer Wilhoit) to encourage all citizens to recognize and appreciate that every lesson for living, learning, serving, and leading is either written indelibly in or is powerfully inspired by Nature.
I began writing books and Posts for several reasons:
I love hiking and exploring in Nature
I see images I want to (and do) capture with my trusty iPhone camera
I enjoy explaining those images — an educator at heart
I don't play golf!
I actually do love writing — it's the hobby I never needed when my career consumed me
Judy suggested my writing is in large measure my legacy to our two kids, our five grand kids, and all the unborn generations beyond
And finally, perhaps my books and Blogs could reach beyond family and touch a few other lives… sow some seeds for the future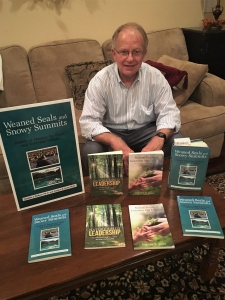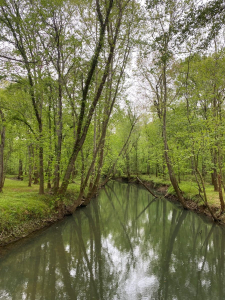 All three of my books (Nature Based Leadership; Nature-Inspired Learning and Leading; Weaned Seals and Snowy Summits) present compilations of personal experiences expressing my (and co-author Dr. Wilhoit for Weaned Seals and Snowy Summits) deep passion for Nature. All three books offer observations and reflections on my relationship to the natural world… and the broader implications for society. Order any and all from your local indie bookstore, or find them on IndieBound or other online sources such as Amazon and LifeRich.
http://stevejonesgbh.com/wp-content/uploads/2023/04/IMG_8503-1.jpg-04.13.23-Hays-Up-Big-Cove-Creek-2.05.jpg
1200
900
Steve Jones
http://stevejonesgbh.com/wp-content/uploads/2017/01/gbhweblogo.png
Steve Jones
2023-07-27 09:06:20
2023-07-27 09:06:20
April Mid-day Reflections at Hays Nature Preserve along the Flint River!