Because I had been teaching a seven-week Huntsville LearningQuest course at the Residences at WellPoint in Hampton Cove, Alabama, I visited the nearby Goldsmith-Schiffman Wildlife Sanctuary four times from late-January through March (1/31; 2/14; 2/21; 3/24), focusing the latter three visits on the ongoing wetlands restoration project underway by the City of Huntsville, the proprietor and caretaker of the 400-acre Sanctuary.
I have previously published eight Posts on the Sanctuary, the most recent presenting the 14-minute video story of the Sanctuary: http://stevejonesgbh.com/2022/10/11/goldsmith-schiffman-wildlife-sanctuary-a-tale-of-two-extraordinary-women/
My third book, Weaned Seals and Snowy Summits (co-authored by Dr. Jennifer Wilhoit), carries a subtitle relevant to my dedication to (obsession with) the Sanctuary: Stories of Passion for Place and Everyday Nature. (See below this Post for how to order.) I view the Sanctuary as one of my special places, which you will see reflected in my eight Posts.
The Wetland Restoration Project
Importantly, nearly the entire Sanctuary is a jurisdictional wetland, composed of active flood plain (Flint River), ponds, creeks, sloughs, riparian forests, and meadows and abandoned agricultural lands…all with hydric soils. Prior owners employed minor drainage practices to enhance operability for planting, cultivating, and harvesting crops. All of the land had supported forests prior to agricultural conversion.
Niki Sothers, Manager Landscape Management City of Huntsville, describes the wetland conversion project, "The Sanctuary which was once a wetland before being turned into farmland many generations ago, is now being restored back into a wetland. The process of this is stop farming, remove drainage tiles that were used for farming, start digging pits to hold water, dam up major swales and ditches to slow down the runoff, and plant both native vegetation and trees that will withstand wetter conditions. The soil over the years will become more hydric, being able to sustain this plant material. We think the total process will take anywhere from three to five years to complete."
The project site lies on the first fields within a quarter-mile of the property's Taylor Road entrance on the west side.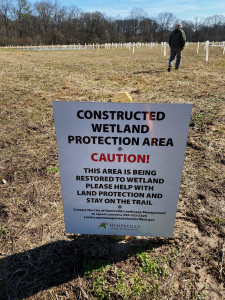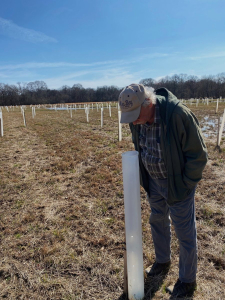 Trees would eventually capture any neglected farm fields in our region, as meadow annuals and perennials would yield to shrubs and then trees. Wind- and water-borne seeds would fill the voids and vacuums that Nature abhors. Already elsewhere in the non-mitigated meadows I'm seeing blackberry and sweetgum colonizing the meadow. Within the project site crews have planted selected facultative and obligate wetland tree species (certain oaks and below left a willow). Facultative species frequently grow in wetlands…but occasionally populate uplands. Obligate wetland species are exclusive to wetter sites.
Tree shelters, held securely with wooden stakes, protect the seedlings from browsing (deer and rabbits) and brace the plantings when the Flint sends flood waters across the fields. Note below right that there is no evidence as of my February 14 visit of flooding since crews placed the shelters.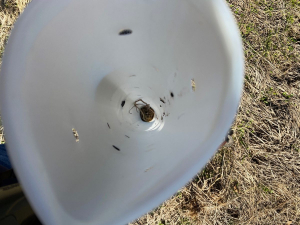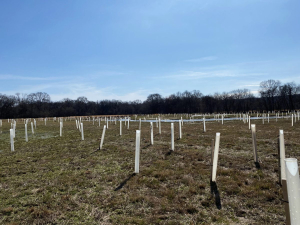 The project established two shallow waterfowl impoundments intended to attract seasonal migrants, provide desired habitat, diversify food sources (amphibians, crustaceans, reptile, and insects), and establish greater edges and ecotones.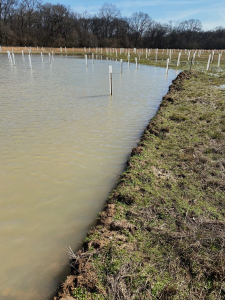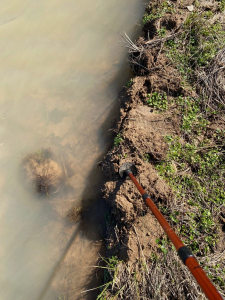 Rather than leave it to your imagination, here is an excerpt and two photographs from my March 20, 2013 Brief-Form Post on a similar wetland conversion project in the greater Huntsville area:
Here are photos from my March 8, 2023 visit to the Webb Pond Preserve (Land Trust of North ALabama), where similar wetland restoration efforts converted wet farmland to wetland. The forest and shallow impoundment below will soon enter their tenth growing season.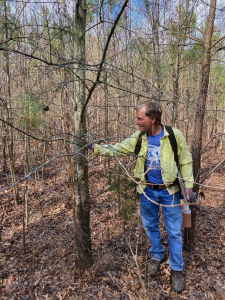 I'll closely watch the GSWS wetland restoration project as it develops from farm to forest. The Webb nine-year farm-to-forest success offers a glimpse of what to expect at the Sanctuary.
Now, employ your imagination to envision the project ten years hence. The big sky will diminish; the canopy will close. The meadow will sustain beyond the conversion forest, but only if managers actively mow to hold the broadscale forest conversion at bay. Mowing and even fire may be necessary to retard succession to brush and forest. Few people realize that Nature is anything but static. Maintaining a given condition (e.g., meadow) requires purposeful action (mowing or fire). Do nothing…things change.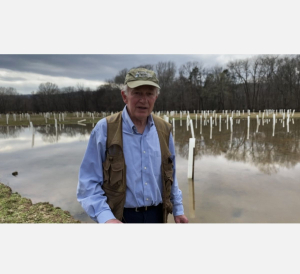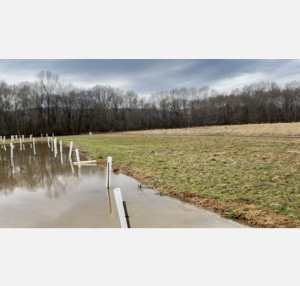 The Flint River is likewise anything but static. My late February visit revealed that winter rains had prompted the Flint to rise beyond its banks, sending a half-foot of water across the site.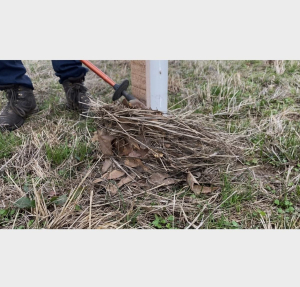 Change is constant, continuing, and guaranteed across Nature.
Videos from this First Winter of Conversion
I recorded this 3:04 video February 21, 2023. I don't often include back-to-back videos. I felt that the five weeks (and heavy rains between) justified including this one and the two minute video that follows it.
I measured just shy of four inches of rain the first two days of March. The widespread storm system likely dropped a similar deluge on the Flint River basin. The Flint flashes rapidly. My 2:52 March 24, 2023 video evidences that the conversion site carried nearly two feet of flow associated with the storm.
Recommendations to the City of Huntsville
The Sanctuary is unquestionably one of my Special Places. I plan to return again…and again…and again. I will follow the restoration project and will collect photographs, record short videos, and offer observations and reflections via these Great Blue Heron Posts. I offer for the moment these recommendations to the City of Huntsville:
Take advantage of this old forester, four-time former university president, forest scientist, lifelong Nature enthusiast, and published author. I offer to assist in whatever way you can use my passion and expertise. My price is reasonable — I would volunteer!
Establish permanent photo points to systematically chronicle the project response over time. The nearby Webb Pond project would only weakly tell its tale without the photo journal.
Catalog and archive all related writing, formal planning documents, reports, publicity, my Posts and videos, educational offerings and programs.
Create an advisory panel of interested experts, citizens, educators and stakeholders.
Closing Philosophical Ruminations
Nothing in Nature is static! I return often to the Sanctuary. Nature rewards me each time with its ever-changing face, whether periodic floods, the shifting seasons, greening vegetation, or fair weather cumulus on a warm spring day.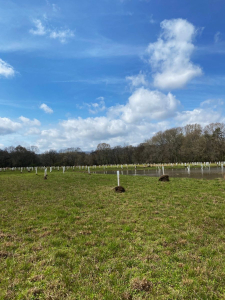 The patterned alto cumulus on an otherwise drab February day lifted my spirits.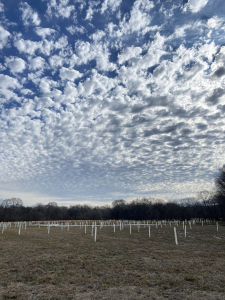 I hold deep feelings toward my Nature pursuits. I occasionally offer what I feel is an original sentiment, reflection, or observation. However, I learn later that others have offered similar perceptions years ago…sometimes centuries. Often, great thinkers, scientists, naturalists, and conservationists have stated my feeble thoughts far more succinctly, clearly, and compellingly than my own revelations. In fact, I wonder, have I ever had an original thought!?
Consider my deeply held sky-passion, which I thought might be uniquely my private joy and obsession. However, Leonardo da Vinci half-a-millennium ago recognized the infinite beauty and wisdom in the firmament:
Once you have tasted the essence of sky, you will forever look up.
I've been fixated and mesmerized by sky and clouds since I left my Mom's apron. How could I possibly contemplate the field of tree shelters and the restoration project without seeing and appreciating the universe of sky and clouds above!?
And John Muir tied the package tightly…and perfectly:
When we try to pick out anything by itself, we find it hitched to everything else in the Universe.
The wetland project; the Flint River; the wet farmland; the fledgling Sanctuary; its agricultural past; the near and distant future — all of it hitched and stitched.
Finally, Albert Einstein inspires me to view the project, the natural laws that guide it, and the endlessly changing sky above with eyes peering from my very soul:
Look deep into nature, and then you will understand everything better.
He who can no longer pause to wonder and stand rapt in awe, is as good as dead; his eyes are closed.
Thoughts and Reflections
I offer these observations:
A functioning natural ecosystem is a work of supreme art, in this case aided by the hands of man.
Meaningful conservation often requires deliberate, informed, and responsible action.
Look deep into nature, and then you will understand everything better. (Einstein)
Inhale and absorb Nature's elixir. May Nature Inspire, Inform, and Reward you!
Note: All blog post images created & photographed by Stephen B. Jones unless otherwise noted. Please circulate images with photo credit: "©2023 Steve Jones, Great Blue Heron LLC. All Rights Reserved."
Another Note: If you came to this post via a Facebook posting or by an another route, please sign up now (no cost… no obligation) to receive my Blog Post email alerts: http://eepurl.com/cKLJdL
And a Third: I am available for Nature-Inspired Speaking, Writing, and Consulting — contact me at steve.jones.0524@gmail.com
Reminder of my Personal and Professional Purpose, Passion, and Cause
If only more of us viewed our precious environment through the filters I employ. If only my mission and vision could be multiplied untold orders of magnitude:
Mission: Employ writing and speaking to educate, inspire, and enable readers and listeners to understand, appreciate, and enjoy Nature… and accept and practice Earth Stewardship.
Vision:
People of all ages will pay greater attention to and engage more regularly with Nature… and will accept and practice informed and responsible Earth Stewardship.
They will see their relationship to our natural world with new eyes… and will understand more clearly their Earth home.
Tagline/Motto: Steve (Great Blue Heron) encourages and seeks a better tomorrow through Nature-Inspired Living!
Steve's Three Books
I wrote my books Nature Based Leadership (2016), Nature-Inspired Learning and Leading (2017), and Weaned Seals and Snowy Summits: Stories of Passion for Place and Everyday Nature (2019; co-authored with Dr. Jennifer Wilhoit) to encourage all citizens to recognize and appreciate that every lesson for living, learning, serving, and leading is either written indelibly in or is powerfully inspired by Nature.
I began writing books and Posts for several reasons:
I love hiking and exploring in Nature
I see images I want to (and do) capture with my trusty iPhone camera
I enjoy explaining those images — an educator at heart
I don't play golf!
I actually do love writing — it's the hobby I never needed when my career consumed me
Judy suggested my writing is in large measure my legacy to our two kids, our five grandkids, and all the unborn generations beyond
And finally, perhaps my books and Blogs could reach beyond family and touch a few other lives… sow some seeds for the future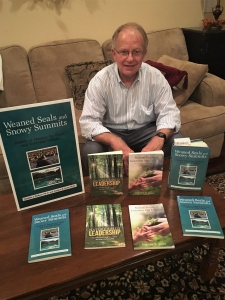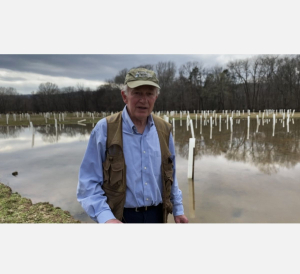 All three of my books (Nature Based Leadership; Nature-Inspired Learning and Leading; Weaned Seals and Snowy Summits) present compilations of personal experiences expressing my (and co-author Dr. Wilhoit for Weaned Seals and Snowy Summits) deep passion for Nature. All three books offer observations and reflections on my relationship to the natural world… and the broader implications for society. Order any and all from your local indie bookstore, or find them on IndieBound or other online sources such as Amazon and LifeRich.
http://stevejonesgbh.com/wp-content/uploads/2023/02/IMG_7611.jpg-02.14.23-Wetland-Restoration-1.15-PM-GSWS.jpg
1200
900
Steve Jones
http://stevejonesgbh.com/wp-content/uploads/2017/01/gbhweblogo.png
Steve Jones
2023-06-07 13:57:20
2023-06-07 13:57:20
Wetlands Restoration at the Goldsmith-Schiffman Wildlife Sanctuary