I am pleased to post the 11th of my new GBH Brief Form Posts to my website (Less than three-minutes to read! Not including the brief video). I tend to get a bit long-winded with my routine Posts. I don't want my enthusiasm for thoroughness and detail to discourage readers. So I will publish the brief Posts regularly.
I visited Alabama's Cane Creek Canyon Nature Preserve near Tuscumbia May 10, 2023. Watch for a subsequent full-length Post. I focus this Brief Post on Cane Creek deep within the canyon. However, I must begin the dive into the canyon from above. The topographic interpretative sign at the Preserve's trailhead hints at the sharp canyon walls that drop 350 feet to the canyon floor. The Point (below right) captures the canyon (and Cane Creek) opening to the north as it empties into the broad Tennessee River valley.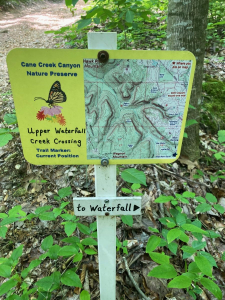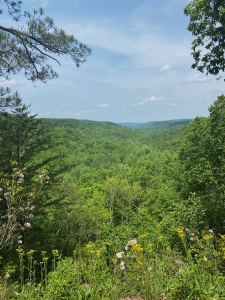 My visit fell nearly three weeks since significant rains. The creek flowed peacefully through the forest, reflecting the canopy above, accepting dappled sunshine, and showing off its gravel bottom. However, we saw flood debris deposited well above bankful, evidencing that the canyon flushes violently with occasional deluges…the kind my Dad might have termed "cloudbursts."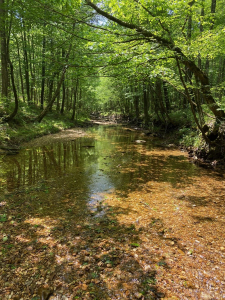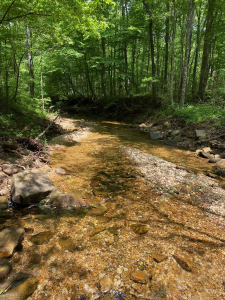 I'll reserve the flash flood observations for another time. Meanwhile, stream serenity prevailed on my May 2023 canyon venture. I recorded this 0:18 video, expressing volumes that the still photos and my spartan narrative fail to represent.
I accept the challenge of distilling these Brief-Form Posts to a single distinct reflection. Sometimes, I borrow such a reflection from the truly great conservation minds of antiquity, for no matter how hard I try, I am unable to best those whom I have followed and revered across my seven-plus decades. In this case, it is John Muir who captured the moment, albeit he in mountains far grandeur than Cane Creek Canyon, more than a century ago:
I'd rather be in the mountains thinking of God, than in church thinking about the mountains.
Inhale and absorb Nature's elixir. May Nature Inspire, Inform, and Reward you!
NOTE: I place 3-5 short videos (15-seconds to three minutes), like the one in this Post, on my Steve Jones Great Blue Heron YouTube channel weekly. All relate to Nature-Inspired Life and Living. I encourage you to SUBSCRIBE! It's FREE. Having more subscribers helps me spread my message of Informed and Responsible Earth Stewardship…locally and globally!
http://stevejonesgbh.com/wp-content/uploads/2023/05/IMG_8838.jpg-05.10.23-12.15-Creek.jpg
1200
900
Steve Jones
http://stevejonesgbh.com/wp-content/uploads/2017/01/gbhweblogo.png
Steve Jones
2023-06-02 09:58:37
2023-06-02 09:58:37
Brief Form Post #11: Along the Bottom of Cane Creek Canyon Nature Preserve