I am pleased to offer the ninth of my new GBH Brief Form Post format to my website (Less than three-minutes to read! Not including the brief videos). I tend to get a bit long-winded with my routine Posts. I don't want my enthusiasm for thoroughness and detail to discourage readers. So I will publish the brief Posts regularly on at least a trial basis.
I visited Alabama's Lake Lurleen State Park, ten miles NW of Tuscaloosa, April 19 and 20, 2023. Watch for two subsequent Full-Posts offering observations, reflections, photographs, and videos. One focuses on the lake itself; the other offers treasures I encountered along the Lakeshore Trail.
The Lake Itself 
Two-hundred-fifty-acre Lake Lurleen defines the Park. It draws people to the Park, like the powerful essence of frying bacon, invites diners to the breakfast table. Who could not be enticed by magic of a spring afternoon or the special elixir of an April dawn!?
Here are photos from shoreline the first afternoon (April 19) and the second morning from the nearby pier (April 20).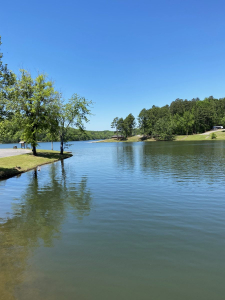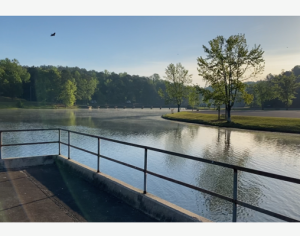 My 1:36 sunrise video from the same pier. The beauty, magic, wonder, awe, and inspiration of the simple things of Nature!
Treasures along the Lakeshore Trail
I explored more than four miles of the Lakeshore Trail Wednesday afternoon, gifted with a bounty of spring wildflowers, trees erupting in fresh foliage, tree-form oddities and curiosities, lapping waves, and seasonal birdsong — a fascinating collage!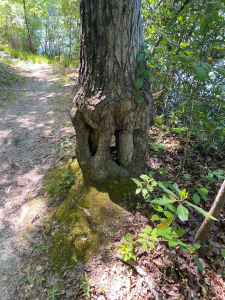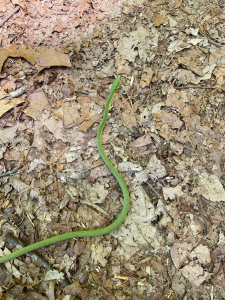 As a so often is the case, a brief video (1:41) speaks more lucidly and powerfully than a static photograph:
I accept the challenge of distilling these Brief-Form Posts to a single distinct reflection, a task far more elusive than assembling a dozen pithy statements. More than a half-millennium ago, Leonardo da Vinci observed, Human subtlety will never devise an invention more beautiful, more simple or more direct than does nature because in her inventions nothing is lacking, and nothing is superfluous. Here is my simplistic observation:
Nothing is superior aesthetically, spiritually, emotionally, and physically than a late spring day along a lake surrounded by forest!
Inhale and absorb Nature's elixir. May Nature Inspire, Inform, and Reward you!
NOTE: I place 3-5 short videos (15-seconds to three minutes) on my Steve Jones Great Blue Heron YouTube channel weekly. All relate to Nature-Inspired Life and Living. I encourage you to SUBSCRIBE! It's FREE. Having more subscribers helps me spread my message of Informed and Responsible Earth Stewardship…locally and globally!
http://stevejonesgbh.com/wp-content/uploads/2023/04/IMG_8620.jpg-04.19.23-Lakeshore-Trail.jpg
1200
900
Steve Jones
http://stevejonesgbh.com/wp-content/uploads/2017/01/gbhweblogo.png
Steve Jones
2023-05-15 12:48:12
2023-05-15 12:48:12
Brief-Form Post #9: Mid-April Visit to Alabama's Lake Lurleen State Park