I visited the Webb Pond Preserve (Land Trust of North Alabama) March 8, 2023 with retired Natural Resources Conservation Service forester Brian Bradley, who worked on the 60-acre property's wetland restoration project. Webb Pond is located in Madison County near Harvest, Alabama, just north of Madison. Brian had sparked my interest in the project several months earlier. The Webb Pond website includes an October 3, 2022 article co-authored by Brian, effectively setting the stage for this Post. The excerpt below serves an an abstract:
Land Trust of North Alabama Webb Pond — Conservation in Action
Contributed by Land Trust Land Manager Andy Prewett, NRCS Forester Brian Bradley, and NRCS Wildlife Biologist Jim Schrenkel
In 2004, the Land Trust was donated just over 60 acres of land associated with Webb Pond in north Madison County. The property was composed of a combination of wooded wetlands and farmland. The farmland had been farmed for decades with mixed results. Due to the proximity of the wetlands, the farmland crops more often than not couldn't be harvested due to localized flooding.
As our very first proactive management project, and in cooperation with the farmer of the property, the Land Trust opted in 2013 to take the property out of rotation and restore it to its lowland hardwood state. 
The property, a conservation property – not open for public recreation, was enrolled in a USDA Natural Resource Conservation Service program known as the Wetland Reserve Program.
Eight-Year Photograph Overview
I shamelessly borrow these photographs from the article. My reason is simple — I cannot travel back in time! These images capture the fields in summer 2013.
Crews machine-planted bare-root seedlings of three species of oak (shumard, willow, and water) and native persimmon.
This paired (2013 and 2022) aerial photos clearly depict the large back field (below left) and shows the young forest eight growing seasons later. The shallow water wildlife pond shows as tawney in the recent photo.
This paired photo show the eight-year transition from raw wound to naturalizing shallow pond.
The front field pair likewise shows drastic change.
Below left image shows the planting furrows and the small seedlings.
I've constrained my observations and discussion within the historic photos.
Nine-Year Close Inspection — Front Field
Brian and I closely inspected all of the front field and covered a lot of the back field. My hands showed the scratches of crossing through blackberry brambles, which are beginning to fade as shade deepens in the developing forest, still able to impede penetration! We did not find a single persimmon in either stand. Sweetgum volunteer regeneration (natural seeding) dominated all of the front field. Below Brian is examining the callery pear (spring leaves already emerged) in front of him. A shumard oak stands at his back. All other trees in this image are volunteer sweetgums, still 2-4,000 stems per acre.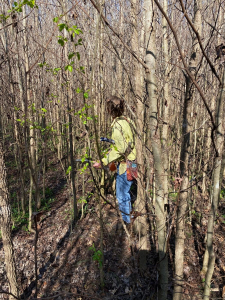 Brian is grasping the two-inch diameter oak.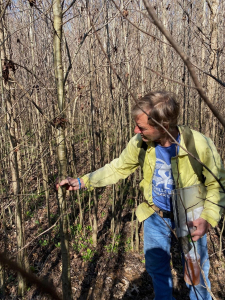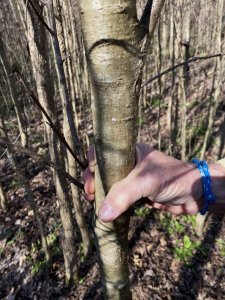 The oak in the image below is about three inches. Although surrounded by vigorous sweetgums, we believe that these healthy oaks will emerge in the main canopy.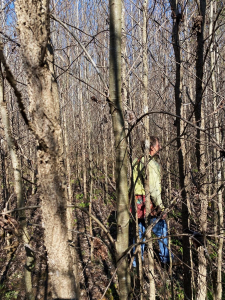 Because still photographs and my meager written narrative can only provide some feel for these dense young stands, I recorded this 3:26 video:
The view to the north shows an oak (with clipboard) along the path and several more at roughly 12-foot spacing beyond it.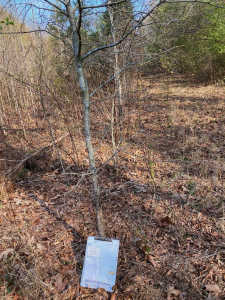 Brian hacked and sprayed Glyphosate on invasive callery (bradford) pear as we examined the project site. The nine-year-old front field is behind him, fully-stocked, no longed an agricultural field.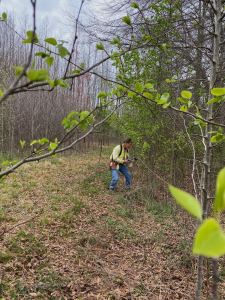 I've said often that nothing in Nature is static. Cleared for farming, a field will stay a field only so long as continuing cultivation maintains it. Even without planting tree species, this field when abandoned would have converted to forest. Nature does indeed abhor a vacuum!
Nine-Year Close Inspection — Back Field
Brian toured me across the site, standing here grasping a shumard oak along the former field edge. At right a shumard oak stands among blackberry brambles, still an impediment in spots to human passage within the young forest interior. I picture the stand five years hence supporting an open understory as the crown casts deeper shade.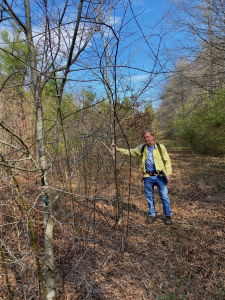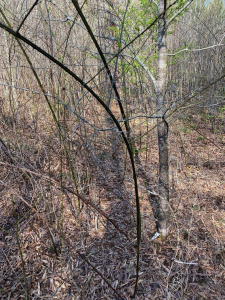 Callery pear (leafing out below left) seeded the abandoned field, some individuals persisting today, occupying the emerging main canopy. Likewise, an occasional loblolly pine germinated, at left a couple of stems within a predominantly sweet gum stand.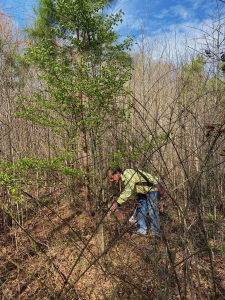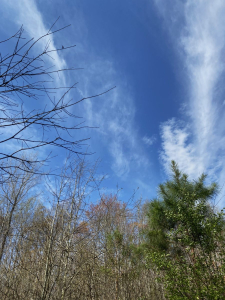 As in the photo above right, the spring sky accents the young forest, amplifying the beauty inherent in a vibrant new stand, rich with promise, replacing marginal farmland.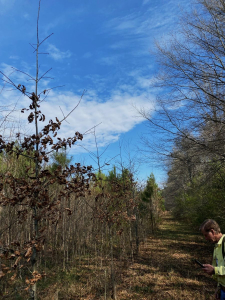 Brian is holding the largest oak we encountered, this one about four inches dbh, and reaching (right) commandingly into the canopy, standing 25 feet tall.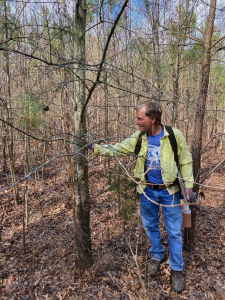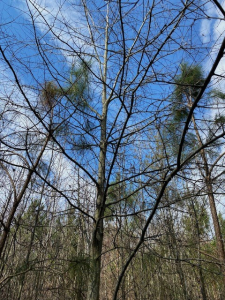 Some portions of the new stand, within seed-fall range of loblolly mother trees nearby, are dominated by pine.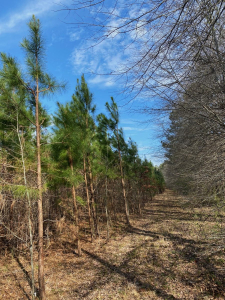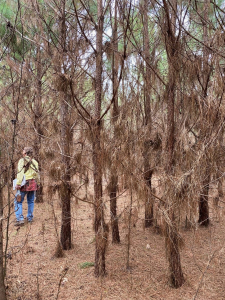 Although not one of the planted species, loblolly pine is certainly native and will account for a significant element in the emerging forest.
Fusiform Rust
The pine are heavily infected with fusiform rust, a fungal disease agent. The Alabama Forestry Commission considers it a major pest:
Fusiform rust (Cronartium quercuum f. sp.fusiforme) is one of the most damaging forest tree diseases in Alabama. While this rust was an obscure and unimportant problem sixty years ago, it has now increased to epidemic proportions and is still increasing.
Economic damage caused by fusiform rust is from mortality, lost product value, and disruption of management plans. A single tree can have rust galls or cankers on the main stem,branches, or both. Branch cankers within 12-18″ of the stem may grow into stem cankers. Main stem cankers can girdle and kill the tree. This is likely on smaller trees and almost assured on nursery trees infected with fusiform rust.
We saw numerous galls on branches (left) and several on mains stems (right).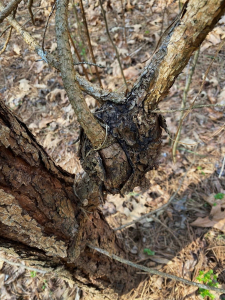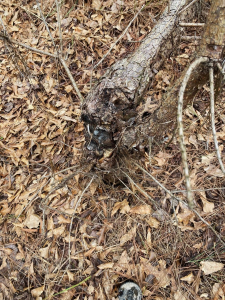 Nothing in Nature is static, whether on an individual tree or among the community of trees constituting the stand and forest.
Half-Acre Shallow Water Pond
The shallow water impoundment is fully naturalized, occupied with native wetland grasses and sedges, bordered on the far side by volunteer loblolly pine, and on the near side by sweetgum. Again, the spring sky accents the natural beauty and wonder. Who would imagine that this pond replaced a farm field just ten years ago?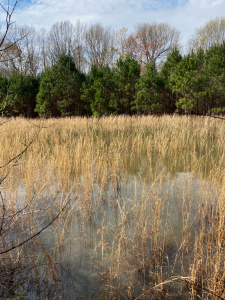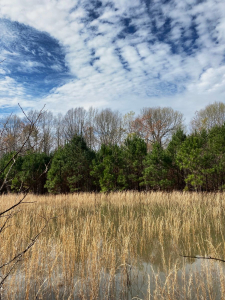 The two photos below need no narrative, speaking volumes through their image alone.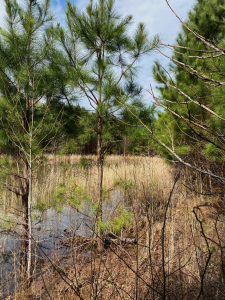 Habitat diversity and attractiveness to wildlife have increased orders of magnitude in just a decade across the Webb Pond Preserve. I wonder what I would have seen and concluded had I visited the property without explanation. Quite simply, far less. The old photographs, Brian's published report, and the evidence of time tell the tale. The result is why I encourage managers of all such public and semi-public properties to establish permanent photo points and begin to compile a photo record now, so that years and decades hence, future visitors can step back in time to see Nature's work progress to the then current time.
Culling Invasive Callery (Bradford) Pear
Allow me a side-journey from this story of wetland restoration, to examine the invasive callery pear, which is a regional nuisance in our wild habitats. Some people, perhaps they are among my readers, object to ridding any plants from our forests and fields, especially when the agent of attack is a chemical. In fact, I've been banned by administrators of an unnamed FaceBook group from posting images and text related to chemical treatments. However, callery pear is impairing the desired restoration outcome: populating the restored wetland site with native species. It is not my place to second guess a landowner's management imperative. The callery pear below does not belong here. Therefore, Brian is hacking and spraying to eliminate it.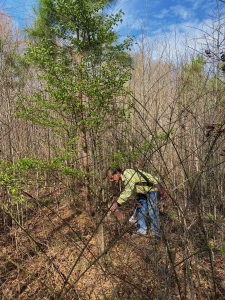 Removing the invasive is a long term task that will take repeated treatments. Every tree is a future seed source.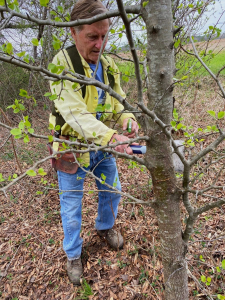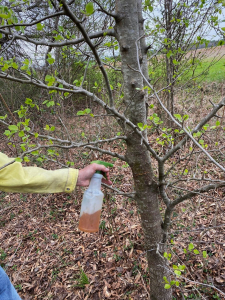 I recorded this 0:50 video of Brian in action.
I could go on and on about the 12 years I worked for a major forest products company in the southeastern US intensively managing company owned land. We used all manner of forestry tools: herbicides; fertilizer; mechanical; genetic improvement; fire; insect and disease treatments; stream and wetland safeguarding; threatened and endangered species protection; species selection; and stand density control. I wrote the company's Forest Management Practices Handbook, guiding forest operations across the firm's 2.2 million acres. I remain convinced that we were resolute in holding to informed and responsible Earth Stewardship.
Other Webb Pond Features
The Land Trust marks boundaries well, identifying the conservation easement edge below left. Having traversed the young old field forest, I asked Brian to capture the three large sweetgum trees and the nearby 3-foot southern red oak, all within sight of the regenerated fields.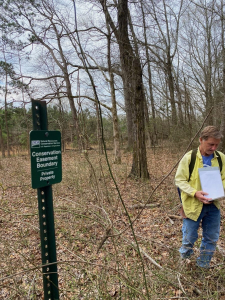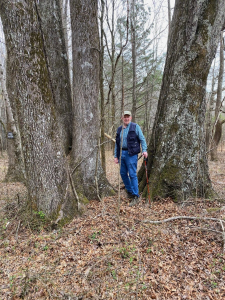 We puzzled over what we could only imagine as an old well adjacent to what must have been a long-since fallen residence.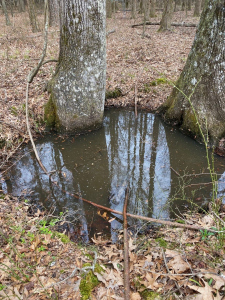 The supplejack vine entwined with a wisteria (left) caught my attention, as did the oak tree "urinal" below right.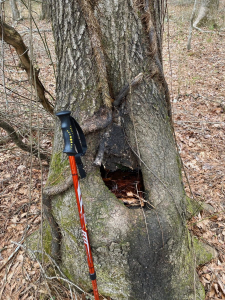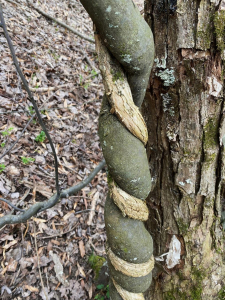 I'm grateful for Brian introducing me to the Webb Pond Preserve. I will place spring 2028 on my calendar. I want to see whether my vision of a bramble-free understory will prove accurate. I sure don't want to force my way through a skin-scarring bramble thicket at age 76!
Thoughts and Reflections
I offer these observations:
Nothing in Nature is static; consider nine years from plowed field to closed-canopy young forest.
Nature abhors a vacuum; Nature insists upon replacing field with forest! 
Understanding Nature requires close observation, deep inquiry, and keen insight.
Inhale and absorb Nature's elixir. May Nature Inspire, Inform, and Reward you!
Note: All blog post images created & photographed by Stephen B. Jones unless otherwise noted. Please circulate images with photo credit: "©2022 Steve Jones, Great Blue Heron LLC. All Rights Reserved."
Another Note: If you came to this post via a Facebook posting or by an another route, please sign up now (no cost… no obligation) to receive my Blog Post email alerts: http://eepurl.com/cKLJdL
And a Third: I am available for Nature-Inspired Speaking, Writing, and Consulting — contact me at steve.jones.0524@gmail.com
Reminder of my Personal and Professional Purpose, Passion, and Cause
If only more of us viewed our precious environment through the filters I employ. If only my mission and vision could be multiplied untold orders of magnitude:
Mission: Employ writing and speaking to educate, inspire, and enable readers and listeners to understand, appreciate, and enjoy Nature… and accept and practice Earth Stewardship.
Vision:
People of all ages will pay greater attention to and engage more regularly with Nature… and will accept and practice informed and responsible Earth Stewardship.
They will see their relationship to our natural world with new eyes… and will understand more clearly their Earth home.
Tagline/Motto: Steve (Great Blue Heron) encourages and seeks a better tomorrow through Nature-Inspired Living!
Steve's Three Books
I wrote my books Nature Based Leadership (2016), Nature-Inspired Learning and Leading (2017), and Weaned Seals and Snowy Summits: Stories of Passion for Place and Everyday Nature (2019; co-authored with Dr. Jennifer Wilhoit) to encourage all citizens to recognize and appreciate that every lesson for living, learning, serving, and leading is either written indelibly in or is powerfully inspired by Nature.
I began writing books and Posts for several reasons:
I love hiking and exploring in Nature
I see images I want to (and do) capture with my trusty iPhone camera
I enjoy explaining those images — an educator at heart
I don't play golf!
I actually do love writing — it's the hobby I never needed when my career consumed me
Judy suggested my writing is in large measure my legacy to our two kids, our five grand kids, and all the unborn generations beyond
And finally, perhaps my books and Blogs could reach beyond family and touch a few other lives… sow some seeds for the future
All three of my books (Nature Based Leadership; Nature-Inspired Learning and Leading; Weaned Seals and Snowy Summits) present compilations of personal experiences expressing my (and co-author Dr. Wilhoit for Weaned Seals and Snowy Summits) deep passion for Nature. All three books offer observations and reflections on my relationship to the natural world… and the broader implications for society. Order any and all from your local indie bookstore, or find them on IndieBound or other online sources such as Amazon and LifeRich.
http://stevejonesgbh.com/wp-content/uploads/2023/03/IMG_7850.jpg-03.08.23-Webb-Pond-Row-of-Shumard-Oak-with-Volunteer-SG.jpg
1200
900
Steve Jones
http://stevejonesgbh.com/wp-content/uploads/2017/01/gbhweblogo.png
Steve Jones
2023-04-12 18:47:17
2023-04-12 18:47:17
Nine Years of Wetland Restoration at Webb Pond Preserve