I am pleased to offer the fifth of my new GBH Brief Form Post format to my website (Less than three-minutes to read! ). I tend to get a bit long-winded with my routine Posts. I don't want my enthusiasm for thoroughness and detail to discourage readers. So I will publish the brief Posts regularly on at least a trial basis.
Brief-Form Post on Glorious Sky and Cloud Images 
March 16, 2023 I co-led a field trip as a supplement to the seven-week North Alabama State Parks course that Mike Ezell, Alabama State Park Naturalist Emeritus, and I taught at Huntsville LearningQuest this winter semester. We chose a spectacular spring day, when images of clouds and sky amplified the beauty, magic, wonder, and awe of Nature.
A fitting sky send-off as the group gathered by the lodge (left). The clouds likewise blessed us as we passed near the lakeside cottages (right).

A sky-view into the dominant canopy crowns would not be available when leaves emerge in another month.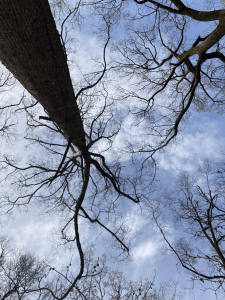 The lake complements the sky, reflecting the blue-white, the wind-textured surface blending the blue and white into a single hue.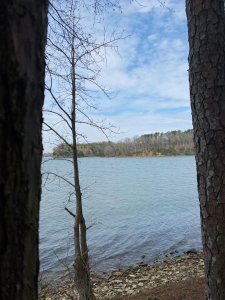 I've been fixated and mesmerized by sky and clouds since I left my Mom's apron. How could I possibly contemplate the woodland saunter at Joe Wheeler State Park without seeing and appreciating the universe of sky and clouds above!?
John Muir tied the Wheeler hike package tightly…and perfectly:
When we try to pick out anything by itself, we find it hitched to everything else in the Universe.
The woodland hike; Lake Wheeler; the lakeside bluffs; the mature hardwood forest; the exquisite sky and clouds above — all of it hitched and stitched.
Albert Einstein's words inspire me to view the spring morning, the natural laws that guide our world, and the endlessly changing sky above with eyes peering from my very soul:
Look deep into nature, and then you will understand everything better.
I'm fascinated with Nature's firmament…and with her incomparable beauty, magic, wonder, and awe!
Once you have tasted the essence of sky, you will forever look up. (Leonardo da Vinci)
Inhale and absorb Nature's elixir. May Nature Inspire, Inform, and Reward you!
NOTE: I place 3-5 short videos (15-seconds to three minutes) on my Steve Jones Great Blue Heron YouTube channel weekly. All relate to Nature-Inspired Life and Living. I encourage you to SUBSCRIBE! It's FREE. Having more subscribers helps me spread my message of Informed and Responsible Earth Stewardship…locally and globally!
http://stevejonesgbh.com/wp-content/uploads/2023/03/IMG_8135.jpg-03.16.23-JWSP-2.57-Yellow-Trail-Crown-of-Same.jpg
1200
900
Steve Jones
http://stevejonesgbh.com/wp-content/uploads/2017/01/gbhweblogo.png
Steve Jones
2023-04-10 14:57:11
2023-04-10 14:57:11
Brief-Form Post #5: on Glorious Sky and Cloud Images on a March Visit to Joe Wheeler State Park