I am excited to introduce a new GBH Brief Form Post format (Less than three-minutes to read!) to my website. I tend to get a bit long-winded with my routine Posts. I don't want my enthusiasm for thoroughness and detail to discourage readers. So I will publish the brief Posts regularly on at least a trial basis.
Brief-Form Post on Wetland Restoration
Recent Conversion at the Sanctuary
February 14, 2023 I visited Huntsville, Alabama's Goldsmith-Schiffman Wildlife Sanctuary. During the coming weeks I will publish my long-form photo-essay on my Valentine's Day tour. In the meantime, here is the first trial employing my new GBH Brief Form Post format, this one on a single aspect of my visit.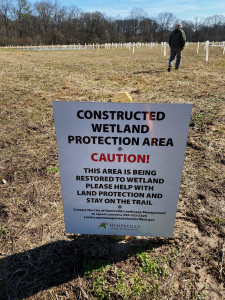 The Sanctuary is indeed wet land, seasonally saturated and occasionally flooded by the adjacent Flint River. Modified by minor drainage when converted to crop production decades ago, the ongoing wetland protection project intends to return the fields to their original hydrology.
These photos depict this winter season's planting of appropriate wetland tree species and constructing two shallow water impoundments to attract waterfowl and associated fauna.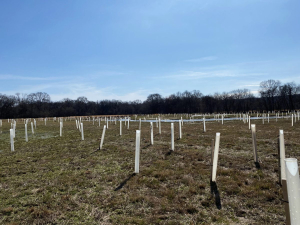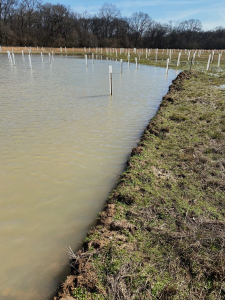 I recorded this 3:04 video at the site February 21, 2023:
Nine-Year Farm-to-Forest Results at Webb Pond Preserve
Here are photos from my March 8, 2023 visit to the Webb Pond Preserve (Land Trust of North ALabama), where similar wetland restoration efforts converted wet farmland to wetland. The forest and shallow impoundment below will soon enter their tenth growing season.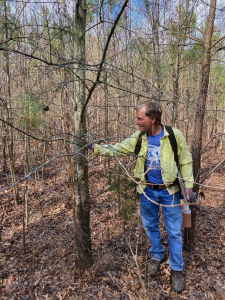 I'll closely watch the GSWS wetland restoration project as it develops from farm to forest. The Webb nine-year farm-to-forest success offers a glimpse of what to expect at the Sanctuary.
Inhale and absorb Nature's elixir. May Nature Inspire, Inform, and Reward you!
Miscellaneous Housekeeping
Note: All blog post images created & photographed by Stephen B. Jones unless otherwise noted. Please circulate images with photo credit: "©2023 Steve Jones, Great Blue Heron LLC. All Rights Reserved."
To receive my Blog Post email alerts: http://eepurl.com/cKLJdL
I am available for Nature-Inspired Speaking, Writing, and Consulting — contact me at steve.jones.0524@gmail.com
Reminder of my Personal and Professional Purpose, Passion, and Cause
If only more of us viewed our precious environment through the filters I employ. If only my mission and vision could be multiplied untold orders of magnitude:
Mission: Employ writing and speaking to educate, inspire, and enable readers and listeners to understand, appreciate, and enjoy Nature… and accept and practice Earth Stewardship.
Vision:
People of all ages will pay greater attention to and engage more regularly with Nature… and will accept and practice informed and responsible Earth Stewardship.
They will see their relationship to our natural world with new eyes… and will understand more clearly their Earth home.
Tagline/Motto: Steve (Great Blue Heron) encourages and seeks a better tomorrow through Nature-Inspired Living!
Steve's Three Books
I wrote my books Nature Based Leadership (2016), Nature-Inspired Learning and Leading (2017), and Weaned Seals and Snowy Summits: Stories of Passion for Place and Everyday Nature (2019; co-authored with Dr. Jennifer Wilhoit) to encourage all citizens to recognize and appreciate that every lesson for living, learning, serving, and leading is either written indelibly in or is powerfully inspired by Nature.
I began writing books and Posts for several reasons:
I love hiking and exploring in Nature
I see images I want to (and do) capture with my trusty iPhone camera
I enjoy explaining those images — an educator at heart
I don't play golf!
I actually do love writing — it's the hobby I never needed when my career consumed me
Judy suggested my writing is in large measure my legacy to our two kids, our five grand kids, and all the unborn generations beyond
And finally, perhaps my books and Blogs could reach beyond family and touch a few other lives… sow some seeds for the future
All three of my books (Nature Based Leadership; Nature-Inspired Learning and Leading; Weaned Seals and Snowy Summits) present compilations of personal experiences expressing my (and co-author Dr. Wilhoit for Weaned Seals and Snowy Summits) deep passion for Nature. All three books offer observations and reflections on my relationship to the natural world… and the broader implications for society. Order any and all from your local indie bookstore, or find them on IndieBound or other online sources such as Amazon and LifeRich.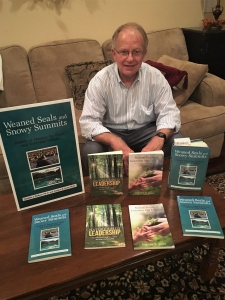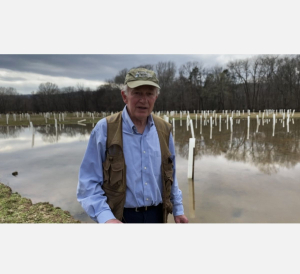 http://stevejonesgbh.com/wp-content/uploads/2023/02/IMG_7700.jpg-2.21.23.jpg
1140
1200
Steve Jones
http://stevejonesgbh.com/wp-content/uploads/2017/01/gbhweblogo.png
Steve Jones
2023-03-20 14:30:59
2023-04-03 10:31:18
GBH Brief-Form Post #1: Wetland Restoration at a Local Wildlife Sanctuary