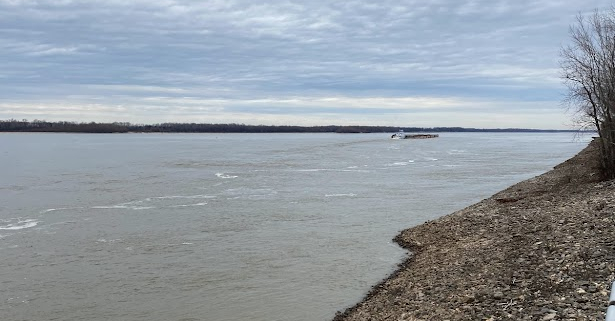 December 19, 2019 I visited the Tunica River Park along the Mississippi River just 30 miles south of Memphis and immediately across from Arkansas. The Mighty Mississippi stirred my soul. Oh, the stories it could tell.
Okay, I'll admit that a Tunica casino and the overwhelming human urge to risk wealth to beat the 25-cent slots drew Judy and me to the Big Muddy! We are high rollers — Not! We showed up willing to blow $100. We managed to do just that…yet it took us two full days, allowing lots of enjoyment and excitement. We looked, I am sure, out of place. Married 50 years and still in love, sitting side-by-side at a single slot machine, laughing with glee when we won…and sharing the woe when we didn't. We reached an alpine high when we reached $125 the first evening. We ended the second day at $75, managing to depart the last morning at a big fat zero!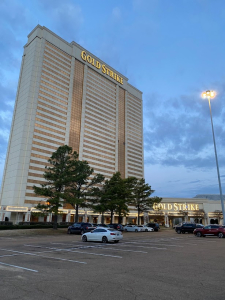 But that's the side story. I could not visit the Mississippi River without sampling a taste of Nature. That's our casino site along the river.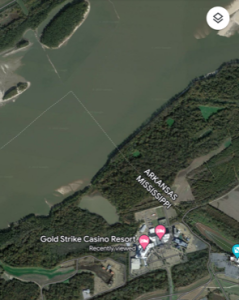 The Tunica County River Park serve as the location for this Post. Note that the Park sits on the outside of one of the river's broad meanders, a feature that defined the river's pattern across the millions of years of creating this magnificent delta region. The outside river cuts the deep delta soils; the slower inside flow deposits sediments…the sandbar across the river.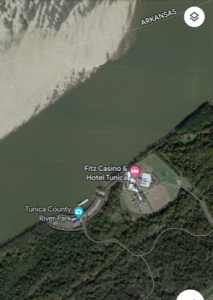 The stone below protects the shoreline, in this case 20-feet above the then current water level. This view is downstream. A typical hardwood forest lies beyond the park's open ground.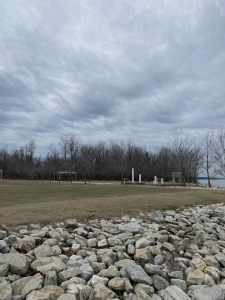 A river cruise boat sits docked upstream at the park's museum and interpretive center.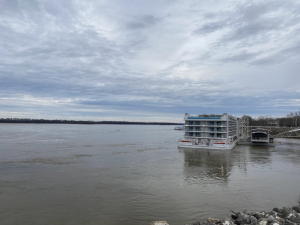 My 2:11 video captures the essence of the river several hundred miles above the Gulf of Mexico:
Although at least twenty feet above the current river level, flood debris suggests the far greater volume carried periodically by the Mighty Mississippi! Arkansas sandbars defining the broad inside meander lie perhaps a half-mile from my vantage point (right).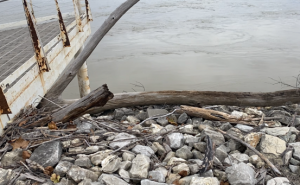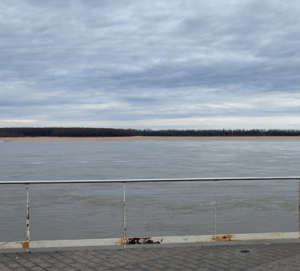 I wonder what Mark Twain would have thought of the modern day river cruise ship docked at the park. Huck Finn and Tom Sawyer's adventures would have taken a different twist had they been aboard such a ship.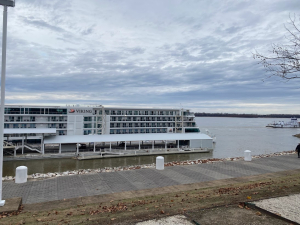 The company's online site offers this:
Stretching for 2,350 miles down the United States, from Minnesota's Lake Itasca to the Gulf of Mexico, our new cruises on the "Mighty Mississippi" offer a different type of cross-country journey for the curious explorer—one that allows you to be immersed in American history and culture. Step on board the newest and most modern ship on the Mississippi with all outside staterooms, private verandas, spacious public areas and our signature, clean Scandinavian design, reimagined for the Mississippi River.
Not at the kind of Big Muddy adventure that Huck and Tom experienced!
Here's the cruise ship view from the north, pausing for tourists to visit the Park and its River Museum.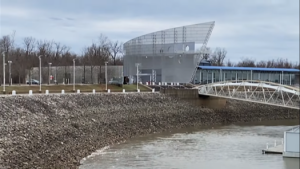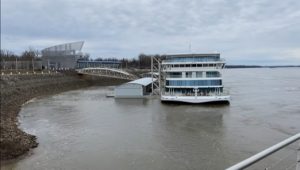 As is my custom, I paid attention to the firmament, an altostratus overcast, the river mirroring its leaden color, albeit with a strong hint of its sediment burden. This view is downstream, its disturbed water flowing toward the Gulf.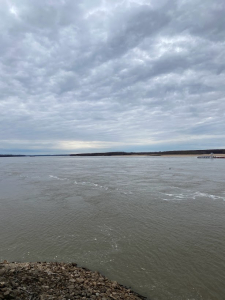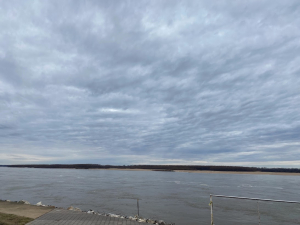 Because I contend more and more with each Post that a brief video enhances my still photos, observations, and reflections, I present this 3:19 video I recorded just upstream from the Visitors Center.
The overcast north and upstream expressed the same mid-winter grey dullness. I do not imply that the tone and effect are without beauty and magic. I find wonder in the South's varying winter moods.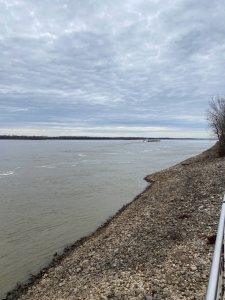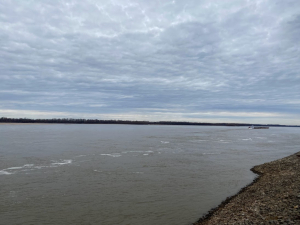 Judy provides a pleasant foreground to the Mississippi and a tow of barges heading north.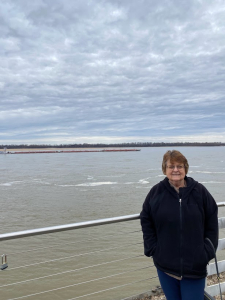 Sycamore had been planted in straight rows near where I recorded the second video. Forty years ago I established and managed plantations of four species of hardwood to supply high quality fiber to my employer's (Union Camp Corporation) Franklin, Virginia mill. Sycamore grew rapidly with wood fibers (short, smooth, and dense) perfectly suited for manufacturing fine writing paper. At the time, our Franklin mill was the world's largest fine paper producer. The ornamental planting reminded me that I had revelled in pursuit of my chosen profession on behalf of a Fortune 500 paper and allied products manufacturing concern. I still have high regard for those who manage forests to sustainably and renewably meet the manifold wood and fiber needs and demands of society.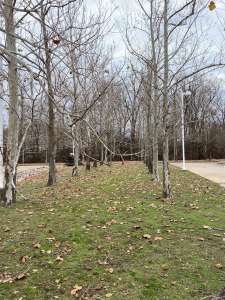 Now, far removed from my younger practicing industrial forestry days, I retain that deep respect for utilitarian forestry. I watch sawlog and pulpwood trucks along our roads and byways with a degree of longing for those good old years. Some of my fellow Nature enthusiasts don't view the raw product harvest, transport, and manufacturing sectors with respect and affection. I, in contrast, thank God for the 12 years I spent practicing forestry for a company that owned and responsibly and sustainably managed 2.2 million acres of forestland from Virginia through the Carolinas, Georgia, Florida, and Alabama. I am blessed to have done the real work and experience of informed and responsible forestry.
Although I regret not finding a rich delta site to hike through some of the most productive forests on the planet, I snapped these two photos of a old bottomland forest that is feeling and showing its age. Like our north Alabama forests, the delta hardwood forests do not live unchanged forever. Nothing in Nature is static. The photo below left shows coarse-topped crowns beginning to break apart. A closer look revealed considerable dead and down woody debris on the ground. A large dead tree stands left of center at right.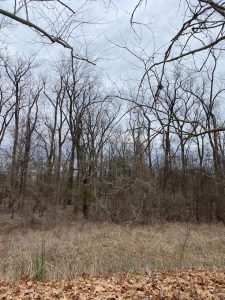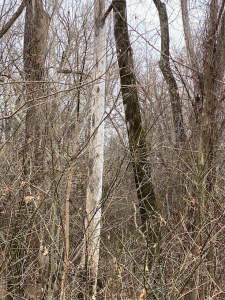 The trail-closed sign kept me from exploring the younger stand beyond the open park grounds below. For another day!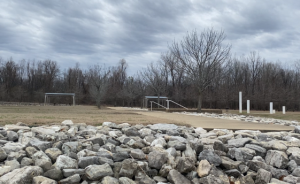 I leave you with a broad aerial view of the region we visited….and urge you to consider that individual trees and forests do not live forever, nor does Old Muddy pick a channel and stay within it, unchanging over time. The casino and resort where we stayed is just above and to the left of the red pin. The large Arkansas sand flats that lie across the river from the Park are WNW of the pin, downstream from our casino. The aerial photograph evidences that the river is ever-changing. Horseshoe Lake is clearly an old meander oxbow lake. Other ancient meanders and oxbow remnants pepper the landscape, defining the river and delta's past and portending its future.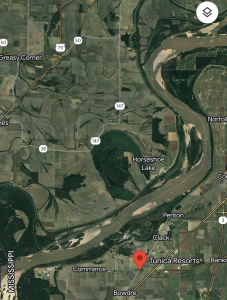 The Mighty Mississippi River has transported rainfall and melted snow uninterrupted since the continental ice sheet melted 13,000 years ago…and during interglacial periods before, from Lake Itasca to the Gulf of Mexico. Itasca annually receives 30 inches of liquid precipitation (includes 50 inches of snow). Across 13,000 years, Itasca contributed 32,500 feet of rain (and melted snow) to Big Muddy. Every Itasca acre contributed 1.4 billion cubic feet of water over the period. The aggregate numbers are staggering. Nature itself is similarly mind-blowing. Nature one day at a time can be overwhelming. Expand her beauty, magic, wonder, and awe by a month, a year, a decade, or 13,000 years…her essence is beyond our imagination. Stand back if we reach beyond the arbitrary 13 millennia, an insignificant blink of an eye…just 1/7692 of a billion years.
I close with those sobering reminders of our own human insignificance.
Thoughts and Reflections
I offer these observations:
The Mighty Mississippi is truly a force of Nature.
Nature is within reach even on a trip to enjoy a nice hotel, good food and drink, and some low-stakes slots!
A taste of Nature along the Big Muddy inspires a future deeper dive into the Delta Bottomland Forests.
Inhale and absorb Nature's elixir. May Nature Inspire, Inform, and Reward you!
Note: All blog post images created & photographed by Stephen B. Jones unless otherwise noted. Please circulate images with photo credit: "©2023 Steve Jones, Great Blue Heron LLC. All Rights Reserved."
Another Note: If you came to this post via a Facebook posting or by an another route, please sign up now (no cost… no obligation) to receive my Blog Post email alerts: http://eepurl.com/cKLJdL
And a Third: I am available for Nature-Inspired Speaking, Writing, and Consulting — contact me at steve.jones.0524@gmail.com
Reminder of my Personal and Professional Purpose, Passion, and Cause
If only more of us viewed our precious environment through the filters I employ. If only my mission and vision could be multiplied untold orders of magnitude:
Mission: Employ writing and speaking to educate, inspire, and enable readers and listeners to understand, appreciate, and enjoy Nature… and accept and practice Earth Stewardship.
Vision:
People of all ages will pay greater attention to and engage more regularly with Nature… and will accept and practice informed and responsible Earth Stewardship.
They will see their relationship to our natural world with new eyes… and will understand more clearly their Earth home.
Tagline/Motto: Steve (Great Blue Heron) encourages and seeks a better tomorrow through Nature-Inspired Living!
Steve's Three Books
I wrote my books Nature Based Leadership (2016), Nature-Inspired Learning and Leading (2017), and Weaned Seals and Snowy Summits: Stories of Passion for Place and Everyday Nature (2019; co-authored with Dr. Jennifer Wilhoit) to encourage all citizens to recognize and appreciate that every lesson for living, learning, serving, and leading is either written indelibly in or is powerfully inspired by Nature.
I began writing books and Posts for several reasons:
I love hiking and exploring in Nature
I see images I want to (and do) capture with my trusty iPhone camera
I enjoy explaining those images — an educator at heart
I don't play golf!
I actually do love writing — it's the hobby I never needed when my career consumed me
Judy suggested my writing is in large measure my legacy to our two kids, our five grand kids, and all the unborn generations beyond
And finally, perhaps my books and Blogs could reach beyond family and touch a few other lives… sow some seeds for the future
All three of my books (Nature Based Leadership; Nature-Inspired Learning and Leading; Weaned Seals and Snowy Summits) present compilations of personal experiences expressing my (and co-author Dr. Wilhoit for Weaned Seals and Snowy Summits) deep passion for Nature. All three books offer observations and reflections on my relationship to the natural world… and the broader implications for society. Order any and all from your local indie bookstore, or find them on IndieBound or other online sources such as Amazon and LifeRich.
http://stevejonesgbh.com/wp-content/uploads/2022/12/IMG_6720.jpg-Dec-19.22.jpg
820
615
Steve Jones
http://stevejonesgbh.com/wp-content/uploads/2017/01/gbhweblogo.png
Steve Jones
2023-03-15 13:37:14
2023-03-15 13:39:42
Mid-December Visit to the Mississippi River