Winter is racing past. I'm completing this Post narrative February 24, 2023, a full two months beyond the deep winter episode that is the subject of this photo-essay. Yesterday (February 23) Madison recorded a high of 83! I have a backlog of these Posts ready for publishing. I thought it is approaching past-time to issue this one!
A Personal Fascination with Weather
December 22, 2022, our local forecast alerted us in north Alabama to an epic Arctic air mass plunging our way, anticipated to enter from the northwest that evening, ushered by showers before midnight. I'll focus this Nature-Inspired Life and Living Post on the six-day period from the frontal passage to the return flow of warmer air.
I admit to being a complete weather geek! I still follow the weather at locations where we've lived across our 50 years of marriage and career. I normally chronicle my Nature wanderings in forest and field environs. I'll focus this Post, instead, on the weather right here in my backyard. I'll preface my observations, reflections, and photographs with a simple declarative statement. I use the term epic because the media, obsessed with the ubiquitous hysteria of climate change as an existential threat to our very existence, adopted the epic characterization from the moment the deep cold air in the Far North began building and threatening to move our way.
As a weather addict, scientist, and passionate observer of Nature, I'll confess to being an unabashed sceptic of the widely-held belief (yes, belief is the operative word) that human influences are the primary (or even a major) cause of any changes to our climate. I do not buy the existential climate threat scenario painting doom and gloom. I contend that sceptic differs profoundly from the pejorative term denier.  I trust the judgment of those whose intellect ran far deeper than my own, and whose wisdom has stood the test of time:
In questions of science, the authority of a thousand is not worth the humble reasoning of a single individual. Galileo Galilei (1564-1642)
The overwhelming science of Galileo's day held that all celestial objects orbit the Earth. His humble reasoning prevailed over the vicious protestations that labeled him a denier of the truth.
His insistence that the book of nature was written in the language of  mathematics changed natural philosophy from a verbal, qualitative account to a mathematical one in which experimentation became a recognized method for discovering the facts of nature. Finally, his discoveries with the telescope revolutionized astronomy and paved the way for the acceptance of the Copernican heliocentric system, but his advocacy of that system eventually resulted in an inquisition process against him. (Galileo Galilei By Albert Van Helden)
Approaching Cold Front
The period December 22-27 is emblematic of our changeable weather here in north Alabama at 34.72 degrees North Latitude. One swing of the winter temperature pendulum does not constitute climate change. Instead, it is within the normal fluxes of north Alabama winter. December 22, 2022 offered a southerly breeze and 50 degrees at 4:25 and 4:32 PM (photos below). The view westward, however, portended the approaching front, clouds thickening as they advanced.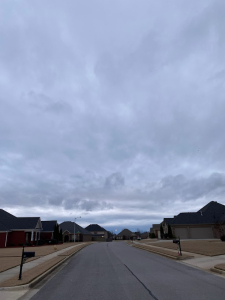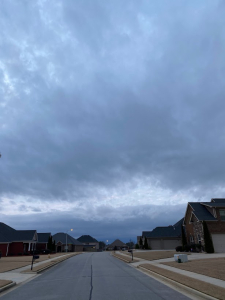 Overhead at 4:37, the sky remained broken as the front glowered, darkening.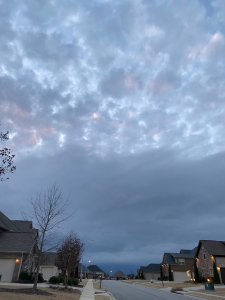 The 4:33 and 4:39 sky directly above us hinted at little…unless we glanced westward. These two images stand as metaphor for life and living in general. Too often, unless we look deeply and see clearly, the truth lies hidden in plain sight. We miss the obvious when blinded by the superficial.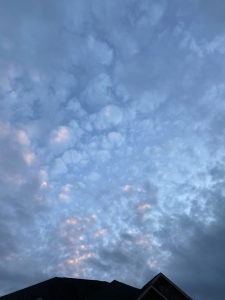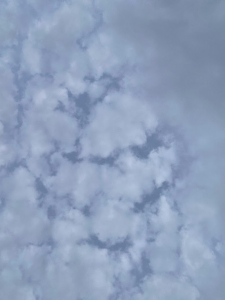 Informed repeatedly by the media that we were about to experience an air mass portending catastrophic climate change, one might believe that the event would be unprecedented. I do not imply that the coming weather would be benign…only that it's been cold in northern Alabama before…and will be again.
A Mount Washington (New Hampshire) Side Trip
Over the years of my weather addiction, a fragment of my psyche has taken residence atop Mount Washington in New Hampshire. I've visited the summit-located (6,288 feet) Mount Washington Observatory several times, summer and winter. I once failed notably in a winter ascent at 5,000 feet when a hurricane force ground blizzard repeatedly knocked our party to the ground, forcing retreat to the base. So that you are reminded of the relative severity of our north Alabama cold air intrusion, here is the Observatory's account of the recent Christmas weekend episode:
Strong winds and heavy snow came to Mount Washington just in time for Christmas thanks to a nasty bomb cyclone sweeping through the Northeast. I wrote this comment Christmas morning at our summit weather station, where sustained winds exceeded 100 mph.
What is a bomb cyclone and how does it form? This type of system is defined by how rapidly it intensifies, with pressure at the center of the storm dropping at least 24 millibars over a 24-hour period. The rapid decrease in pressure produces a sharp pressure gradient between the two air masses, which leads to strong winds. Arctic air masses regularly shift down to the United States, but this strong system was unusual in that it affected states farther south with the potential for places like Florida to have one of its coldest Christmas holidays since 1983!
This massive low-pressure system brought a perfect mess of hazardous weather conditions to Mount Washington, especially on Dec. 23. The most noticeable hazards were the strong winds. Weather conditions really started to deteriorate right around 1:00 a.m. on Dec. 23, with winds quickly ramping up and sustaining at 100+ mph. The storm also produced substantial snowfall across the higher summits. Winds were so strong by the morning of Dec. 23 that the day observer was unable to collect the precipitation can for the synoptic observation due to how dangerously high the winds were. Winds peaked at 150 mph early during the morning on Dec. 23.
Drastic Overnight Change
The front did indeed penetrate the South, plunging our prior afternoon's 50 degrees to two degrees with strong wind by 7:34 AM the next morning!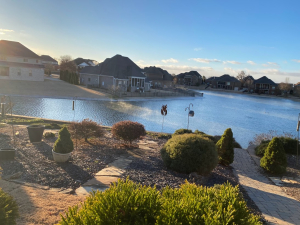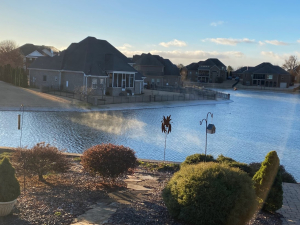 Don't be fooled by the bright sunshine, open water, and snow-free ground. At 7:35, this transplanted former Alaskan found the bitter wind formidable. Living on-campus at the University of Alaska Fairbanks, I did not hesitate to walk to my office, wearing appropriate gear, at 30 degrees below zero. My cold tolerance has long since waned.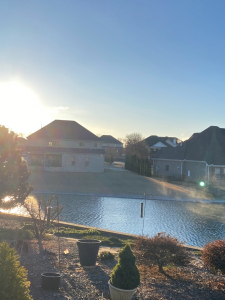 I believe this 1:15 video captures the morning better than my observations, reflections, and photographs:
December 23 reached an afternoon high of only 16 degrees. I ventured outside only twice: driving to the gym and refilling the backyard bird feeders!
Continuing our southern deep freeze, here's Christmas Eve at 3:28 PM with the high temperature at 26 degrees, and ice covering this end of our pond.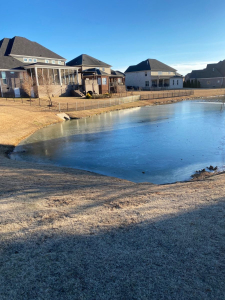 The Deep Freeze
That evening at 8:26 PM, ice covered nearly the entire pond, the temperature at 17 degrees after the wind had stopped.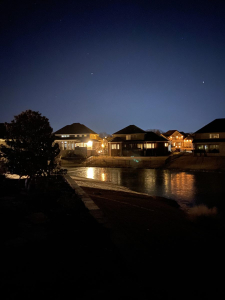 Christmas morning dawned at 12 degrees (6:30 AM), the pond icy from shore to shore. The thin covering perhaps would have supported a mallard…but little more.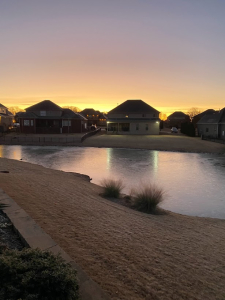 My 1:20 video shows the third-day extent of our winter blast:
I love the combined impression of Christmas spirit, frozen pond, pristine air, and dawn light!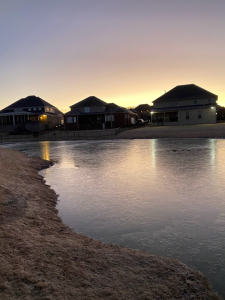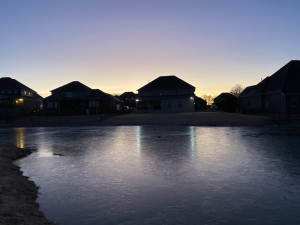 Only the immediate vicinity of the aerators remained open or slushy. I enjoy the magic of such cold snaps, even as I remind myself that during my Fairbanks, Alaska winters, similar ponds would be frozen at least a foot thick by mid-December, despite a thick blanket of insulating snow.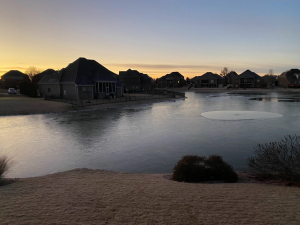 Third grade grandson Sam stood along the shore at 9:44 AM, the temperature had warmed to 18 degrees Fahrenheit.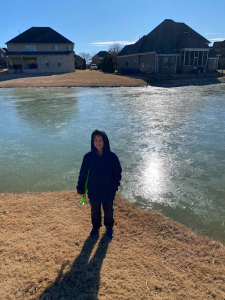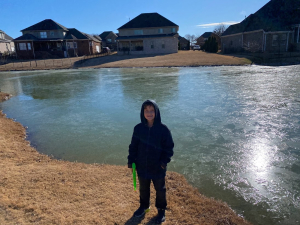 Sam requested that I pose with the icy background at 9:45.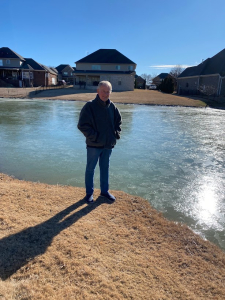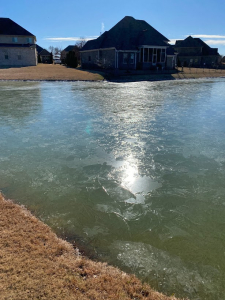 Sam and I discovered soil frost pillars in our backyard perennial beds. Nature's pure magic, generated by simple physics, often lies hidden in plain sight.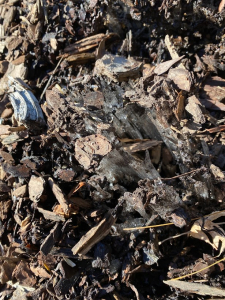 I snapped this final pond photograph from the  flower beds at 9:50.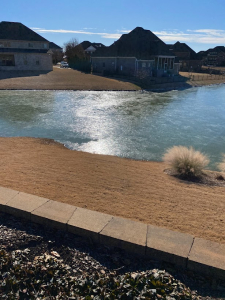 Leaving the Cold Behind
We departed Madison December 26 at 4:57 AM (21 degrees F) for the first leg of the trip to visit our son and his family in Pittsburgh, Pennsylvania. We photographed sunrise over Nick-a-Jack Lake at 6:32 and 6:36 AM as we passed through northeast Alabama.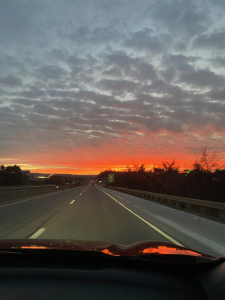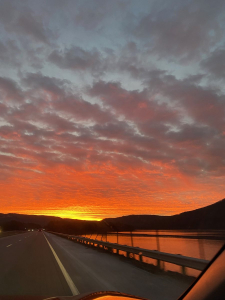 Our Madison forecast hinted at snow showers late that afternoon. We learned from our daughter that driving conditions in the Huntsville area deteriorated to impassable with an inch or so of snow late afternoon. Those of us who have lived many years in snow country too often scoff at a little snow bringing travel to a standstill in the South. However, snow removal and deicing are non-existent here…and many residents have, at best, limited experience in slippery-road-driving. I say, get off (or stay off) the roads during periodic winter weather crises in our locale. North Alabama, for patient drivers, has the world's best snow and ice removal. It's called solar power. Wait a day or so and the snow and ice disappear!
Epic? Record? Portent of Climate Doom?
December 27 mid-morning a friend, Angie Fedele, snapped this image of the remaining snow and ice cover from my backyard flower beds. The temperature that day rose to 50 degrees, marking the abrupt end to our epic Christmas 2022 deep freeze.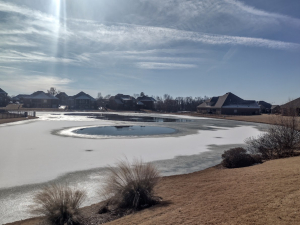 Just how cold was it? Here are the National Weather Service temperature data for Huntsville over the Christmas epic cold front period:
Date                                 High Temp      Low Temp      Record Low
December 22                           51                    21                    -3
December 23                           16                    3                      -3
December 24                           26                    9                      1
December 25                           32                    17                    -1
December 26                           33                    18                    4
December 27                           50                    24                    12
Cold, yes; record cold, no! However, in today's world of mainstream weather media coverage, we are deluged (pardon the weather pun) with reports of epic this and epic that. Many events are termed unprecedented. So many outlets starved for viewers or hits, The Weather Channel among them, attribute every storm, drought, Arctic outbreak, heat wave, flood, and other events to Climate Change. As I scientist, I don't buy it. I look to observation, fact, and data. I abhor the vast predominance of perception and sensationalism. Our Christmas 2022 cold spell certainly hit us southerners hard, but it was not an episode that drove me into despair over an imminent climate catastrophe. It's been cold before (note the record cold low temperatures above)…and it will be cold again. It's called climate…not climate change! The entire six-day period fell within the range of our climate normal. Below average, yes, yet still within the bounds of normal.
Galileo nailed it: [T]he book of nature was written in the language of  mathematics. 
Facts and data matter. Observation (facts and data) rules the day in the realm of science. Perception, emotion, and speculation persist and control the world of mainstream media, politics, and much of public opinion…who dare with blind ignorance to judge Truth and Knowledge.
Whoever undertakes to set himself up as a judge of Truth and Knowledge is shipwrecked by the laughter of the Gods. Albert Einstein (1879-1955)
I remember with admiration Carl Sagan's (1934-96) view of our Earth as a pale blue orb in the vast darkness of space. He, too, urged human adherence to science and its experimental basis in objective observations and reasoning. Although he wasn't speaking of climate change per se, he expressed my own concerns about today's existential threat adherents demanding immediate and wholesale action to reduce (no, eliminate) our reliance on all fossil fuels:
Finding the occasional straw of truth awash in a great ocean of confusion and bamboozle requires intelligence, vigilance, dedication and courage. But if we don't practice these tough habits of thought, we cannot hope to solve the truly serious problems that face us — and we risk becoming a nation of suckers, up for grabs by the next charlatan who comes along.
I'll end with a nearly one-thousand-year-old quote that in this context is relevant:
Now there are four chief obstacles in grasping truth, which hinder every man, however learned, and scarcely allow anyone to win a clear title to learning, namely, submission to faulty and unworthy authority, influence of custom, popular prejudice, and concealment of our own ignorance accompanied by an ostentatious display of our knowledge.
The Opus Majus of Roger Bacon (1220-1292)
Thoughts and Reflections
I offer these observations:
Weather-addiction is just one facet of my Nature-affliction!
Shifting weather moods confirm that nothing in nature is static.
Deep cold spells, like our 2022 Christmas season chill, have occurred before…and will again and again and again.
Inhale and absorb Nature's elixir. May Nature Inspire, Inform, and Reward you!
Note: All blog post images created & photographed by Stephen B. Jones unless otherwise noted. Please circulate images with photo credit: "©2023 Steve Jones, Great Blue Heron LLC. All Rights Reserved."
Another Note: If you came to this post via a Facebook posting or by an another route, please sign up now (no cost… no obligation) to receive my Blog Post email alerts: http://eepurl.com/cKLJdL
And a Third: I am available for Nature-Inspired Speaking, Writing, and Consulting — contact me at steve.jones.0524@gmail.com
Reminder of my Personal and Professional Purpose, Passion, and Cause
If only more of us viewed our precious environment through the filters I employ. If only my mission and vision could be multiplied untold orders of magnitude:
Mission: Employ writing and speaking to educate, inspire, and enable readers and listeners to understand, appreciate, and enjoy Nature… and accept and practice Earth Stewardship.
Vision:
People of all ages will pay greater attention to and engage more regularly with Nature… and will accept and practice informed and responsible Earth Stewardship.
They will see their relationship to our natural world with new eyes… and will understand more clearly their Earth home.
Tagline/Motto: Steve (Great Blue Heron) encourages and seeks a better tomorrow through Nature-Inspired Living!
Steve's Three Books
I wrote my books Nature Based Leadership (2016), Nature-Inspired Learning and Leading (2017), and Weaned Seals and Snowy Summits: Stories of Passion for Place and Everyday Nature (2019; co-authored with Dr. Jennifer Wilhoit) to encourage all citizens to recognize and appreciate that every lesson for living, learning, serving, and leading is either written indelibly in or is powerfully inspired by Nature.
I began writing books and Posts for several reasons:
I love hiking and exploring in Nature
I see images I want to (and do) capture with my trusty iPhone camera
I enjoy explaining those images — an educator at heart
I don't play golf!
I actually do love writing — it's the hobby I never needed when my career consumed me
Judy suggested my writing is in large measure my legacy to our two kids, our five grand kids, and all the unborn generations beyond
And finally, perhaps my books and Blogs could reach beyond family and touch a few other lives… sow some seeds for the future
All three of my books (Nature Based Leadership; Nature-Inspired Learning and Leading; Weaned Seals and Snowy Summits) present compilations of personal experiences expressing my (and co-author Dr. Wilhoit for Weaned Seals and Snowy Summits) deep passion for Nature. All three books offer observations and reflections on my relationship to the natural world… and the broader implications for society. Order any and all from your local indie bookstore, or find them on IndieBound or other online sources such as Amazon and LifeRich.
http://stevejonesgbh.com/wp-content/uploads/2022/12/IMG_6778.jpg-7.35-AM-12.23.22-2-degrees.jpg
820
1094
Steve Jones
http://stevejonesgbh.com/wp-content/uploads/2017/01/gbhweblogo.png
Steve Jones
2023-03-01 14:47:07
2023-03-01 14:47:07
Epic Cold Frontal Passage December 22-27 in the Deep South