I visited Joe Wheeler State Park October 19, 2022, touring the Park by pontoon boat the afternoon ahead of our quarterly Alabama State Parks Foundation Board meeting. I offer this Post as a view of the Park from Lake Wheeler. Don't look for my occasionally heavy narrative explaining the Nature of a trail or a forest venture. Instead, consider this a shoreline photo-essay…light on the essay; heavy to the photos and a single video!
Here's my earlier Post on an exquisite dawn the following morning: http://stevejonesgbh.com/2022/12/06/a-special-sunrise-at-alabamas-joe-wheeler-state-park/
Lake Wheeler Tour of the Park
We departed the Park marina mid-afternoon on the 19th under cloudless skies with a cool breeze. From this view below and every other perspective the wooded shoreline is state park land. The lake surface stands at roughly 555 feet above sea level, a scant 555-foot vertical drop through the Tennessee River, then into the Ohio, and on to the Mississippi to descend eventually to the Gulf of Mexico.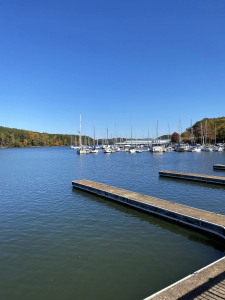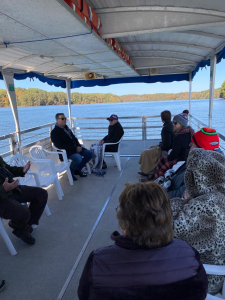 My words can do little to lift the majesty of the rippled water and cerulean sky.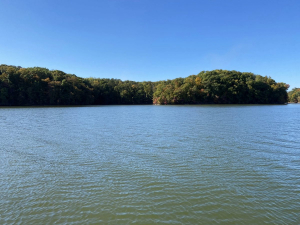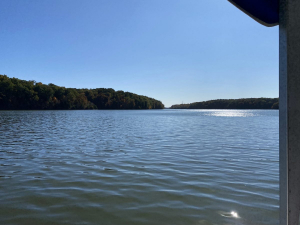 White pelicans and cormorants cruised the shoreline.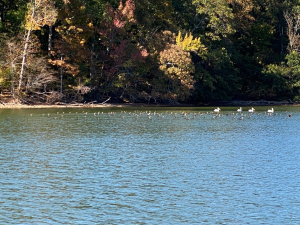 I captured the experience with a 3:03 video:
A great egret fished along a rocky bank.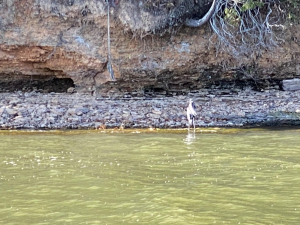 We cruised to the breast of Lake Wheeler Dam, looking downstream to Wilson Lake, approximately 50 feet lower than Wheeler's 555-foot level. As is universally true (to me), the view from above, whether from a hill/mountain top or cleaning out my home gutters, always seems much higher than from below looking up.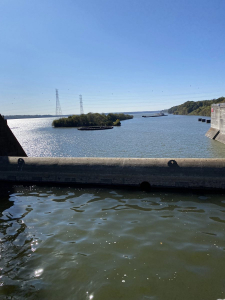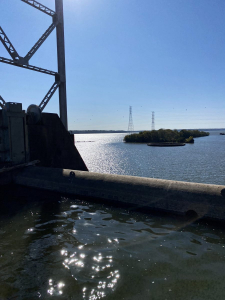 From the power generation and flood control lake level manipulations, the Wheeler Lake level in mid-October leaves about five feet of shoreline rock exposed. Look closely below left to spot a great blue heron along the shore a little right of center.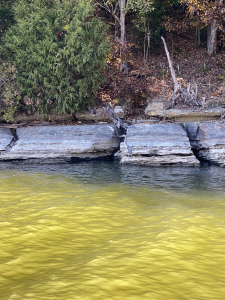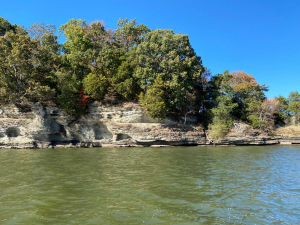 The autumn shoreline views speak for themselves, whether our forest's soft mid-October colors, or the dead snag rising from within the forest.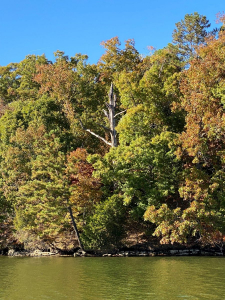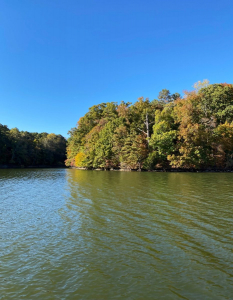 This view shows the boat landing and parking lot about 3.5 trail miles north of the marina.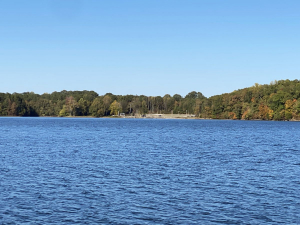 Less than a lake mile to the marina, we turned and headed back to pursue the remainder of our evening at the lodge.
The Awesome Trail
The Awesome Trailhead departs from the boat landing parking lot (the photo above). I've hiked the trail on previous visits, publishing this photo-essay:
The marina lies 3.5 gentle shoreline trail miles from the boat landing parking lot.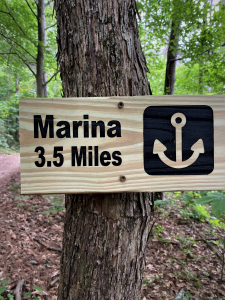 We viewed the trail shoreside from the boat tour, its cut just fifty feet from the lake.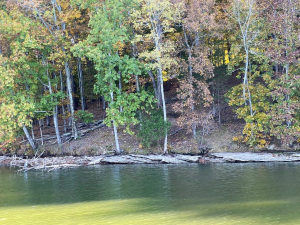 Judy and I hiked the north end of the Awesome Trail after lunch the next day as we departed the park. Although forest colors in north Alabama are seldom spectacular, the interior forest is shaded in deep yellow, the trail covered by fallen leaves, mostly oak. Below right the lake is visible beyond the forest edge.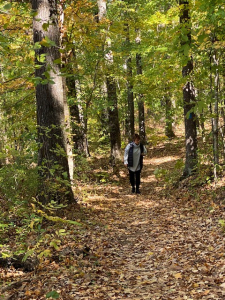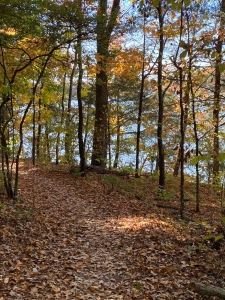 I've observed frequently in these Posts that most of Alabama's 50,000 acres of State Parks land is at least second growth, cutover forest or abandoned, worn out agricultural fields 60-90 years ago. This forest along the Awesome Trail is no exception. The Corps of Engineers or TVA acquired land adjacent to what would be inundated by the lake. Like the future lake bottom itself, the adjoining upland experienced the saw. All non-flooded adjoining land has since naturally regenerated (with the exception of some planted pine here and there). Cutover forestland quickly (the process begins immediately via sprouting and seeding) regenerates to forest.
As I've observed repeatedly, every tree, every acre, every parcel tells a story. So, too, does the park forest bordering Lake Wheeler.
Alabama State Parks Foundation
Thoughts and Reflections
I offer these observations:
My Nature-Inspired Life and Living photo-essays sometimes rely only my photos and videos to tell the tale.
Nothing can express Nature's beauty, magic, wonder, and awe more powerfully than autumn forests, cerulean skies, and shimmering water!
Every tree, forest, and property tells a story…if only we learn the language!
Inhale and absorb Nature's elixir. May Nature Inspire, Inform, and Reward you!
Note: All blog post images created & photographed by Stephen B. Jones unless otherwise noted. Please circulate images with photo credit: "©2023 Steve Jones, Great Blue Heron LLC. All Rights Reserved."
Another Note: If you came to this post via a Facebook posting or by an another route, please sign up now (no cost… no obligation) to receive my Blog Post email alerts: http://eepurl.com/cKLJdL
And a Third: I am available for Nature-Inspired Speaking, Writing, and Consulting — contact me at steve.jones.0524@gmail.com
Reminder of my Personal and Professional Purpose, Passion, and Cause
If only more of us viewed our precious environment through the filters I employ. If only my mission and vision could be multiplied untold orders of magnitude:
Mission: Employ writing and speaking to educate, inspire, and enable readers and listeners to understand, appreciate, and enjoy Nature… and accept and practice Earth Stewardship.
Vision:
People of all ages will pay greater attention to and engage more regularly with Nature… and will accept and practice informed and responsible Earth Stewardship.
They will see their relationship to our natural world with new eyes… and will understand more clearly their Earth home.
Tagline/Motto: Steve (Great Blue Heron) encourages and seeks a better tomorrow through Nature-Inspired Living!
Steve's Three Books
I wrote my books Nature Based Leadership (2016), Nature-Inspired Learning and Leading (2017), and Weaned Seals and Snowy Summits: Stories of Passion for Place and Everyday Nature (2019; co-authored with Dr. Jennifer Wilhoit) to encourage all citizens to recognize and appreciate that every lesson for living, learning, serving, and leading is either written indelibly in or is powerfully inspired by Nature.
I began writing books and Posts for several reasons:
I love hiking and exploring in Nature
I see images I want to (and do) capture with my trusty iPhone camera
I enjoy explaining those images — an educator at heart
I don't play golf!
I actually do love writing — it's the hobby I never needed when my career consumed me
Judy suggested my writing is in large measure my legacy to our two kids, our five grand kids, and all the unborn generations beyond
And finally, perhaps my books and Blogs could reach beyond family and touch a few other lives… sow some seeds for the future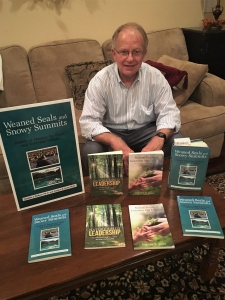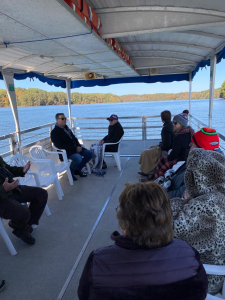 All three of my books (Nature Based Leadership; Nature-Inspired Learning and Leading; Weaned Seals and Snowy Summits) present compilations of personal experiences expressing my (and co-author Dr. Wilhoit for Weaned Seals and Snowy Summits) deep passion for Nature. All three books offer observations and reflections on my relationship to the natural world… and the broader implications for society. Order any and all from your local indie bookstore, or find them on IndieBound or other online sources such as Amazon and LifeRich.
http://stevejonesgbh.com/wp-content/uploads/2022/10/IMG_6153.jpg-10.19.22-JWSP-Pontoon-Tour.jpg
900
1200
Steve Jones
http://stevejonesgbh.com/wp-content/uploads/2017/01/gbhweblogo.png
Steve Jones
2023-02-01 15:07:07
2023-02-01 15:07:07
Lake Wheeler Autumn Tour of Joe Wheeler State Park