I enjoyed my first visit to Lakepoint State Park the afternoon of October 12, 2022 through departure early on the 15th. I focus this Post on special hardwood forest features I encountered along my several hikes.
I've grown to increasingly appreciate the intense competition among dominant and co-dominant trees for full sunlight in the canopy high above. Only the canopy top receives the full rich dose of direct sunlight. With each step downward through intermediate canopy, understory, and eventually the forest floor, light quality, intensity, and value diminish. Importantly, the main canopy occupants do not share the full sunlight via overlapping branches. Instead, each tree commands its unique space. Note how the individual tree crowns in this vertical canopy view do not touch. Some have termed this natural phenomenon crown shyness. For those willing to observe the forest's multiple dimensions, Nature reveals many of her secrets hidden in plain sight.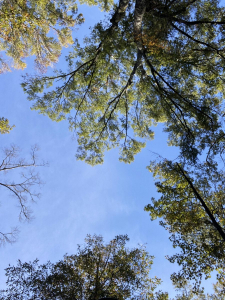 I've written often of the intense competition within our forest ecosystems. Trees compete fiercely for space, water, nutrients, and light. Some romanticize with tales of the forest as a place of harmony, peace, love, and tranquility. Where trees care for each other. Some anthropomorphize trees. I don't buy it.
Tree Form Oddities and Curiosities
Always on the lookout for tree form oddities and curiosities, I found this bowed white oak. Some physical force (wind or an impact from a falling tree or top) bent this individual as a sapling, resulting in a permanent misshaped form. Above the camera line of sight, the tree regained its vertical imperative, now reaching along with its neighbors into the upper canopy.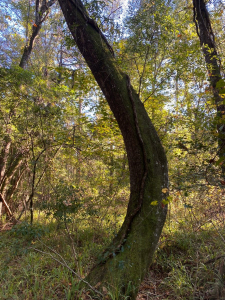 This trailside post oak exhibited a tendency to grow thick bark around lower trunk branches that it shed as the live crown extended vertically. The buttressed stubs give the tree a distinct character.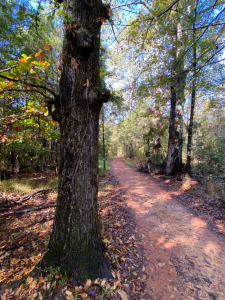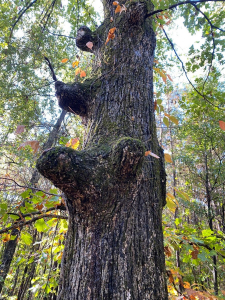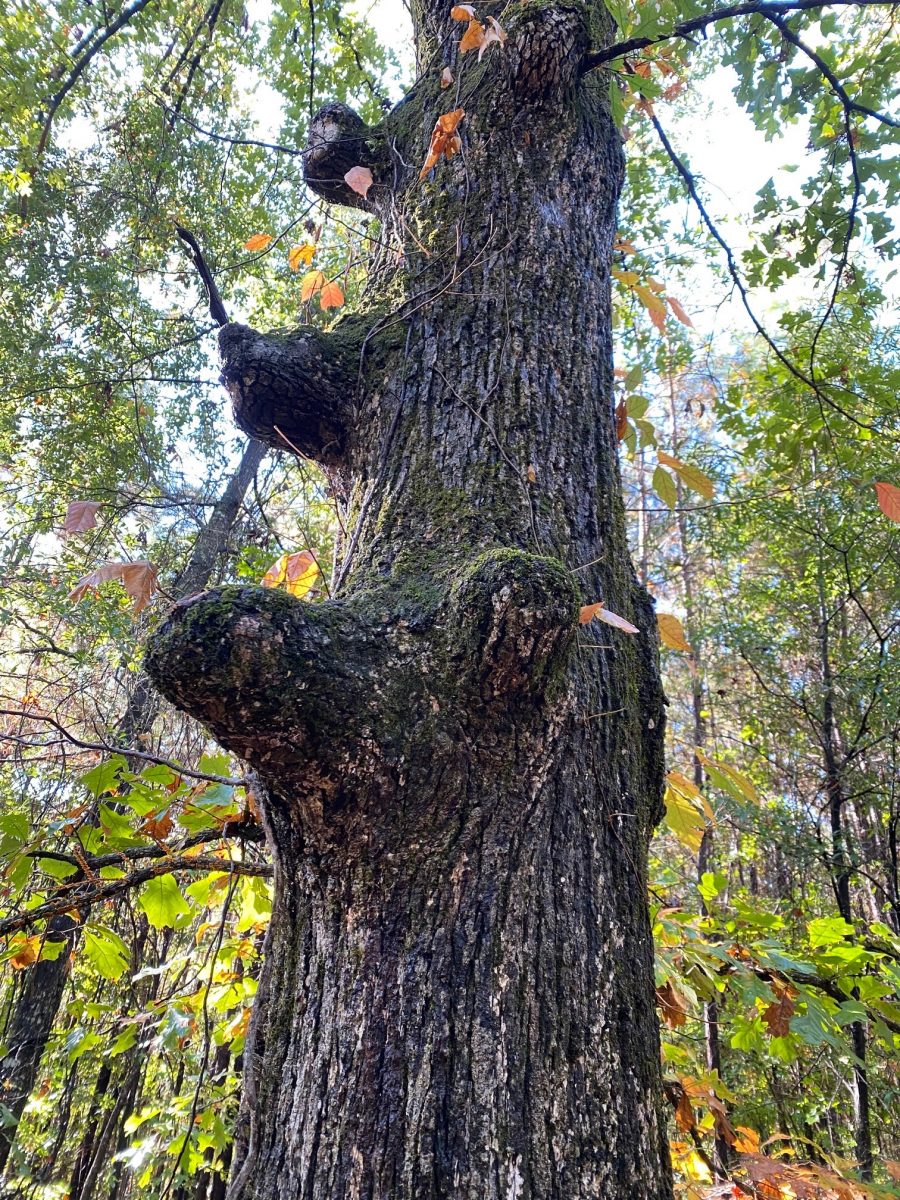 Alabama is home to more native oak species than any of our states. I've been saying the we have 39 species; I saw today on the internet that we have "at least 40 oak species." Perhaps I will round my count to "about 40." Whether 39, 40, or higher, I will not attempt to distinguish exhaustively among them. Suffice it to say that, with iNaturalist's assistance, the stub-branched oak (thanks to the leaf I plucked) is a post oak.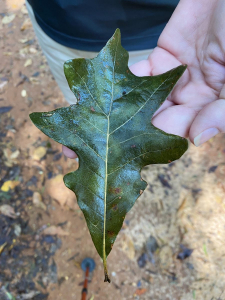 I believe this moss-draped oak is Quercus alba (white oak). The delicately-mossed, fist-sized burl caught my eye. So much of interest lies hidden in plain sight. Few people pay enough attention to see such curiosities.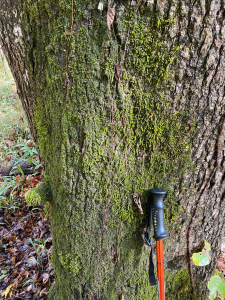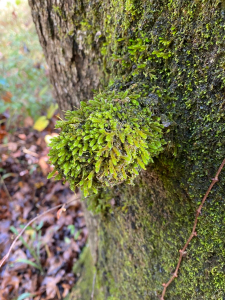 A multi-story wildlife hotel stands within the forest. Because eventually the forces of Nature will prevail, we'll call this temporary quarters for the birds, mammals, and other critters who seek refuge across the seasons. I wondered what I might see if I sat comfortably within sight, binoculars in hand, patiently viewing the comings and goings. Perhaps such a vigil may lie in my future.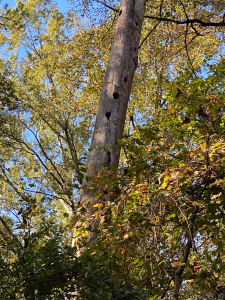 Although there is nothing special about the papery, flaking bark of this particular river birch, I remain a long time fan of our local river birch and the incredible paper birch of my years in the far north.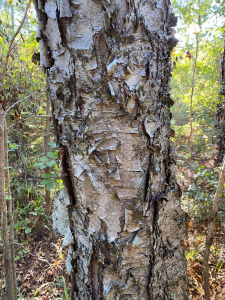 Spanish Moss and Other Attractions
What could be more emblematic of the deep South than Spanish moss draped from the lower branches of lakeshore oaks! The sun's rays cutting diagonally through the canopy amplify the effect.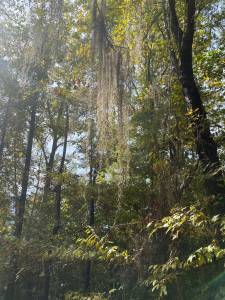 Interestingly, Spanish moss is a vascular plant: Spanish moss (Tillandsia usneoides) is neither Spanish, nor a moss. A relative of the pineapple (Ananas comosus), this less-colorful member of the Bromeliaceae family is often blamed for strangling or sucking the life out of its host tree. The bum rap is undeserved. Spanish moss asks for nothing more than a place to hang out. Like other "air plants" in its classification, it's a rootless epiphyte that survives on rainfall, dust and random detritus in the atmosphere. (SFGATE website)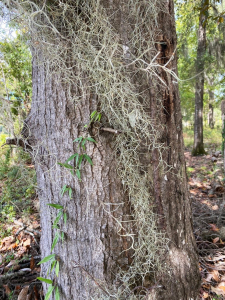 A Eufaula National Wildlife Refuge inlet view from where the oak stands likewise paints a vivid image of Lakepoint State Park.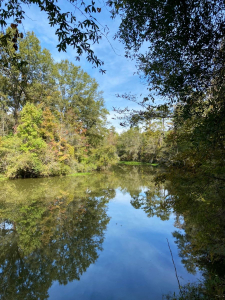 Interpretive signs along the shore also tell the tale of the boundary separating Park from Refuge. I once again find inspiration in the forest at its union with the placid lake and backwaters.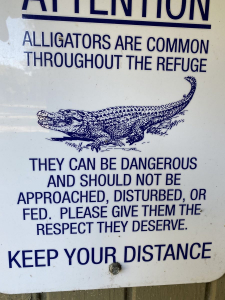 Even a sign-eating-oak adds mystery, intrigue, and wonder to the day.
Alligators are not the only critters we encountered. We saw birds aplenty within the forest. An American toad posed for us in a drainage area leading toward the Refuge. Where the lake backed into the lowland, a cooter did its best to catch some late season afternoon sun.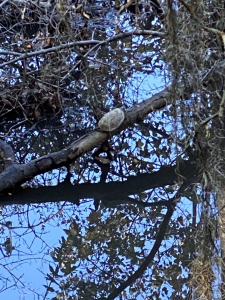 Forest-Associated Plant Community
Tasha identified Chinese tallow, an invasive described online in a University of Florida bulletin:
Chinese tallow was once a popular landscape tree in the Southeast, and it can still be found in some Florida yards.
The leaves are heart-shaped and turn vibrant red in the fall. The fruit, which also appear in autumn, turn brown at maturity to reveal three dull white seeds which resemble popcorn, giving Chinese tallow another common name, "popcorn tree."
Like so many other invasives, Chinese tallow seeds attract birds, who consume the fruits and disseminate the seeds spreading the unwanted exotics far beyond their welcome.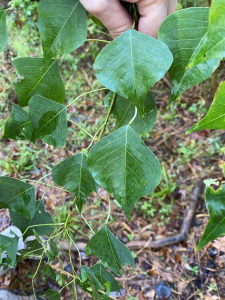 I was surprised to see sparkle berry (AKA farkle berry), the only tree form blueberry (genus Vaccinium). This species seemed as vibrant in southeastern Alabama as it does near the Tennessee line, where I reside. I'm partial to its attractive bark and tough stems.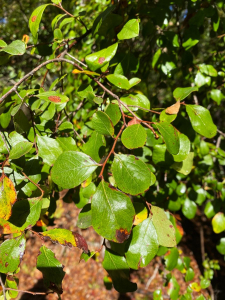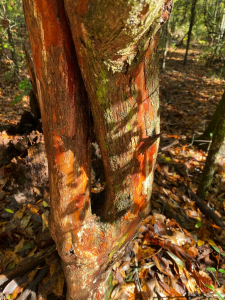 During the seven years I practiced forestry in southeastern Virginia, wax myrtle grew aggressively throughout the coastal plain forestland that I managed.  Seeing this ubiquitous understory shrub from my Virginia days was strangely akin to encountering a long lost friend. The Mississippi Department of Wildlife, Fisheries, and Parks offered this brief insight into wax myrtle: The leaves have a spicy fragrance and are still used today for candle scents. Berries were once boiled and used as wax for candles. The wax myrtle provides excellent cover and food for birds and other wildlife. The VEC finds numerous mockingbird and wren nests in the branches of this shrub. The wax myrtles are highly flammable and flames spread quickly.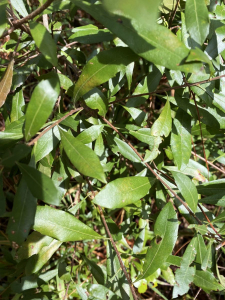 Prior to earning my forestry bachelor's degree in upstate New York and doing summer field forestry work only in Maryland's Appalachians, I was not familiar with wax myrtle, nor even with loblolly pine. Both were exotic to my own experience! Life changes us in so many ways. Here I am now, 43 years since those halcyon early career years in southeastern Virginia, viewing wax myrtle as a long lost friend.
We found several specimens of peppervine in the riparian hardwood forest. The Missouri Department of Conservation: Peppervine is a rather slender, upright vine, either high-climbing or bushy, with tendrils present or absent. Its leaves are double-compound. Peppervine, a member of the grape family, is sometimes confused with poison ivy and poison oak. However, those plants have compound leaves in threes and are not double-compound.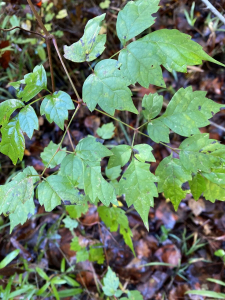 Beautyberry (left) and Jack-in-the-pulpit fruit provided some vibrant fall color. Both are native to Alabama. Beauty berry grows in partial shade to full sun. Jack-in-the-pulpit grows best in deep shade under a full forest canopy, performing most of its life functions prior to forest leaf-out, a chilly period when the forest floor basks in full spring sunlight. Birds disperse the seeds of both the woody beautyberry shrub and the herbaceous perennial Jack'.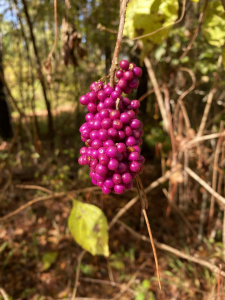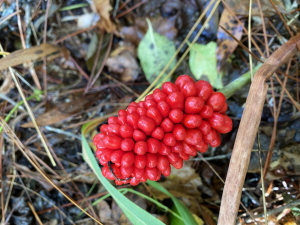 We also identified camphorweed (Pluchea camphorata), or marsh-fleabane, a small flowering herbaceous annual plant, still in full flower. At this latitude, the deep cold of winter never arrives. Instead, summer wanes gradually into an extended fall…that by early February embraces spring. I challenge anyone to take me into the wild of Alabama at 31.89 degrees North when I cannot spot at least a single native plant in flower. As I type these words (December 14, 2022), the official snow depth where we lived in Fairbanks, Alaska is 16 inches.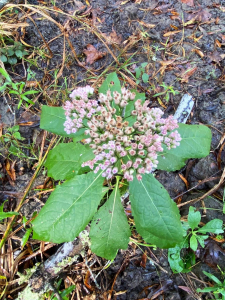 Plant life across our fluid Alabama seasons appears kaleidoscopic, a shifting mosaic of colors, shades, and forms. Each seasonal entry into our forests presents different gifts for visual, tactile, audial, and aromatic senses. Any effort or expense to travel to natural places is returned manifoldly in enlightenment, inspiration, and fulfillment, just from the luxuriant vascular plant life alone.
Lichens, Ferns, and Fungi
However, I do not limit my explorations to vascular plants. Bearded and crustose lichens adorn these dead oak twigs on the riparian hardwood forest floor.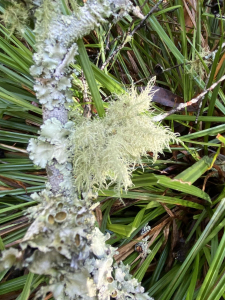 Maiden fern and sensitive fern exploited the leaf-littered, rich soils of the riparian forest.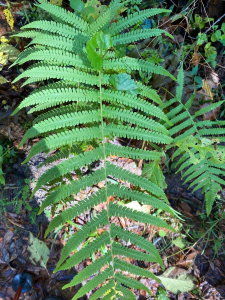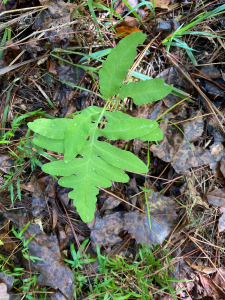 As does this Japanese climbing fern, described by an online Alabama Cooperative Extension System bulletin:
A perennial twining vine, Japanese climbing fern can grow to 90 feet, climbing into and over trees and shrubs or trailing along the ground, creating dense mats (figure 1). Stems (technically a rachis) are thin and wiry but difficult to break; they range from green to tan or reddish to almost black. Japanese climbing fern is a noxious weed that can cause ecological and economic damage. Knowing its characteristics and effective removal methods can prevent the spread of this invasive species. Introduced as an ornamental in the early 1900s, Japanese climbing fern (Lygodium japonicum) escaped cultivation and has become invasive in many habitats across the southern two-thirds of Alabama. The Alabama Department of Agriculture and Industries considers it a Class B noxious weed. As such, the introduction of Japanese climbing fern into or within Alabama is prohibited.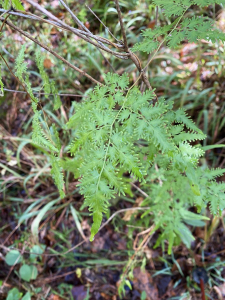 A favorite of mine across Alabama, resurrection fern, green and turgid with the prior night's rain, clings happily to a riparian forest tree's trunk.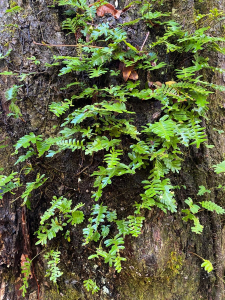 Had I visited a week later, the frontal passage heavy rains would have triggered a profusion of mushrooms. Instead, we found little activity, limited to the fibrous Stereum (left) and the colorful jelly spot (right). Both are saprophytes feasting on dead woody material.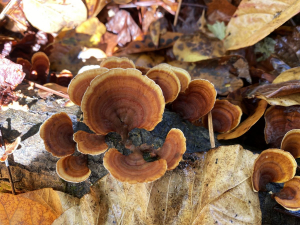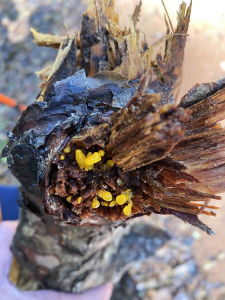 Clustered on subsurface decaying woody debris (roots), these honey mushrooms splashed their yellow tops in two somewhat adjacent spots. The one on the left is perhaps a day older than the still-opening cluster on the right. Honeys are edible…and delicious!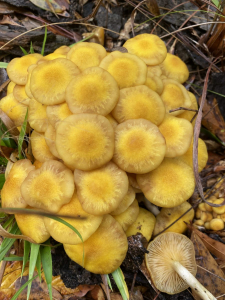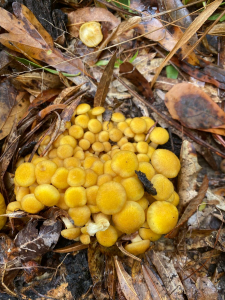 Nature's beauty, magic, wonder, awe, and inspiration derive from close examination of the routine…the mundane features of the forest. Some hikers, many of whom are intent on walking through the woods, solely to get from point A to point B, would have found the routes I hiked at Lakepoint to be too short, too gentle, and rather uninspiring. In contrast, I walk in the forest, intent on finding and pondering what lies hidden in plain sight!
Alabama State Parks Foundation
Thoughts and Reflections
I offer these observations:
For those willing to observe the forest's multiple dimensions, Nature reveals many of her secrets hidden in plain sight.
Trees compete fiercely for space, water, nutrients, and light.
Plant life across our fluid Alabama seasons appears kaleidoscopic, a shifting mosaic of colors, shades, and forms.
Inhale and absorb Nature's elixir. May Nature Inspire, Inform, and Reward you!
Note: All blog post images created & photographed by Stephen B. Jones unless otherwise noted. Please circulate images with photo credit: "©2023 Steve Jones, Great Blue Heron LLC. All Rights Reserved."
Another Note: If you came to this post via a Facebook posting or by an another route, please sign up now (no cost… no obligation) to receive my Blog Post email alerts: http://eepurl.com/cKLJdL
And a Third: I am available for Nature-Inspired Speaking, Writing, and Consulting — contact me at steve.jones.0524@gmail.com
Reminder of my Personal and Professional Purpose, Passion, and Cause
If only more of us viewed our precious environment through the filters I employ. If only my mission and vision could be multiplied untold orders of magnitude:
Mission: Employ writing and speaking to educate, inspire, and enable readers and listeners to understand, appreciate, and enjoy Nature… and accept and practice Earth Stewardship.
Vision:
People of all ages will pay greater attention to and engage more regularly with Nature… and will accept and practice informed and responsible Earth Stewardship.
They will see their relationship to our natural world with new eyes… and will understand more clearly their Earth home.
Tagline/Motto: Steve (Great Blue Heron) encourages and seeks a better tomorrow through Nature-Inspired Living!
Steve's Three Books
I wrote my books Nature Based Leadership (2016), Nature-Inspired Learning and Leading (2017), and Weaned Seals and Snowy Summits: Stories of Passion for Place and Everyday Nature (2019; co-authored with Dr. Jennifer Wilhoit) to encourage all citizens to recognize and appreciate that every lesson for living, learning, serving, and leading is either written indelibly in or is powerfully inspired by Nature.
I began writing books and Posts for several reasons:
I love hiking and exploring in Nature
I see images I want to (and do) capture with my trusty iPhone camera
I enjoy explaining those images — an educator at heart
I don't play golf!
I actually do love writing — it's the hobby I never needed when my career consumed me
Judy suggested my writing is in large measure my legacy to our two kids, our five grand kids, and all the unborn generations beyond
And finally, perhaps my books and Blogs could reach beyond family and touch a few other lives… sow some seeds for the future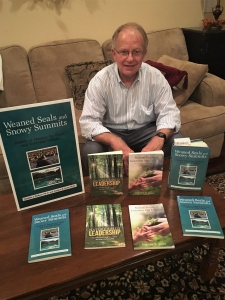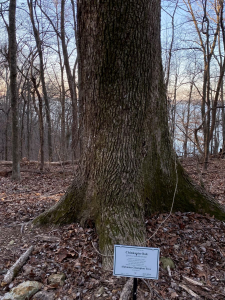 All three of my books (Nature Based Leadership; Nature-Inspired Learning and Leading; Weaned Seals and Snowy Summits) present compilations of personal experiences expressing my (and co-author Dr. Wilhoit for Weaned Seals and Snowy Summits) deep passion for Nature. All three books offer observations and reflections on my relationship to the natural world… and the broader implications for society. Order any and all from your local indie bookstore, or find them on IndieBound or other online sources such as Amazon and LifeRich.
http://stevejonesgbh.com/wp-content/uploads/2022/10/IMG_5624.jpg-10.13.22-LPSP-Post-Oak-Branch-Stubs.jpg
1200
900
Steve Jones
http://stevejonesgbh.com/wp-content/uploads/2017/01/gbhweblogo.png
Steve Jones
2023-01-19 15:23:30
2023-01-21 17:51:38
Alabama's Lake Point State Park; Natural Forest Features