July 27-29, 2022, Judy and I, along with Alabama grandsons Jack (14) and Sam (8), spent two nights at Cave City, Kentucky to visit one of my bucket list National Parks, Mammoth Cave. Although the world's most extensive cave (420 miles of mapped passageways) provides lots of fodder on Nature-Inspired Life and Living, that is not my purpose with this Post. Instead, I offer a few snippets of Nature gleaned from our two overnights in Cave City. My point is that Nature's beauty, magic, wonder, and awe can be found wherever one cares to look.
The Park itself offers free admission; visitors pay for the various structured cave tours, one of which we took the next afternoon. I captured the two image below the first day when we toured the museum and interpretive center.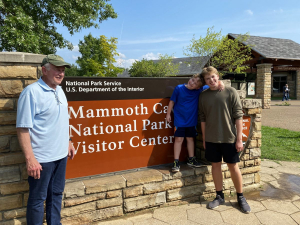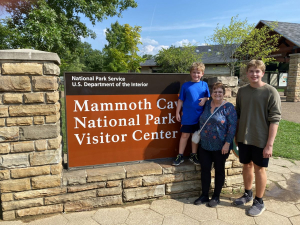 I won't report on our underground experience. Suffice it for me to observe that Nature can do a lot with a few hundred million years of deposition, compression, uplift, and within-limestone-strata chemical and water action! Four hundred twenty miles of mapped passageways. A lush mixed hardwood forest occupies the cove site (left) as the trail descends to the cave entrance (right).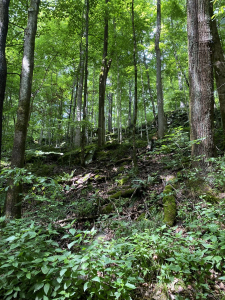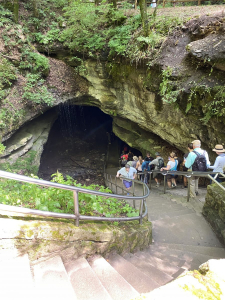 Our First Evening: An Atmospheric Show
Our first evening we left the Park with thunderstorms moving in from the west. Rain fell as we ate dinner. We returned to our hotel in time for me to photograph the departing line of storms to our east. I apologize for including the commercial buildings, yet I had little choice. Please do as I did…focus on the incredible clouds, not the foreground. The first image is an 8:03 PM view to the east.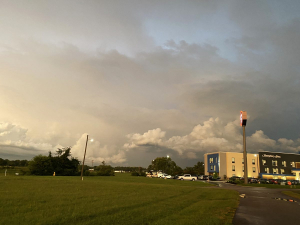 These are at 8:05 and 8:07 to the NNE.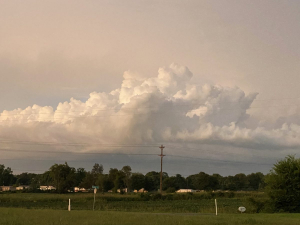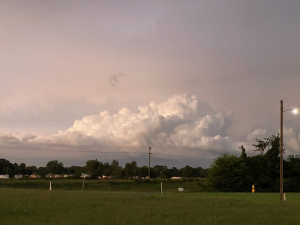 I recorded a 20-second video of the very active eastern sky. In retrospect, I should have extended the run:
Even as the action retreated east, the massive thunderstorms produced a spreading anvil, with thunder still rumbling within the anvil, directly overhead, miles above me. The setting sun underlit the anvil and highlighted trailing mammatus to the west. This brilliant sky appeared behind me at 8:04 PM when I took the photos above. These same storms (and more behind them) generated the torrential deadly rains that inundated eastern Kentucky later that evening and overnight. Nature can combine captivating beauty with unfathomable power and fury. Flooding rains have pummeled eastern Kentucky since (and before) the first tectonic plates crashed to create the alpine-like early Appalachians…long before the first internal combustion engines. Frog-stranglers, cloudbursts, gully-washers, and other epic flash floods will continue long after the Appalachians are forever flattened. Climate change — No! Climate — Yes!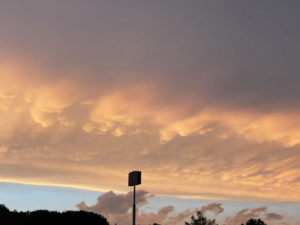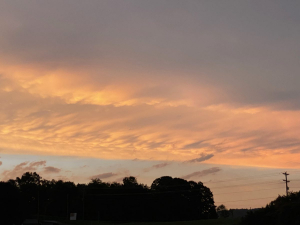 Pastel blue trailed the anvil at 8:05 and 8:06 PM. Like with so many natural phenomena, we are rewarded when our gaze shifts along a continuum, whether within a single forest stand, or across an entire landscape or the firmament from west to east, and back again. As I've said repeatedly, viewer appreciation increases exponentially with understanding. Without knowing the atmospheric physics and mechanics of thunderstorms, I would have enjoyed the superficial prettiness, but would not have seen the real beauty that emerges only with comprehension.
Leonardo da Vinci concurred:
The noblest pleasure is the joy of understanding.
One has no right to love or hate anything if one has not acquired a thorough knowledge of its nature. Great love springs from great knowledge of the beloved object, and if you know it but little you will be able to love it only a little or not at all.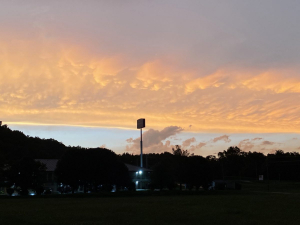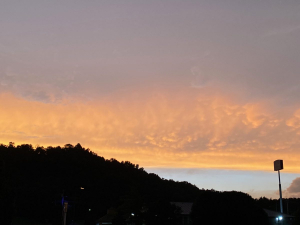 Another cluster of storms passed overnight, rousting us from sleep, with no opportunities for capturing images. Those storms, too, were eastbound to add tumult to misery, taking at least three dozen lives. I think often of the Nature of catastrophic weather events…perhaps odd to phrase it this way, but the flip side of disaster can be absolute stunning gorgeousness. Think of the satellite images of Katrina spinning with grandeur before landfall. The magnificent supercell thunderstorm profile at distance in full sunlight, even as it spawns an EF-5 tornado raking an Oklahoma or Missouri community. The sunlit anvil trailing a thunderstorm cluster destined to flush human infrastructure and lives from east Kentucky hamlets 170 miles from Cave City. The Beauty and the Beast of weather! The Nature of weather and climate since time immemorial. Since long before man contemplated climate change as an existential threat.
John Muir observed that all of Nature is a continuum…a never ending loop:
This grand show is eternal. It is always sunrise somewhere; the dew is never dried all at once; a shower is forever falling; vapor is ever rising. Eternal sunrise, eternal dawn and gloaming, on sea and continents and islands, each in its turn, as the round earth rolls.
Our Morning of Departure
I arose at dawn July 29, our day of departure, to stroll around the land surrounding the hotels. A thick layer of low stratus dampened the air and softened the morning light. I found a few Nature items worthy of photographing. Purple passion flowers have an unsurpassed intricate structure and eye-popping beauty. They displayed proudly this damp morning.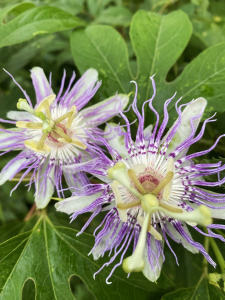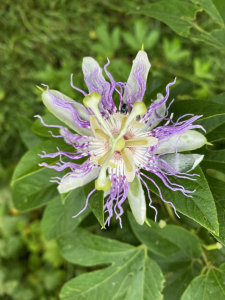 Northbound en route to Cave City, I had noticed tree of heaven in full seed along the interstate. My morning stroll presented a close-up photograph opportunity. Nature's wonder hidden in plain sight. The dual miracles of photosynthesis and reproduction.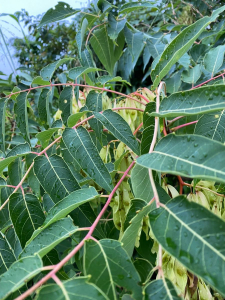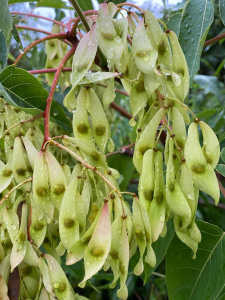 Shining sumac showcased its winged compound leaves and dense flower heads. I wondered whether sunlight would have enhanced or lessened the effect of my three plant subjects. Perhaps there is an aesthetic reason why I long for occasional rainy summer days that may or may not enhance beauty, but certainly elevate my appreciation of Nature.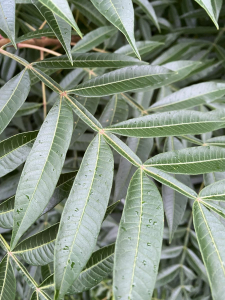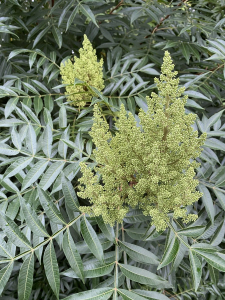 The morning's low stratus deck above our hotel served as a fitting context for our brief stay and my early wanderings.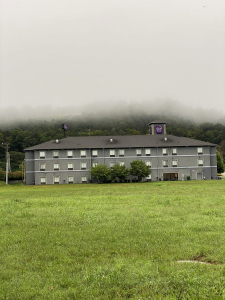 Nature is, in fact, with few exceptions, where we seek to find it. Although Mammoth Cave National Park was our primary destination, I found fulfillment around our hotel, a place far removed from traditional wildness.
Thoughts and Reflections
I offer these observations:
The noblest pleasure is the joy of understanding (da Vinci).
Nature is, in fact, with few exceptions, wherever we seek to find it.
Nature shared with those we love enhances appreciation of her wonders.
Inhale and absorb Nature's elixir. May Nature Inspire, Inform, and Reward you!
Note: All blog post images created & photographed by Stephen B. Jones unless otherwise noted. Please circulate images with photo credit: "©2022 Steve Jones, Great Blue Heron LLC. All Rights Reserved."
Another Note: If you came to this post via a Facebook posting or by an another route, please sign up now (no cost… no obligation) to receive my Blog Post email alerts: http://eepurl.com/cKLJdL
And a Third: I am available for Nature-Inspired Speaking, Writing, and Consulting — contact me at steve.jones.0524@gmail.com
Reminder of my Personal and Professional Purpose, Passion, and Cause
If only more of us viewed our precious environment through the filters I employ. If only my mission and vision could be multiplied untold orders of magnitude:
Mission: Employ writing and speaking to educate, inspire, and enable readers and listeners to understand, appreciate, and enjoy Nature… and accept and practice Earth Stewardship.
Vision:
People of all ages will pay greater attention to and engage more regularly with Nature… and will accept and practice informed and responsible Earth Stewardship.
They will see their relationship to our natural world with new eyes… and will understand more clearly their Earth home.
Tagline/Motto: Steve (Great Blue Heron) encourages and seeks a better tomorrow through Nature-Inspired Living!
Steve's Three Books
I wrote my books Nature Based Leadership (2016), Nature-Inspired Learning and Leading (2017), and Weaned Seals and Snowy Summits: Stories of Passion for Place and Everyday Nature (2019; co-authored with Dr. Jennifer Wilhoit) to encourage all citizens to recognize and appreciate that every lesson for living, learning, serving, and leading is either written indelibly in or is powerfully inspired by Nature.
I began writing books and Posts for several reasons:
I love hiking and exploring in Nature
I see images I want to (and do) capture with my trusty iPhone camera
I enjoy explaining those images — an educator at heart
I don't play golf!
I actually do love writing — it's the hobby I never needed when my career consumed me
Judy suggested my writing is in large measure my legacy to our two kids, our five grand kids, and all the unborn generations beyond
And finally, perhaps my books and Blogs could reach beyond family and touch a few other lives… sow some seeds for the future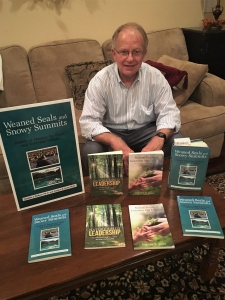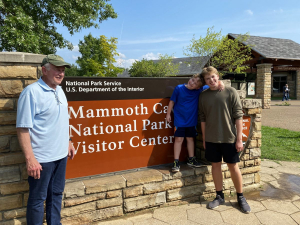 All three of my books (Nature Based Leadership; Nature-Inspired Learning and Leading; Weaned Seals and Snowy Summits) present compilations of personal experiences expressing my (and co-author Dr. Wilhoit for Weaned Seals and Snowy Summits) deep passion for Nature. All three books offer observations and reflections on my relationship to the natural world… and the broader implications for society. Order any and all from your local indie bookstore, or find them on IndieBound or other online sources such as Amazon and LifeRich.
http://stevejonesgbh.com/wp-content/uploads/2022/07/IMG_4710.jpg-07.27.22-Cave-City-KY-8.04-PM.jpg
900
1200
Steve Jones
http://stevejonesgbh.com/wp-content/uploads/2017/01/gbhweblogo.png
Steve Jones
2022-09-07 11:30:32
2022-09-07 11:30:32
Snippets of Nature from Two July Overnights at a Cave City, KY Hotel