I returned to Alabama's DeSoto State Park July 20 and 21, 2022 for an Alabama State Parks Foundation Board meeting. Arriving too late for an extensive hike the first afternoon, I managed only to hike down to the Azalea Cascade Boardwalk the next morning before the meeting and to stop by DeSoto Falls the second afternoon after the meeting.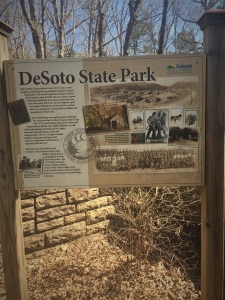 Rather than offer a guided tour of what I saw, I'll offer a few observations of how Nature changes over time. I'm teaching a course this coming fall for Huntsville's LearningQuest. I've titled it Turn, Turn, Turn, which will examine how Nature changes day to day, across the seasons, and extending through longer and longer periods…from annual and beyond.
A Windthrown Oak
I hiked the trail in July 2018, just a few weeks after crews had repaired the boardwalk from a 30-inch diameter oak that had crushed it. The tree had uprooted, lifting its fresh root ball below left. At right the new railing and cut log are visible.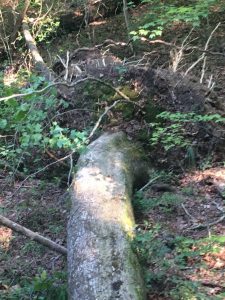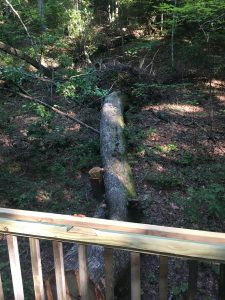 The replaced boardwalk section with chainsawed tree sections can be seen from the far side of the uprooting below left. The top, still holding onto its full crown is below right.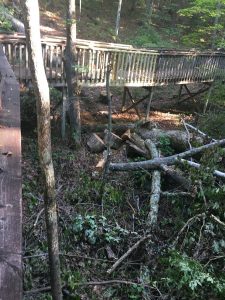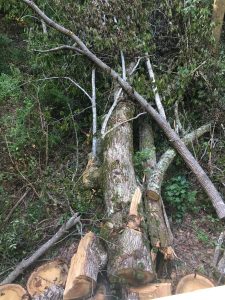 Nature's decay and decomposition progress rapidly in our warm moist climate. The comparative evidence lies in my July 2022 photos. Much of the soil has washed from the large root ball and the trunk has lost its bark, exposing its decaying wood (left). Nearly all of the fine and medium branching has fallen from the crown (right). I found such photo-comparisons useful. As I woods-ramble, seldom do I have longitudinal photo-records. I might have seen the downed tree for the first time and been forced to guess at how long ago it was windthrown. Now, I have a certain observation, a fact not just an assumption — four years of documented change. I can begin to calibrate my eye, allowing better confidence in my estimations.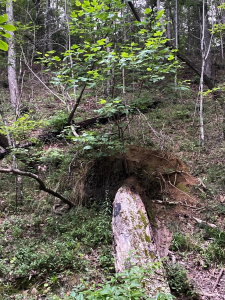 A New Park Beach
DeSoto State Park dedicated an additional 157 acres on July 15, 2021. The Board participated in the ribbon-cutting ceremony (below).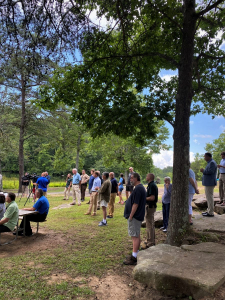 These photos depict how the shoreline above the falls appeared then, grassy and unimproved for recreation (for reference, note the red boathouse on the opposite shore in the photo below left) .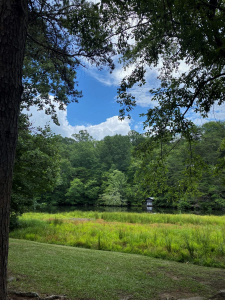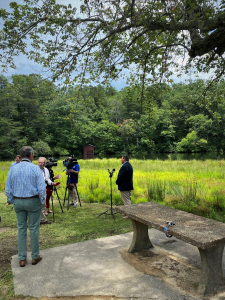 July 21, 2022, just one year later, a beach now lies in the foreground. Note the same red boathouse across the river. Time makes all the difference, whether in how Nature decomposes a fallen tree, or how a well-run State Park manages and improves recreational amenities.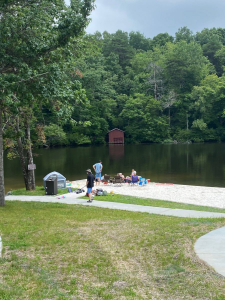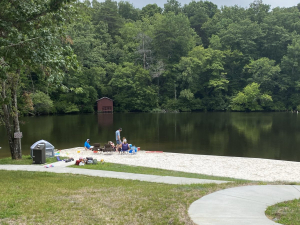 We in Alabama are blessed with our necklace of 22 State Park across the state, encompassing 48,000 acres from the Gulf coast to the Tennessee line.
A Powerful Falls or a Timid Trickle
Nature's changes can be awe-inspiring and at scales beyond imagination. I visited the Park April 23, 2019 during a very wet period. DeSoto Falls literally roared.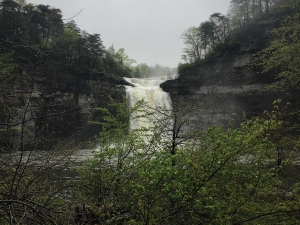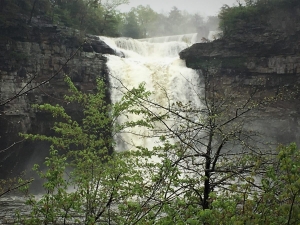 In fact, every small run throughout the Park ran full. See my May 2019 Post: http://stevejonesgbh.com/2019/05/15/the-magic-of-waters-thunder-at-desoto-state-park/
July 21, 2022, during a dry mid-summer period, the falls merely trickled, a whimper far short of a roar. Nothing in Nature is static!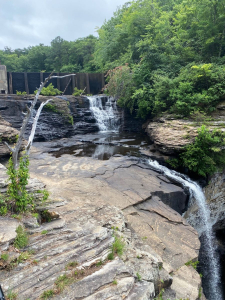 Changes at tremendous scale, yet with explanations based on observation and science.
Forest Responding to Prescribed Fire
July 14, 2021, I saw direct evidence that Park crews had run a prescribed fire through selected forest stands. Being a former industrial forester with Union Camp Corporation, a Fortune 500 company that owned 2.3 million acres in VA, NC, SC, GA, FL, and AL, I had directed or overseen many thousands of acres of prescription fire. So, I was excited to see the burn at DeSoto State Park. The fire was employed to control understory vegetation, reduce saplings, and open the forest to a more "park-like" condition. Tim Haney and I observed that the fire had run effectively across the forest floor. I wondered to what extent the objectives would be secured.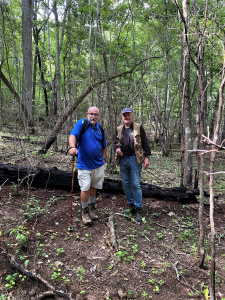 My July 21, 2022 stroll revealed success. Many of the saplings and some pole-sized stems succumbed. Within a couple of more years, the deadened stems will fall, creating a much more open look. Below right, some of the saplings are sprouting from the base, where litter protected adventitious buds.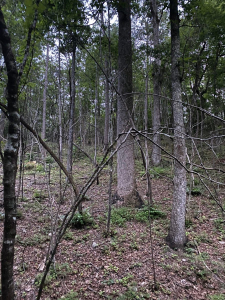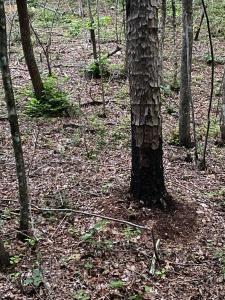 I am pleased to see the Park practicing scientific forest management, employing fire to achieve deliberate stand objectives. I am ready to assist future burning at DeSoto or any of our Alabama State Parks. However, I can certainly appreciate why Park legal staff would frown upon a 71-year old (OLD) forester with two ailing knees from carrying a drip torch! Perhaps one day they'll call on me to observe, capture a few photos, and relive old memories of a younger forester managing site preparation and rough-reduction burns on company-owned forest lands.
So, I bring closure by repeating that nothing in Nature remains static. I recall a quote attributed to Yogi Berra: Things today are more like they are now than they ever have been. The truism holds for politics, Nature, and climate, to name just a few.
Turn, Turn, Turn (The Byrds) is a thread that weaves through Nature and life:
To everything – turn, turn, turn
There is a season – turn, turn, turn
And a time to every purpose under heaven
A time to be born, a time to die
A time to plant, a time to reap
A time to kill, a time to heal
A time to laugh, a time to weep
To everything – turn, turn, turn
There is a season – turn, turn, turn
And a time to every purpose under heaven
A time to build up, a time to break down
A time to dance, a time to mourn
A time to cast away stones
A time to gather stones together
To everything – turn, turn, turn
There is a season – turn, turn, turn
And a time to every purpose under heaven
A time of love, a time of hate
A time of war, a time of peace
A time you may embrace
A time to refrain from embracing
To everything – turn, turn, turn
There is a season – turn, turn, turn
And a time to every purpose under heaven
A time to gain, a time to lose
A time to rend, a time to sew
A time for love, a time for hate
A time for peace, I swear it's not too late!
Alabama State Parks Foundation
Thoughts and Reflections
I offer these observations:
To everything there is a season, and a time to every purpose under heaven.
Nature changes day to day, across the seasons, and extending through longer and longer periods…from annual and beyond.
Fire is a tool for meeting forest management objectives…and Park management goals.
Inhale and absorb Nature's elixir. May Nature Inspire, Inform, and Reward you!
Note: All blog post images created & photographed by Stephen B. Jones unless otherwise noted. Please circulate images with photo credit: "©2022 Steve Jones, Great Blue Heron LLC. All Rights Reserved."
Another Note: If you came to this post via a Facebook posting or by an another route, please sign up now (no cost… no obligation) to receive my Blog Post email alerts: http://eepurl.com/cKLJdL
And a Third: I am available for Nature-Inspired Speaking, Writing, and Consulting — contact me at steve.jones.0524@gmail.com
Reminder of my Personal and Professional Purpose, Passion, and Cause
If only more of us viewed our precious environment through the filters I employ. If only my mission and vision could be multiplied untold orders of magnitude:
Mission: Employ writing and speaking to educate, inspire, and enable readers and listeners to understand, appreciate, and enjoy Nature… and accept and practice Earth Stewardship.
Vision:
People of all ages will pay greater attention to and engage more regularly with Nature… and will accept and practice informed and responsible Earth Stewardship.
They will see their relationship to our natural world with new eyes… and will understand more clearly their Earth home.
Tagline/Motto: Steve (Great Blue Heron) encourages and seeks a better tomorrow through Nature-Inspired Living!
Steve's Three Books
I wrote my books Nature Based Leadership (2016), Nature-Inspired Learning and Leading (2017), and Weaned Seals and Snowy Summits: Stories of Passion for Place and Everyday Nature (2019; co-authored with Dr. Jennifer Wilhoit) to encourage all citizens to recognize and appreciate that every lesson for living, learning, serving, and leading is either written indelibly in or is powerfully inspired by Nature.
I began writing books and Posts for several reasons:
I love hiking and exploring in Nature
I see images I want to (and do) capture with my trusty iPhone camera
I enjoy explaining those images — an educator at heart
I don't play golf!
I actually do love writing — it's the hobby I never needed when my career consumed me
Judy suggested my writing is in large measure my legacy to our two kids, our five grand kids, and all the unborn generations beyond
And finally, perhaps my books and Blogs could reach beyond family and touch a few other lives… sow some seeds for the future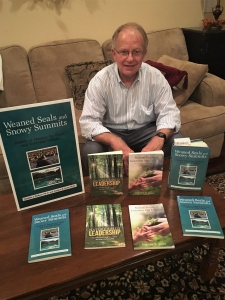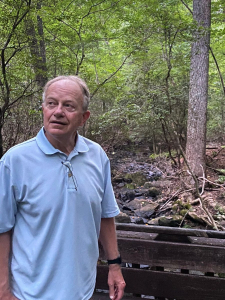 All three of my books (Nature Based Leadership; Nature-Inspired Learning and Leading; Weaned Seals and Snowy Summits) present compilations of personal experiences expressing my (and co-author Dr. Wilhoit for Weaned Seals and Snowy Summits) deep passion for Nature. All three books offer observations and reflections on my relationship to the natural world… and the broader implications for society. Order any and all from your local indie bookstore, or find them on IndieBound or other online sources such as Amazon and LifeRich.
http://stevejonesgbh.com/wp-content/uploads/2022/07/IMG_4624.jpg-07.21.22-1.14-PM-DeSoto-Falls.jpg
1200
900
Steve Jones
http://stevejonesgbh.com/wp-content/uploads/2017/01/gbhweblogo.png
Steve Jones
2022-08-23 08:58:52
2022-08-23 08:58:52
Turn, Turn, Turn at DeSoto State Park: Nothing in Nature is Static